MailOptin is an all-in-one email list building plugin for WordPress and it's easily one of the best WordPress plugins every released.
Now I know you're thinking I am over-exaggerating, surely I am not because this is truly an amazing tool and the only way to find out is to walk you through the feature set of the plugin.
If you are passionate about building an email list, and you have been overwhelmed by the complications and hassles involved in setting up list building forms in WordPress, you are in for a smooth ride!
MailOptin literally breaks the barrier in creating an optin form. The astonishing thing is that once you install and activate the plugin, you can start deploying optin forms immediately.
1. Why MailOptin?
There are a couple of list building plugins that have been hyped but never lived up to expectation. MailOptin was designed to help internet marketers, entrepreneurs, and bloggers easily create professional, stylish optin forms with maximum conversions.
MailOptin takes email list building to a new height; it makes everything happen so fast and very easy. Thanks to the clean and well-tailored user interface that makes your list building journey move smoothly.
For me, while I pay keen attention to pricing of premium plugins, I am very critical about the feature set any plugin has to offer and MailOptin doesn't disappoint in anyway.
Before we talk about the pricing, let jump into what the plugin has to offer, then you can really justify its price tag.
2. MailOptin: The Coolest Features
Exit Intent:
One of the coolest features you can start using in the plugin is "Exit Intent" because you are going to have few angry visitors in website.
Gone are the days where you constantly bombard your visitors with those annoying popups. There is a great chance that you will lose a lot of customers if you keep using same approach.
Exit Intent helps you create less intrusive popups in your website but you will still be able to maximize conversions if you made a comparison with the abusive popups that shows up every time.
Basically, what this feature does is to enhance user experience by showing your popup form only when your user wants to exit your webpage or close the browser tab. This it does by detecting the mouse movement of the visitors in your website.
Advanced A/B Testing:
One of the best things you can do to become a successful marketer is to avoid growing list based on assumption.
The plugin comes with an advanced A/B testing that makes building list very effective.
You can create your standard optin form and also have a variation of that form in other to project which of the forms will have higher conversions.
Amazing Custom Targeting:
This is useful in building a segmented email list. For example, if your visitors land on a page that talks about the best hosting services, you could collect a targeted email list for people interested in hosting companies. On the email signup form, you could even add some kind of discounts, if they are available.
What you can do with MailOptin advanced targeting features is very impressive. You can decide where your optin forms should appear, it can be on blog posts, pages, categories and lots more. You can also prevent optins from showing on specific areas of your website.
The goal of the targeting option available on the plugin is to give marketers the freedom to build targeted email list effortlessly.
Incredible Display Triggers:
Just like the advanced trigger options available in the plugin, you can take things a bit further. How and when would you want your optin forms to be displayed?
Take advantage of several Display Rules available in the plugin that produces a variety of trigger effect.
There are time-based and interaction-based triggers in the plugin, and all you have to do it to enable anyone you want.
For instance, if I want an email list for only visitors who spend a fixed amount of time on my website, all I need to do is to enable the time based trigger and set a fixed time.
Here are some of the trigger settings available in the plugin:
Click Launch
After X seconds
After scrolling down X percent
Visitor has viewed X pages
Schedule
1.Multiple Stylish Templates with Modern Layouts:
It doesn't matter what kind of optin form you want to build, is it a lightbox, slide-in optin form, or a notification-bar form, you get to select any of the pre-built templates.
There are clean, stylish, and professional. Every element of these templates can be customized; you can edit the message, the image, the image orientations, borders, colours and lots more.
The designer doesn't feature a drag and drop editor, but it is visual in build and every of your customization is viewed in real time via the plugin's live editor panel.
Actionable Reports / Analytics:
A wide range of reports are available in the plugin, thanks to its built-in analytics. You can get graphical analysis of your optin performance.
This is very useful in tracking poor performing optin forms and compliments nicely with the A/B split testing engine also built into the plugin. With this, it becomes very easy to modify forms for maximum conversion.
Here are the reports you are going to get:
Top converting optins
Top converting pages
Top displayed optins
Number of impressions
Number of subscribers
Conversion Rate
Click Launch:

One other unique feature on MailOptin is the Click Launch Trigger. This feature is mainly for content upgrades – an act of luring visitors to subscribe to your mailing list by using incentives.
For example, you can ask visitors to provide their email address in other to download premium contents for free. The download link is sent to their inbox while you collect their email addresses from your dashboard.
Automatic Newsletters:
MailOptin will automatically trigger your mailing list with a "New Post Notification" newsletter in a beautiful and attractive template each time you publish a new post. This comes in very handy because it saves a lot of time and energy which would have been spent in manually creating these newsletters, everything is automatic, fast and fluid.
Email Integrations:

Take advantage of the numerous integration options available in the plugin. You can easily integrate the plugin with all major email marketing service providers in the market including MailChimp, Sendy, Constant Contact, Campaign Monitor, Drip, GetResponse, ConvertKit, AWeber
Types of Optin Forms Available:
The primary email list from is the lightbox, this is what you see in most websites. Outside the popular optin form type, the plugin comes with other variations and they are:
Lightbox – Overlays your content with a popup.
In-Post Opt-in – Display optin forms at the top or bottom of your post.
Notification Bar – Trigger an email subscription form on the top of your screen.
Slide-in – An optin form that slides at the bottom corner of your site.
Sidebar/Widget: Email forms for WordPress sidebars.
These optin forms can be customized from start to finish in the customization area. The beauty of it all is that it comes with a live editor that shows your changes in real time.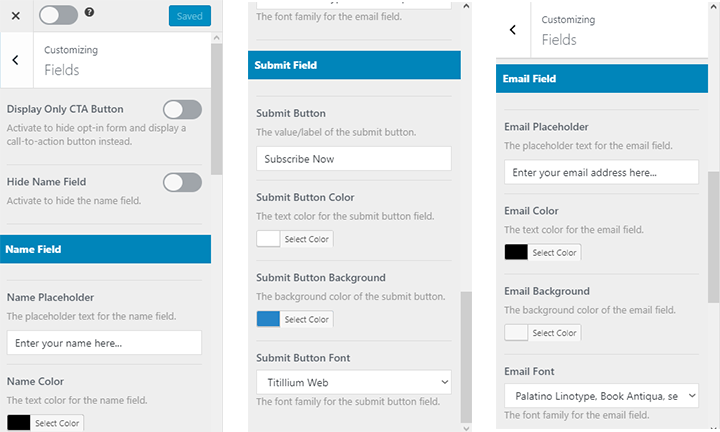 Pricing and Availability:
One of the coolest things about this plugin is that with all these features, purchasing the plugin doesn't cost an arm and a leg. The price tag of the plugin is justified by the plugin's power and simplicity.
There is a free version of the plugin which is really limited, but if you really mean business about building an email list, you will have to get a license from within the structured premium plans:
You can purchase the plugin's single site license for $59.
The three site license has a price tag of $99 and the Pro Plan goes for $199.
The Pro plan gives you full access to all MailOptin features. Check out what features are available per premium plan.
Documentation and Support:
MailOptin has a full-fledged documentation area that explains every aspect of the plugin. Although, using the plugin is self-explanatory and it's possible you may never visit the documentation area, but if you ever want clarity on certain features or you can't figure out how to make any option in the plugin work, be rest assured that it has been expressly treated in the plugin's documentation.
Perhaps, you need one of the team members to get in touch with you? There is a priority support system that handles that. In next to no time, you would have established communication with MailOptin developers.
Final Verdict:
MailOptin is for anyone, it is an excellent list-building solution that is easy to manage; it includes a variety of optin form types that are paired with stylish and conversion-focused templates that you can easily customize to suit your taste.
It is super easy to get started with split testing to maximize conversions. The plugin also comes with an advanced page targeting framework that makes your optin forms extremely relevant to your visitors.
If you really mean business about building an email list and generating leads, you will love MailOptin – the results you are going to get will stun you!