If you run a website, it's highly likely that you are looking for better conversions. The form of conversions may vary : email signups, sales, donations, memberships, leads, downloads and other goals you have in mind from your web presence.
For all that to happen, you first need to know what makes your users tick. Knowledge of why some prospects buy your product and others don't. Why some people stay on your site more than others.
All these factors that contribute to a website's success, depend on a range of aspects: design, copy, overall message, call to action, headlines and images used. Combined, these elements influence the result. Nevertheless, as a blogger, it can get very difficult to segregate the effective ones from the ineffective lot.
In such a scenario, having precise knowledge of what works is a lot better than random guesses or outside opinion. And knowledge is directly proportional to quantifiable data.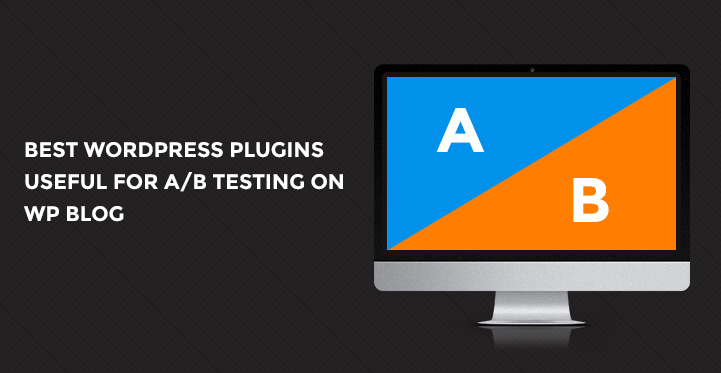 A/B testing eliminates this guesswork and gives you sharp knowledge on what exactly your visitors respond to. It helps you go from hypothesis to an informed decision.

A/B testing: What the hoopla is all about
A/B testing means you are matching two variants of your site against one another. The variant A can be your original site and the variant B can be a version to which you made changes based on assumptions about what you think would work better.
You can test the modifications against the original design by having the visitors view both the versions and figure out which one is better. If the experiment succeeds i.e it delivers positive outcomes, the modifications can be made permanent, otherwise you can proceed testing with some other set of modifications.
The entire point of A/B testing is that it allows you to validate a new design (or modification) to your page before you have committed to it. It propagates a shift from "I think" to "I know" by enabling data backed decisions. One can ensure that every change produces a positive result, by measuring its impact on metrics.
The best part is that anything can be tested : Entire landing pages, descriptions, headlines, calls to action, images, videos, colors, site layout, visitor flow and a lot more.
One must constantly keep testing their website and optimize it to the fullest. It has the potential to increase conversions in parallel with delivering valuable insights about the visitors.
WordPress Plugins for A/B testing
By installing relevant plugins available, WordPress website owners can effortlessly conduct A/B tests on their sites and ensure infallible performance and outcomes. These plugins installed in the WordPress dashboard are much more preferred choice in terms of convenience as compared to external tools.
To top it all, they allow the blogger to confine their tests to particular elements of the website.
There are plenty of useful plugins in the WordPress storehouse, including a series of those for A/B testing.
Let us go over some of the best plugins available for A/B split testing, in order to make your WordPress blog a success.
With a range of A/B testing plugins available, things can become too overwhelming for a developer. To top it all, it can be confusing, with all the aesthetic themes.
Making a choice in such a scenario can be hard. The A/B theme testing plugin comes off as a saving grace. It includes Google Analytics using which one can compare multiple themes and figure out which one is ideal for their business.
The best part is, you do not need any know how of coding. All you have to do is download and install the plugin and you are good to go. You can run multiple themes on your website, simultaneously.
After doing so, you can randomly rotate them for visitors so that you can test which theme is better in building up conversions. Therefore, by choosing themes, you can boost your profits.
Earlier, this was called "Google Website Optimizer", however now it has been rolled into Google Analytics. The best part is that most bloggers must already have Google Analytics installed on their site, as a result they can just go ahead and start testing quickly.
This, the simple setup and the perk of being free of cost make Google Content Experiments the best way to start your split testing journey.
Instead of the A/B, the A/B/n model is used. You can use upto 10 full versions of a single page while testing, each with a separate URL. This stands apart from the usual methods of testing two versions of a single page (A/B) or various sets of elements on a single page.
Using this service, you can define goals and follow up on them. To top it all, you can select different metrics to track such as : Revenue and transactions, bounces, pageviews, sessions duration etc. Also you have the option of defining custom goals.
This one is an incredible new split testing plugin for WordPress. Using this you can quickly setup A/B split to improve the landing page conversions. It allows you to split test pages and posts without even having to edit the slightest bit of code. It's USPs are
Carry out easy split testing with a step by step interface
No need of inserting lines of code into the templates
Track the results in Google Analytics
Have the winner automatically morph into the master page (and remove the other variation).
Nelio, is another A/B testing plugin on our list that offers an exceptional service.You can easily configure A/B tests which can be conveniently handled and monitored via the WordPress dashboard. Testing is a child's play with seamless access to plugin.
You can smoothly conduct a test on various sorts of web elements ranging from large UI ones to minute details of the page.
There Is a heatmap feature integrated that allows a blogger to investigate user engagement on their website. This allows better focus on concentrated areas for delivering an optimized UX. Moreover, there is a daily report on the visitors landing on the website and conversions being generated.
This plugin does not hamper the website's performance or loading speed in any manner thanks to Neilo's Back end server being used for collecting information and analysing stats.
One more plugin that does not require any coding skills. It allows WordPress sites to implement Optimizely services that significantly improve the site's performance via A/B testing.
Thanks to the simple and intuitive visual interface, one can proficiently create experiments, allowing them to boost conversions with ease and simplicity.
The only concerning factor is that you have to create an account at it's official website and enter the project code in the configuration page of the plugin. However, by doing this you can enhance your site/blog by enjoying the benefits of optimizely.
Wrapping it up
If one makes the right efforts, there is always a room for improvement. A/B testing can always make you go back a step and figure out the flaws in your work. As a blogger you must carry out these tests from time to time in order to achieve and maintain good conversion rates.
We hope our list helps you in your endeavors.
Author Signature: Addison Cohen is a mobile app developer working with Appsted Ltd, the leading mobile applications development services provider which delivers most comprehensive mobile application solutions. He loves sharing latest information on mobile technologies like iOS, Android development processes.