If you're running a business, you need a website that will help you generate those leads. The idea is pretty simple. The more leads you generate, the more chances you have for conversions.
For your website to generate leads, though, you need to rank well on search engines. This is where Domain Authority comes in.
Although Google doesn't use Domain Authority to determine rankings, the metric can give you an idea of how you can rank on search engine page results compared to your competitors. That helps you make the necessary adjustments to your SEO efforts.
So what exactly is this metric? Perhaps more importantly, how can you build your website's Domain Authority? We'll answer those questions in this article.
What is Domain Authority?
Let's start with the first question. What exactly is Domain Authority (DA)? To answer that, let's go to the creators of the metric themselves.
According to Moz, DA is a search engine ranking score that predicts "how likely a website is to rank on search engine page results." A DA score ranges from 1 to 100. The higher a website's DA, the greater its predicted ability to rank. A new website usually starts with a DA of 1.
The Domain Authority is calculated through an assessment of multiple factors, and that includes "linking root domains and the number of total links."
In other words, Domain Authority also looks at the number of relevant backlinks a website has. Backlinks are links to your websites from other sites.
These sites that link to you, however, need to be reputable for the backlinks to have an impact on your DA score.
To have a high DA score like Wikipedia and Google, then, you don't need a large number of backlinks. You need a large number of high-quality backlinks.
To be clear, getting a high DA score shouldn't be a website's goal. The DA works best as a comparative metric. So you can't look at it as an absolute figure that exists in a vacuum.
Instead, interpret it in context, particularly vis à vis your competitors' DA score, too. When you do that, the goal is no longer to get a high Domain Authority score then. The goal is to get a DA score higher than your competitors'.
But why all this fuss about Domain Authority? What exactly can the DA score of your website and of your competitors tell you?
Two important things: how your website is doing in terms of SEO performance relative to your competitors, and whether it's realistically worth it to pursue your existing SEO goals.
So if you find your website's DA score is 48, and that of your competitor for a query is 80, you can immediately conclude you'd only be wasting your time and resources trying to outrank that site for that query.
That's because Domain Authority is based on a logarithmic scale. It's easier to get to 30 from 20, but much harder to get to 80 from 70.
On the other hand, if you find the DA score of your competitor for a query is 50, you can conclude you can make tweaks to your SEO strategy and possibly outrank that competitor for that query.
3 Practical Tips to Build Your Website's Domain Authority
Now that you know the importance of a website's Domain Authority, let's discuss how you can build yours. Try these tips to get a DA score higher than your competitors' and have better chances of outranking them on SERPs.
Create Quality Content on Your Website
Since Moz looks at a website's backlinks to determine that site's Domain Authority, it follows one of the ways you can boost your DA score is to earn those backlinks. Like I said though, you shouldn't just focus on getting as many backlinks as you can. Focus on getting as many high-quality backlinks instead.
But for reputable websites to link to you, you need to have quality content in the first place. Creating quality content is not that hard. According to Neil Patel, these are the nine characteristics of great content:
It is original.
It has strong headlines.
It has actionable content.
It provides answers.
It is accurate.
It engages and leaves readers with questions.
It leverages images and videos.
It is short and pointed.
It is updated.
That content doesn't necessarily have to be a blog post. Infographics, for instance, are great if you want to get those valuable backlinks. Why wouldn't they? Humans are visual creatures.
According to Seyens, people can remember more than 2000 images with at least a 90% accuracy over a period of several days.
Visme, a data presentation and visualization tool, published this infographic on who would be the most effective leader of Westeros among Game of Thrones' characters based on their personalities on its website. The results were astounding:
Not only was the infographic carried by reputable websites such as Men's Health, which has a whopping DA score of 85. It also generated a lot of engagement among GoT fans across different marketing platforms.
Guest Post on High-Authority Sites
Sometimes, you can't just wait for the reputable websites to come to you. You have to go to them yourself, pitch your ideas for great content, and write the content for them.
That guest post, as it is called, would, of course, carry those juicy backlinks to your website that can build your Domain Authority.
Before you can do this, though, you need to reach out to those reputable websites that will make an impact on your DA if they carry your backlinks. What are these sites?
That depends on your parameters.
In my case, for example, I look for sites that fit these criteria:
Niche-relevant
A DA of 50+
Website traffic of over 5,000 a month
I also look at a website's trust flow, a metric provided by Majestic that is basically the proportion of good backlinks the site has to spammy ones. Websites that have a trust flow of 18 and above make my cut.
So how do you look for those sites? I suggest you start with high-authority sites in your niche. Ahrefs, for instance, is a good source in the marketing industry.
Pop the Ahrefs domain name into Ahrefs' Site Explorer and you get something like this:


That's a list of sites that carry Ahrefs backlinks.
From that initial list, remove the ones that don't fit your set criteria. Voilà! You have your final list of sites for your guest post outreach.
Now you'd have to look for the email addresses of the editors of those high-authority websites. This one's not so hard to do. Again, there are multiple tools that can help you.
Just type the name of the website editor and the website on an email finder, and you'll have those email addresses. If you don't know the names of the website editors, don't worry. Find Emails, for instance, can help you search just by company and job role.
Once you have your email addresses, reach out to the editors on your list, and pitch your ideas for great content. Since this is technically your first email, you need to introduce yourself and tell them what you do.
Go straight to the point. Editors are busy people. They don't have time to read an entire email on your life story.
To get you started, here's a cold email template you can use:
Hi [editor's name],
My name is [your name] from [your blog]. Would you be interested in accepting guest posts at the moment? I have several content ideas I think would be great for [editor's website]. They're topics that haven't been covered on your blog yet. 
 
Do let me know. I promise my article suggestions will provide your readers a lot of value.  
 
Cheers,
 
 [your name]
 
P.S.: My articles have been published on [big name of website 1] and  [big name of website 2].  Here are links to some of my work: 	[link 1]
		                        [link 2]
			                [link 3]

You can modify this template to your liking.
Many editors will decline politely. That's fine. It's a fact of life.
Once an editor tells you they do accept guest posts, send them at least three article suggestions. Base these on your research of keywords their competitors are ranking for, but which they don't rank for.
Make sure your guest post is well-written and well-researched. You wouldn't want to go through that long process only for your guest post to be rejected in the end.
Use the Skyscraper Method
You can also earn high-quality links by marrying the two previous strategies I gave you. Backlinko's skyscraper method entails you publishing quality content on your website AND doing blogger outreach at the same time. Here's how it works.
Instead of just creating quality content for your website, you create an improved version of content high-authority websites were already linking to.
You then reach out to the editors of those websites and inform them about your improved content. Because your content is way better than the one they linked to, they'll link to you instead.
Simple right?
So how do you find that content you'll create an improved version of? Ideally, you want content that already generated a lot of links and engagement. That makes sense because the more high-authority websites that end up linking to you, the better for your Domain Authority.
There are many tools you can use to find that content. Buzzsumo is an example.
Just enter a keyword in your niche and Buzzsumo will give you a list of articles.
Any article with a high total engagement on that list will do.
Now it's time to create an improved version of that chosen content. Here's how you can do that:
Lengthen the content.
Update the data.
Transform it into something more visually appealing.
Make it more thorough.
Once you have your masterpiece, it's time to reach out to website editors linking to that old content. You can come up with a list of website editors to reach out to by analyzing the backlink profile of that old content using tools such as Ahrefs.
Just remove from the list the sites that don't fit your description of high-authority sites (go back to your set criteria) and those you can't reach out to in the first place (directories, forums, among others).
You'll be left with your final list.
Again, use an email finder to look for the website editors' email addresses. Once you have your list of email addresses, all you need to do is compose an email that gives them a heads-up about your improved content. Here's what Backlinko sent to 160 website editors: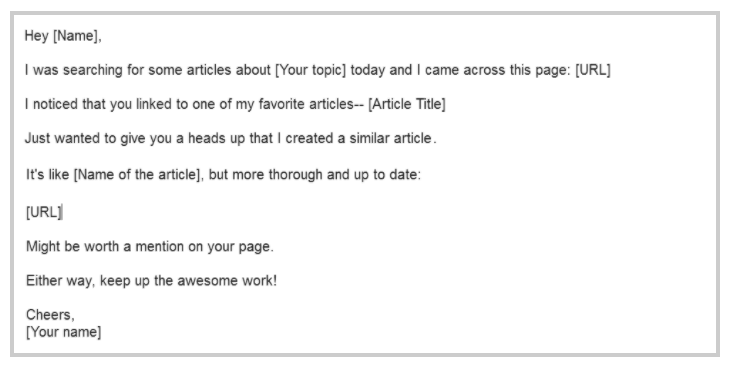 The results were astounding. Out of the 160 emails sent, Backlinko landed 17 links. That's a success rate of 11%!
You can use this template or modify it depending on your preferences.
In Closing
Moz's Domain Authority is an important metric. It can predict how you will rank on SERPs relative to your competitors.
That can help you determine not just your website's relative competitiveness at the moment. It can also help you discern if it is realistically possible for you to achieve your current SEO goals.
The rule of thumb is this: a higher DA relative to your competitors' means better chances of outranking them. In other words, building your DA by getting those juicy backlinks from high-authority sites is key.
I outlined three tips that can help you do just that: create quality content for your website, guest post on high-authority sites, and use the skyscraper method. You can follow all of these or pick those that work for you.
Always remember, your website Domain Authority is a great indicator of success. Use it to understand how you can compete, and you'll definitely go places.