If you are planning to create and launch a WordPress based website or blog, you have probably already thought about how much it is going to cost you.
Well, WordPress website creation cost depends on dozens of factors and your priorities. Your WP site is not going to be a bunch of code rolled up with a beautiful and attention grabbing cover. It's going to be your face or digital personal representative to prove your qualities and identity.
Therefore, when pondering about how much WordPress creation costs, you will need to take into consideration what you are expecting from your future site to be.
From a financial standpoint, WordPress software itself is a completely free, but the creation of a WordPress powered website on a certain domain is going to cost a certain amount of money.
Of course, you can make use of one of the free services like wordpress.com, blogger com, etc., but the chances are high that you will get a second level domain and hard cut functionality instead.
Trying to calculate how much will a WordPress website creation cost? Let's consider two options of creating and running a "real" website on WordPress.
1. You have limited financial means and are going to work on a tight budget. Or you are just greedy
2. You are rich enough and don't worry about the WordPress website creation cost.
Hence, depending on the budget category you choose for your site, the price can be essentially changed.
Now, let's define what you are going to need:
Domain name (required)
Hosting (required)
WordPress theme (you can buy a one, or you can use one of the free versions)
Development, plugins, extensions, etc. (optional)
As for the domain name, it's the official web address of your website, which your web visitors are going to type on their browsers to reach you. Generally, the price of a typical domain name starts from $14 or $15.
In certain cases, you will be able to find even cheaper, depending on the domain registrar, special offers, discounts and so on.
Next is the hosting. Well, the prices for hosting can fluctuate significantly. If you are new in the digital spectrum and are making your first steps in website creation, we recommend you to choose one of the cheapest plans for hosting. Further, you can upgrade to a higher plan depending on your website needs.
A monthly cost of an average web hosting is $7 or $8. Again, there are certain factors affecting the hosting price, like the theme you are going to choose for your website, hosting provider, discounts and more.
Let's go on.
WordPress Themes
There are hundreds of free WordPress templates you can find in the official WordPress repository. However, if you want something more flexible, visually stunning and technically advanced, you'd better purchase a premium one or have a custom made, which will also affect the budget you are going to spend on your site creation.
Thus, we'll fix the price of WP theme as 0 in our final bill, but will also discuss some premium options further.
If we try to scan the current marketplace of premium WordPress themes and understand the optimal price for them, we'll find a price range starting from about $20 to $300.
Of course, you can limit yourself in the cheapest price range, however, don't hope for any support by the theme developer or author in the future. And while the price tag of 20$ may be tempting, we strongly recommend you to purchase a template of an average cost.
You can find dozens of premium quality, yet cost conscious template in https://www.sktthemes.org/.
You can also find free templates in SKT Themes library and check their functionality before going to premium. As you can see, the prices of those themes are pocket friendly so that you will not need to shell out all of your hard earned pennies for any of them. You can even purchase SKT Themes bundle for the price of one: just $99 per year!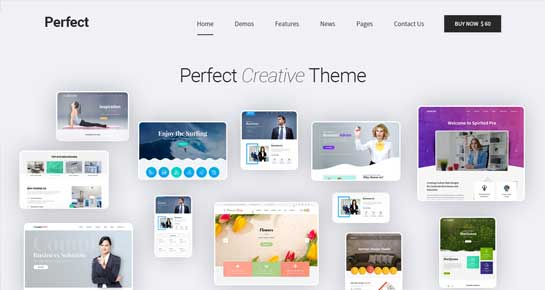 SKT Perfect is a perfect WordPress theme which can be used for any type of commercial websites. This multipurpose premium commercial WordPress theme is super flexible and scalable.
Comprises of several fantastic supporting themes which provide super customization options and great custom different designs which are not just unique but cater to various industries and types of websites.
Portfolio websites can be created easily with the help of several slider compatible plugins, internal gallery included with the theme and as well as other gallery plugins which are compatible with the theme.
It becomes very easy for a photographer to have the desired type of website by choosing among the templates given and create a great site for their own benefit which is visually attractive and looks great on both mobile and tablet as well as desktop devices.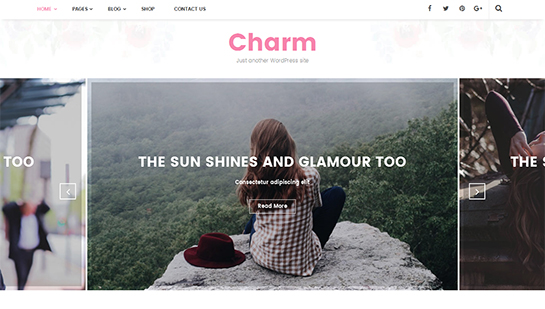 WordPress has been the long preferred CMS in the world for blogging. Bloggers from the start of blogging used to use Tumblr as well as Blogger for their blogging needs.
But since the existence of WordPress it has changed the aspect of blogging and now blogging tool seems to come up with only one word and that is WordPress.
WordPress self hosted solutions come up with good managed WordPress hosting and great WordPress blog theme which are useful in creating an excellent blogging based website.
Blogging can be done for various and every kind of industry but is more popular for travel, corporate, personal, lifestyle and fashion and women centric businesses like recipes, kitchen and affiliate marketing and technology blogs as well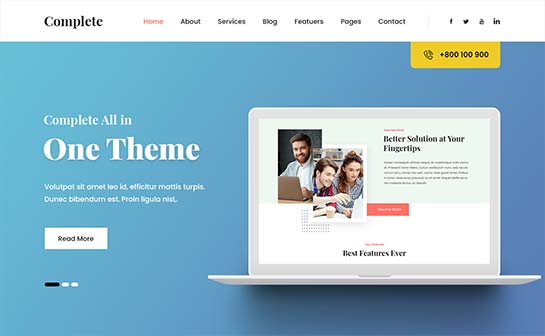 Complete WordPress theme is complete in each and every aspect and hence we have named the theme as complete as we have tried to cater to multipurpose needs and requirements of clients and web developers who build websites for their clients.
Full color changing theme since the background, text and links as well as other areas like buttons etc colors can be easily changed or altered with.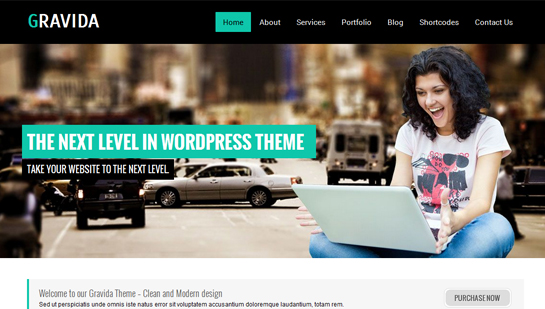 Running a high quality, accurately crafted and developed corporate or business website seems to be one of the most applicable online marketing strategies at present for the majority of companies, organizations, agencies and firms, having ambitions, goals and objectives in the relevant field and foreseeing better outlooks for the future.
They exercise this tool successfully to expand their company and brand presence, increase their visibility and accessibility for more people and transforming their visitors into their potential customers.
Dealing with a business world directly and indirectly enforces you to take a really prudent care of your compatible and decent presentation in the online market.
As today it is used as the main source of information and intelligence, and having your comprehensive presentation of your business and business-related activities will indescribably will speak and act in your favour are among our favorites.
They unite high end theme features with admin friendly customization options to make the creation and customization of your website a breeze. And what is more important, they are going to cost you only $39 or $48, which, as you will agree, are preferable prices for a top rated template
And the last parameter we need to discuss in our guideline of WordPress website creation cost is additional features and tools you might need to get your website up and running smoothly.
Even if you purchase a well equipped and feature rich premium WP template, there comes a time when you want your site to be more effective and functional to offer your website visitors the best user experience they deserve. This is where free and premium plugins and add ons come into play.
WordPress repository is full of such tools and extensions for you to review and add to your site. Now about the current price range of WP additional tools and plugins.
If we are looking for a numerical answer, it is between 0 and $100 or even more for a monthly subscription. All in all, the price depends on the feature pack and capacity a specific plugin is ready to offer you.
If you are looking for a highly saturated website management system to control the whole site from one place, then you need to add some $30 or $40 to the total budget of your future website creation.
As you see, it's rather difficult to estimate the optimal cost for a WP website creation and further management since you are the only one to decide what you need and what you want to pay for it.
Anyway, remember, that it's not the price that is going to do the heavy lifting for you, but your efforts to find a reasonable correlation between the price and quality.