WordPress has been around for 15 years now it's not going anywhere but up the ladder and you can expect fascinating WordPress trends in 2023.
WordPress implement the real visionaries' ideas technically. 
It offers so many features and tools that it's difficult to know where to start and which style to adopt. 
Paying attention to the latest design trends can help you figure out what works and what doesn't, with the time.  
Adopting a forward-looking approach to web design will enable you to create a unique website that represents your business and plays a vital role in the market. 
As the world is going digital WordPress is also getting better every year with incredible new features and functionalities. 
WordPress is becoming more significant with every passing day, with a simple plug-in for converting mobile it's more approachable.
For a number of blogger it's the first preference. WordPress has always been a top choice, for its rich content and presentation. 
Here we have listed few WordPress trends in 2022 building to look out.
1. Multipurpose themes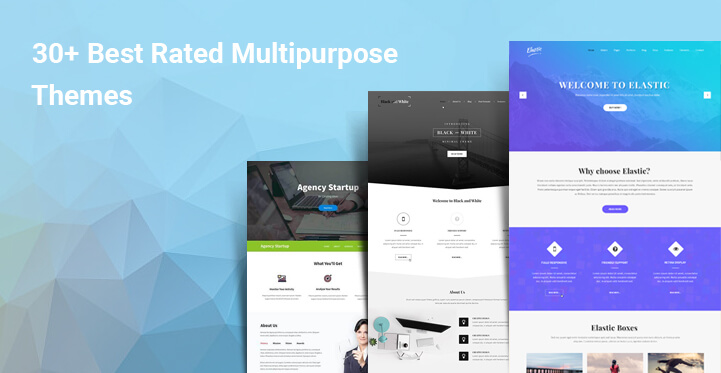 A multipurpose theme allows a user to build any type or any style of a website with all the features that are necessary for a website or for a business.
Multipurpose themes pride themselves on covering a wide array of website types. And that's the main reason behind the gaining popularity for multi-purpose themes among the users and the developers.
Multipurpose themes are modern, customizable with a solid plug-in bundle. It offers best of everything as per the requirement.
Multipurpose theme definitely stands out as providing useful functionality for all manner of sites. Since most of the organizations are now considering WordPress to construct their business sites hence we definitely see a decent rise in popularity for multipurpose themes in WordPress trends in 2022.
2. VR Optimized WordPress Themes
As the technology is improving day by day we are living in a world of Virtual Reality. Virtual Reality is the upgraded technology that is going to change the way we see the world.  It brings the future closer than our imagination. 
It's not just limited to gaming but it has reached every corner of every industry existing today. With this technology, you can enjoy the 3D effect even at your home.
With the introduction of VR headsets like Gear VR and Facebook's Oculus Rift, People are more curious towards Virtual Reality. 
With gaining popularity and looking at the latest statistics and projections, we can only imagine what kind of other amazing things we might get to see in the world of WordPress trends in 2022. 
3. Module-Based Themes
Module-Based Themes integrates each knowledge domain into several modules relevant to real-world business organizational leadership. Module-based themes enable us to call upon the functions you need when you need them.
It's a perfect mixture of advanced functions. Among the other unique features are it prevents 'bloated' pages and make for an intuitive design experience, especially when combined with drag-and-drop features.    
It comes with all-in-one solution featuring over 70 different module variations. There is no way it will not be one of the most used themes in WordPress trends in 2022. 
4. Drag and drop WordPress page builders
The biggest trend which has been followed for a WordPress website for many years is that a beginner or a non-technical person should be able to create, maintain, and update a WordPress websites without hiring a developer or a designer nor need to learn basic coding skills.
Thus this feature is highly promoted by drag and drop page builders which are the most downloaded plugins. Some top page builders that you must look for in 2022 are listed below
Elementor

One of the page builders which is mostly used in WordPress is Elementor. Currently, Elementor has been used by 5,000,000+ WordPress customers.
This page builder comes with plenty of extensions and plugins. However, people having a low budget or a heavy budget will find this builder more useful because this builder is available with paid and free versions.
Using this page builder either you can start creating a WordPress design from a sketch or simply you can use its pre-made templates.
Gutenberg

For content editors, a new feature is introduced by WordPress which is known as Gutenberg editor. This is the biggest and the most awaited feature in WordPress.
Actually, it allows you to add background color without writing a single line of code to its content blocks.
This feature is more helpful as it allows you to highlight the particular blog post's sections. With the help of the default Gutenberg editor, you can customize any single post or page.
Gutenberg plugin has more than 300,000 active installations and it is available in 51 different languages.
Customizer
One of the best default features of WordPress is the theme customizer. Thus every WordPress user can access it. They just need to log into the WordPress admin area. After this go to the appearance then click on customizer.
These all options are accessible through your WordPress admin panel on your left-hand side. By following these steps a customizer interface will get open in the current theme.
People who don't feel comfortable with other page builders can use its default theme to customize the modify the theme.
While making changes an admin can preview changes in real-time. The trend of using default customizer's is still going on in 2022.
5. One-click Import

One of the most phenomenal and incredible features for WordPress beginners is One-click demo import option.
This feature allows you to import the available demo data of a theme with just a single click.
All types of content available in WordPress demo content including plugins data, customizer data, settings, etc will be imported with a single click.
With this feature, you can mainly import
All menus, categories tags, custom fields, and comments
All pages, images, custom post type content, and posts.
All customizer settings, data of used plugins, widgets, and front page.
You will have the easiest option to customize the theme due to importing the theme's demo content. Thus you will be able to create a stunning website in no time.
You will find a number of WordPress plugins that help you to import the theme's demo content easily and more efficiently.
6. Increase in eCommerce functionality
eCommerce is the most important function that helps you to sell your services or products in the easiest way. Nowadays digital payment is more preferable because it is the most convenient way for transactions.
You will find some more enhanced functionality for eCommerce in 2022. However, some improvements will be done with cryptocurrency and some other digital currencies.
7. Chatbots

Small scale based companies, as well as large scale based companies, utilizes the features and functionality provided by Chatbots. Because of chatbots, your customers can ask questions whenever they want to.
Plus they will get responses to their questions instantly because chatbots offer 27 hours responses. However, the customer's queries will be resolved in real-time this will reduce the cost of hiring real-life customer service agents.
The best thing is that chatbots can handle different inquiries at the same time. There is a possibility of countless programmable, plus updation can be made to chatbots.
8. Accessibility
The importance of an app and a website was increased significantly for handicapped or disabled people in the year 2020.
However, this design trend is going to be continued in 2022 as well. Online content is now much more accessible because of smart speakers and the capabilities of voice.
Thus accessibility of online content can be enhanced and improved with simplified navigation, captioned media, and voice search technology.
It is very crucial to enhance the accessibility for disabled people so that they can easily access the internet and use devices for every small need related to entertainment, work, social connections, schools, commerce, etc.
9. White Spaces
For any kind of minimalistic theme white space is an important element. For example, if you want to catch your visitor's attention to your website then White Space plays an important role.
It offers an uncomplicated and simple appearance with large margins which is required for creating user-friendly and thumb scrolling-friendly websites.
With proper utilization of White Spaces visitors will be able to view the content which is more important than other content. However, White Spaces help you by enhancing user engagements and making your users click on the call to action button.
10. Parallax
Another biggest trend that continues in 2022 is parallax effects. this feature is important in WordPress to gives a pleasant experience to your visitors.
There are different parallax effects that can be provided on the websites. But the background is the most used parallax.
Using parallax in the background means in the background there are big images and while scrolling the web page you will be able to see another part of it.
However, the parallax effects can be added to any smaller element including text. however, you can move it while scrolling your mouse. Parallax effects offer a great visual impression and enhance conversions.
11. Artistic Typography
One of the most crucial design tools is typography. You can give different appearances to your website by just choosing the best suitable fonts. Typography is also important to factor to highlight your text and adding animations to it.
The highlighted headings and typewriter effects will emphasize the most important content of your website. Thus the animations provided to it will make your website live.
12. Video Headers

It's the easiest and the simplest way to add a video background to any element on your website. While video headers and backgrounds are nothing new, they've yet to take off a masse on WordPress websites.
Every year, WordPress introduces a new default theme that's automatically available for the entire users that uses the WordPress. It includes some of the powerful theme options, along with a few custom elements which make it more interesting. 
Video Headers is the beginning of a new trend. We'll have to keep an eye out for WordPress video headers as its becoming the first choice of the people all around the world. 
13. The Rise of Mobile-First WordPress Themes 
As we all know with time people have become choosier. Everybody looks over for a mobile (Smartphone) than desktop. Hence mobile users have surpassed the desktop users and the difference is only widening. 
As WordPress has gone mobile, the entire focus has gone to improvise and enhance the mobile user experience.  
This has definitely given boost and upsurge to some of the design trends, these designs are somewhat required to keep up with the latest trends.
The number of people using Smartphone's is in billions therefore, we would see mobile-friendly WordPress themes and it would be the leading trend in WordPress trends in 2022.
14. Infographics
Infographic is a data visualization tool that helps you create interactive charts, info graphics and maps. There is no better approach than infographics. 
It is widely used by marketing teams, newsrooms, bloggers and students all over the world. Infographics make the perception of information less demanding and significant. 
Benefits of Infographics
Allows users to authenticate into their own library and access their content directly from the WordPress visual editor
Supports one-click embedding from the library
Supports embedding of any publicly available chart or infographic made with Infogram through the URL
Fosters team collaboration by allowing multiple users to post to WordPress with the automatically generated short code or the URL
Through infographic, one can rapidly get to essential data.  This is why it makes, its place in latest WordPress trends in 2022.
15. Microinteractions
It's the little things that turn a good digital product into a great one. With this, you'll learn how to design effective micro interactions.
Micro interactions UX designs help users understand the process they're about to participate in, Therefore they are small bits of communication that help users navigate the interface, and perform basic functions:
Communicating statuses or feedback
Revealing results from particular actions
Helping manipulation
Micro interactions UX design is any single task-based engagement with a device. They are single moments of communication that help users flow through the design.
As technology continues to develop, designers are able to provide delightful visual feedback.  
It is smooth enough to pass unnoticed as the user is performing his usual activities on a website. Not only do they improve functionality, they also make your site more engaging.
WordPress trends in 2022 might also see some other amazing trends. With time, there are so many trends catching the fancy of the people.
Every time we look into the future and assess current trends and every time trends tend to be complemented and change over time. 
WordPress is slowly becoming the system of choice, it's perfectly combined with the stupendously features in WordPress, the final product proves to be optimized, friendly, and fast for all visitors/buyers. WordPress design trends are very dominating with its upgraded features.
It's the world's most popular Content Management System (CMS) for your site.