If you already have a WordPress blog and feel that you are somewhat limited, then you can always make the move to your own self hosted domain with WordPress.org.
This is not to imply that WordPress.com is not great, it is but the fact remains that it comes with a few limitations which is why you may want to go ahead with the migration to WordPress.org.
For example, switching to a self hosted blog on WordPress.org will allow you to run ads on your website and monetize it and in the process, make some good money off your blog. And If you are looking to do just that, then check out the information posted below.
1. The first thing that you need to do is to choose a good web host; remember that shared hosting may include more downtime so try to opt for premium hosting.
The other thing that you may want to pay some attention to is to choose a good domain name, you can use domain name generator tools for the same and come up with a good one for your blog. Once you have your domain name sorted out, you would need to install WordPress on your host.
2. First step:
Once you have finished with the initial steps, you can then move on to exporting your content to WordPress.org. Just head over to your WordPress.com blog and login to your admin area.
Now head over to your admin dashboard, click on tools tab and the export option contained within the same and click on export.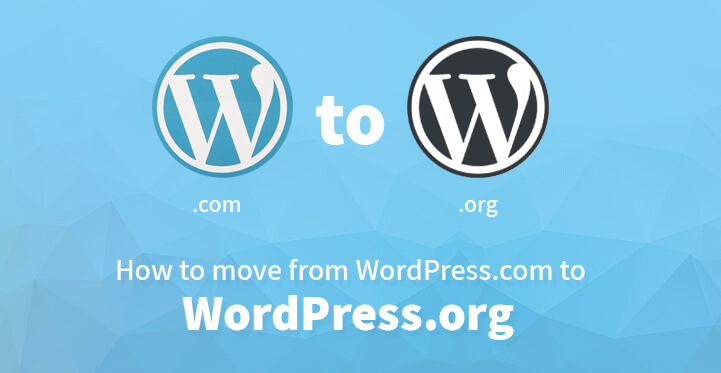 3. Export:
Under the export option, you should see two tabs, one for regular export and the other for a guided transfer process. Just click on 'start export' and you would be immediately prompted as to what sort of content you are looking to export.
You can opt for a customized export, or for a full export, of testimonials, posts, comments, media etc. Once you have selected, click on 'download export file'. And WordPress should provide the download files in RSS format
4. Second step:
Now that you have download the export file, head over to your new site on WordPress.org. Now you basically have to install the downloaded fie correctly.
Just head over to the admin dashboard of your new website, click on tools and import. This should offer you a few options, choose the last one "install WordPress importer" and this should help you import all the content from your old site to your new one.
5. Once you have installed WordPress importer plugin, a new window should appear and this is essentially the tool that you would be using to import all the content from your old site to your new one.
And what's more, this is a free plugin and one that had been developed by WordPress for this very purpose.
6. Third step:
Once you have installed the WordPress importer plugin, all you have to do is to upload and install your exported file correctly. Please remember that there is a size limit to import files such as 32 MB.
In case, your file extends this limit, you would have to use a file splitter to resolve the size limit. Just head over to the import tabs under tools and you would be asked whether you wish to upload and import your files.
You would also be asked whether you want to assign new authors to your posts or retain all the info 'as it is'. You can also assign posts to current authors on your new site.
This is why it is always a good idea to base your website on WordPress as it comes with advanced functionality.
7. Once you have finished with all the above steps, all you have to do is to click on "import file and attachments". And click on submit to start the process.
8. Fourth step:
Migrating images is a little tricky so you may actually want to undertake this step before you start importing content from your old site. At times, the wrong images get imported and it has been known to happen more with external images than anything else.
This is why you may want to use an external plugin like 'import external images'. This will streamline the import process and ensure that the right images get imported each time. Now all your images, even the external ones should get imported with ease and without any hassle.
9. Fifth step, redirect users to new domain: Once the import has been successfully done, you should get a confirmation regarding the same. The first thing that you need to do is to post a message to your old website to inform that you have migrated to a new one.
The other is to redirect users visiting your old site to your new one, you can use a redirect service offered by WordPress which currently comes with a price tag of $13/year.
Just head over to the site redirect service page, and once you are registered, just enter the details. All you have to do is to enter the blog that you would want visitors to be redirected from as well as your new domain name. Now, all you have to do is to click on 'go', make the payment and you should be set.
Now, this part is completely optional; by now, you should have successfully imported and installed the contents of your old site to your new one.
By installing jet pack on your new site, you should be able to avail most of the features that you were used to on WordPress.com. These are the steps that you need to follow in order to move your old site to your new one.
Just make sure that you keep the size limit in mind when you do so. By migrating to WordPress.org, you should be able to monetize your blog, streamline its functionality and in the process, gain more traction online.
Moreover, your performance should improve which should result in better seo rankings as well which is why you should migrate from WordPress.com to WordPress.org at the earliest.