One of the most important areas to focus on a website is the security area. The cases of web vulnerabilities are in thousands and more, which are hampering the website's data users' information and many other contents from the website.
It is not only the design, SEO, and content of your website but also the security functionalities of your website that require special attention to protect it from vulnerabilities.
A complete security check of your website is needed to keep the security top-notch for your website.
There are various website security check tools available in the market that you can pick to ensure the security of your website.
These website security tools come with various functionalities and feature essential for your website security.
Top 10 Free Online Website Security Check Tools
There are various efficient tools that you can use to scan the security of your website to check if there are any vulnerabilities, threats, or malware on your website.
Quick identification of those unnecessary threats on your website enables you to take quick actions to prevent them from breaching the security.
Here are the top 10+ online website security check tools that you can use to identify online threats quite easily. So, let's have a look: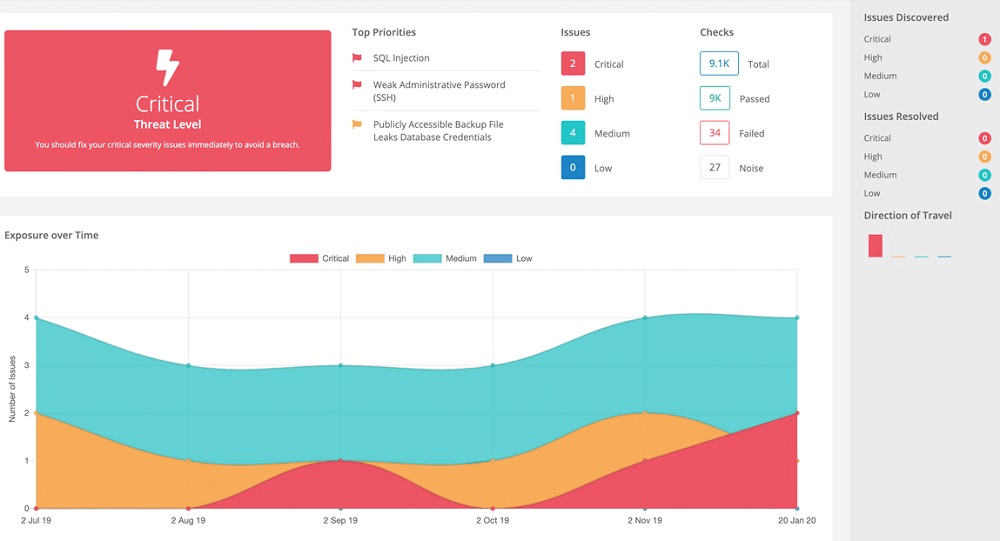 The intruder is an efficient cloud-based vulnerability scanner that finds the security-related issues in the web application infrastructure.
The tool is efficient to work for the enterprise-level security for govt sectors for scanning the engines in a simplified process.
The intruder is proficient in saving time with proactive system scanning of the vulnerabilities. Here are the features that it offers:
Misconfiguration identification
Missing patch detection
CMS issue identification
Web application issues cross-site scripting and SQL injection resolving
Scanning for application bugs
Enterprise-grade security
Specific perimeter
Continuous monitoring to easy detecting any issues
SUCURI is popular as one of the free website malware and security scanners that you can opt for to get an efficient security check on your website.
Sucuri is a WordPress plugin that comes with various features for malware scanning, post-hack features, email alerts, and integrity check to give you detailed information about your website's security.
Here are the features that SUCURI offers:
Increases security areas with WordPress hardening
Generates email alerts to keep you informed about the suspicious activities on your site
Post-hack to measure the compromised sections of your site
WAF protection to defend from hacks and DDoS attacks
Highly optimized CDN to boost the performance of the page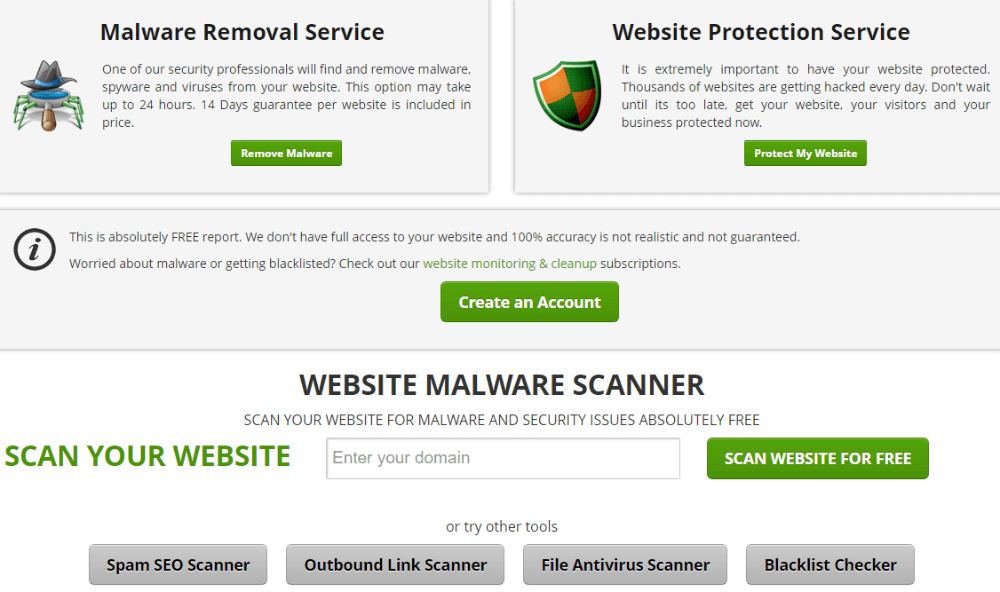 SiteGuarding is one of the efficient website security check tools that offers a complete security check of your domain for malware, injected spam, website blacklisting, defacement, etc.
This tool is extremely efficient when you look for a compatible security tool for Drupal, Magneto, WordPress, Joomla, Bulletin, etc.
SiteGuarding is also efficient in removing the malware from your site to prevent viruses. Here are the variety of features that SiteGuarding comes with:
Search engine blacklist monitoring
Various security alerts '
Daily scanning of files along with the monitoring of file changes
Easy access to the engineers for fixing the vulnerabilities
24×7 live support
If you are looking out for a tool that can give you better results in scanning your website for SSL/ TLS misconfiguration and vulnerabilities issues, then Qualys can be the right choice for you. It comes with an in-depth analysis of your https://URL.
At the same time, it detects expiry day, cipher, SSL/ TLS version, the overall rating for your website. Besides that, it also includes the protocol, handshake stimulation, BEAST, etc. Here are the various features Qualys offers for website security scanning:
Vulnerability detection and management
Vulnerability management along with a dashboard
Managing vulnerability along with the policy compliance
Securing the Configuration assessment with policy compliance
Web app Firewall for malware protection
Web app scanning for detecting threats
Continuous monitoring of the site
Threat protection
Security Assessment Questionnaire
PCI Compliance
The observatory is a Mozilla product which allows the site owners to check the various kind of security-related elements in their website. Observatory works by validating against the TLS best practices and OWASP header security.
At the same time, it performs third-party tests from the high-tech bridge, HSTS Preload, Security headers, and SSL labs. Here is the various feature of Mozilla Observatory:
Cookies checking
Cross-origin resource sharing scanning
Sub-resource integrity checking
X-content type options detection
X-XSS protection offering
X Frame options for better security
Redirections
HTTP Public Key Pinning
Content Security Policy protection
HTTP Strict Transport Security protection providing
Related Post: How to Improve the Security of Your WordPress Site
Detectify works as one of the very efficient website security check tools which are supported by ethical hackers. Detectify comes as a domain and web application security service along with automated security and monitoring.
It is capable of detecting thousands of vulnerabilities that are the potential harming agents to your website. It comes with the vulnerability scanning capacities like Amazon S3 Bucket, CORS, OSWAP Top 10, DNS Misconfigurations, etc.
Detectify works with the continuous monitoring of the subdomains to detect hostile takeovers and alerts the users about all malicious anomalies.
It comes with three pricing plans for Starter, Enterprise, and Professional. It also offers a 14day free trial that you can use with a credit card to understand how it works with your website. Here is the multitude of features that come with Detectify:
Continuous discovering of the unknown assesses to understand the attack surface.
The fingerprint of tech-stacking to know about the running technology on your site
Map tracking to detect the weak areas in your public assets to protect the sensitive information
Identification and validating of the vulnerabilities with automated HTTP requests
Monitoring and protecting the subdomains from the takeover attacks and DNS misconfigurations
Pieces of information about potential security risks and threats
Pentest tools is a website vulnerability scanning tool that comes with a set of various tools efficient to scan the security of your website.
It offers efficient services for information gathering, CMS testing, web application testing, SSL testing, infrastructure testing, etc., necessary to detect any issues with your site.
Various common web application vulnerabilities along with server configuration related issues are easy to detect using this tool.
The tool comes with a light version, which only works for passive web security scanning.
You can easily look for any vulnerabilities that come with an insecure HTTP header, outdated server software, insecure cookie setting, and many more.
With just two scans of your website, it gives you results on the OS Command injection, local file inclusion, XSS, and SQL injections. Here are the multiple features of the Pentest tool:
Visualizing the scan results from the dashboard
Detailed report with a graphical summary of the Findings sections. The repost includes vulnerabilities, descriptions, risks, evidence, and fixing recommendations
Scheduled periodic scanning of the site
Easy and programmatic accessing f the tools through API
Scanning templates for running multiple tools to detect the same threats
Multiple target scanning at once
Scanning through VPN
Work organizing with the workspaces
History maintaining f the scans to compare them
Notes to keep track of the ideas
As a tool for website security checking, the SSLTrust comes with various security scanning related features essential to retain the security functionalities of your website.
The SSLTrust works to test your site along with a long list of third-party tool/blacklists like Sucuri SiteCheck, Comodo, Avira, Opera Blacklist, Google Safe Browsing, OpenPhish, etc.
It comes with a total of 66 different services for your site to check if your website is passing the tests or not. SSLTrust is quite easy to interpret and provides a detailed security check of the site.
At the same time, you can use this tool completely free of cost, as it does not come with any subscription plan.
Virus and malware identification with leading antivirus and malware detection software and tools, which also includes Comodo and Google
Complete website scanning along with browser clone engines
Blacklist checking with multiple sources like Google Safe Browsing, databases, and phishing tools
Spammer server or domain checking including the spam emails and spam databases
Detection of the SSL certificate of the site with detailed certificate analysis for the validation checking
Recent history creating for the scanned websites
WordPress vulnerability checkered tool that comes with a bundle of features for the security scanning of your website. If you deal with a WordPress website, then WPScan is the efficient one to use.
It runs scanning on the WordPress site to look for vulnerabilities in the themes, plugins, and a WordPress core.
You can easily install it on your server, or you can use it with cloud scanning. The tool comes with both a free service and a paid plan. Here are the various features that WPScan offers to you:
WordPress enumeration scan to detect the attacking threats on the s WordPress site
WordPress username enumeration along with the cracking of weak passwords
Two-factor authentication for better security
Vulnerability detection of WordPress theme and plugin
Probely works as a virtual security specialist for your website so that you can opt for the development crew, SaaS business, DevOps, and Security team.
The tool enables you to scan the web application to look for any vulnerabilities present on the website.
It also gives you suggestions about the issues on your site and how you can fix them easily. The tool comes essentially for developers for security testing.
Along with the API-First development approach, it works with the API version of the service. The free plan comes with a basic scanning capacity to detect the problem.
The various prepaid plans with multiple pricing ranges come with advanced features for security. Here are the various features of Probely:
OWASP Top Ten protection for your website
Vulnerability assessment of various malware and virus-related issue in your website
Web scanning to detect any security-related issues
Vulnerability protection to prevent the harmful acts of the vulnerabilities on your website
Prioritization of the security functionalities
Whitelisting/ blacklisting on your website
Url Fuzzer tool allows you to identify vulnerabilities in your website. This tool scans all directories and files on the site. This scanning is necessary to detect sensitive directories or find hidden files on a website.
If cybercriminals scan your site and find downloaded files, they can upload malicious code to your site. If your site has hidden files that you don't know about, you could be easy prey for cybercriminals. They can gain access to sensitive information and use it for illegal purposes.
Basic and additional features of Url Fuzzer by Sitechecker:
Site directory scanning
Detection of hidden files
Evaluation and prioritization of all detected problems.
List of tips for fixing detected problems.
Website Security Check FAQs
1. How do I know if my website is secure?
To know if your website is secure, you need to check the URL of your website. If the URL of your website begins with "HTTPS" and not "HTTP," then it indicates that the site is secured with a TLS/SSL certificate. The S in the HTTPS refers to secure. Your site with a TLS certificate provides security to all your data present in your website.
2. How do you secure a website?
To secure your website, you need to follow a few simple steps. Here is how you can do it :
Install the security plugins
Opt for HTTPS
Regularly update your website and software platform.
Ensure secure passwords
Opt for automatic backups
3. How do you check whether the website is secure or not?
Here are a few things that you can check to ensure if your website is secure or not:
Look for the S in the HTTPS in the URL
Look for a website privacy policy
Find the contact information of the website
Verify the trust seal of the website
4. What is the best website security?
The intruder is one of the best website security check tools as it comes with the enterprise-based security checking. Also, Pentest Tools is quite efficient as it offers a multitude of features and comes with both premium and free plans for security checking.
If you deal with a WordPress site, then WPScan is going to be the efficient one as it handles all the threats related to WordPress through proper scanning and malware detection.
Conclusion:
So here we have discussed the top 10 website security check tools that you can pick for giving your website the best security system. Looking for the potential threats on your website can give you better suggestions on how to take proper measurements on time.
The above-mentioned tools come with a multitude of features for checking and scanning the security or any threats on your website. Pick one that gives you better protection to your site from the various vulnerabilities.