Being a primary and open source content management system at present, WordPress themes deems to be the most popular and reliable digital platform, on which every single person will be able to create his website of any kind or satisfying any needs and control his website content and media with little effort, as actually there is no programming knowledge required.
Generally speaking, we can clearly state, that almost all the WordPress themes can be praised by their advantages as compared with many other themes and their package of advance features and options.
Subsequently, everyone, after thorough research in the relevant WordPress theme market, will be able to find the most suitable theme for him, matching all or the majority of his needs.
In case you are looking for a dependable and easy to customize full screen WordPress theme, which at the same time will be visually appealing, will make an accent on the target information, content or images, by making a visual impact on the website visitor particularly, you need a theme with full screen possibility.
Keep reading this article and below you'll find a perfect selection of top 10 full screen WordPress themes
Which will become your helpmate in relation to any kind of website creation and development activities, and apart from that, will grant you an opportunity to apply additional functionalities, which can be added to the full screen WordPress theme by means of plugins.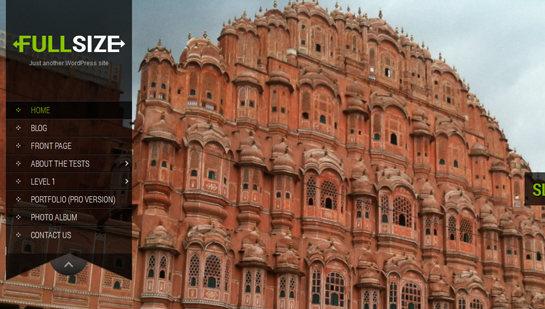 First and foremost, let's cast a glance on SKT Full Width Pro. This responsive and cross mobile and device compatible full screen theme packs the features and options, which make this particular theme to be one of the most preferred one for business, corporate, portfolio, agency, photography websites, and not only.
SKT Full Width Pro comes with full screen background images and the possibility of adding up to 15 or more slides on the homepage, lots of Google fonts, social icons and useful shortcodes, widgetized left menu and footer.
The theme also suggests background color and opacity change, font size and color change, slider transition, timings change and other changes.
Some of its feature includes:
Responsive for all browsers and devices
50+ social icons are readily integrated
Change color of the background as well as opacity
Change slider transition, timings, interval etc.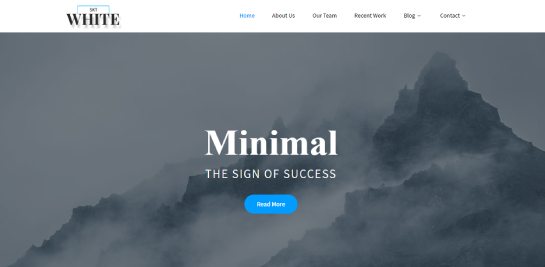 Another awesome WordPress theme with full screen template is SKT White Pro. This multipurpose and graphically expressive theme includes animated parallax slider on the homepage with supersized allowing up to 10 slides to be showcased.
Different applicable sections and elements, which can be easily edited and changed, diverse Google fonts, social media icons and shortcodes like pricing table, default contact form, team, testimonials and others, standard pages, etc. SKT White Pro also shows compatibility with major and popular WordPress plugins.
Some of its feature includes:
Google font integration with 650+ fonts integrated with the theme
Animated sections management easily using shortcodes
Menu management is very easy
Slider images upto 10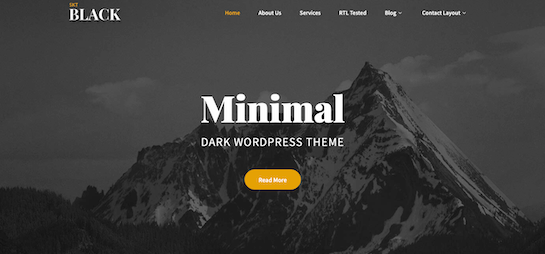 The next professional and visually powerful full screen WordPress theme, which can be the layout for your website, making the most sense, is SKT Black Pro.
Up to 15 full screen images availability on the homepage slider with possible adjustment of slider interval, timing and slider text is ideal for the presentation of your personal or business activity key points in your website.
This retina and HD ready theme includes easy to use theme sections, areas and options, ready contact form, more than 5 page templates, lots of available shortcodes and theme black color changing availability.
Some of its feature includes:
Retina ready and HD ready theme.
Easy to use theme options with color, font, text color and background change.
5+ page templates to have the kind of layout you want from this theme.
Default contact form with captcha available.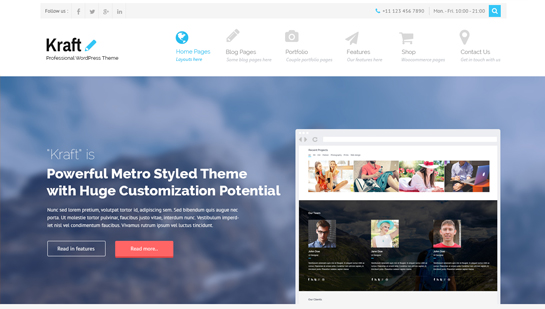 Kraft is eye-catching and dependable solution for any kind of website covering. This responsive and all-purpose theme with full screen website template presents default slider with diverse controls, including pause time, animation timing and others.
Ready to use and easy to edit sections and columns, lots of shortcodes and Google fonts, social media icons, as well as other awesome features and options. Kraft is coded with HTML5 & CSS3 and functions well with the latest version of WordPress.
Some of its feature includes:
Multipurpose Responsive premium WordPress theme
Default slider with 12 animation effects and pause time handling
Comes with complete documentation
Integrated with 500+ font awesome icons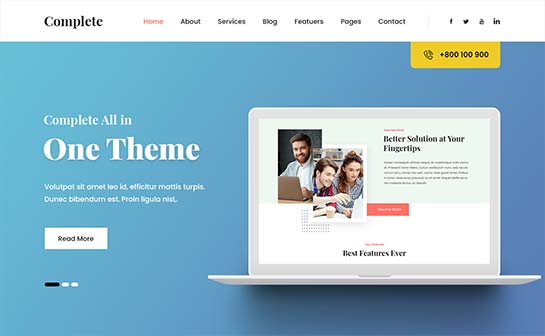 Complete Pro is another full screen complete WordPress theme, ready to satisfy all the requirements, prioritized by the website owner or creator.
Complete Pro is showcased with default slider with animation, pause time and other settings, which can undergo certain changes with ease and be presented with other selected images, widgetized sidebar, relevant header and footer areas, several inner page layouts and much more.
This full color changing and SEO and SMO friendly theme is highly optimized to work with WPML and qTranslate X, WooCommerce, Contact Form 7 and WordPress latest version.
Some of its feature includes:
Various ready to use sections with easy shortcodes
Homepage managed easily using sections
Multiple Inner Page layouts with sidebar on left, right or full width
Multiple footer layout choices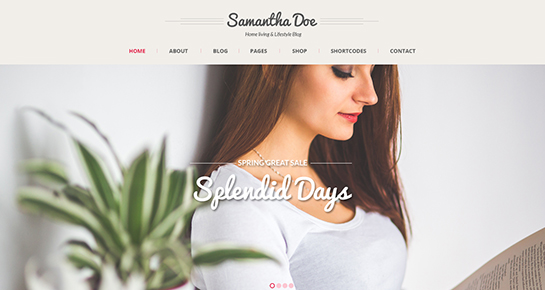 In case you are a girl or woman and are willing to create your virtual world, here is full screen Girlie WordPress theme at your disposal, which will be a great supporter no matter what type of feminine-centric website you are trying to launch and present.
This professional and nicely designed theme is loaded with a package of useful and applicable theme options and features to edit and customize website appearance and content in the way one would prefer.
Diverse sections and areas on the homepage to be filled accordingly, ready slider on the homepage with effects and social media integration.
Some of its feature includes:
Google mobile friendly test passed
Gallery area to present any personal pictures or showcase
Responsive slider on home page with animations and timing control
Compatible with WooCommerce for shop and various other plugins
One more visually appealing and conveniently designed full screen theme, on which bakery, restaurant, café, coffee shop or any other food or drink related website can successfully run.
Home, about, gallery and other homepage sections will feature all the necessary information related to your individual or corporate business activity.
We Bake is also packed with ready slider including  pause time, animation effects, slider speed and other settings, available default Shop timings widget, easy to manage header and footer areas with relevant information, a big package of Google fonts and different shortcodes.
Some of its feature includes:
Default Shop timings widget and shortcode available
Team section to display team members
Services section for displaying services
Default Contact form with captcha available
Restro is flexible and fully responsive WordPress theme with full screen option, created and designed to cover restaurant, cafe, bistro, pub, tavern, hotel, coffee shop or suchlike website.
Home, about us, our menu, gallery, blog areas on the homepage may diplay all the necessary information for the client, including the business history, employers and employees, services, menu, prices, etc.
Restro is presented with homepage full screen and visually stunning slider with diverse controls availability, lots of social media icons, Google fonts and shortcodes. The themes is build on HTML5 & CSS3 and conforms to WordPress latest version requirements.
Some of its feature includes:
Prices listed clearly and specials area on home page
Blog area for promotions
Well documented codes as well as documentation available for handling
Integrated with 650+ Google fonts
Stay Here may be another great solution and helping tool for your hotel-related website creation and successfull development.
This full screen theme checked with cross device and mobile compatibility is loaded with to the point sections and areas on the homepage for showcasing the relevant information.
Available rooms, their rates, facilities, hotel location and many more, ready homepage slider with more than 12 animated settings, more than 650 Google fonts and goes well with major plugins.
Some of its feature includes:
Built in quick booking form for getting reservations
Fully compatible with contact form 7 to have better and bigger reservation form
Call to action features like phone number and email on top
Animated homepage to have a nicer effect on your visitors
And the last full screen WordPress theme in our list turns out to be Blendit. This beatifully crafted and professional looking responsive theme comes with default slider including controllable effects, like animation speed, pause and others.
More than 360 icons and more than 600 Google fonts, more than available 6 page templates, social media integration and other additional features and options to be used. Blendit is also well optimized to combine with WooCommerce, Contact Form 7, SEO and other popular plugins.
Some of its feature includes:
Theme integrated with Font awesome icons of more than 360+
600+ google fonts to choose from
Social media integration
Blog area for promotions, press releases, and news
Why Full Screen WordPress Themes are in high demand?
We are trying to understand here as to why are full screen WordPress themes in demand.
Well here are some of the reasons we have listed which are true and valid as far as full screen WordPress themes are concerned.
Visually Attractive: Of course full screen WordPress themes have fullscreen images and full wide templates so that the images and portfolio slider appear full screen and look visually attractive because the canvas is filled with image. Images speak more than words and hence when you have visuals there is no necessity to speak anything.
Images can describe what your business is all about and with a full screen website customers will quickly understand about your business and get impressed easily because the website looks great.
Easy to Customize: Full Screen WordPress themes are very easy to customize because most of it is taken care by images and images can be handled perfectly well using options like theme options or customizer or slider area.
So there aren't much complex options to be handled and hence they are very easy to customize and use.
Galleries look live: Galleries get the whole canvas area and look really live and visually great because they get space to depict all the pictures properly.
Fills your device screen irrespective of the size: Irrespective of the size of the screen or your device the full screen WordPress themes appear full screen and full wide on the entire area. Thus the entire area is filled up fully without any discrepancy and people get the same experience across all the devices and browsers thus giving an unified experience.
Some salient features of our Full screen WordPress themes
Salient features present in our full screen WordPress themes are:
Custom Backgrounds: Custom backgrounds can be set up separately on each page using the featured image and thus each page will have a visual background. In case of use of plugins one can even set up background video as well.
Retina and HD Ready: Retina Ready and HD ready theme which appears full wide in all screens and even large screens render nicely to this. With high resolution images it will appear crisp, sharp and crystal clear in all types of devices and even in large resolutions.
Translation Ready: This full screen WordPress theme is translation ready and multilingual ready using recommended plugins and hence one can have a great website in no time using these.
Blog Ready: Blog content is required to showcase updated content anytime on any website. And hence blog posts work great for updates and press releases as well as other news activities. Hence Blog ready themes are in high demand.
Transparency manageable: Transparency should be manageable because many times blocks of header, content and footer appear on top of the background and to have a great background with content on top of it, its essential we have transparency manageable for the whole theme.
Color manageable: Color picker given manages the color of the full screen WordPress themes and hence colors can be managed nicely. One can change the color of the website without any hassle.
Footer widgetized: Footer section is fully widget friendly and thus footer widgets can be changed without any problems to any type of content widget as the user wishes to have.
Several Page templates: Several page templates like sidebar layouts and full width are possible using these full screen WordPress themes thus giving full control over pages in a website.
WordPress is a popular content management system that one can use to create many different types of websites from small business websites to blogs including massive online stores.
The only care you have to undergo is making the perfect choice of themes that vary according to the type and nature of the business you own because different themes are featured with different functionalities for different business fields.
When it comes to developing websites with an online store and other small-scale business websites, there are several types of themes from which one can pick which includes features like one-page designs, grid-layouts, and more.
But if you want to build a portfolio or a startup website, then you should definitely go for these full screen WordPress themes for a bunch of different reasons. We will discuss those benefits right away for you to simplify your choice.
But at first, what are full screen WordPress themes? In simple words, full screen WordPress themes are fluid website layouts that use the entire width and space of the screen to display the contents of the website.
A website with a full screen layout allows you to design freely to produce unique content designs while avoiding conventional ways of using grid layouts and standard content placements.
You can able to instantly spot a website with the full screen layout but there are certain features to consider while searching for similar full screen WordPress themes.
Full screen websites often use large images as background that spreads across the whole screen. Most full screen WordPress themes use hamburger menus instead of the traditional menu to make more space to showcase the background images and this, in turn, will add a modern touch to your website.
When using a full screen website layout, you sometime will need to place guiding instructions for your visitors so as to increase the user experience of your customers while exploring through your website.
With the help of these full screen WordPress themes, you can easily showcase your websites contents and products with high-quality large images to make it look more appealing to your potential visitors. Now, you don't have to play by the rules or stick to a grid layout.
Moreover, using large images instead of small thumbnails to showcase products helps the users to get a better view without enlarging it.
Whether you're planning to build a business website or an agency portfolio, using a full screen design will not only minimize your efforts but will also create a huge difference in pulling more visitors to your website as well as creating an everlasting impression of your brand image upon them.
The spacious design of these full screen WordPress themes will allow you to showcase your business histories and display the future goals and motives of your business in a more elegant way.
You could also attract customers by adding video backgrounds to showcase your products and services in a sophisticated way. Using full screen WordPress themes will certainly give you the freedom to run hit and trial methods for different types of design forms, effects, and animations.
One of the popular and widely customized design effects is parallax scrolling. Using these effects and animations on your website will surely enhance the user experience of your viewers.
If you look closely at some biggest hit brands like Samsung, Google, Apple, etc, you will notice how they use full screen website designs to showcase their products and offerings.
However, you cannot use full screen WordPress themes for any type of website but if your business demands these kinds of full screen themes, then giving them a try will definitely create a huge difference.