The best way to give your business a new arena is to act on it from now. Especially if you are thinking of starting an online clothing store, then this is the best time.
Well, definitely like any business launching, an online clothing business may not be a child's play. But it's easier compared to the other niche of online marketing.
So, if you are thinking of giving your journey a new start with the online clothing store, then this article is for you. Hence read on to know more about how to start an online clothing store:
Things you need to do before you step into the online store:
Before you start with a new store, it's pretty normal to have some doubts regarding it. But make sure you are planning it out before taking any step. However, it is essential to start with an accomplished approach to make your steps easier for your online store.
To start with a successful store, there are several steps which are very important to take. Here are the steps that you should consider before you go to start your online clothing store.
Decide your clothing niche:
Your clothing store must have a target audience. Starting with a random approach will not at all be helpful. From the very beginning, you have to be very clear about the audience you will target with your clothing line.
This is why it is very much crucial to determine your niche before you start an online clothing store.
It is always a very strategic step to understanding better through the niche clarifying about how your market goods are performing and how you utilize the tools on your social media.
It is essential to ensure that your niche aligns with your interest, and it is something that you can control better. Make sure you are not aiming for something completely out of reach.
There is no rush! Simply take some time to choose your niche and then plan it properly.
Consider your business model:
As you start an online clothing store, it is crucial to understand your business models properly. It should be there as a part of your business planning. So, let's gather some knowledge about the models:
Private Label Store of Clothing
The Private Label Business model makes you put your label on the products from private manufacturers. You need to choose the clothing from their portfolio, customize it as per your designs, and then order it as per your demand.
This method requires you a good amount of initial capital, and you have to order in large quantities to get the most of it.
This can be very efficient for you as the production cost of it is very much low. If you are starting with it, then make sure that you have enough space to store all your products.
Print-on Demand:
The Print-on Demand is a model where you have to work with suppliers to print all your designs on blank products with not any kind of design or labels on them.
There are plenty of products like t-shirts, sweatshirts, pants, bags available in the market that you can buy to have prints on them as per your demand.
However, this model has its drawback of low-profit margin. On-demand products are much more expensive as they are produced per unit.
Dropshipping Clothing line
Drop-shipping is one of the most cost-effective business models having the lowest risk. Similar to the print-on demand, there is no need to deal with the storing or packaging of products for shipping.
It is much easier to forward the order to all your suppliers, and they will handle the other tasks. However, with the dropshipping, you need to ensure that you are having a good marketing strategy so that people can engage more with your store.
Custom cut and sew clothing line
This one is the best-suited model if you are thinking of starting your store from scratch. You need to handle the entire production process by picking the proper material, design, supervising production process, and packaging-related tasks.
With this model, you can render your passion to your clothing line. Since you have to handle everything on your own, you can put your efforts into making the products unique for you, which will come up with a nice approach to your target customer.
Time to pick a brand name:
One of the most crucial parts to start an online clothing store is picking a brand name. Also, it is considered one of the hardest parts of your business. The name of the brand needs to be unique that can positively impact the mind of the buyers.
Pick a name that can create a much stronger first impression and draw newer customers. It will be exciting to give your brand a very passionate name that can help you to stand out as a significant one in the market.
However, you will need a solid marketing campaign to build more awareness about your brand for the expansion of your business.
Switch to the online platform:
Before you start with the business, you need to switch to the online platform by following a few strategic steps. Now is the time to learn how to start an online clothing store. Hence follow the steps mentioned below:
Get the hosting first
To give your clothing store a live appearance on the web, you need to get web hosting first. It will ensure that your website has enough resources to run.
Hosting services will cost you a sum based on the plan you are choosing. However, there are also cheap and free plans that you can pick for your online store.
Consider a domain name:

Domain name refers to the address of a website. It is vital to have a domain name to give your business a huge boost by enhancing its visibility. It will be better to have the same name for your domain as your brand name.
It will render a more professional approach to your business. You can get the domain name with a paid plan, or you can get it completely for free with your web host.
Pick a CMS:
The CMS or the Content Management System is a must-have software for managing your website and the contents on it. Starting from themes, layouts, plugin to the widget, everything is essential to make a website great, which is dependent on the CMS that you pick.
WordPress is a great and mostly used CMS that is completely free and highly customizable to give your website a beautiful and well-performing appearance.
Customize your site:
As you pick the CMS for your site, then it is time to customize it. The look of your website has a significant impact on the mind of the user.
Thus, customize it with the themes and layout by adding proper functionalities to it to create a very streamlined user-experience on your site.
To help you start out, take a look at SKT Tailor, SKT Lingerie Pro, Shopzee, Ele Fashion. They are perfect themes for an online clothing store.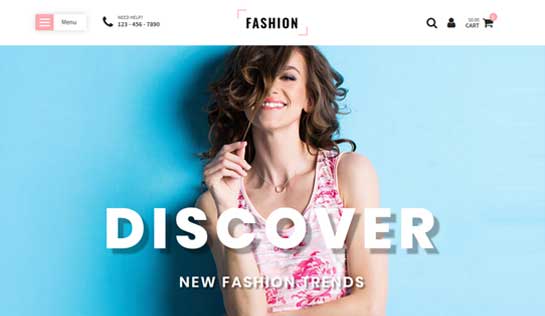 Turn your site into a store:
Well, it's not enough to customize your site only for your selling; you have to turn it into a store to make it highly functional.
It needs to have all the features like product checking out, product filter, rating options, etc., to make your selling experience more exclusive.
Thus, it is essential to integrate your store with WooCommerce. As you successfully install and integrate your WooCommerce storefront to your website, you might also consider installing the WooCommerce Payment gateways to your site.
Generate traffic:
As you are done with setting up a store, it is now vital to get traffic to your store to drive more sales and reach out to your buyers in a much strategic way.
Hence start with the Search Engine Optimization for your website to make it have a higher rank on the search engines. Here is how do you optimize the SEO for your online store:
Keep the website structure simple to target better SEO. Your online shop must have easy navigation. It is important to ensure that your customers and search engine crawlers can easily find out what they are searching on your store.
Make use of the strategic keywords for your store. However, make sure you are not overstuffing the keywords instead of placing them only where it is needed.
Keep the product descriptions clear and informative. Provide all the additional details about the product on the product page to help readers and search engines have a significantly easier journey on your website.
Maintain a straightforward and short URL structure for your website. It is crucial to add keywords to the URL and add descriptive words to clarify what this page is all about.
You need to optimize the images properly on your online clothing store. Search engines usually do not understand what the images signify. Thus, it is important to help them by adding proper ALT text attributes.
While optimizing the SEO for your site, make sure you are updating it regularly to keep your strategy clear from the very beginning.
Conclusion:
Hopefully, it is now clear in front of you about how you start an online clothing store to open up a new arena of success in your life.
Make sure you are taking care of all the important areas for your business to give it a very high strategic ranking and properly scaled success.