Creating an online store is no longer the technical challenge that it used to be, nearly anybody can design and build a website where customers can purchase their product. On the off chance if you have a physical store, then creating an online store should be the next big step.
Make your products online available means taking your brand to the international level. Improve your product page for getting more traffic that is more sales.
So as to set up a store that will expand your chances of attracting clients and making deals, you will need to get familiar with a couple of product page basics.
In this article, we will see at ways to improve your product page, presents product description, and showcase positive customer feedback. Focusing on the right things will help you attract more customers and increase traffic to your website.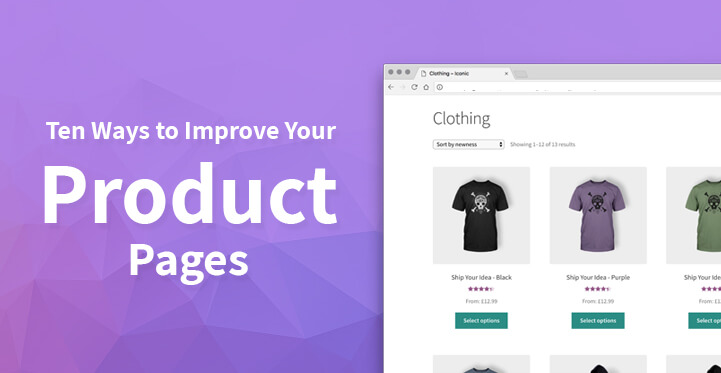 Ways to Improve Your Product Pages
1. Create Readable Product URLs :

This is a simple fix, yet it has an enormous effect to clients that are exploring your site. You shouldn't permit your product pages to create long, unreadable URLs like this: www.reallylongurl.com/products/838374hfjdkdisjjdmdmdskjfuf76d.html Instead, try to have more clearer and short URLs, like this: http://www.shorturl.com/products/NiceAndNeat.html
Having short URLs makes it easier for your clients to share links of your product. This makes it very easy to organise your site as you can read clearly where each link is pointing to.
Having meaningful short links also makes it easy for your visitors to navigate within your website. there are many WordPress plugin that allows you to shorten your URLs in just a few steps.
2. Include Accurate Product Descriptions :

The biggest mistakes while developing an online store is the product description that are not descriptive. Writing a unique description is the best way to make your website stand out from the crowd. One would have to do a little more extra effort, but the end result would be a more professional looking product page.
Improve your product pages and be accurate with your product names. Ensure that every product is properly labelled. Also, make sure that you are selling the products that you are promoting on your website.
3. Display the Price :

Showing the cost of your product with up-to-date pricing information is very essential. Most clients will visit your site on numerous times before they finalize a purchase, and if your product pricing is incorrect or missing, those potential clients can't measure how your costs stack up against the competition's.
The price you display on your product pages should be the price that the client sees when they hit the checkout page. Be more careful while adding new products to your store and ensure that you have a procedure that lets you confirm the cost before making the product live.
4. Take Better Picture :
One of the greatest mistakes that eCommerce website owners makes is by purchasing a very expensive hi-tech camera so they can take great product images, it is a waste of money as the images will appear on your website.
Using DSLR pictures takes a huge amount of storage space on your site. In starting many new website owners have compromise using a smartphones camera.
The detail that cell phone cameras can create, alongside with the smaller file sizes, makes them the perfect decision for taking product photographs. It also allows you to sharpen the images with filters and make them look more professional.
5. Encourage User Reviews :

Let your clients express how much they love your product. Sharing user's feedback can create trust and give other buyers a sense of what to expect for product quality and customer service. Let your customers leave comments and feedback, as this can be the best way to learn about the product issues. Client review and feedback can help one to build a better online store.
6. Get Specific and Add more Details :
Adding a detailed specification or showing the product from different angles that visitors or clients will find helpful, one should do these things as a way to attract people at your website. product content is really important, so one can also show the video demonstration of the product being used.
To improve your product pages one can also add details to their product about the height, weight and dimensions of the product. The more information you can provide about your product to your customers, the better.
7. Consider Website Compatibility :
Mobile devices are used more than computers, thus targeting mobile devices has to be a major factor of your web design. So, if you are creating an eCommerce website it has to be mobile friendly in every aspect.
From the login process, browsing the product and checkout have to work perfectly on all platforms. That is ensuring that your online website is compatible with all the browsers. For having the visitors, you need to make sure that no matter how any user accesses your site it should look and work properly.
8. Take Advantage of your Social Media Presence :

Nowadays for promoting your product social media is the best marketing tool. Keep your social media channels link on your website, so that users can users can reach out.
Use social media advertise your highlighted products that you want to get more attention to. Make this communication creatively, and in a way that makes it easy for your customers to complete your call to action.
9. Remember about SEO :

If you are not implementing SEO then you are losing a lot of traffic for your website. SEO is the most essential for your site's visibility and search engine rankings. It helps you to improve how users search your product and also improve your product page listings.
Always use keywords properly and create an effective structure for your content. Many people first search on the Google while online shopping. So, you need to optimize your website so that it ranks high in the search results.
10. Make it Easy to Buy Product :
One of the most important features is the checkout step. Make sure that all your payment gateways are working properly, and the promotions and discounts are also working great.
The most common feature is the common shopping cart for your customers, ensure that all the plugin used to make your site's shopping cart to work properly. Add the checkout icon everywhere on your site and it should be visible.
Conclusion:
Given above are the top 10 ways to improve your product page. Pay proper attention on the details of your product you are providing and also images loading fast is important.