WhatsApp is the perfect example of the growing shift toward the private sharing. Studies have shown that users are more connecting more in the digital one on one setting and it has changed the dynamic how we communicate and exchange information.
Mobile internet users use WhatsApp more frequently than any other social networking app. Many publishers are finding that chats apps are huge motivators and also influences in generating greater traffic and the ability to go viral.
Over a meaningful and valuable content people want to connect with their personal contacts.
WhatsApp is an instant messaging platform that allows users to send images, videos, audio message and location by using integrated mapping features.
One can almost share anything and everything on WhatsApp. Hence, increasing usage of mobile has urged the web development world to ensure mobile friendly and Add WhatsApp to Website.
It is clear that the number of mobile phones per family is greater than the number of laptops per family. And, when it comes to mobile phone WhatsApp is the most popular application that is used worldwide.
WhatsApp is the best one up until now. This is an explicit sharing button. Works incredible and is free. The best part is you can really choose what message should be shared.
Additionally, it appears just on cell phones. You just have to download the sourcecode and transfer it on your site. One can text and share any customized content.
This feature can be the game changer for your business. Thus, most of the website developers have started adding the share option on their websites to increase their site's traffic and also to improve content engagement.
This allows the users to share and send the article or blogs in real time with their friends as they are reading the article. To stay relevant and ahead of their competitors,many publishers are turning into the WhatsApp share button.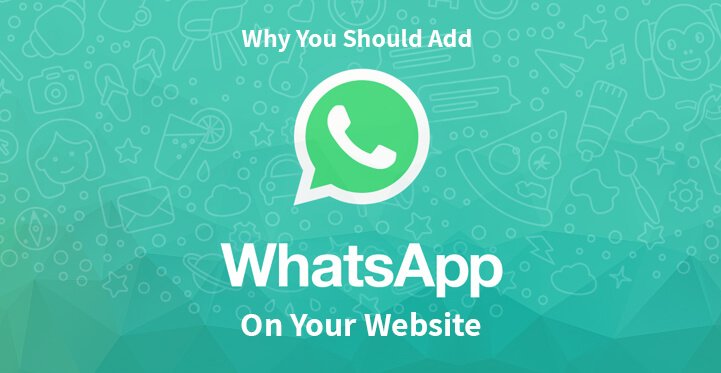 Here are some of the key benefits of integrating WhatsApp on your Website:
1. It Creates an uptick in Social sharing :
Mark Zuckerberg once said: "Messaging is one of the few things that people do more than social networking."
Since its dispatch, WhatsApp has seen amazing development, pulling its load in the social space and acting as a key channel for the skyrocketing private sharing trend.
Quartz revealed that when BuzzFeed executed a WhatsApp share catch for iOS clients, snaps to the WhatsApp share catch quickly exceeded the quantity of Twitter catch clicks.
2. It is a Global Audience Reach App :
As referenced before, there are billions of WhatsApp clients everywhere throughout the world. To talk practical, we can't make achieve every one of 1 billion individuals. We can at any rate achieve a piece of billion; suppose 10% of billion. Try it.
3. Fast Content Sharing :
Sharing any kind of substance on WhatsApp is excessively simple. Simple sharing highlights enable individuals to share it with their families and friends. In the event that you are an entrepreneur and assume, you are selling furniture on the web. Include a WhatsApp button below your every item.
How simple it would be for any guest to impart the thing to their loved ones over mobile. Thus, Add WhatsApp to Website will make simple for many businesses to increase the each of their products.
4. Real and loyal Reader Base :
Being a customized application, whatever you shared on WhatsApp is with the private contacts. Henceforth, it will reach the genuine users and will get the rightvaluable readers.
They will again share further in their groups and broadcast, thus reaching to the right and genuine reader base only. Unlike, any other social media tool, WhatsApp is a great app and there is no harm in trying it.
5. It Offers Great Level of Personalization :
Messaging a friends or relatives on WhatsApp gives a level of personalization and protection that re-tweeting or profile sharing simply don't achieve. It's practically similar to sending an email.
At the point when a client sends a bit of content by means of WhatsApp, they send it to somebody who they realize will be interested.
It's a foolproof approach to get your contentin front of "the right" eyes. On the off chance that you have involved and focused on thetarget readers, you're on track for a further lift in offers and the likelihood of going viral online.
6. It Drives Sharing on Mobile :
With 65 percent of computerized media expended on mobile, a great deal of sharing occurs on the little screen. Facebook share, Twitter offer, and Pinterest share buttonsor the inclination of most distributers, yet our information demonstrates that WhatsApp share offers a gold mine of opportunity.
There has been an increase in the quantity of individuals utilizing the private messenger share button. It is evident that WhatsApp sharing included on publisher's website is helping drive mobile shares so Add WhatsApp to Website for increasing your brand reach and also to get more visitors on your site.
Explained above are the key benefits of why one should add WhatsApp on their site.Private sharing is a developing part of how we communicate.
Information keeps on demonstrating that chat tools like WhatsApp, Facebook, Instagram, Twitter are an amazing channel of distributors to get seen, shared, and discussed.There are number of websites and eCommerce stores that have started adopting WhatsApp button for the website as a sharing tool.
Like other social media platforms, Facebook and Twitter, this is yet another fastest communication tool.Add WhatsApp to Website and you'll be able to grab readers at the moment, which will increase your overall social shares.