Yoga Instructor WordPress Themes for Yoga Studio Websites
This time let's come together over a cup of coffee and share the best and the most affordable yoga instructor WordPress themes for yoga centres and private specialists, as well as other health centric activities and experts to be showcased online.
Choose any of them and quickly give your yoga practice the online look it deserves with a top quality website or blog.
So you are a yoga specialist and have enough passion to engage more and more people to your peaceful and heathy world, but you feel that developing a modern website is not your ''bag''.
Well, we are thrilled to make you happy since with our yoga instructor WordPress themes you don't need to know even the basics of the complex web developing and design world.
We have sweated hard enough to make your life easier with ready made and seamlessly worked out yoga instructor WordPress themes and templates. All you are expected to do is to find the perfect match to your specific needs and read the documentation provided with each of the templates you will find below.
Once you are done with that selective and introductory part, you can even intuitively built up your yoga centric website in no time.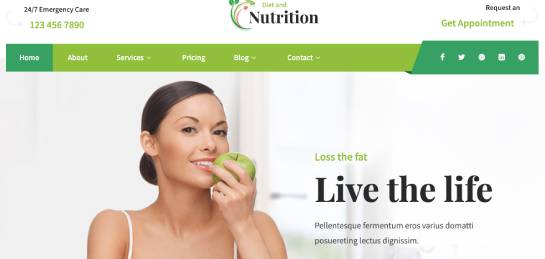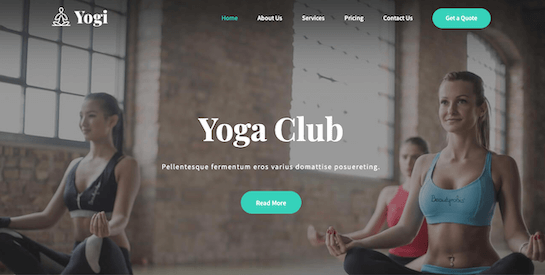 Invite new clients and re engage your existing ones with the great assistance of Yogi Pro.
It is the heavy artillery of our yoga instructor WordPress themes which is crafted and designed specifically for yoga related world, clubs and centre, as well as its lovers and enthusiasts.
Run your own yoga blog and insert your online trainings, sell your programs and subscriptions, share your location and other contact details without worrying about anything.
The yoga studio WordPress theme is easier in operation than you can expect. Even if you are clueless about which coding is done to make this or that function or element valid, you will be able to modify or customize it accordingly from the admin dashboard.
Yoga is the most important activity that so many people do. Yoga is good for health and good alternative to maintain your body.
If you are passionate about yoga and looking to aware people about the benefits of yoga exercises or any gym related topic then you can create your online presence with Ele Yoga.
Ele Yoga is a yoga instructor WordPress theme that will help you to turn your passion into profession. With this template you can start a yoga company, sports business, health blog and more. It has clean and impressive layouts that will help you to share important information to your clients in attractive way.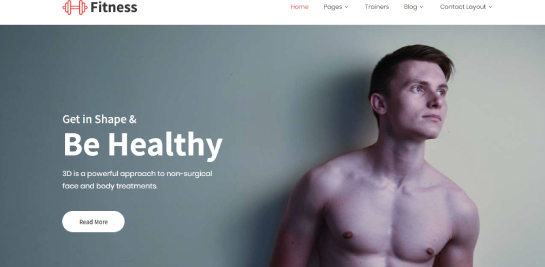 If you are looking for a more dynamic and encouraging template among yoga instructor WordPress themes to run on your spa or yoga, fitness or gym website, SKT Fitness Pro can be a reasonable investment.
This responsive and mobile optimized, frequently updated and always smoothly functioning template is also smart enough to reflect any ideology behind your business.
Whether you prefer soft color match with this or that icons and fonts, content area or box, you are free to realize your fantasies online.
For such purposes, you have a rich selection of Google based fonts and icons, color changing options, shortcodes to be applied whenever the necessity arises, gallery area to depicting the progress of your team or club members and yet much more to come with SKT Fitness Pro.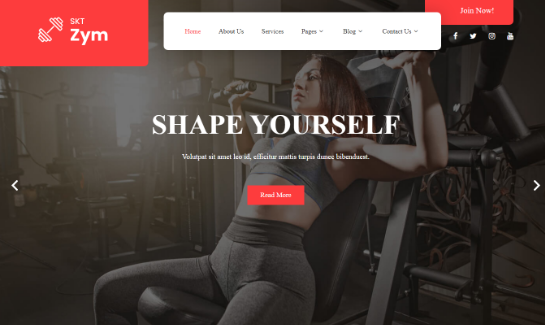 Zym is the next niche specific template ready to cover the needs of health centric world. With Zym you are totally in control of creating a website that will determine your level of expertise in fitness or yoga world.
As a yoga studio guru or instructor, you need a personal space to highlight your talents as well as use that
space to communicate with your audience.
Zym is custom built to generate such a working platform for you that will also satisfy the needs and curiosity of your website surfers with its cross mobile and device, plugin and shortcode compatible design.
There is also a nice looking homepage slider for the best images and photos to motivate your first time website guests and keep them both informed and engaged, as well as blog area to launch new yoga programs and classes, inspirational articles and much more.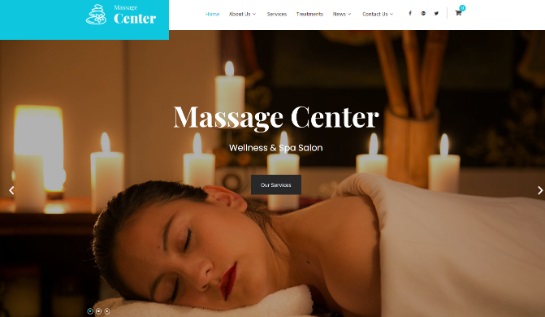 Massage Center is the next uniquely stylized and well thought out health and beauty, massage specialist and yoga instructor WordPress themes to create a virtual home for a large scale of businesses.
This visually clean a functionally advanced, smart and sophisticated website tool contributes to the responsive performance of your website, its compact look and legibility, including nicely arranged information and content areas, image and gallery parts, and more.
And all this is in an effect keeping you productive and creative all the time so that you can make your own choices of color combinations and contrasts, typography and homepage look, frequency of updates, boosted SEO results and more.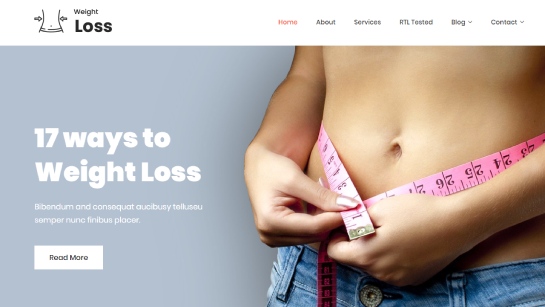 From yoga associations to private yoga instructors, from fitness and gym clubs to other centres promoting the healthy way of living, any kind of relevant activity or business can be well laid out on Fitt.
What is enjoyable with this yoga studio WordPress theme is that it does not concentrate on checking your programing level or expertise in the development field.
With a less learning curve and without any complex coding, Fitt will help you define the most effective working program for you from behind the scenes and with the help of the variety of handy features.
Among them are shortcodes which are more than 100 in total number, portfolio area for a more professional look of your website and you, available pricing tables for more financial information and not only.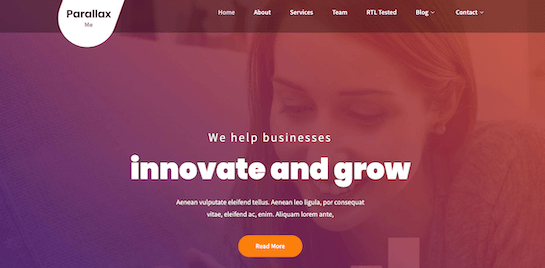 Welcome to the magic world of SKT Parallax Me Pro. To keep things beautiful and engaging can be the best strategy in persuading your web viewers that they need turn back their body clock with your yoga or fitness programs.
The high quality of this template is measured by the accuracy of the theme's developers and designers resulting in the perfect structure and appearance of it.
With a detailed approach to each single part and portion of the theme, they made it as unique and elegant as it is multifunctional and efficient to comply with different prerequisites.
From a more functional standpoint, SKT Parallax Me Pro is responsible for the relevant and legible look and proportions of your website in case of any mobile or tablet access. It means that you are lucky enough to have ultimately responsive and mobile friendly template at your fingertips.
Hope you found all the yoga studio WordPress themes listed our here better and nice in their features and functionality.
As hard as it may be to believe, Yoga has been around for more than 5000 years and while the ancient yoga masters did not have to make do with an online presence, it has become essential these days.
If you are running a yoga school and planning to launch a few classes, then you will need much more than the odd flyer with the newspaper method and your banner alone is not going to get many eyeballs either.
You need an online presence and that's why you should check out our yoga instructor WordPress themes. With these yoga instructor WordPress themes, you can have your pick of templates to choose from – you can either go for a clean, mellow layout with neat templates and organized information architecture or you could go in for some flashy design that makes your website stand out for all the right reasons.
Either way, you may want to check out these tips when setting up your Yoga website.
Information overload: One of the mistakes most start ups make, when setting up their website is blasting a ton of information at their prospective leads.

Most online users hardly spend more than a few seconds per page and that's all the time you have to make the right impression so that they'll sign up for the yoga class. So you need to strategize and you can get the ball rolling by checking out some of the top yoga websites.

Pay attention to how their sites come with a minimalistic look and with pagination included in several pages. You may want to co-opt the same for your website so that your users' attention is drawn to the relevant portions of the website.

Responsive design: Make sure that the theme you select for your website is responsive enough; with the right theme in place, your visitors should be able to view your website without any loss of functionality despite whatever device they may be using at the moment.

This should enable you to streamline your operations and market your key programs, classes to a larger demographic than earlier on.

Speed: It goes without saying that your website needs to load fast so make sure that you include cache plugins on your website as it can help give your website a boost as far as performance goes.

Clients are not going to wait forever for the websites to load and would just move on which is why you need to make sure that all the pages on your website load optimally with no lag time.

This should help improve user experience which should result in better traffic and in turn, help give your rankings a boost.
These are some of the things that you need to keep an eye out for as you go ahead and set up your website with the selected theme. Just make sure that you have all you need in pace as you go ahead and set up your site online.