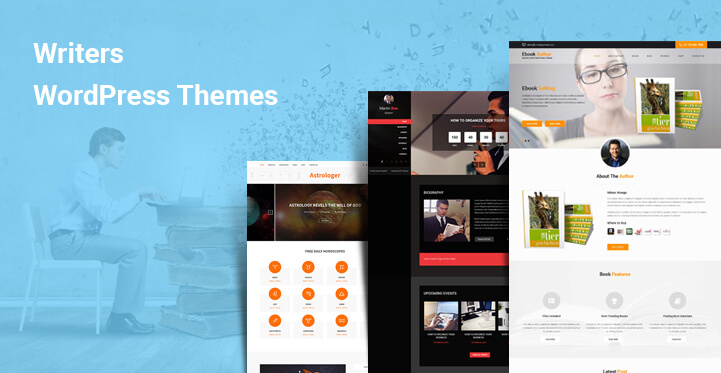 Given the thousands of opportunities of the digital platform, it's no longer going to be harsh for contemporary authors and writers to stand out and let their voice be heard throughout the whole world. And in the avalanche of digital chances, the best writers WordPress themes have their unique place and denomination in the process of taking any writer or academician, e book author or poet to another level of digital performance and popularity. Bloggers and writers, self publishers and publishing houses, bookstores and libraries, e book repositories and marketing agencies, content writers and editors, transcriptionists and proofreaders, translators and translation agencies as well as other businesses and specialists having to do with the art of writing are welcome to check this roundup of writers WordPress themes.
Whatever your ties with creative writing, whether writing articles and blog posts is your hobby or you are making money from it, keep the site of your company frequently updated with new and interesting content, organize writing or literature forums and discussions, sell pieces of writings or books, having your own workspace where you will feel free and powerful enough to set yourself as the only master and coordinator of it is a must. This is exactly what our writers WordPess themes are going to offer you.
Each of these website builders is packed with unmatched features and wonderful customization controls so that you can modify and fix the best version of your site. With modern design solutions and responsive layout at the core, polished navigation levels and the overall accurately arranged textual materials, these bloggers and writers WordPress themes can guarantee the most wonderful website user's journey you can ever grant your clients, fans and followers with.
A good beginning always makes a good ending. Then, you'd better start with one of the best e book writers WordPress themes whenever you are planning to have a presentable virtual profile optimized for your writing and publishing needs.
Nobody likes to stare at long and hard to read texts and blog posts. Therefore, SKT Launch Pro has ben packed with Google approved and high quality fonts to be used to form a fully legible typography for your textual content.
Along with sharing your writings on a regular basis, you can also sell them through SKT Launch Pro that is completely e commerce ready.
vCard is one of the portfolio and CV styled templates you can use for displaying your vocational skills and expertise as an author or writer.
It is an authentic and well taken care of website building solution is optimized for ultimate website user engagement while giving you all the primary content zones and controls over them. Dozens of sliders can also be practiced with vCard via plugins to establish the best one for image hosting on your homepage.
Astrologer has been designed and coded to adhere to the latest web development and WordPress standards which means it shares all the qualities to be evaluated as one of the top and best writers WordPress themes.
From astrologers to other niche specific scientists or scientific writers, creative bloggers and content writers, e book library managers and publishing house coordinators can all display the best of their services, products and offers with Astrologer that is also responsive and well prepared for respective mobile version.
Black and White is another elegant and serious looking theme to walk you through a charming way of creating something valuable and unique as a journalist, blogger or writer.
This template is a SEO superstar when it comes to ranking your website in different search enquiries so all you need to do is to produce and add high quality content, customize the theme for better search engine readiness and the remaining will be done by the theme itself.
Color choices, separate blog area, homepage slider, different fonts and buttons, shortocdes and compatible tools are all at your disposal to inspire your audience, evoke the best fillings and meet your goals in general.
If you have a clear cut intention to build a digital portal and share the best of your writer's portfolio without spending much and without turning to the help of web developers, SKT SEO is what you will need.
Created and coded to fascinate it users by the simplicity and affordablitiy, SKT SEO is generated as a cost effective and easy to manage website toolkit for you to make the most of it. Just read the full documentation of the theme to be able to use the step by step guidanes and you will be capable of creating a website that will be visually captivating for the guests, technically well prepared for SEO and SMO cooperation, nicely colored and arranged, frequently updated and refreshed.
SKT NewsPaper Pro is suitable both for individual authors to share their books and volumes, documents and papers, as well as for multiauthor portals, blog styled platforms or online periodicals with multiple bloggers, journalists and article writers.
You don't need to be a coding expert to start sharing your works and ideas and ignite buzz around your books or writing services. Not only you can offer them with services section, but can put them for sale. It is enough to add and install any of e commerce plugins and go live with e book and book listings.
If you are a woman or a girl who has a passion for writing and sharing quotes, creative thoughts or creating something valuable with letters, you are going to love Girlie.
It is one of the elegant and visually pleasing writers WordPress themes specialized in hosting profiles and blogs of female writers and authors and is never confined to whatever is offered by default. You can add as many new controls and possibilities as your writer's online career may require for properly showcasing your works and books, inviting more people into your profile, establishing new cooperations or selling digital and physical products.