WordPress Themes like Divi which are better in aspects of pricing as well as better in terms of features have been discussed.
The influence of digital revolution on all the life aspects and phenomena seems to have no edge. The ever – growing challenging connections and relations between service providers and client – base.
Freelancers and private entrepreneurs and individual specialists, industries and all its branches encourage each of them to invest all that they can in order to have a presentable place in the modern digital realm.
As an ultimate response to this situation is the WordPress content management ecosystem contemporaneously with accurately categorized or sub – categorized, niche – specific or general – purpose templates.
Each of them has always had the jump on various patterns of other content management systems while being inherently precise and flexible at its core.
However, some of them differ from others in having a higher reputation and perfect user experience thanks to their exceptional artificial intelligence, intuitiveness and all – inclusive nature.
Divi, as a powerful and flexible, eye – catchy and elegant template of Elegant themes comes as a total sum of all the above – mentioned valuable traits and touches to play around all you like and make them effective in your website and make it a symbol of social and customer loyalty.
This theme can for sure be the oxygen of a website, whether personal or business, compact or extended, or whatever it can be as per the admin's wishes and preferences.
Anyway, Divi is not the only one worth your attention to consider for your future – scalable website of any nature. Today we will leave you with other 2 other WordPress themes like Divi which are discussed in the continuation of this article.
With them you can easily tap into the whole power of digital technologies and exercise all its advantages in favor of your personal affairs or business deals.
Those platforms are also highly susceptible to any configuration or customization and thus are ready to respond to all your initial or finalizing touches from behind the scene instantly.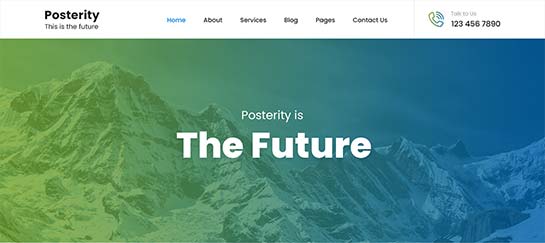 Convert all your efforts into tangible results and deliverables, run any kind of website and establish your virtual profile easily with an enviable furtherance of Complete Pro. The pluses of this template known as one of the WordPress themes like Divi seem to have no termination.
From user – friendliness and admin – optimization to intuition – based operational framework and easy to digest instructions, Posterity Pro shares a bulk comprising all the essential qualities and elements any effective and vital WordPress theme should have.
Getting established as a website professional will be totally attainable for a person of any background or education. It means that you can drag and scale, edit and customize, manage and totally master your website based on it on your own responsibility straight away without any further ado.
The thing is that Posterity Pro has a relatively superficial learning curve suitable for each and every single person to master the whole template in its entirety and give his profile a go with ease.
Power – driven to touch up plenitude and comprehensiveness in every facet, this high — end and contemporary, interactive and zealous template in our list of WordPress themes like Divi is thrilled to bring you genuinely manageable and extensile framework.
Posterity Pro embraces a wide range of high – grade and handy elements and control to make all the processes relating to the theme a pleasure to dissipate.
Hence it lavishly offers several page – based homepage so that visual composers or page builder plugins can effectively work, numerous templates inclusion so that any target business or industry can professionally be revealed on the basis of this theme.
Power – packed with lots of shortcodes, as well as tested with shortcode plugins, this website builder is also compatible with translation plugins such as Polylang, qTranslate X, WPML, etc to have multilingual content published on your posts and pages.
All the modern and compulsory aspects of search engine optimization of the theme have added to the theme meaning that the algorithms practiced by today's search engines will produce high – quality results and subsequently will lead more and more people into your profile.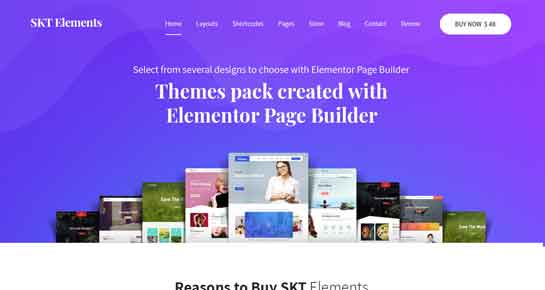 Enjoy your digital life in the fast lane with the next website builder in our article of WordPress themes like Divi. It is willingly handled between entirely flexible and persistent nature.
Powerful and advanced functionality and all – inclusive pattern on the one hand, and subtle and sleek, full – grown and well – managed framework on the other.
Updated and accomplished to celebrate true completeness and ripeness, this theme provides every single web admin with a thorough subjection so that he can take control of his website and alter it the way he wants, show whatever is relevant to his online undertakings in an easy to find way.
This will make each web visitor not only enjoy your website, but will also stimulate the latter to scroll all the way to your website bottom.
Ready to effortlessly do away with any kind of errors or hacks, SKT Elements Pro as one of the most popular, well – laid out and self – hosted WordPress themes like Divi is ultimately multipurpose in its true nature so that it can be used to cover absolutely any kind of website.
Ranging from personal, blog – style, photography, entertainment, artist, fashion, design to business, architecture, service provision or trade.
Use the given color picker of the theme to add your favorite color dots and touches to your website, present the given sections and areas with your informative content, your profile info, services, contact details or whatever you may think expedient to be revealed via website.
Homepage prebuilt slider can add unique visual attraction to your website as well. All in all, you will be authorized to compress your high – quality information in visual slides so that they can overreach your homepage and communicate your visual messages to your target audience.
SKT Elements Pro has also affiliated 100 % responsive and cross mobile and device compatible design style to make your entire website easily resized, enlarged, moved or adapted to any portable or low – powered device.