Following article is related to the WordPress themes for IT company and technology companies.
"It's not that we use technology, We live technology". This famous quote of Godfrey Reggio fits just best in today's world we are living in.
Human race has been progressing since it started inventing things for survival and better life and technology is again a source of living for us in the present time.
We have now become attached and keen at the same time to try out for new technologies that would help in making our lives more simpler and time reducing.
This has become possible to achieve due to the evolution and development of IT and technology companies offering the best of the solutions and contributing in the growth of world.
These are the companies that have helped in connecting one end of the world to other and bringing the people from various parts and areas together.
IT sector along with the support of technology has now become the backbone of any country by providing all the facilitation in every required field.
Such companies are now responsible for driving the world towards new level of advancements thereby proving beneficial for every human being to survive longer.
It is necessary for these companies that are coping effectively with world to make their existence and recognition among all.
Hence it is essential to have online presence which can be done with the help of yet another boon of IT sector in the form of websites.
Digital medium is the most widely used and adopted aspect of today.
Websites act as a great support for making masses aware of anything and provide them information or services.
Hence any IT company or a technology company without any website will remain unidentified and not known to people.
There are number of WordPress themes for IT company and technology companies to create an engaging and attractive user friendly presence.
Some of the selections can be made from the following wide range of themes.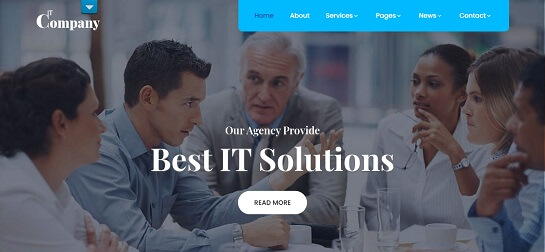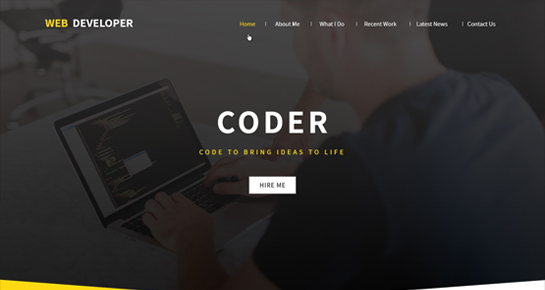 Web Programmer is the best theme for building an online presence for IT Companies and freelancers. It comes with a clear and professional style which will help you to make your brand trustworthy and will get more clients.
Web Programmer is highly customizable as it comes with plenty of options. You get control over colors and custom fonts but also you can control complete pages.
Because the theme is integrated with the Elementor page builder you can take control of every inner page.
The header section of inner pages allows you to add google map, contact form, call to action buttons, and many more. Importing the demo content will be very easier because a one-click import option is given to you.
The template supports the integration of social media so that your visitors can find more relevant content there. To allow customers to make contact with you you have to add the contact form to your website.
And the good thing is that this template supports contact form plugins so that you can set up contact forms within few clicks.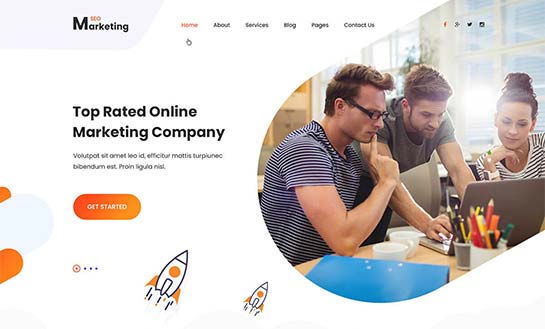 Digital Agency is an extraordinary WordPress themes for IT company and technology companies. It is more suitable for corporate businesses because it has a clean and professional-looking layout.
If you are looking for a theme for creating a website and providing services to the biggest organizations then this template is the best alternative. Also, it is suitable to target small industries or clients.
Digital Agency is created with Elementor page builder which is also a free plugin. Also, it works best with powerful builders like WPBakery, Gutenberg Editor, and more. To market your service you can utilize the features of the free slider revolution plugin.
This plugin will make sure that your header section looks attractive and impressive from every aspect. All major browsers and devices are compatible with Digital Agency.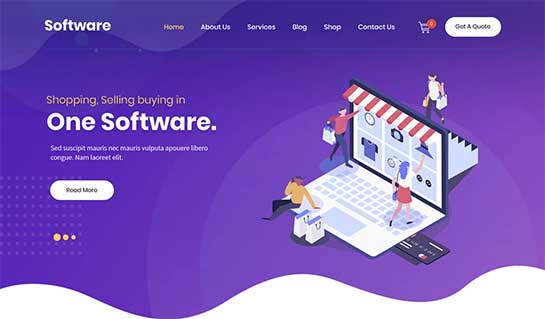 SKT Software Pro is fully customizable and applicable for different IT companies. You can easily change the footer and header options along with the layouts very easily. Along with 900+ Google font options, you can make sections of your website more appealing.
The theme is specially designed to satisfy all your needs so if you ever feel that some functionality is missing on this template then you just have to add a free or paid plugin from the WordPress repository website and integrate it with your WordPress website.
To arrange your website content in a systematic way you can make use of mega menu options. Thus the theme is compatible with WordPress plugins such as resolution, crelly, contact form 7, Yoast SEO, and more.
If you like the variety of options then you should check out the features provided by IT Solution Pro. The theme is based on Elementor page builder which provides a lot of options for customization.
IT Solution is a theme that helps you to organize your website seamlessly. It comes up with a different page template to simplify the process of website creations, plus it is supported with the appointment booking plugins to simplify the process of implement appointment booking functionality.
You can contact the form and ask your customers to log in through social media profiles. along with this, the template is WooCommerce ready which means you can start selling your business items and take payments online.
You have control over the appearance and functionality of a website. In case you like to add a number of plugins to your website then also you can.
The Mobile App is well suited to the most popular third-party plugins. Moreover, with the integration of the revolution slider, you can present your website images in a lovely manner.
You can add a number of elements and options to suit your vision. Integrate the WooCommerce plugin to run your business easily and provide an enjoyable experience to your customers.
Another best thing about this template is that it is WPML ready which means the template can be translated into different languages without worrying about anything.
This template is the best option for IT companies, SaaS startups, and agencies. It comes with the support of a drag and drops Elementor page builder which will help you to make a website in the simplest way.
Cyber Security will have an only an attractive design but also awesome functionality. you will have a different page template to start setting up a website right away. even you can modify the color scheme of your website.
You will have two different options to set up the layout i.e. full width or a boxed width layout. With the integration of some useful plugins you can make your website more trustworthy and valuable for example you can team members plugin to showcase details of your staff.
You can add a testimonial plugin to showcase good feedback from your customers, even you can add SEO plugins to reach maximum visitors.
Business Consulting some more features that can be included with these plugins are contact forms, pricing tables, Google maps, gallery, blog, and more.
To introduce your company you can add video content to it as well. The responsive design will ensure that your website is looking good on all browsers and devices.
High Tech is a multipurpose and a majestic IT and technology company WordPress template that packs luxuriant features to create an awe-inspiring corporate website.
This theme is customizer based to provide a whole new experience for developing website and has several slider plugin compatibility to enhance the performance. Unlike other themes High Tech is an optimized and engaging template to allow for more live output.
Design Agency Pro is one of the types of WordPress themes for IT company and technology companies that gives a set of exhilarating options to choose from while creating a corporate website.
It has been made compatible with all major browsers to make a more appealing. It has the section of portfolio to represent the work done with every detail and links to provide ease of access.
Coming with 850+ Google fonts this theme allows for multiple choices of style statement.
IT Consultant Pro is the best template of WordPress for IT and technology companies. It is packed with the kind of features that allow for a wide platform of making choices whether it is the color, text, font or the layout styling; this theme has all of them.
It has over 600 of the Google fonts and more than a 100 of shortcodes to make the website even more flourishing and exuberant than ever it has been.
Marketing Agency is a fully customizable and multipurpose theme to target various IT companies. The layouts of a theme can be changed very easily plus you can modify the footers and headers section. Along with this, you can change the look of other sections by integrating Google Fonts.
Because the theme is fully functional it has the capability of satisfying your various business requirements. To arrange your business information in the proper sense you can create menus. 5 level drop-down menus are also allowed in this theme.
Moreover, the Marketing Agency is also included with the Team member section, service section, projects, and testimonials. Other pages can be used to add blogs, information about your company, etc.
Marketing Agency is supported with third-party plugins including appointments, event calendar, etc so that you can manage a number of events, and appointments online.
SKT Biz Pro is a superior theme that can be used by IT companies to promote their services. The clear and professional-looking layout will make sure that your brand looks more trustworthy on the web. However, it will help you to get more visitors to your website.
SKT Biz Pro is highly customizable thanks to the page builders that work great with it. Along with the colors and custom fonts, you will have access to complete pages. Thus you can edit and modify the inner pages easily.
Different page builders including Gutenberg Editor work well with the SKT Biz Pro. Because this template is a premium and comes with advanced features it does not means that it will take a few days or weeks to build a fully functional website.
This theme has a premade pages that you can use to set up a website within an hour. Even you can make use of demo content to start tweaking few content changes instantly.
Clean Pro is a unique WordPress themes for IT company and technology companies. It has a more corporate look that helps you to add and appeal to your business services in a more professional way.
It comes with all the required features which enable you to sell your business services to larger organizations. Clean Pro is created with Elementor page builder which is a free plugin and preferable by millions of WordPress users. It is also integrated with the slider plugin which will make your header section more alluring.
Most of the free and premium plugins work best with this template which gives you complete control over your website content and website's style.
It gives you access to the customizer so that you can change the color of the theme and other aspects to make your website design more appealing.
Another feature that Clean Pro comes with is a demo importer option so that you can import your demo into your website instantly. All the content of your demo will be copied along with the style options easily so that you can perform customization on it.
If you are looking for a multipurpose template then Complete Pro is one of the top solutions for you. This template is suitable with the best of best page builder plugins so that you can build a fully dynamic website quickly.
As mentioned it is a completely versatile template and works for software companies, IT companies, digital agencies, and other corporate businesses. It comes with the portfolio, blog, and gallery layout to add more details about your company.
With the live customizer option, you will be able to check changes. Different content such as Google Maps, contact forms, call-to-action-buttons, etc can add added to the inner page's header sections.
Complete Pro is the best theme for the speedy and effortless creation of fully customizable and colorful websites. the theme can be occupied by different sorts of industries.
It is equipped with a smooth scrolling effect, an engaging blog, and beautiful animations. Thus the template is ready with the WooCommerce plugin.
Ele Agency is the type of WordPress themes for IT company and technology companies which will prove to be the right choice for making any sophisticated and technical website.
It is a modern day and top-notch theme to fulfill all the demands of how a corporate IT company website should be.
With several features such as changing of the backgrounds, color, texts and fonts this proves to be one of the best theme for an IT or a technology company.
SKT Corp Pro is a WordPress template for IT company and technology companies which has been created with a thought to help in making landing pages for new apps or products that is the requirement of today in corporate world.
It is simple and subtle in design and has color changing options with parallex section. It is highly compatible and documented theme with its tests performed over various plugins to make it more dynamic.
Flat Pro is among the types of WordPress themes for IT company and technology companies designed to be user friendly and well managed.
It has been launched after its successful test of being mobile friendly and helping people to read it in any language by bring multilingual.
It has many colors to splash up for designing a beautiful website and is various shortcodes compatible with header and footer variations and 8+ page templates.
SKT StartUp Pro is yet another elegant and modern look WordPress template for IT and technology companies. It has been made translation and multilingual ready to make each and every person read the content with ease.
You can change its colors anytime and it allows for many animation effects and default slider with 10 slides. This theme makes it easier to embed maps, videos and podcasts and is a retina and HD ready theme.
Condimentum in itself is a very unique and multipurpose WordPress template for IT company and technology companies.
This theme is vigorous with the maximum shade of white to give it a premium look but can be made colorful by adding background sections.
Compatible to cross device, this theme is SEO friendly and comes with a nice Nivo slider. It has been created with fresh and new coding and is compatible with WordPress latest version.
Kraft is a WordPress theme and template for IT and technology companies that has been crafted with high-end features and superb manner.
It takes us step by step to create one of a kind website having complete documentation and manual to achieve the same.
The user can relate anything to world as this theme gives more than 900+ font awesome icons to have any type of social media icon. You can even ask your queries with the FAQ section provided with this theme to enhance more visibility.
Blendit is another scintillating and well developed kind of WordPress themes for IT company and technology companies.
It is a well thought and crafted theme that brings you the most exciting experience of changing color of every element within the theme and has many of the other features to surprise the user with every new additions to be made.
Bizness Pro is the another type of ebullient and buoyant template of IT and technology company WordPress that has been stuffed with sparkling features and options to build an outstanding corporate website.
It gives you more than 670 icons that can help your website get connected with social media to make your company reach more and more people across the globe.
If you wish to keep every of the section and the pages different then this theme is the best solution allowing for several header and footer options to achieve same.
IT Company WordPress themes FAQs
Which IT Company WordPress theme is best for SEO?
Actually, all the themes listed in this blog are best for SEO Because all these templates have been created to be search engine friendly. That means when you perform SEO to get listed your website and its content on the top of the search engines such as Google, and yahoo, you don't have to be afraid that your theme will let you down.
However, you still you want to make sure that your website content is well optimized for search engine and good performance then you can make use of SEO WordPress plugins.
Why should I update my IT Company WordPress theme?
It is very important that the code in your WordPress website is up to date. New themes are released with more clean and updated code. If you are unable to take advantage of new themes you would likely be at more risk.
The most important reason to update your old IT company WordPress theme is security. The updates in themes are actually small releases that are specifically designed to fix the security vulnerabilities.
Another reason to reason the theme is to make sure your theme is compatible with the new WordPress version, plugins, and other required tools.
And the third reason to keep your keep updated is to get more new features and functionalities. From time to time the themes are updated just to satisfy the needs of new ventures and to follow the latest trends.
Which IT Company WordPress themes are best for beginners?
All the templates listed above are best for beginners. These all themes are more user friendly and code free. That means you dont even need to write a line of code while developing a website.
Plus with the theme, you will get demo content that can be imported with just a single click. Additionally, you can use the page builder to customize the inner pages.
The process of customization is just like the process of editing PPT's or word files. If required you can take the help of comprehensive documentation that is provided with every theme.
You can also take a customer support for any queries if you have. SKT Themes will provide you free support for the next 1 year from the date of purchasing the theme.
Which browsers are supported by SKT WordPress Themes?
Cross browser compatible is the most important feature that every WordPress theme should have. Cross browser compatible feature will help your website to function well on various browsers.
If your website looks good on various browsers or devices, your visitors will find your online presence to be more valuable and trustworthy.
All the themes listed above are compatible with latest browsers such as Firefox, Edge, Safari, IE10, IE11, Chrome, Opera.