It has become essential for musicians to have a strong web presence along with phenomenal live performance and appearances.
For all aspiring and successful artists, WordPress themes for bands enable them to quickly create a stunning website. But what is so distinct about these themes?
Creating a website that is as stunning and soothing as the band, requires a lot of unique features. This group of themes offers such features by default and with flawless functionality.
Hence, you can be carefree about finding the right plugins and customizing your site for a specific niche.
We have compiled some of the widely used and best options, in this read for you to explore. This will enable you to make the right choice without any confusion.
Bands are dynamic and filled with enthusiasm. To represent such bands in the online space it takes a theme like SKT Night Club.
With SKT Night Club you get a pre-developed setup that ensures that the default aesthetics of the theme are marvelous. The overall layout, section, and structure are customized in a way that will make your target audience fall in love with it.
Moreover, as required by you everything can be customized and arranged to perfection. The page builder and customizer will help you in making all kinds of personalization so that all distinct requirements are addressed.
All kinds of information relating to your band and the kind of music that you produce or play can be added. You can choose to add it in a formalized manner or segregate it into different sections.
The added advantage here is that all required features including WooCommerce and mobile responsiveness have been tested. Additionally, according to the demand, you can add other plugins through external applications.
Details about your achievements, awards, recognition's, and live shows can be easily added. Handling and management are smooth, and it also does not require any technical expertise.
Responsive WordPress themes for bands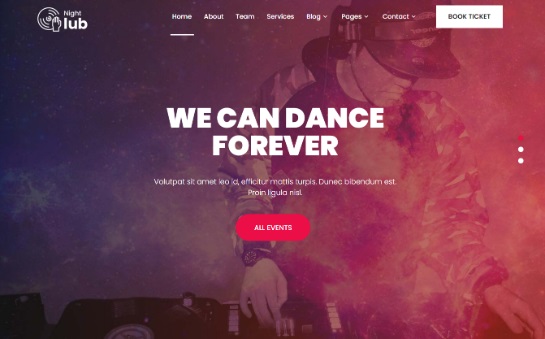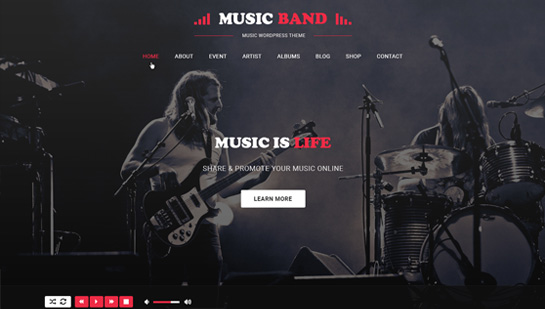 Music Producer is one of its kind WordPress themes for band which is responsive and exclusively for musicians. It can be used by music labels, aspiring musicians, or record studios to create a mesmerizing website.
If you are looking to create a website for your band then the default template will do full justice to your niche. The color combinations are lively and the images used are also copyright-free.
This will ensure that you have to spend minimum time on setting up the right aesthetics for your website. Modifications of all kinds, wherever required, can be managed until you are satisfied with them.
It is rich in features and comes integrated with Google Fonts and also supports WooCommerce. It is multilingual and also offers RTL support. This helps in reaching out to demography-based music lovers for your band.
You can manage and set up the system of online booking for your shows and also accept payments. This can be done by integrating the payment gateway of your choice.
Other features as required can be integrated through plugins. It is fully responsive and performs flawlessly across all devices, screens, and browsers.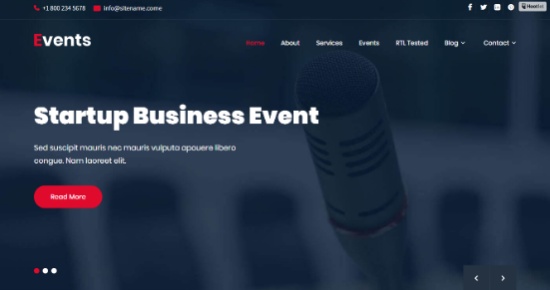 One of the major reasons that WordPress themes for bands are used worldwide is its simple user interface and responsiveness.
SKT Events is a multipurpose theme that has been dedicatedly developed to cater to the requirements of all kinds of events.
This means that even if you are an event organizer or event management firm then you can create a terrific website with it.
Creating a lively and enthusiastic web presence for bands is the most preferred option here. All the graphics, pictures, and other elements are of high definition and address the basic musical needs.
The inbuilt template is completely responsive, HD-ready, and also open to all kinds of customizations.
This helps you in ensuring that your online space is as apt as required by the target audience. Additionally, you can also manage your show bookings and the schedule so that the information always remains updated.
Setting up and management does not require any technical expertise thanks to the page builder and customizer.
Shortcodes help you in adding the missing features while some crucial integrations like Google Fonts are offered by default. Lastly, it is optimized for supreme performance and faster loading speed.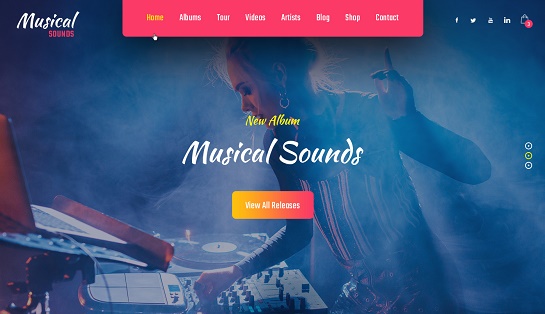 Musical Sounds is amongst the most fascinating and stunning inclusions in this compilation of WordPress themes for bands. It comes with an exemplary out-of-the-box design and layout.
Worked out distinctly for musicians and artists it has the potential to engage the audience. A music player comes added inbuilt slider option that ensures that the most recent and fav tracks can be directly accessed.
Concerts, shows, and other performance schedules can be easily featured straight away.
The default template is mesmerizing and shall enable you to maintain your band's rock identity. If required modifications of all kinds can be made for a personalized touch.
Additionally, all the required features related to this niche and for smooth operations are offered. In case you need other functions for better performance then the same can be added through external plugins.
There is no need for knowing and writing any kind of code and full support is offered by the developers for one year.
You can set up a photo gallery or include video links and create better engagement for your audience.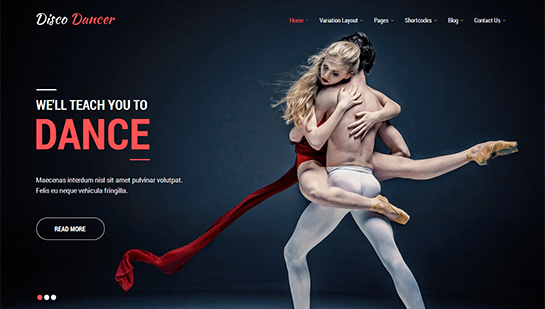 Disco Dancer is amongst the widely used multipurpose WordPress themes for bands. If your band or group has a distinct genre like fusion music then this is for you.
This theme will set a versatile tone of aesthetic and come with supreme performance standards. It will not only help you with better audience engagement but also make them fall in love with your space.
When it comes to the default layout and structure it is HD-ready and retina-ready.
Everything from templates to the smallest element is customizable. This helps you in personalizing it from the core so that your site can stand out easily.
Comprehensive documentation is offered which ensures that you never remain stuck with any issues. Coding is not required and developer support is offered for a period of one year.
Hence, you will never remain stuck with any problems or issues in any stage i.e. installation, setup, publication, and updating.
It supports WooCommerce and also offers Google Font integration along with copyright-free images.
There are zero limitations to the type and length of adding information or media. If you are looking for something that can make your band stand out, then this is it.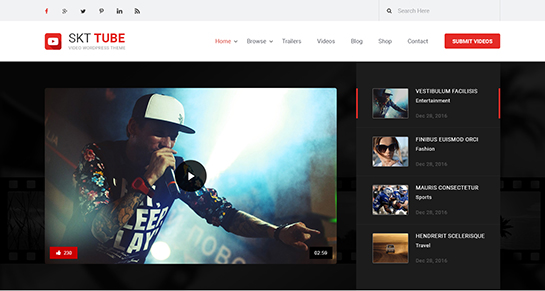 One of the most essential requirements for musicians and artists is to ensure that their website enables streaming.
If as an aspiring musician or emerging band your website allows streaming of your music then it can be a big advantage.
SKT Tube ensures you a full streaming facility of all your creations. It also enables you to link or embed videos from other popular channels as well.
Moreover, you can also add all information and detail about your group conveniently. The overall structure and layout are just like that of a streaming platform but it can be personalized.
The responsiveness has been tested thoroughly across all devices, screens, platforms, and browsers.
It comes with a one-click installation and a one-click demo import option as well which makes the task of content formulation easier. Setting up a gallery with all your achievements is possible.
You can also manage and live stream your shows or performance for your audience. A dynamic engagement platform can be created for the audience by integrating all your social media handles.
This is one of the finest WordPress themes for bands and can be a potential investment into opportunities.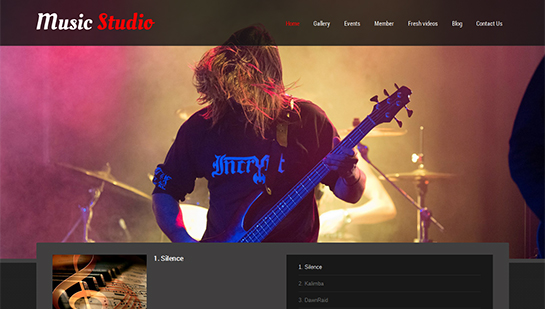 The next theme in this compilation of WordPress themes for band is Melody which has been an all-time favorite for music lovers.
As an artist, musician, or band this can be a mature and sensible choice for creating your online presence. The default template itself is based and designed on music.
This means that you have to spend the least energy on setting up the aesthetics and will never have to start from scratch. Additionally, it gives you complete freedom to modify and personalize all aspects according to your genre.
This helps in managing better connections with the target audience and in various methods of engagement.
All the images that are used are copyright-free and multiple menu options are also provided. For your convenience, hundreds of shortcodes are also offered that help in easily adding the required features.
For adding other specific features of your choice you can also rely on third-party plugins. It is completely responsive and comes with multilingual and RTL support.
You get full support for WooCommerce and integrating payment gateways of your choice is manageable. Let your creations flow in the online space and create a sparkle with Melody.
Event Planners Pro is one of the widely used and popular multipurpose WordPress themes for band. It has been exclusively designed and developed for event management firms.
Hence, it offers a wide range of features and flexibility. Therefore, using it for creating a website for artists and bands can be a perfect choice.
It will not only exhibit terrific performance but also has features that are a must-have for this niche. Starting from the template, layout, structure, and the rest of the elements are all customizable.
The freehand in personalization of all aspects will enable you to create a distinct identity in the online space.
There will never be any issues in the installation of the theme as it is quick and requires only one click. The rest of the settings are also swift to manage thanks to the page builder and customizer.
You can easily integrate social media handles and improvise engagement with the audience flawlessly.
You can include all information starting from your band history to your shows and performances. Even managing the streaming and selling of entry passes can be managed here.
This is one of the most responsive and powerful themes in this compilation of WordPress themes for band. Elastic Pro is a club of unbeatable performance and outstanding functionality.
The default template is HD-ready and offers all kinds of customization options. This will help you in shaping and molding your website in the most impressive manner.
You can also alter the layout for precision in the display of your content. Tweaking of colors in all segments and elements from across the theme is also possible.
Therefore, everything can be customized to perfection so that a distinctness can be achieved.
It comes loaded with features like one-click demo import, multilingual support, multiple menu options, WooCommerce support, menu options, etc.
You can also swiftly integrate payment gateways for accepting payments for your music collection or for your live shows or concerts.
Streaming of your music shows or embedding videos of your best performance from other platforms can also be easily done. It also comes with inbuilt shortcodes that help in adding the required features for better performance.
You also get developer support and comprehensive documentation for easy resolution of queries.
The last and final theme in this compilation of WordPress themes for band is Home Theatre. This is a powerful, dynamic, stunning, and multipurpose inclusion in this compilation.
You can get all kinds of features including one-click installation, copyright-free images, WooCommerce support, Google Fonts integration, and much more.
The prebuilt template is fully responsive across all screens, platforms, devices, and browsers. The template is also fully customizable to meet your unique requirements related to music.
If required, the page builder can also help you in creating a fresh music-related template that is HD-ready from scratch.
All kinds of third-party and external plugins can be added to meet the vivid demands of your musical world. Slider is offered by default so that all-important announcements and the best music of all time can be highlighted.
You can also remain worrisome about its performance and can swiftly integrate payment gateways to accept payments.
Be rest assured as there is no need to write a single line of code for any modification or update. It can be molded as required and exhibits extraordinary performance.