Creating a website based on a popular WordPress platform but delivering the nature of another famous ecosystem called Ghost can be one of the most productive and original solutions.
Therefore, we have spent some time on surfing the Internet for the best WordPress Ghost themes presenting Ghost style website builders to give your digital presence an original and user focused touch.
There has been a lot of buzz around Ghost as a modern and practical publishing platform which brings the excitement of a blogging back.
Much like WordPress, Ghost also has a huge community of successful coders and developers doing a great work in making the digital platform a much better place both for website owners and their virtual guests.
And if you want to combine the advantages of both platform and serve it to your audience as a homogeneous unity, we have the best options for you in the form of WordPress Ghost themes.
Check the list of the best WordPress Ghost themes below and select the ideal skin of your site depending on its nature, specific objectives and preferences, target user audience requirements and more.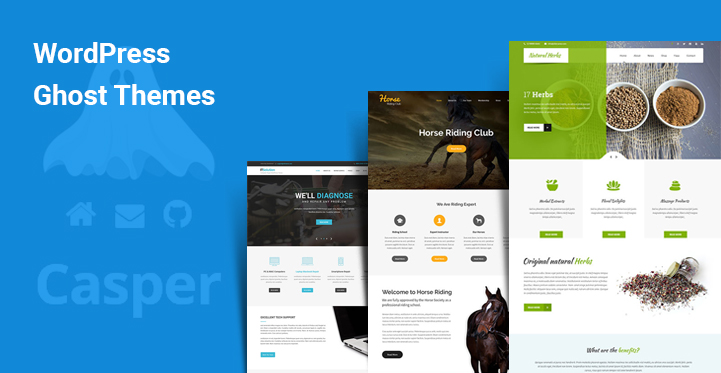 All of them are well coded and quality assured, completely editable and customizable. To put it short, everything has been done for you to be all set for the new flows of online visitors.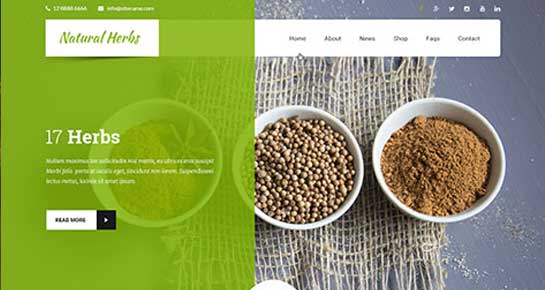 Want to get an excellent performance, reliability and simplicity in usage all at once? Then Natural Herbs is one of the top rated WordPress Ghost themes ready to open a whole new world of opportunities for you.
Whether you are going to market some natural or organic food, herbs or nutrients website, run an online storefront or advertise food and drink delivery services, Natural Herbs will go smooth with your company's or brand's identity.
The total customizability and built in features of the theme make it easier for you to draft and process the final look and feel of your site with colors, right layout choices, accurate content in footer, header and sidebar areas, blog and other standard pages like 404, archives, search, categories and more.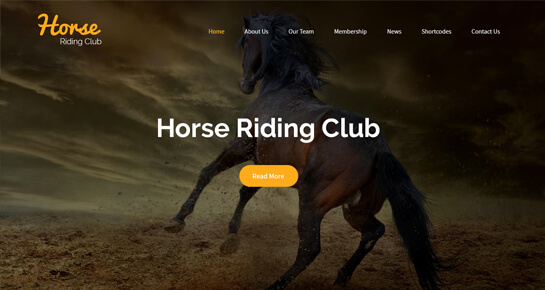 Reinforce your creative ideas with Horse Riding and result in an awesome website to sweep your potential clients off their feet.
It's a uniquely designed and modern looking, dynamic and smart template ready to host any horse and golf club, sports center or leisure complex related websites and blogs.
However, Horse Riding is also totally manageable so that you can control it the way needed to generate specific form and function complying with your business.
Choose and customize content zones and sections of different pages, add high quality content to each with Google friendly typography and fonts you have at your disposal right from the start.
As for other pluses of the theme, it is responsive and cross mobile compatible, shortcodes ready and well functioning with add ons and plugins, such as WooCommerce for commercial, qTranslate X for translation purposes, SEO and SMO ones for better results, etc.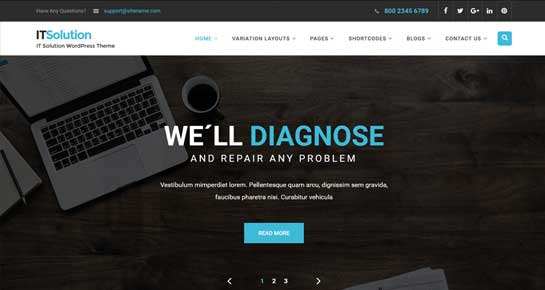 If you are an IT specialist, computer repairs technician or a web programmer in an effort to find one of the most suitable WordPress ghost themes for your niche specific website creation purposes, IT Solution shares all the needed qualities to be your helping hand.
With IT Solution, you will not only get a fantastic toolkit that is bundled with practical tools, put also professional support from the theme author's part to walk you through all the complex part of a pro quality web creation, if there are any on your way to perfection.
Additionally, you will have a full documentation at your leisure to look through whenever needed.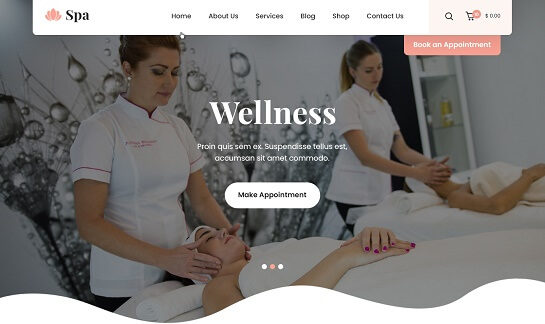 We have not forgotten spa and beauty industry as well and added SKT Spa to our assemblage of WordPress Ghost themes.
From nail and hair salons to spa and massage centers, beauty and tattoo art salons, healthcare specialists and makeup artists, anyone and everything can be best showcased with this elegant and nice looking website builder.
This easy to use and admin optimized template is never going to deter you from starting your own e commerce business as well, as SKT Spa is fully commercialized and WooCommerce checked so that you can quickly start selling products and services with your profile.
Other plugins such as multilingual and gallery, contact form and commenting, social sharing and SEO, slider and event calendar ones can all be paired with SKT Spa as well for boosting the results of your site with better functional base.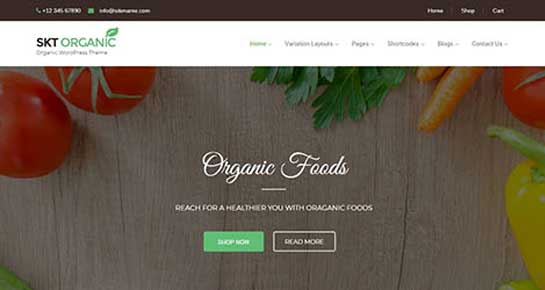 Another template ready to host any food and drink, natural and organic, NGO and non commercial, e commerce and business related topics and niches in the most productive manner is called Organic.
Of course, starting a new website that needs to welcome a huge client base, considers reasonable initial expenses and many hours of a hard work to get it up and running.
Well, with Organic, you are going to quickly navigate through those choppy waters as the theme is offered at a pocket friendly price and is amazingly easy in installation and activation.
Moreover, you don't need to be an expert in some web coding language or design programs to proceed with a customization of your site in the next stage of your site building. Here is where the powerful toolbox of the theme with live customizer comes into picture.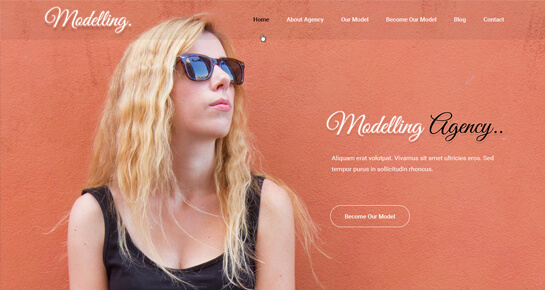 Modeling is a modern looking and awe inspiring template featuring multiple layouts, preloaded fonts and icons, easy to control pages and content areas widget friendly zones included.
As well as a beautiful homepage slider to expose the most captivating images depicting your style, business orientation or nature, staff, happy clients or top products, etc.
It's a sophisticated, perfectly coded and well designed theme opting to support the most legible fonts and thus pushing the visibility of your important web publications and content to get the maximum web visitor attendance.