The operations, management, and organizational pattern of a non-profit organization have evolved and taken a new form in the last three decades.
In the era when computers and digitalization were only a theory, it was tough to manage and run a non-profit organization. It is even tough today but the resource generation and management have become feasible.
The tasks that took the most time are completed in a few days today. Having a website for a non-profit organization is one of the best decisions to expand the reach.
Such organizations generally rely on funds from the public or through private donors. Through the website, the reach and activities can be expanded in manners that are unimaginable compared to old times.
A website based on WordPress for Nonprofits association or organization is the best method to go live on the web. The WordPress platform has gradually evolved and today is amongst the best content management systems in the world.
Every functionality, element, and requirement can be fulfilled by this platform easily. Even managing payment gateways and making an efficient landing page is possible. Hence, with such advancements already in hands why choose anything else other than WordPress?
In this read, we have included everything that is required to empower a website based on WordPress for the associations that work for the people.
As of now, there are several communities that are using this platform for their websites like The Jane Goodall Institute, Team Rubicon, Alliance of Independent Authors, CURE International, The Big Give, The Interfaith Housing Alliance, and others.
Themes
Themes are an integral part of a website and the same applies to WordPress (WP). The WP directory includes thousands of themes that are free as well as paid and can be used for our purpose. But it is recommended to not use paid themes until something extremely peculiar is offered.
Each theme comes with various functionalities and key features. But if you cannot find a few then there is no need to get tensed on it. With plugins and other effective tools, you can get the desired features that you require.
We will discuss the same in the next segment but the following is a list of some of the best themes based on WordPress for Nonprofits. Check the design, graphics, and user-interface of each of them. The one that meets the maximum features that you require should be used for your website.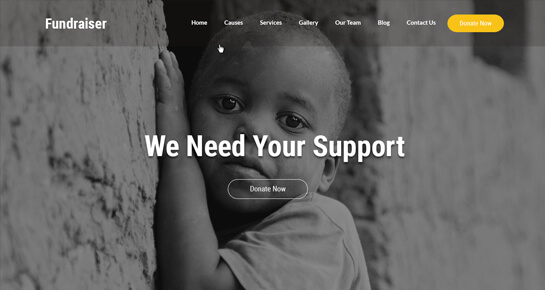 This theme has been specifically developed keeping in mind the crowdfunding and fundraising activities carried out by NGOs. Marketing and management of events, as well as campaigns, becomes easy when you develop a site with it.
The entire coding is done according to the SEO standard which enhances search engine rankings. While designing the codex review standards have been followed and it is congenial with the latest version of WordPress.
The core features include widget friendly design that enables the users to use it in sections like footer, header, and sidebar. Background color, header, menu, and logo everything can be modified as required.
It includes a POT file that enables it to be translation ready. By default, it comes with a comments template that has a nested commenting feature.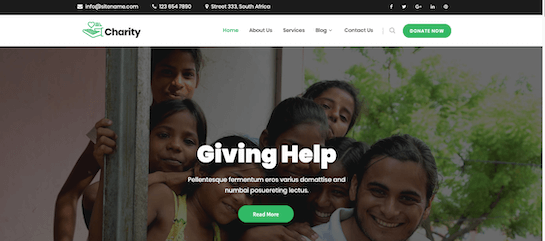 This is a flexible multipurpose theme that is clean, modern, and easy to use on WordPress for Nonprofits purpose. That's perfectly what is required for an NGO. It has been designed with the requirements and usage of nonprofit associations in the core but it is still a versatile theme.
Hence, the functionality and performance are undoubtedly supreme. It is user-friendly, visually stunning, and an interactive theme.
It is packed with essential features like a call to action button on the menu and comes with a full-width slider. Users can make changes live using the customizer option.
One can mold the site into multiple layouts as required. It comes with custom widgets and one can also opt for a client section on the webpage.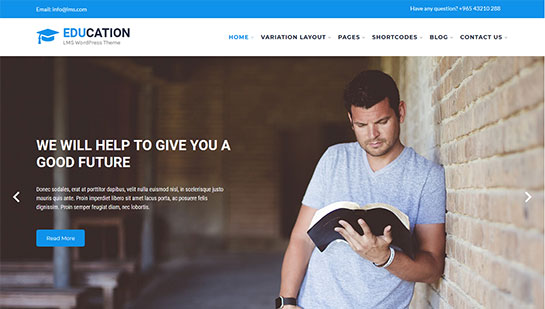 This is a one of its kind elegant theme of WordPress for Nonprofits relating to Education. It has been developed with the core aim of receiving charity as well as managing events and documentation of all kinds.
It is a versatile theme hence can be molded as per requirements. It is customizer based which means that changes can be tracked in real-time without switching.
Any number of widgets can be added as per the demand and the sidebar is also widget friendly. It is compatible with page builder and WooCommerce Plugin.
Just like other themes basic modifications in background, header, logo, and menu is possible. It is compatible with an older version of browsers as well because of its flat and material design.
The activities can be easily highlighted in the homepage area. It supports popular plugins for improvising functionality.
It been tested for cross-platform compatibility and has successfully passed the Google Mobile-Friendly test. If required the developer or the user can add shortcode plugins. A default blog has also been provided.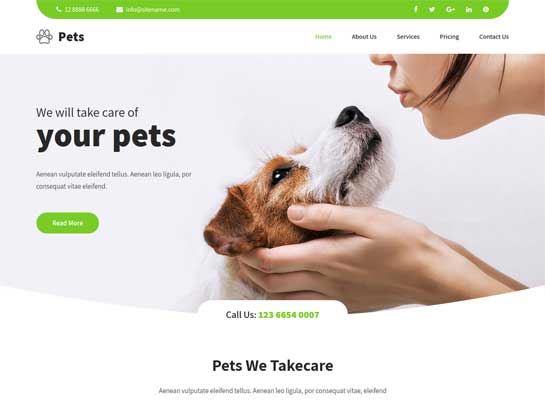 This is one of the finest minimal themes to feature your charity and NGO activities relating to pets. It is well-known for its multi-functionality.
One can create a portfolio of pictures featuring the activities carried out on the site. If the user intends to run an active blog regarding various operational area then that is also possible with it.
The developers assure that it has been coded with clean and secure codes. It is simple to operate and straight forward. The interesting thing is that it comes with a one-click demo option which saves considerable time.
It is sympathetic to the latest version of WordPress and also comes with plugins support. This will help users in efficiently publishing activities for awareness and fundraising.
The core features include basic modification and enhancement of colors, menu, logo, and background. Apart from this, it extends compatibility to eCommerce plugins which means one can easily establish an online store.
A testimonial section can also be developed on the site as and when required. It also comes with multilingual functionality that adds to the existing aesthetics of the website. Users also get an option of 900+ font family which can be used conveniently.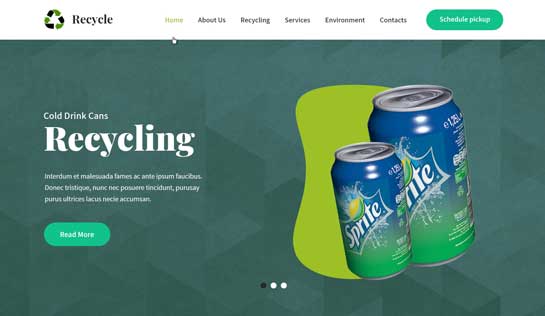 To obtain a professional solution of the website on WordPress for Nonprofits SKT Recycle Lite is amongst the best options. A modern aesthetic is featured with responsive design with an adamant emphasis on contributing to the cause.
The peculiar functionalities that come along include multiple template options. Compatibility with various popular and important plugins is tested by the experts. It comes with a strong framework and supportable sidebars for customized layout.
Premium Themes
Above are some of the best available options that you can choose from as far as free themes are concerned. If you intend to opt for premium themes then you can explore themes like Donation, Fundraiser, Caregiving, SKT Trust Pro, and others. All these premium themes have been tested with time and have emerged as winners.
They will be helpful if you are looking for prominent features, intuitive user-interface, and superior customer support. Now, this was all about themes. We have included some best Plugins used in WordPress for Nonprofits in the next segment.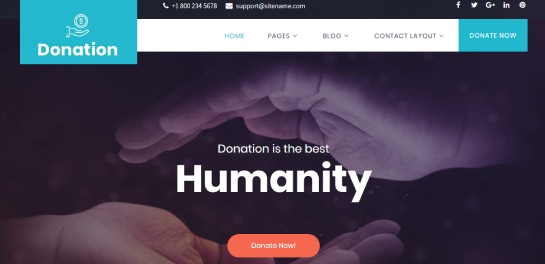 Donation is a WordPress theme available premium price. It is included with lots of rich features that will make your website more astonishing and appealing.
You can use this theme for future work. This theme is integrated with some donation plugin and compatible with some other essential plugins such as SEO, payment gateway, events calendar, Revolution slider, WooCommerce, etc.
Recent posts, comments, categories, etc widgets are allowed to use. One click import option is there to use a theme demo within few minutes. The best features of this theme are responsive, effective, Gutenberg optimized, documentation, etc.
By viewing its demo you can experience how easy it is to customize as per your organization requirement. It is professionally designed to appeal your thoughts as much as possible with the text and visual effects.
Most easy to update, edit and manage for life long. Even a nontechnical person can handle the theme very easily.
You can use this theme to make more people attracted to your non-profit organization. It can be used for fundraising or a donation organization.
Without taking efforts and without wasting hours on development you can create a complete responsive website in few minutes. Live demo option is there to check the feel and functionality of a theme.
It is an attractive WordPress theme that will be used to explore your care and support to the needy people. You will be able to create an outstanding web site showcase your love and support for a needy one.
This theme can be used for creating a website for green businesses such as the recycling industry, plastic waste industry, etc.
People will feel inspired by your idea of caregiving. You can create a website with custom functionality that will get executed as same as you need. You can share your thoughts and views by integrating social media to your website. This will be the great opportunity that you should never miss.
SKT Trust Pro is also a premium WordPress theme which is responsive to all kind of devices and browsers. You will get all advance features and functionality that will be essential to explore your business idea in a strong way.
Most popular widgets such as a news section, calendar, announcements, etc are compatible with this theme. Best used for charity and funding organizations. Multilingual languages and translation plugins is also supportive with this theme. Click Demo option to view the functionality o a website.
Plugins
Once the set up of the site has been done the next essential task is to improvise the functionality. Plugins will help you do that efficiently without the use of any codes.
With the increasing popularity and usage of the platform, most of the used plugins are available for free. They will enhance the features and at the same time make the website powerful. The following are some essential plugins that you can use.
If you intend to create an online store or an eCommerce on your site then this is the program you are looking for. This is one of the widely used and most popular software on the web.
It is believed to have powered more than forty percent of the live website on the internet. It is active on 4 million+ sites and has an average rating of 4.6 stars.
This is again amongst the most popular plugins that are used on the WordPress platform. This program will handle your requirements of featuring any kind of table on your website.
Users will find a simple and easy to use interface on the dashboard itself. Exporting of data from Google Sheets and Excel is also possible. The best part is that it has been rated with five starts the perfect rating by thousands of users.
Social Media Plugins
There are dozens of free plugins that can be used on WordPress for Nonprofits to integrate the site with social media handles.
This will help the audience and the users to directly connect with you on social media. Sharing content from your website to various social handles will also be possible. This will expand your reach and make your network grow stranger.
The management of nonprofit sites is usually done by multiple individuals. Hence, there is always a risk of compromise of credentials. In such scenarios, the damage can be severe and sometimes even results in monetary losses.
To avoid such happenings this program comes at your rescue. It is easy to implement and free for unlimited users. It will add two-factor authentication and lock down the login page. Hence, brute force attacks can also be tackled.
You can also resort to using other programs according to the requirement of functionality from your end.
Areas to focus on the empowerment of WordPress for NonProfits
Apart from the discussed two sections, there are other essential areas to focus on to ensure that the website functions in an ideal condition. Focus on the following factors and your site will be good to go live and shared with the world.
SEO
SEO is a must for any webpage/site to function in an impactful manner and it stands for search engine optimization. There are plugins for this purpose as well. Free programs provide you top-notch facilities and hence it is recommended that they are used.
With improper SEO your website will become dull and ineffective. This will create problems for individuals to find it on search engines. Hence, it is highly recommended that you conduct SEO audits for your website on a timely basis.
To know more about it refer to our article "Importance of Full SEO Audit for your Website" (Interlink this article from Nov 2019 submission).
Backup
Regular backup is again an essential activity and must be followed on WordPress for Nonprofits. Depending upon the use, data upload, visitors, and other factors the backup schedule of a site can be decided. There are essentially free as well as premium plugin available for this purpose.
In some themes, this facility is integrated by default and in such cases; you do not need to use any external programs.
Frequent and regular backups can keep the data reviving stage of your content active. The storage can be done on cloud services like Google Drive or Dropbox.
Security
Various themes provide security for the website. Check if the one selected by you offers any. If not then there are tools and programs that you can use to protect your site.
A firewall can also be developed for a site to strengthen security. With security, you indirectly ensure that your website on WordPress for NonProfits purpose is robust and secure. Plugins will help you in different capacities to safeguard your data.
Conclusion
We have included the best programs known along with vital information that you will need to develop a website. You must take note of a fact that you might be eligible for a discount on premium products for your nonprofit website.
Certain organizations offer discounts on their products specifically for charity and nonprofit websites. Hence, enquire regarding the same.
Creating a responsive site that is compatible with all screen sizes should be the goal. Make sure you make the most out of the WordPress platform for your site.
There are thousands of plugins available online and every problem that you face will have a solution. The WordPress community will help you in sorting out. Be creative and clear with your approach. The rest will find its way.