SKT Charity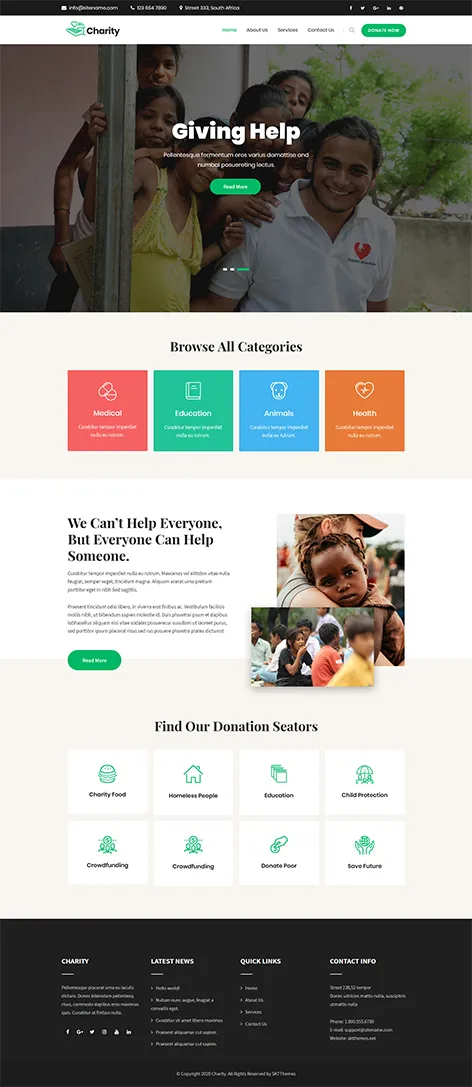 Free
Demo
360+ Themes for $69
Comparison
Free Theme
Less homepage sections
No inner pages
No Support
No Typography Options
No Icon Options
No Header Layouts
No footer Layouts
Less plugins compatible
Less updates
Less flexibility
More Time for Website Build
Free Charity WordPress theme features
SKT Charity is Free Charity WordPress theme
Fully responsive and compatible with Google mobile friendly test and responsive tools
Easy to use
Change colors and options using Customizer
Compatible with a lot of gallery plugins so that one can easily showcase what work has been done in the past and what is going on currently
Team members also can be showcased which can work as trustees of the organization and also donors can be showcased. They come in built however in the Pro version of this template
Make changes live using Customizer
Theme check and authenticity passed
Coded as per latest Codex theme requirements
Compatible with latest version of WordPress
Completely free and released under GPL
Complete documentation available even for free theme
Compatible with lots of plugins like WooCommerce and NextGen Gallery, Contact form 7
Translation ready as POT file is available easily
Multilingual ready and compatible with qTranslate X and others
Basic few social icons also included
Sidebar is widget friendly
Standard pages like 404, search, archives and category present
5 levels of drop down
Color changes are easy as per user requirement
SKT Charity is a free charity WordPress theme which is responsive and can be used by charity websites as well as NGO and non profits to create their website easily.
It is compatible with donation plugins as well as WooCommerce which can be used to sell items for creating some revenues.
It is also compatible with Events calendar plugin so that one can hold events.
Since it is compatible with the latest version of WordPress as well as has been created in accordance with the latest Codex WordPress theme standard it is a really good theme for free.
Our free charity WordPress theme also comprises of the homepage slider with 3 slides available as well as 4 boxes which can be set up very easily.
Footer area is easily editable and modifyable.
One can easily use color discretion to change the colors of the theme as per their liking and taste. The theme gives enough room for creating a unique website as is required by the user.
Also Included with free charity WordPress theme
Theme Files Theme files are included in the zip you get when purchased
SupportYou can email us for support of this theme
People who do charity expect to check on to the organization which has been doing good work. Also those who have donated considerable amount of money to a charity want to check what work the trust or the charitable organization has performed in the last 1 year.
Also any charity depends on causes. If causes of the organization are mentioned properly then it becomes evidently easy for anyone to judge the causes and also support them if they want to.
Hence its important the causes of the charitable trust, the trustee members details and other factors like who all are the past donors and what work and how much work has been accomplished can be showcased in gallery section.
Hence this free charity WordPress theme for charitable organizations has been coded such that it is compatible with a lot of plugins so that any functionality in future also can be added into this template without incurring heavy costs and by just adding a free compatible plugin one can make it work.
Also since the template is based on WordPress any trust can easily make the template work for their own with easy to add content and edit it and also change whatever they want.
Basic color changing option has been provided which works nicely in favour of this free charity theme.
Certainly more features like color changing and several blocks on the homepage are available in the Pro version of this free charitable WordPress theme but the most important is support for the template and it costs only once in a lifetime so that any charity can afford for the same.
It has been designed to give meaning to a charity so that the charity can breath life into their website and also donors can check what has been going on with the website at any instant.
The template is compatible with WooCommerce so that they can earn money by way of selling some merchandise and keep the organization ticking.
Also with events calendar and gallery plugin compatibility it makes a complete website which can be used for charity events and event galleries.
Pro version offers a lot of other features like fonts, icons, background, section block options, shortcodes in built etc.
Every website that is available on the internet comes with its own features. There are a lot of websites there and as many numbers of blogs which is because the whole world has moved online. The requirement of the websites are very specific which means that even the charity-related work is very specific and requires special themes.
The Free Non-Profit WordPress Theme is designed by the world-renowned platform with an intention to cater the non-profit organization gets their words across. The NGO works need precision and the designs need to be unique when it come to charity websites.
The Free Non-Profit WordPress Theme has all the required features they are designed for easy navigation. There is also a suitable guidance in the form of extensive documentation which is available with the theme that helps the users create highly functional websites.
The themes are highly responsive and they are compatible with all devices which is the need for the day as the users use a different device when they browse the net. These themes are designed by professionals who have made all efforts to ensure that the users who are from a non-technical background will be able to use the themes as easily as anyone else.
The themes are designed with an intention to cater to the millions of internet users as the information would be required to reach them. The theme is thus tested to work on all of the various devices and the browsers which are used by the visitors.
This test is a must for any website which is going to make it big should be approachable via different devices. The non-profit sector is no different and will also require websites that are easy to be accessed using the devices like smartphones and laptops.
The charity website requires special codes that would allow donations or selling tickets easy. The WooCommerce compatibility is thus taken care of which includes online selling options. There is a huge requirement for safety when such transactions are made.
Any information that moves in and out should be encrypted so that the threat for theft is avoided. The Free Non-Profit WordPress Theme allows easy inclusion of the plug-ins which ensures safety and has all features which will support the safety feature.
It is important that the non-profit websites have images and videos as they make an instant connect with the visitors. The themes thus allow high-quality videos and images to be added to the website.
There are different layouts and the users can add the videos as the attraction to the website. To ensure that the functions on the main page are huge the widgets can be added to sidebars. These spaces are great when there is a call for action.
The websites can add the requirements for volunteers; donations etc here and have this ticker to attract the attention of the visitors.
It is important for any kind of website that it is SEO-friendly and the WordPress websites are definitely filled with this feature.
Kindly install free themes of WordPress and use them for your commercial or personal project or website use.
Tags: kindness, kindliness, compassion, feeling, goodwill, generosity, gentleness, charitableness, tolerance, mercy, humanitarianism, understanding, kindliness, liberality, nurture, relief, generosity, help, leniency, allowance, kindliness, favor, selflessness, unselfishness, love, kindheartedness, support, tenderness, goodness, donation, charitable foundation, offering, indulgence, kindliness, fund, assistance, benefaction, contribution, generosity, brotherly love, caring, clemency, concern, pity, sympathy, benignity, empathy, welfare, charities, gift, aid, help, grace
Change Log
Updated December 2023
Working With Latest WordPress Version
Updated Google fonts for GDPR and Other Country Privacy
Updated to work with PHP 8+
Updated to work with at least one page builder (Elementor, Gutenberg or SKT Builder)
Compatible with popular plugins of SEO, contact form and WooCommerce
Updated performance to work with popular cache plugins and Cloudflare