There are awesome tour package WordPress themes to choose from and design your dream website.
There is not a single person who does not like to travel to new places on every vacation.
But traveling to different places quite a lot of preparations and involves a headache like booking hotels, travel tickets, cars, note the places to visit and likewise. Therefore, most of the people find out tour package system who would take a lump sum money and take care of everything.
People search on the internet for such companies and compare their reviews and rates before choosing one.
Get your WordPress website online today if you have a tour package.
Why Tour Package WordPress themes are best to take your travel business into heights? As time enacts, people to travel new destinations across the globe. Therefore, the touring industry is enjoying peak success nowadays.
If you are creating your new tour and travel website then choosing the tour package WordPress themes is highly mandatory. Well, the job of a travelling agency is only to ensure the customers that you are reliable.
But people love to look into the travel website which is giving a platform to book their tour package online such as Trip Advisor.
However, your website should be large and covered all the destinations. Therefore, the tour package WordPress theme is simple and specialise your multiple travel categories at one place. This can truly interact with users and fulfil their requirements in short minutes.
If you think about your customers they will take your business to heights. so, the purpose of using this theme is only to become specialised in what you are providing.
Check the theme which is specific and flexible towards your business requirements. Hence, we have come up with top tour packages WordPress themes. Just find out the best from the given list.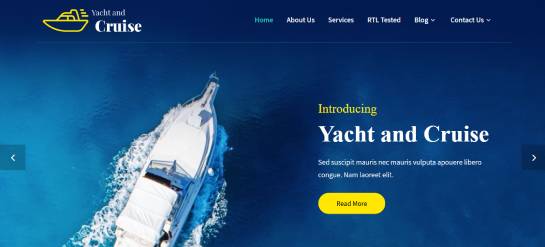 Yacht and cruise is commendable tour package WordPress theme designed to interact with luxury clients. Its homepage is composed of various sections which turn the experience of customers extremely satisfying.
The header contains four types of layouts that further allows the setting of Logo, navigation and top navigation. Moreover, the theme involves footer with 4 styles which you need to choose that describes with your business.
Yacht and cruise also come up with a step-by-step guide, which helps you in setting up the website perfectly without the intervention of Technical person.
The theme involved multilingual ready plugins that help you to reach the customers across the globe without language issues.
Furthermore, it comprises SEO and SMO plugins that help you to share your articles on social media and search pages without extra efforts. It is RTL and retina ready theme.
Right now, it is available on free installation along with various elements. So give it a try and find out more about it.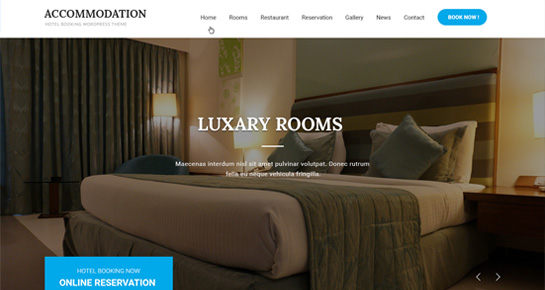 Accommodation is a coolest and amazing tour package WordPress theme you should choose for your tour and travel companies which is providing All-in-One solution for the customers such as booking of hotels, booking of your package, tickets, payments and more.
If you want to create a fantastic design website with colours and amazing elements as well as features then this theme is easy to manage by everyone.
This will create multiple features in your websites such as coding standards, appointment plugin, backup Plugin, booking plugin, security plugin, popup plugin, WP hosting, retina-ready, custom fonts etc.
The theme also involves a superb call to action buttons that present almost every part of the website for making your sales higher. Further, it involves WooCommerce compatible plugin so you can Merchandise the goods as well.
It is the best website theme ever introduced in the market. As it involves page builder plugin such as beaver, elementor and many more to create perfect landing pages for Website.
This is complete SEO optimised and SMO friendly theme-which easily implemented with your requirements and give the best performance on SERPs.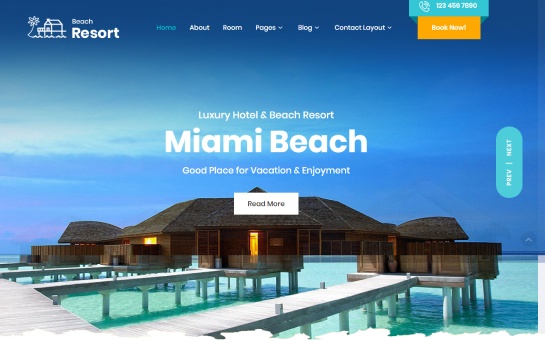 If you are looking for 100% responsive, simple and mesmerizing tourism website then SKT Beach Pro is one of the best tour package WordPress themes you should pick. It is a full- colour changing theme that alters your website according to your requirements.
Besides, it is translation ready and multilingual ready theme that converts several users towards your website. SKT Beach pro is simple and easy to use the theme by anyone.
The best of this theme is it is fast loading theme on every device and the browsers, so the user usually increased with your content and found your website best.
Furthermore, it implicates standard features like archives, category, and 404 that help users to find your website a complete package, they required.
More, it contains built contact form with captcha code, sidebar, widgets and font based icons that just enhance the look of your website and fulfil the desire of your business.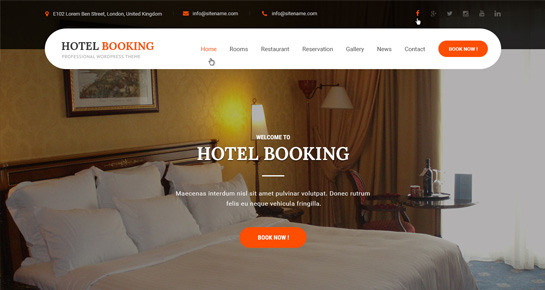 Are you someone who is looking for or a theme that provide easy hotel booking services to your customers? Then look out Hotel Booking tour packages WordPress theme.
It is a fantastic website that comes with full documentation and both paid and free page Builders. This theme involves multiple header and footer layouts, sidebar layouts as well as sections which are easily modified as per year website functionality.
On the other hand, It is a cross-check friendly and platform tested theme that can give your customers complete satisfaction. It's theme based on modern and creative design that's why it is top-selling WordPress theme nowadays.
The hotel booking theme also comprises various plugins such as a woocommerce, pricing table, events, etc that shows it is the best theme for tourism business.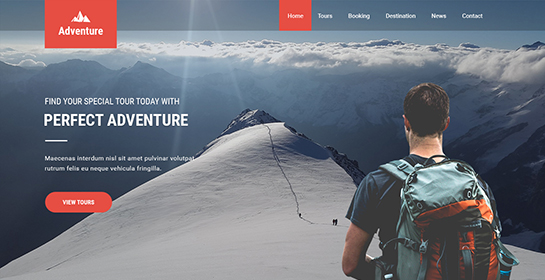 This is one of the amazing tour package WordPress themes on the list because it is unique in design and has all the necessary functions. It has social media integration and SEO support.
The color combination is unique, and there are plugins for everything like advance booking, payment gateway, listing packages, event calendars and much more.
The galleries and sliders are awesome and go well with the theme. You can show discounts on the packages with beautiful icons on the top, and the background of the sections are fully changeable.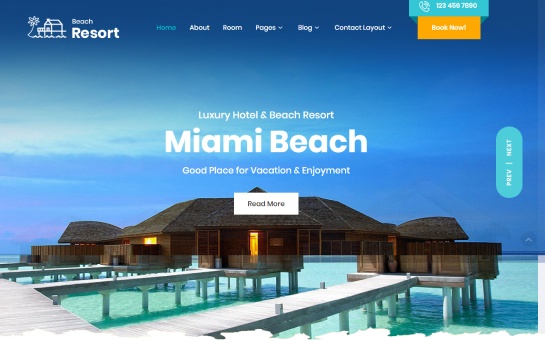 The name says everything, and it is definitely one of the awesome tour package WordPress themes. It is retina ready and certainly makes a travel agency or a company look premium.
There are beautiful layouts to list the packages with animations and stunning color combination. The theme is widget friendly, and one can also show special offers and deals. It comes with WooCommerce support and pricing table plugins.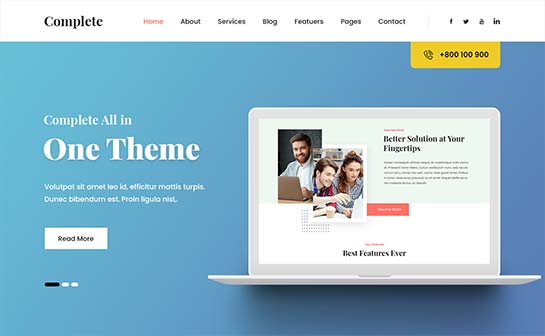 This is a multipurpose theme but one of the best tour package WordPress themes by far. It has a flat design and quite colorful. It is very appealing, and potential customers are going to find the travel agency reliable.
You can have all important testimonial section on the homepage where people have left reviews and ratings. The navigation is intuitive, and there are various sections for listing videos of tour package and destinations.
In the blog section, you can recommend people to try out different locations.
This is one of the best tour package WordPress themes that has everything in it. A company or travel agency can provide tickets for travel, booking of hotels ad cabs and travel to all the places in the area of visit. It is clean and loads faster than most of the themes. You can do live customization.
There are call-to-action options in the contact page and header. One can make a booking through their mobiles and tablets.
There are multiple variations of the header, footer and page templates are available. You can have amazing sections on the homepage with beautiful backgrounds.
This can be turned into one-in-all tour package WordPress themes because it has the look and the support of plugins to have all the features of advance booking and payment.
The contact section is quite advanced with all sorts of supports from the company's side. One can list the packages beautifully using the icons and shortcodes.
Though basically, the theme is perfect for hotel booking, it can have inner pages for cab rental service, visiting nearby notable places and even serve food and beverages.
The galleries are extremely beautiful, and you can see select hotels and other services based on different criteria and filters.
It is an ideal theme for tour package companies who provide honeymoon packages for newly wedded couples. The tour package should be available in different categories of prices and services.
The color of the theme is wonderful, and the couples are going to like it and trust it. It is translation ready, and there are page builders for inner pages. The fancy fonts are available with stunning icons, and everything is retina ready.
This is one of the ideal tour package WordPress themes that allows you to change every component one by one. You can add any section on the homepage and include more inner pages as per your requirement.
All the standard and necessary pages with sample text and features are available. It has a clean and corporate look, and even corporate tours can be booked through the website and paid beforehand through the payment gateway.
This is for those companies who offer travel and tour packages especially in beaches and where water bodies are ideal for fishing. It can be turned into anything you want, and it is SEO and SMO friendly which will give better exposure than others.
It has also passed Google tests to show that it has better loading speeds and mobile friendly. There are sidebars, and ready-made page templates ad widgets. There is a separate section for blogging to convert the readers into clients.
This is one of the best tour package WordPress themes because of its awesome color combination and matching design components. It will inspire people to travel around the world and make a booking.
It comes with call-to-action options and pricing table to list all the packages and buy direct through a payment gateway. There are several fancy fonts and icons to represent content wonderfully.
It is compatible with all devices, browsers and supports all standard plugins are different functions. It is also translation ready, and portfolio and service sections are creatively designed.
This is a multipurpose theme, but it has a sample tour package website look. It begins with a cool slider and awesome color combination. It is fully responsive, and from the backend, you can change all the options.
It supports well on all devices and browsers. There are hundreds of shortcodes available for better designing and representation.
WooCommerce support is also there as it is required for users to pay in advance and book the required package before it gets full. Overall, it is one of the awesome tour package WordPress themes to build a website.
These are the best tour package WordPress themes with outstanding design and required functionalities. When you buy them, the support team will help you to set it up for your website, and you will get all the files for designing and tweaking features.