So, let's get started with the list of healthcare WordPress themes
In this age of technology, a major portion of the business is operating in the virtual world. And this also include the medical and healthcare industry. A lot of healthcare businesses are largely relying on their websites to operate their business daily and serve the community better. Patient records, doctor appointments and clinical forms are a few items that are managed efficiently using a website.
Keeping in mind the utmost need of having a website to operate healthcare business, we have compiled a list of top 10 healthcare WordPress themes from our website.
Most of the healthcare websites are handled by staff and hence its important that the features are more than worth the money and they are also easy to use so that the staff does not have to rely on the developer again and again and can get the changes done which their management team asks them to do.
We hope that this compilation will help you choose the best possible theme for your business and get the most out of it.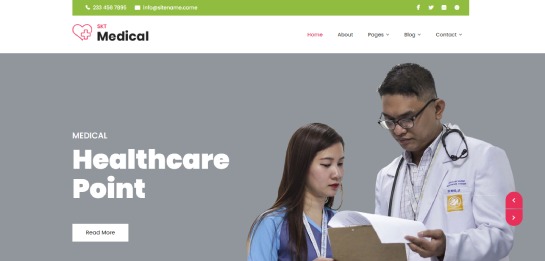 If you are a minimalist then this one is the best choice for you. This responsive theme has got a simple and minimal design that makes it easier for users to interact with the web interface.
People with portfolio might find this theme very helpful in order to show their projects. Moreover, the overall looks of the theme can be changed because you can choose the colors yourself.
Other features include:
Over 600 Google fonts
Over 100 shortcodes
Google map plug-in
WooCommerce
Contact Form 7
and much more
You should definitely consider this theme.
This is one of those multipurpose healthcare WordPress themes which can easily suffice for all the needs and requirements of a healthcare blog. Being responsive and packed with multiple features, it offers you loads of functionalities.
The animated columns allow you to easily handle the content as well as look good when someone scrolls through the content. There is a default slider that comes with 12 animation effects. Moreover, you will have the ability to:
change the color of the theme using the color picker option
switch between over 650 Google fonts
Compatibility with various Ecommerce, Contact Forms and SEO plugins
Compatibility with various gallery plugins
All call to actions included
All these features make it a superb choice in terms of design.
Apart from the design, this healthcare WP theme has got a contact form, social media integration and 580+ Icons pack. In a nutshell, it has got everything you can ask for in a medical website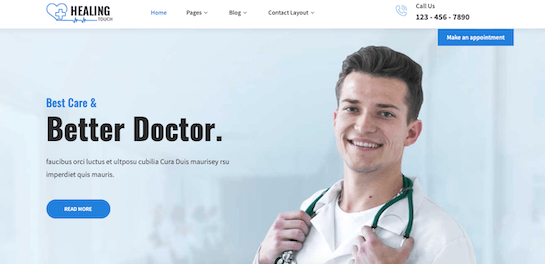 Healing Touch is one of those healthcare WordPress themes which have passed the Google mobile friendly test. Moreover, being extremely responsive it offers speed surfing with faster loading and a great user experience.
So, if you are looking for a fast theme that has passed most of the speed tests, then this is the choice for you.
Apart from great user experience, this theme is compatible with:
NextGen Gallery compatibility
Contact Form 7 and SEO plugins compatibility
WooCommerce compatibility
Color changing theme
Font awesome icons pack and Google fonts integration
This theme provides you with the ease of setting up the content in an easy manner. You should definitely check out this awesome package for great design, user friendly functionality and great speed.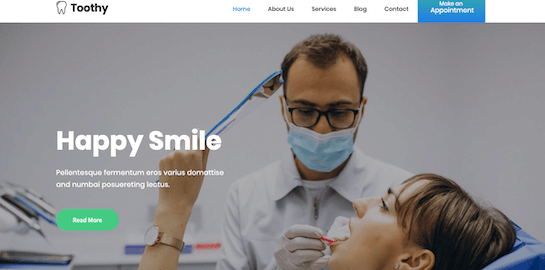 If you are a dentist then this healthcare WordPress theme is definitely for you. By virtue of this theme, any dentist is able to tell about himself.
Moreover, there is a gallery section to show different aspects of the business. On top of that, the integration with social media is marvelous.
Toothy allows you to add blog for the awards, case studies, press releases etc. Moreover, it has also got the plug-ins for Google map and contact form.
All this and compatibility with the latest version of WordPress and various other plugins of SEO, Ecommerce and contact forms make this theme one of the best in the niche of health and care WordPress themes.
features include:
Social media icons on top for dentist
Shortcodes and lots of other features with theme options
Easy color change, link change, fonts change from backend
Blog for case studies, awards, press releases etc.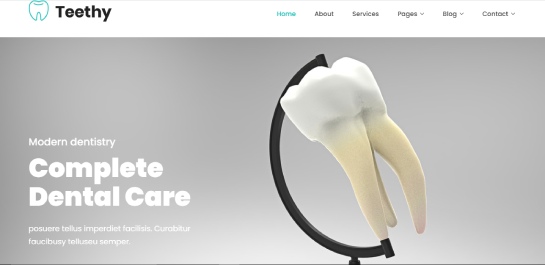 Just like Toothy, this theme is also meant for healthcare professionals associated to the field of dentistry. Being responsive and highly customizable on grounds of functionality and design, it is destined to suffice for all the requirements of your healthcare website.
Teethy allows you to customize the color combination and have control over 650 Google fonts. Over 100 shortcodes allow you to incorporate content variation in your website. The gallery section makes it easier for the clients to have a visual experience about your services.
Using this theme, you can add as many pages, posts and dropdowns as you want. This is the complete package.
features include:
650+ Google fonts integrated for having full control over fonts
Gallery area to showcase clinic or doctor or patient photos
Easy to use theme options which require no prior knowledge of HTML
Create as many pages, dropdowns, posts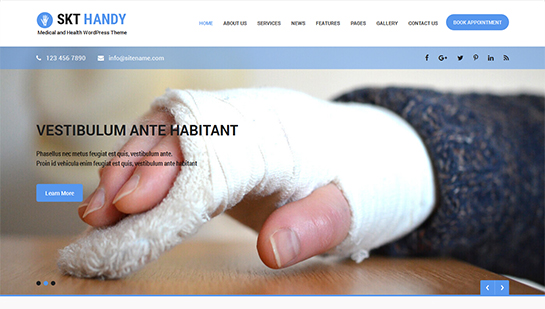 Handy is one of the fastest loading and user friendly healthcare WordPress themes out there. Being coded in HTML5 and CSS3, this theme is also compatible with the latest version of WordPress.
Apart from being responsive, it will come with complete documentation so that you can modify it as per your liking. Other features are:
Over 600 Google Fonts
Contact Form with Google map for location to local businesses
Simple layout with testimonials, clinic timings and appointment forms
Compatibility with various plugins
Thus, in terms of functionality – it covers all the essentials. On top of that, you can customize it as per your liking.
This applies especially to the color combination. In a nutshell, you will have great functionality, awesome design and remarkable user experience with this theme.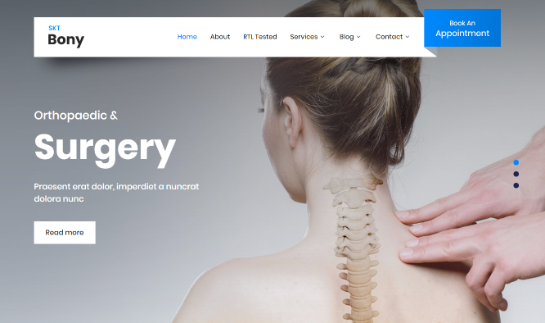 This incredible and one of the healthcare WordPress themes will offer responsiveness and an eye catching design. The color scheme based on blue and white colors ensures that the visitors get a soothing and calm experience.
However, you are free to choose the color combination as per your needs and requirements with this color changing theme.
The interesting design of this theme comes with a lot of plug-ins and over 100+ content short codes which you can use to span the content as you like across the whole website.
Moreover, Bony offers full time compatibility with q Translate X plug-in so that you can make your website multilingual.
Other features include:
Contact form 7 compatibility
Compatibility with WooCommerce
8 + page templates
Integration with Google Fonts of 600+ fonts
Integration with Icon packs with 580+ icons
Call to action like clinic timings and forms and phone numbers as well as address
In a nutshell, this template is one of the healthcare WordPress themes that adheres to all the medical requirements.
This highly responsive and creatively designed theme ensures that all the requirements of your healthcare business are fulfilled. Being coded to cover up for all the SEO requirements, it makes your website more discoverable by the search engines.
The theme offers a really good combination of social media icons, readymade contact section, about us section, team information and much more.
Apart from that, all the cool animations make the user experience much more appreciable. On top of that, you have full control over the animations and the content.
You should definitely give this one a try.
Features include:
Readymade Contact Us section with captcha for spam protection
Services section showcasing all the services
Compatible with latest version of WordPress
It is color changing and can be changed into any color you like using color pickers
The comfortable and soothing design of this theme attracts everyone. The functionality is very smooth and comes with responsiveness for all devices.
Moreover, you can customize the color scheme as per your liking. Having passed the Google mobile friendly test, it offers great user experience, fast browsing and responsiveness for all devices.
For better integration with social media, there are relevant icons placed at the footer. Moreover, the coding has been done in an SEO friendly manner and the compatibility with the latest versions of WordPress give it an extra edge over the competing themes in the market.
Features include:
Full color changing theme
Includes 580+ icons pack
100+ shortcodes to add your content your way
Social media integration with social icons in footer
The design, usability and functionality of this healthcare WordPress theme is remarkable without a doubt. The layout allows the user to get comfortable with the interface very quickly.
Moreover, the animations make the experience worthy enough. There are lots of short codes and content codes meant to make the process of website usage and content writing even easier.
The home page consists of a banner slider to give a better idea of your business. On top of that, there are buttons for social media integration. This theme will ensure that you never run out of fonts. It is due to the integration with Google fonts.
Features include:
Pricing table of various types to suit the type you need
Blog to add your posts/tips/news etc
Comes with 100+ shortcodes to help you using the website
Google mobile friendly theme
Some of the common features of these healthcare WordPress themes are:
Here are some of the common features of our healthcare WordPress themes which make a difference and give your website the much needed performance quotient over others:
1. Contact Forms: Contact forms like booking, appointment and normal contact form to ask some advices are essential in any medical and healthcare websites are important because doctors are not always free and sometimes patient info is also necessary which is not always possible to take when someone calls.
Hence forms become easier way to grab the info which is required for healthcare professionals to contact them back.
Contact form plugin is given in built in these templates however compatibility with ninja forms and contact form 7 among other forms are also given.
2. Gallery: Gallery is always essential to showcase the past patient conditions or successful works that have been done.
Gallery can also be used to showcase facilities of the healthcare website and also can be used to give idea about the various activities and press and awards the healthcare professionals have got in the past.
3. Sliders: Slideshows can also be useful when it comes to describing case studies and sliders about past and present conditions of patients.
Slideshows can also easily in a minute give an idea about the facilities of the organization and prove to be better in some cases than the galleries. We have tested our healthcare WordPress themes to be compatible with several slider plugins.
4. SEO friendly: SEO friendly coding has been done and the templates are found compatible with several SEO plugins as well.
5. Colors and fonts: Colors and fonts can be changed easily so that staff does not have to rely upon developer each time.
6. Table plugins Compatible: Tables not just show pricing but can be useful to show schedules of various doctors, it can come handy to show opening and closing hours or the working hours of the healthcare as well.
7. PDF viewer plugins: PDF forms are required in several cases for download and to be filled up and submitted with the authorities. PDF viewer plugins compatible themes can show the PDF clearly to all users.