A full dress collection of the best theatre company WordPress themes for theatre companies and stage performers, stand up artists and comics, cinema halls and houses, circuses and arenas, opera and ballet studios and academies, museums and exhibitions, libraries and bookstores, artist and designer websites and blogs, as well as other culture and theatre centric businesses online.
Theatrical art is a part of the national spiritual culture, a mirror of public consciousness and people's life. It's a kind of a special social institution, serving as a means of satisfying a variety of human needs and aspirations.
And while the spiritual ties binding theatre and, generally, the culture with the audience are strong, being highly demanded, user centric while earning money and promoting business can be tough.
Therefore, in this article we have compiled a roundup of the best theatre WordPress themes to cover a huge part of theatre and art related business needs while exercising a bunch of modern technics, controls and strategies.
The communication between the audience and the theatre is determined by a range of practical activities in which a whole complex of man's spiritual needs, and, above all, the need for the art is realized.
Your relevant website based on one of the best theatre WordPress themes will work just in the same way and will determine a unity of form and function in compliance with your website viewer's needs.
From commercially competent platform to totally flexible layout to bring all your creative undertakings into action, these theatre WordPress themes are suitable both for individual artists and performers, as well as theatre groups, comedy clubs, drama circles and more.
Theatre Company WordPress Themes for Stage Performers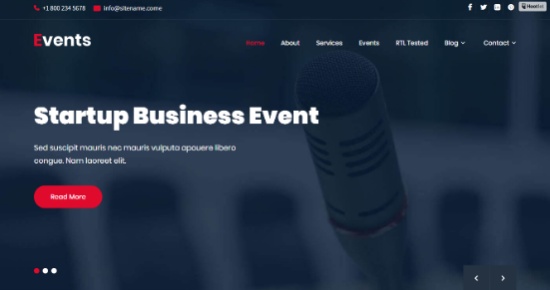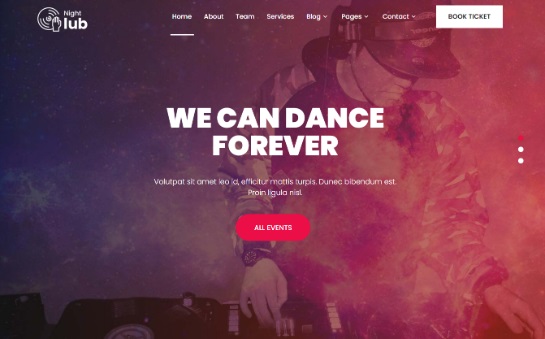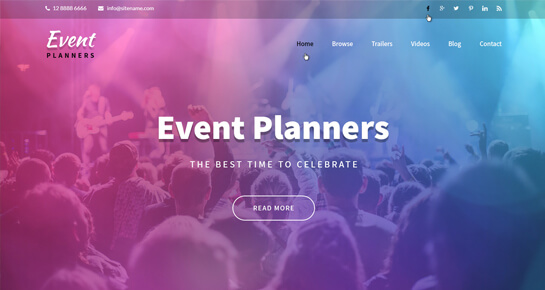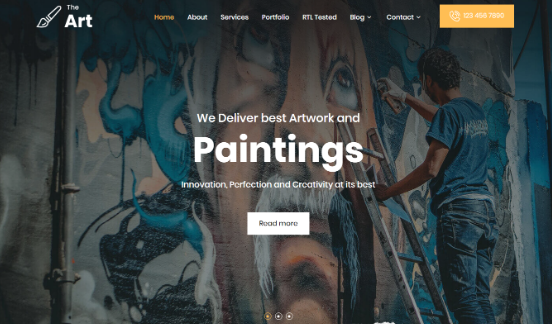 A theatre is a form of art in which reality is reflected through the stage action performed by the actors in front of the audience.
The Art is one of the most reliable theatre company WordPress themes which can be the most convenient stage for your single actor performance, since you are the only one controlling your site from top to bottom.
Show off your best image online with the application of as many color mixtures and typeface format as you want, arm the homepage slider with images declaring new performances, presentations and more.
You can keep the artistic look of the site and add your own aesthetics and touches, manage footer and header layouts with your own details and contact info, exercise online shopping environment for selling tickets, etc.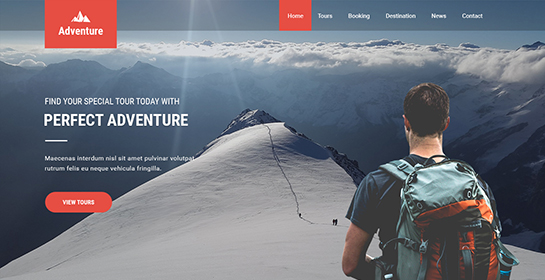 Adventure is the next cozy and colorful, smart and venturous WordPress template that can best describe your theatre online and convey the charm of your theatrical or stage performances.
Naturally, each website owner imposes his own preferences and demands on the template. In this relation, Adventure is enviably elastic and intuitive to respond to all your changes and controls from the theme's backend.
Moreover, you are not going to stumble when using the admin panel's controls or pre enabled shortcodes, since you have an accompanying documentation with all the necessary guidance at your leisure.
This theme is also as responsive and mobile optimized as it is SEO friendly to guarantee your site's best practices and ranking online.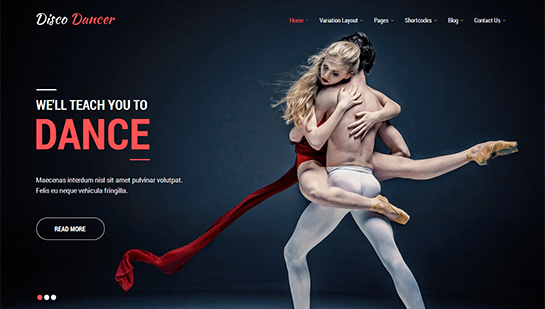 The next dynamic and fresh looking website tool that is competent enough to revolve around any theatre, art, amusement or culture website is called Disco Dancer.
Performers, dancers, singers, producers and directors, artists of all types and background can use this template to market their artistic business.
All in all, thanks to its awe inspiring design, this theme is quick in engaging people with unique photos depicting your professional performances, groups and students, lessons, academy, school, studio, theatre or whatever it is.
Another valuable platform among theatre company WordPress themes you can run on your serviceable website or blog is called SKT Education.
This serious looking and highly smart template comes handy when the main objective of your site is to present your theatre company or institution, its online and offline courses, profiles of professional actors and lecturers, etc.
The demo content is imported in a matter of minutes and the entire template is at your disposal for updates and customization. It means you can manage your site's appearance and working mechanism just the way professional web developers and designers do.
The difference is that you are not going to deal with coding. Just make use of the given shortcodes pack, jump back to the theme's customizer and you are done!
SKT NewsPaper Pro is one more revenue generating idea for cultural and theatrical magazines, online journals, periodicals and ticket selling online portals to provide your audience with all in one profile.
Ready to adapt to any reformation or structural changes, menu items sequence, color gamut change, grid or list view category and more, SKT NewsPaper Pro comes with sidebar, footer and header layouts to decorate your site and keep it showy, background, slider and box management, ads friendly zone for monetizing the website, etc.
Several author bio widgets and plugins are have also been tested with the theme so that you can showcase the authors of your site news, articles and publications as well.
The theatrical performance is the result of the hard work of many people, not only of those appearing on the stage and receiving flows of applauses.
There are people who sweat on the backstage, sew the costumes, make structural objects, set the light, meet spectators, etc. All in all, the theater is both creativity and production.
SKT Black Pro is the exact personification of the above mentioned situation. There are seasoned designers and developers, support specialists working invisibly and there you are with your team working on the management of the given template to achieve all your wants. This unity is what makes your work both productive and entertaining.
The theme's customizable layout together with color and font management, page and post controls, post scheduling and styling, translation readiness and dozens of call to actions is what will keep your artistic profile attention grabbing all the time.