Below you can find the checklist of the best taxi WordPress themes suitable for taxi services and companies, car and vehicle rental, limousine and transportation services, cab and minicab services, logistics and moving agencies, etc.
Keeping your taxi and car rental services available anytime and anywhere is one of the best ways to earn the attention and trust among the client base.
In the dynamic world we live in, people are constantly seeking reasonable ways to ease their burden and find comfort in everything they are engaged in.
Whether it's necessary to go out for bread on an awful winter day or you are willing to drink beer with a friend and get back home safely, taxi services are what make your life much easier and restful.
The constellation of the best taxi WordPress themes is aimed at simplifying the pursuit of relevant services and companies trying to find an appropriate basis for their future online presence.
Dozens of clients have already managed to use these templates for their car rental and taxi activities, businesses and service provision, taxi apps marketing and management, online delivery and other purposes.
Your work as a website admin to install and activate each of these taxi WordPress themes can be completed within the shortest period of time thus enabling you to spend your working hours on the ongoing customization and redesign of your site.
For this you have all the credentials, from customizer based layout to easy to control homepage structure and parts, page and post controls, plugin compatible framework and more.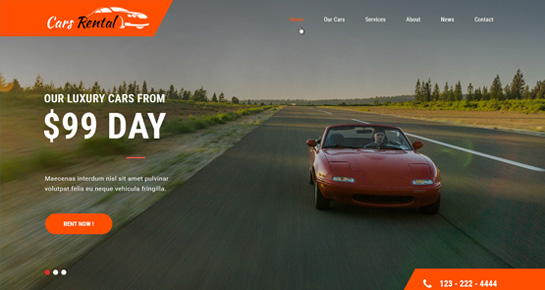 Car Rental is one of the noteworthy and fully fledged taxi WordPress themes for car rental and taxi services, car dealing and car garage industry representatives to market whatever they offer to the public at large with pocket friendly pricing.
Given the growing demand for mobile optimized layouts, Car Rental has been coded as per responsive design standards and requirements.
It means that your taxi services will be available for all kinds of website users, from desktop and laptop to mobile and device users.
While using the theme's backend, you will be able to find the right features and controls at the right time. Among them are theme color and typography choices, post styling and scheduling controls, homepage slider for hosting the most alluring images, shortcodes, standard pages and more.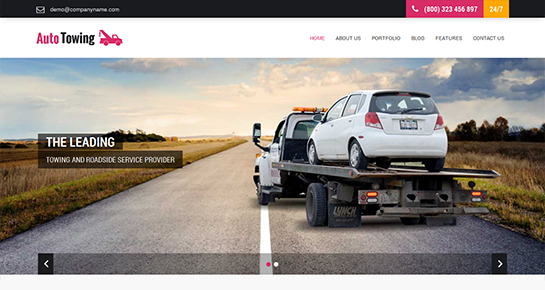 Towing strikes the client's eyes with its serious and elegant look powered by forceful functional platform. As a durable mixture of simplicity in usage and advanced performance across a myriad of environments, Towing will be ideal for taxi services and airport transportation, passenger vehicle rental, trustworthy driver hiring and other relevant businesses.
Of all the automotive and taxi WordPress themes you can have access to now, Towing is one of the most versatile and adaptive when it comes to plugin usage.
Hence, you are entitled to add and test as much new functionality as you wish to make your profile more commercialized, packed with multilingual content, more dynamic in gallery section, etc.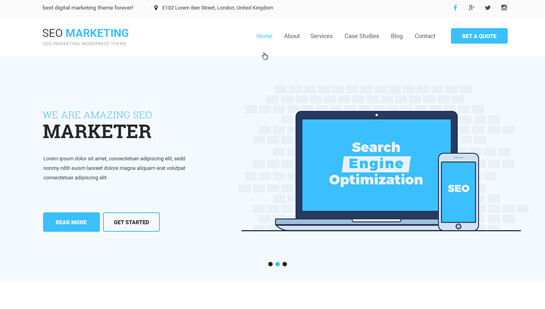 From shared ride shuttle services to luxury limousine and transportation, taxi app stores and car repair services, everything can be well presented with the help of SKT SEO.
Simple and affordable in nature, yet modernly touched and modeled, SKT SEO celebrates the best unity of contemporary web coding and design trends and as such comes with totally manageable layout which is also ultimately responsive and mobile optimized.
Additionally, all the SEO and SMO nuances are taken care of to prepare your site for its effective journey around search engines to be ranked higher and higher.
More than 600 social icons are also added to the theme to contribute to your site's socialization and overall eye catchy look with your favorite colors, sizes, location and more.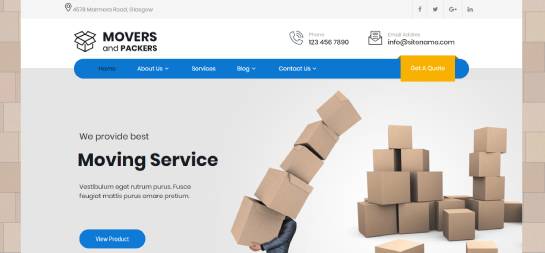 Movers and Packers Pro is another experienced and highly recommended system found in the destination of the best transportation and service of taxi WordPress themes.
It's a template to fit all your needs and showcase your import and export, international shipment and domestic transportation, warehousing and cargo, car garage and dealing, vehicle rental and taxi services in the most accurate fashion.
SEO and SMO friendly, shortcodes armed and wonderfully manageable, Movers and Packers Pro values great communication and partnership with your audience and as such provides the latter with a comfortable area to find relevant information, taxi fares, availability of your services, your contact details and more.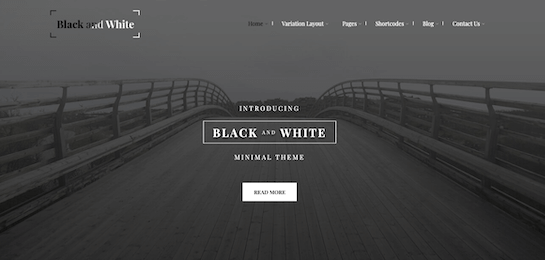 Black and White is one more one size fits all solution for your niche specific and user centric profile.
Multipurpose and multiservice, this template can be easily transformed and wear the outfit you want your website to share.
You have every single control and element at your leisure to bring up the fresh look and continual attention grabbing interface for your site that will respond to any mobile screen resolution and requirements.
The theme is also contact form powered meaning your clients can direct their questions, reserve taxi, book your services and ask for quotes whenever needed.
Finally, this top quality yet cost conscious website tool is recognized for its high standards of flexibility, perfection in mobile version, functionality with additional extensions and HD ready nature for supporting any kind of browsers and monitors.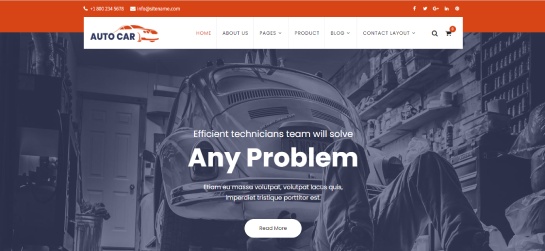 Auto Car is particularly car centric website management system you can rely on for your car and taxi based business platform.
This fully packed and well coded template can turn out to be anything for you, from online commercial store to modern booking engine, from information and online reservation portal for your clients to the proof of your excellence with testimonials area and client feedback.
Various post and page layouts, basic elements and parts like team members, homepage slider, widget friendly zones including footer, header and sidebar areas, preloaded fonts and color picker, full documentation and technical support are all proposed together with Auto Car.
When it comes to Taxi Services and Companies, it's all about transportation and various other minicab, logistics, and moving agency services, etc.
If you currently own any type of services or planning to own one, you'd know, how much important it is to keep the services all time functional. You should also have to know, how to earn more attention and grow more trust, in your client base.
The dynamic world we're living in, everyone wants to find facilities and comfort. If a person is thinking to go out and enjoy with his or her friends – and then afterwards getting a reliable taxi service to drop him or her home, without any sweat will always be very much appreciated.
That's where Taxi WordPress Themes comes in – to provide the right functionality to the right users so that those relevant taxi services could provide better service to the customers, and also have the perfect online presence as well.
From online delivery to taxi delivery services to various other uses – the templates can be used for many other purposes if required. It will take the least amount of time to fully set up your website, from start to finish – while having endless customization and awesome redesigning features.
With mobile optimization now, your customers will be able to easily access the website, via various portable devices, and thereby use it to their own liking, without any problems.
The site will be very responsive, along with various theme style and color changing options, to suit your own needs and requirements. There will be options for images, sliders, post styling, etc. as well. All with, Taxi WordPress Themes.
Coming to other features – if you like simple looking designs with more eye towards performance, you will also have that option too. From various features like a dynamic gallery, content that can be read in various languages via translation, along with the usage of numerous useful types of plugins – everything will be there as an option for you to choose from.
Not only being simple and functional will do the job – you'll need the support of having SEO and SMO by your side. SEO means Search Engine Optimization, where your website will benefit more customers via Google Search Results making your website more visible on the top of the search results.
Coming to SMO, which means Social Media Optimization, where you'll attract more customers via various social media channels like Facebook or Instagram, and thereby expand your reach of the business and maximize your profits as well.
There will be more features for you to discover, like, your website having all kinds of relevant information about your business or services, including the ways of contacting, the contact details, combined with various other important information like taxi fares and availability as well, making it easy for customers to plan their rides accordingly.
There can also be a reservation portal too, for your customers as well. Thus, the flexibility offered by these WordPress Themes for any Taxi related communication service is really huge, to say the least.