There are awesome solar energy WordPress themes available to design the most stunning website that will inspire people to install solar energy system instantly.
Solar energy is the most demanding thing in the modern times as it is renewable and affordable.
Starting from large-scale solar energy generator to run factories and commercial works, there are huge demands for solar energy products for using them at home.
People are setting up solar panels on the terrace and availing electricity from it with a one-time investment. Therefore, if you have a solar energy business, you need to get a website and showcase your technology and products for direct buying.
With Solar Energy, you can create a clean and simple website. It has an attractive and conservative layout design that will make your website appeal amazingly. The most helping point of this template is that it is totally customizable.
Solar Energy is a solar energy WordPress theme that comes with the premium package and the compatibility feature with free plugins. Without any permission, you can easily add any type of plugin to your business website to improve functionality.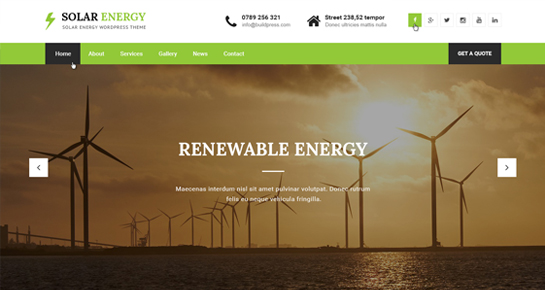 Plus you can easily rearrange the block to build a custom design. You will get access to customized block templates that you select any of them as per your need.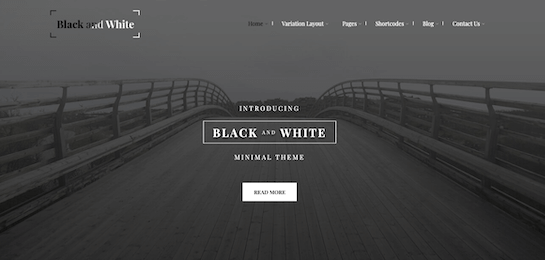 If you want to give different look to your industry website than you can give it by downloading Black and White. This is also the collection of a solar energy WordPress theme that will look awesome on a mobile phones, tablet and desktop.
If you are looking to create a professional-looking website for the industry then Black and White is the best template that you have ever seen. This template will also go with an environmental organization.
It has a friendly style option which will go with all type of B2C businesses. The theme is created with the help of the page builder to make your brand recognized.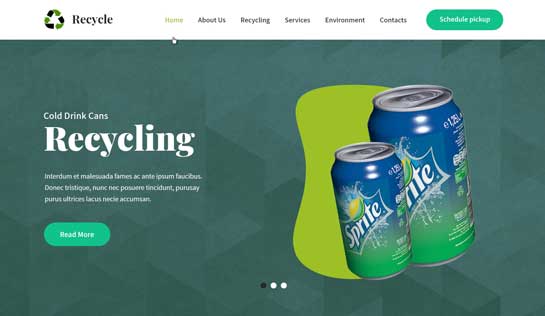 SKT Recycle is the environmental and solar energy WordPress theme it has the number of options for customizing including color option, image modification, font style option and more.
You will not face any problem if you want to incorporate e-commerce setup. You just need to download the WooCommerce plugin from wordpress.org store.
Without any issue, you can sell countless products and can explore countless services in no time. The WooCommerce functionality will also help you to proceed with the online payment gateway. The theme comes with the PSD design that will more helpful for you.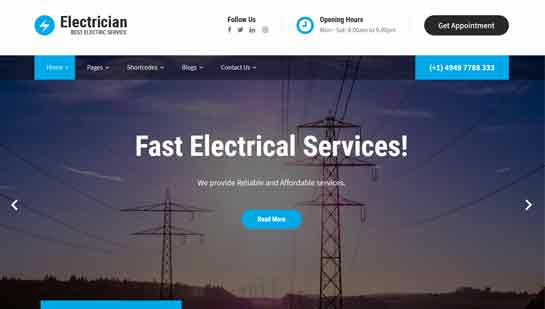 Electrician Pro is an environmental agency and solar energy WordPress theme. This theme will be useful for promote your strong idea. You will get complete access to the PSD file and WordPress dashboard so that you and modify anything as per your solar energy industry needs.
It is a premium solution that comes with the page builder plugin and supportive with all major WordPress free and paid plugins. These page builders and powerful plugins will make your website more attractive and captivating plus will enhance the look and feel of your website.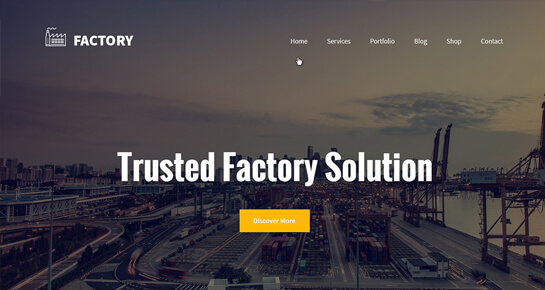 Factory Pro has a nice design that will reflect your solar energy and the services you provide in a professional manner. Solar energy is considered highly flexible because it has the high number of content modules and customization options that will make you create a website as you want.
You can access the demo link to check how your website will work after customization. The demo has a service page, project page, contact page and more that can be modified whenever you want.
Plus the template is supportive of the gallery plugins that will help you to showcase your industry's images to your customers.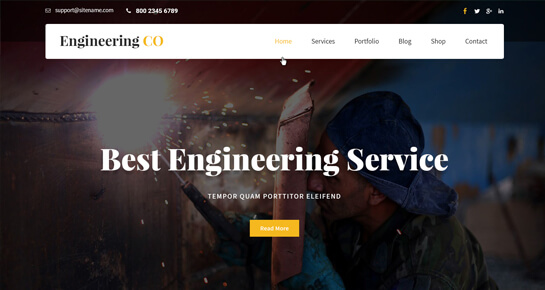 It is one of the best solar energy WordPress themes for those who want to sell their solar energy related products through online medium.
People search for solar panels and solar inverters online for their home and through the website, you can pay and get them delivered as well as set it up. It is 100% responsive, supports all browsers and mobile devices.
There are unlimited fonts, icons, and shortcodes. You can change colors with a single click. The sliders and galleries are retina ready. You can list your products according to categories and feature different products in the widgets as well.
This is one of the ideal solar energy WordPress themes as black color goes well with solar products. It is HD ready and can be used both as a commercial website as well as for blogging to make people knowledgeable and invest in your services and products. Color can be changed along with other graphics objects instantly.
You can do real-time editing, and there are some innovative sliders to add more visual triggers. It is SEO friendly and e-commerce ready. There are several templates available to design the inner pages the way you want to.
This is one of perfect solar energy WordPress themes because it is a combination of a business website as well as personal blogging.
Both of them are required for solar business as not many people are fully aware of the uses of different products available in the market to use them in daily life.
There are so many pre-installed widgets to showcase your products beautifully. WooCommerce support is also available for direct transactions and advance booking with a certain percentage payment. The button, icons, boxes and blocks are visually great.
As the name suggests, it is one of the perfect solar energy WordPress themes on the list. It is compatible with all the standard plugins and there are several shortcodes for embedding videos and audio, graphics and maps anywhere. These shortcodes are so useful in saving time and getting the required feature with a few words.
There are so many different layouts available for sidebars, header, footer and even inner pages and homepage's boxes and blocks. All the necessary and unique pages are present with full design and functionalities.
This is an awesome theme with great visuals and stunning resolution of licensed images and other graphical units. It is more like an infographic and you can list your products and services wonderfully to drive more lead generations and conversions.
The sliders are great and the galleries are organized in proper order to give it a classic professional look. It is translation ready and has cache plugins for fast loading speed. There are so many portfolio plugins available for better showcasing.
Solar energy set up is a part of the architecture and hence, this theme will help a solar energy company to get bulk orders from real estate companies and construction companies. You can show your products and services with portfolio plugins and even the process of set up with various plugins.
There are various innovative sections on the homepage and several cache plugins. All the inbuilt functions and features are present and the design is extremely eye-catching and completely flat for super fast loading speed and mobile-friendliness.
If you are starting a new business in solar energy or already started your business and having a good pick up of late, this is one of the best solar energy WordPress themes on the list. It has creative icons, sections, and layouts. There are beautiful sliders and animations effects.
You can embed maps and videos in the background of different sections and pages. It is absolutely great for social media integration and it has a separate blog area with an advanced comment section.
Solar energy is fast becoming the most preferred energy alternatives for industries as well. There are big orders being given to solar companies and this is a perfect theme to get those orders by impressing the clients. It has stunning color combination and beautiful layout.
The slider is amazing and the transition effects are eye-catching. You can captivate your visitors immediately and pick up offline as well as online offers by showcasing your website that will increase the trust factor and reliability.
From the name, you can understand that it is one of the simplest solar energy WordPress themes. But it is feature-rich and you can have awesome features for better user experience.
It is more of an e-commerce website designing theme with WooCommerce support, pricing table, labels for showing discounts and special deals. It has minimalist design approach and pays more attention to SEO so that you can get organic traffic easily.
This is a great theme for solar energy website. It can be for local stores as well as big companies. The slider is awesome, the theme is clean and the sections are wonderful to look at.
It has blog, portfolio, service section and awesome page templates. You can do live customization and create inner pages as per requirement with advanced page builders.
These are some of the best solar energy WordPress themes that will sky-rocket your business and you are sure to get big commercial orders and local personal orders like never before.
These themes are perfect and you must invest your money in designing an awesome website to get the business across the targeted audiences and demography.