Today we are going to share some of the top rated singer WordPress themes processed for the musical world and its representatives, singers, musical bands, record studios, musicians, musical managers, musical shops, etc.
Creating your individual or brand equity through your website can be the best and the most secure undertaking to ensure your presence online and giving it a value it deserves.
Your website is the only place you can share all your works, songs, concerts and have an online repository without "winning" the label of too commercial business violating someone's rights.
Whether you are a professional composer or musician, private artist or singer, music promoter or music school owner, running a website based on one of the singer WordPress themes included here will be the most rational decision.
With any of those templates you will get an instant access to brilliant elements and features to make your presence more effectual.
Stay in the forefront of your fans and followers, potential partners and associates while spending too little money for that.
In addition to the simple and smoothly flexible platform, you will be granted with, with those singer WordPress themes you will be able to exercise new kinds of income models, including SEO and SMO related activities.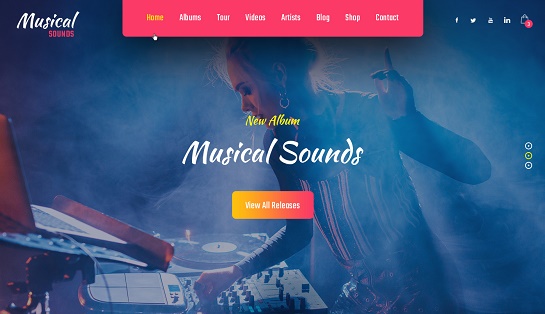 Musical Sounds is a must have product that is dedicated to the musical world. Stable and durable, yet elegant and inviting, this template will make your personal or brand presence stand out from the crowds with a unique enchantment.
Music player is added to the default template for you to control its look and functionality and add your songs and other audio materials.
Font integration within the theme gives you a fantastic resource of laying down the best typography with the right color application.
As for the overall colors of the theme, you are free to exercise the given color picker and add your own and preferred touches to the existing ones.
Homepage slider for high resolution displays can be managed accordingly with animation, timing and more. Shortcodes based and HTML5 & CSS3 coded, Musical Sounds is also ineffably responsive and cross mobile compliant.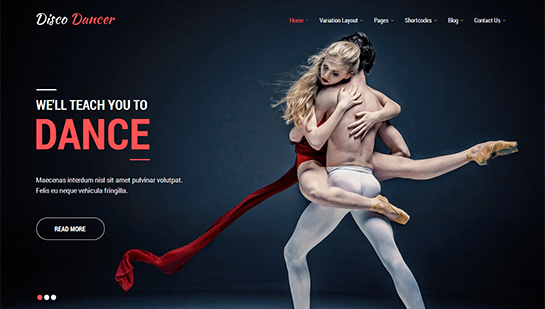 The next enthusiastic and ambitious, lively and enthralling pattern one can unfold in our collection of singer WordPress themes is named Disco Dancer.
As you can guess from the name of the template, it is suitable both for musical and dance related websites and blogs, private singers and musical bands, disco and music halls, dance studios, choreographers and others. S
how off the profiles of your talented group or studio members, enlist their qualities and achievements, showcase your services, classes and offers through the given framework and suggested theme sections.
Built with responsive and mobile fit design, Disco Dancer flaunts highly customizable layout with handy toolbox to contribute to the website admin's work from the theme backend.
It also supports high resolution and high quality displays for better look, as well as includes PO file to make your content translation ready.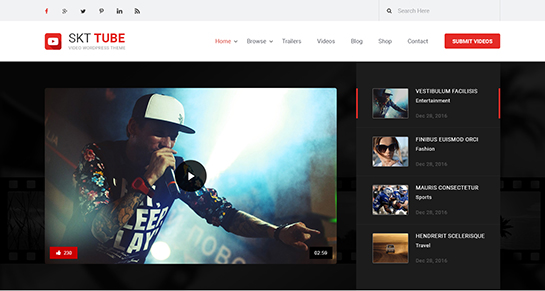 Hundreds of singers and music world delegates have already chosen to switch to SKT Tube for a wide array of reasons.
Hence, we have chosen this steady and firm template to narrow down your selection when it comes to choosing the best platform for your singer or music website.
Showcase your talent and unique songs, romances and concert performances, audio albums and video clips in a nicely arrayed fashion, display the best in your collection via the video slider hanging on the homepage.
In case you want something other than the preenabled slider, you are enabled to add other compatible plugins like master slider, cyclone slider, accordion and more.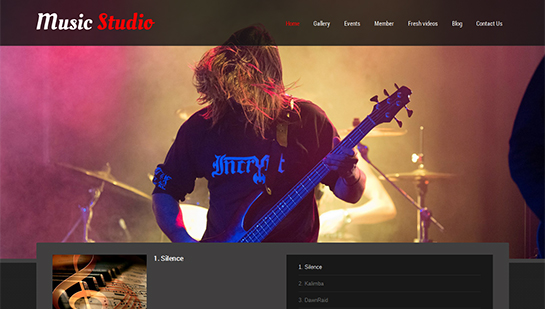 Melody is another valuable solution having its place in our collection of singer WordPress themes. It's a top notch artist, singer, musician and band website building ecosystem that is bewitchingly creative and spectacular.
This inexplicably fast and smooth template is addicted to pixel perfect and responsive performance to match the needs of your web viewers on the move.
With Melody you will get rid of mind blowing coding processes and controls and will be provided with easy to use pieces of shortcodes to easily practice whenever needed.
Team members section can be perfectly utilized for sharing information about your band and its members. Photo and video galleries are foreseen to encompass your images, audio and video materials, songs, records, concerts and much more.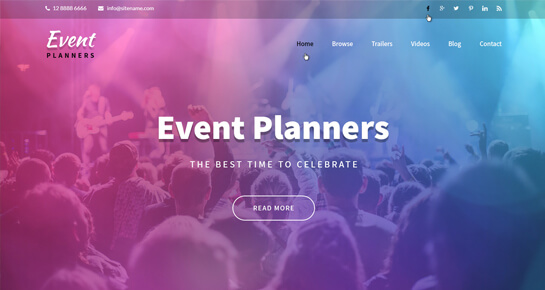 Adventure is a multipurpose and feature packed adventurous and interactive template with a special dedication to music.
It's a dynamic approach to establishing a highly popular and frequently visited website of musical direction or nature, as well as for adventure, sports, hiking and other relevant websites.
It's a modernly dressed and stylized template which can have more than one face or outfit. It's up to you to play with its appearance, colors, typography and icons.
Inner page banner is adaptive enough for you to showcase slider, images, banner ads or something else. If you want to guarantee your digital performance against any kind of hacks or external interventions, you can add security plugins, since they are all compatible with Adventure.
All the essential touches of search engine optimization are also integrated within the theme.
The last comprehensive template among singer WordPress themes with full integration of practical elements and features is SKT Black Pro.
Discover the true value of this mighty template through its customization selections and alternatives. Extend your website with posts, images, homepage slides, contact details and other valuable information your website viewers might look for.
More than 100 shortcodes come ready with SKT Black Pro to give rise to post and pages, as well as custom post types.
All in all, this visually cutting edge and intelligent theme is about balance, precision, elegance and advanced technology at one place.
While integrated with slider controls, standard pages and CSS3 animation touches, SKT Black Pro is also cross mobile and device compatible with its SEO coding.
Music is a theme of artistry on its own, something that every person is inspired and moved by. From ancient times, we have observed music breaking barriers of language and culture.
In the recent decades, we have witnessed the explosive rise of the Internet and in numerous online websites for online marketing of businesses.
While back in the day singers and record labels used business cards at present-day social media and online websites has developed into a patron of arts aiding musicians give their first thrust into fame.
We have witnessed a wide range of singers and musicians found online for their musical talents in the recent times. For a musician, nothing feels better than a jam-packed audience.
If you are a rising singer, musician, and a record label agency or in any other music-related profession wanting to make your music heard then you must have tried promoting yourself through Facebook or YouTube.
It is useful but a website is a must to boost your credibility. An online website will help you to define yourself, your personality and style to the world.
The theme, colors, and vibe you portray through your website give a better insight to your fans and followers as to who you are.
This is why we have created a wide array of Singer WordPress Themes that you can easily buy and customize it to resonate with your personality.
Our wide collection of Singer WordPress Themes have been specifically designed for the type of music that you play.
We have themes ranging from summery bright colored themes for acoustic blues to darker colored themes for the club to provoke your visitors in a good way.
With our Singer WordPress Themes, you can blend fun with business allowing novice users to make attractive pages. We have incorporated a wide array of modern and practical features that will not fail to impress your fans and customers.
If you are not tech savvy, it's not that big of a deal as we have taken care of all the coding and the technical details for your ready-made website.
All you have to do is customize the website that matches your vision, this is even easier as it is customer friendly. Different sliders, fonts, colors, headers, sliders and much more are can be chosen as per your liking.
The Singer WordPress Themes have inbuilt advanced security features and is designed for perfect responsiveness along with device compatibility with mobiles, laptops and much more.
They say that candy is useless if the wrapping is not attractive. Allow us to present you with amazing candy wraps in the form of Singer WordPress Themes. Or varieties are sure to guarantee you success in your venture.
Go ahead and please your customers and fans with a visually appealing form of your vision with the help of our themes.
Don't hesitate! Get going and blend it together and push your melodies and tunes along with videos to the music lovers all around the globe.