We at SKT Themes have already managed to test the best shipping center WordPress themes to serve the needs of a variety of shipping and transportation topics and niches.
From well established and international shipping agencies and logistics centers to local based delivery, moving and packaging companies, car and electronics shipping, relocation and courier, cargo and other shipping centric businesses can dominate the virtual platform with any of these shipping center WordPress themes.
The origin of courier and shipping services is trapped in the pages of history. The transfer of various kinds of commodity or material values by means of transport, including even own legs, was popular also in the ancient period of our existence.
As for now, it's really hard to imagine our life without such delivery and logistics services. Sometimes we just do not notice all the value and necessity of those activities and take them for granted.
But today, when a variety of products and merchandise from all around the globe is available for an ordinary person living on the other side of the world, the delivery, shipping and transportation services are more relevant than ever.
And we are still not talking about the demands of big companies and corporations that closely work with shipping centers and logistics managers to organizer the daily workload of their business.
In one way or another, the truth is obvious. These services are popular, highly demanded and revenue generating.
Now, if you direct your efforts into building a strong website for your shipping or courier, express delivery or trucking service website and at the same time do little harm to your wallet, you need to try one of the best shipping center WordPress themes discussed below.
Establish an online marketplace for your specific services and stand out from the rest with your online client support and cooperation.
All of these shipping center WordPress themes provide dynamic techniques to get your website ahead of modern competition with satisfactory search engine results and social media integration, commercial activities and yet much more to come with each of the templates.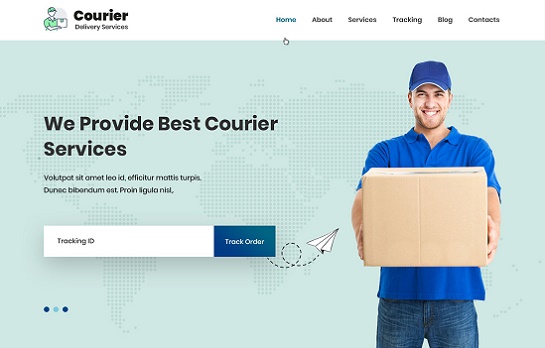 SKT Courier is one of the best shipping center WordPress themes for shipping, cargo, and courier centers.
If you need a simple and decent online presence for your courier or shipping business then you must take a look at the features of SKT Courier.
The layout and predefined pages are best for covering all your business aspects which also include shipping, packaging, dispatching services, and some other things as well.
The theme offers a beautiful slider section to express your business thoughts and wins. Also, the template is fully supportive of the pricing table plugin so that you can showcase various delivery options with the estimated packages.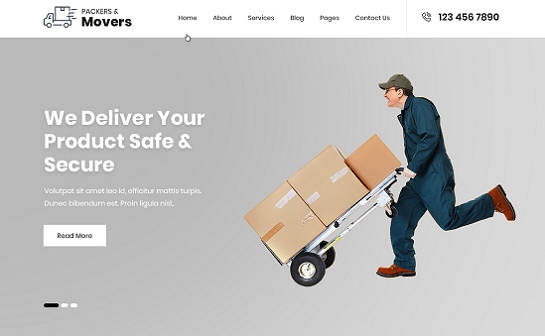 A person who takes the responsibility of providing shipping, movers, courier, transportation, relocation, and other related services can choose Packers and Movers theme from other options.
This template has an inbuilt contact form as a call to action feature to list all your essential contact details. You can collect the information from your visitors in case they have queries related to your services or business.
Some of the unique features provided with this template are integrated with social sharing icons, 1-year support, documentation, back to top button, SEO optimized, and many more.
You will be happy to hear that the theme is visually appealing as well as flexible with drag and drop page builder.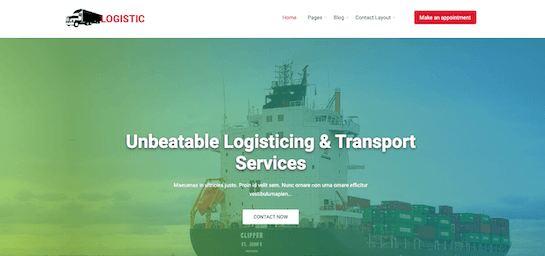 The authors of Perfect Logistics have done a great job creating a template that will represent your shipping center or transportation company with pride.
It can deservedly called one of the most demanded logistics and shipping center WordPress themes crafted by professionals for professional service presentation and marketing online.
Every website owner wants to know that his time and money invested in the website will be translated into more leads and sales.
Perfect Logistics comes encompassed with all the important controls and measures to provide the return of every single penny you'll spend on it.
Among them are perfect responsiveness and mobile compatibility, pre enabled packs of different items, buttons, fonts and shortcodes, SEO and SMO coding, etc.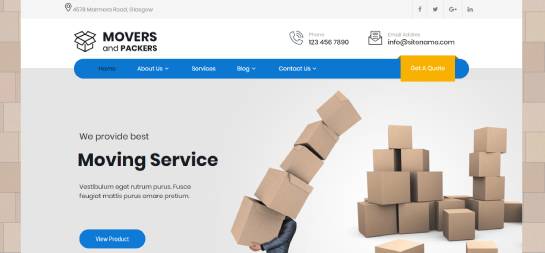 Movers and Packers Pro is the next ideal toolkit for your future shipping website that will be easy to control and maintain all the time.
Let your website guests take the most of your content and images hosted by the homepage slider, contact info and daily blog updates, service section and more.
The theme's strong coding along with responsive layout and smooth navigation will eventually lead to more sales and client engagement, boosted SEO results and more social media followers.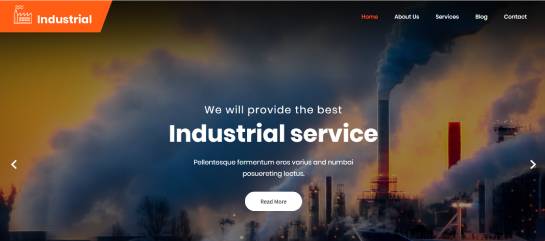 SKT Industrial is another representative among the best shipping center WordPress themes that is ready to reflect your business online and transfer your message to a larger audience.
All the important techniques and strategies have been exercised in relation to SKT Industrial to make it unbeatably powerful in terms of coding, styling, CSS animations, fast loading, responsiveness and more to make your website users scroll down the right conversion path.
The placement of your content and images is as important for the accurate look of your site and client time management while being on your website as you can never imagine.
Therefore SKT Industrial comes already prebuilt with important content areas and widget friendly zones which are all easy to configure and change.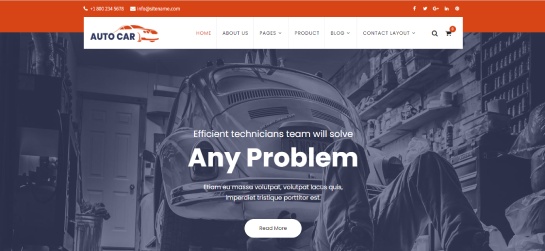 Auto Car is the next neat and nicely arranged template with reasonable design and tones so that your website will not make your web guest's head spin.
It's a fully managed and all inclusive solution for all kinds of car and vehicle, transportation and delivery, towing and courier services looking for more clients and partners.
The theme has also been delivered to be HD and retina ready to guarantee the flawless exposure of your visual content for better aesthetics and visual perception of your services.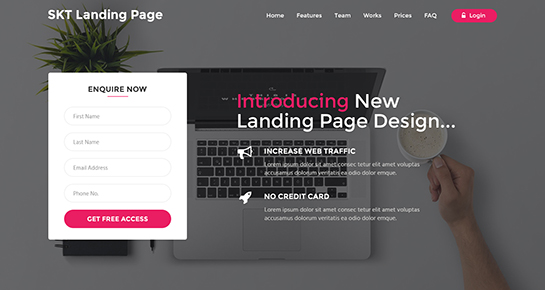 A clean and visually peaceful website with a professionally built landing page is all your shipping center will ever need to market its services online and gather a huge community of clients around it.
Your landing page enables you to make any kind of content highly noticeable for your clients as soon as they land on your profile. From offering special services to giving links to be followed up, every kind of content can be made user centric.
The theme is also minimal in terms of design touches, but you are capable of adding unique charm to that simplicity with colors, fonts, shortcodes, layout updates and more.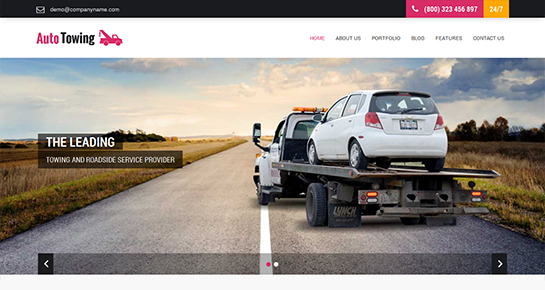 We all know that good beginning is half the work. Then simplify the work of your site creation by giving your preference to Towing and crafting a top rated shipping and express delivery website.
It comes with tons of available features for you to proceed with the overall styling and content segmentation of your site, layout choices and controls, widget friendly areas management, shortcodes application, etc.
The unique yet search engine approved nature of Towing will let you easily leverage all the potential of the modern Internet based society.
Further, you can quickly receive quantifiable results from search engines, mobile Internet consumers, international audience reading your multilingual content, online shoppers and traders, etc.