You will need a high-quality website if you want your SaaS to be successful. Creating such an effective website has never been easier, thanks to the best SaaS WordPress themes available today.
It is always a good idea to check the homepage layouts when exploring a niche based theme. If it has all the elements that are essential for your project then you can conclude your search.
The core requisites for a SaaS website will be to focus on lead generation, call-to-action-buttons, price comparison tables, etc.
This compilation includes a sorted collection of best themes for your website requirements to feature everything related to software as a service.
List of High Quality and Professional SaaS WordPress Themes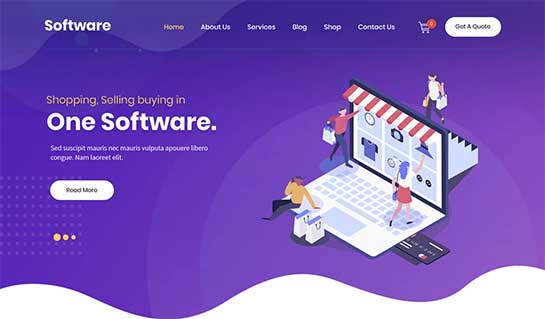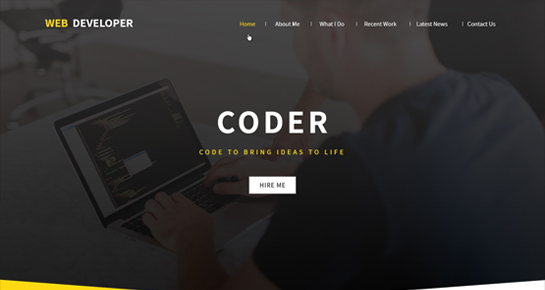 Next in the list of best SaaS WordPress themes is Web Programmer which is a multipurpose theme. It is an ideal choice for commercial use and has the potential to build a responsive website for your service and products.
It comes with a modern design and a full up-to-date feature list. It is responsive, cross-browser compatible, and has passed the Google mobile-friendly test. Customization becomes interesting as it is equipped with 800+ Google fonts.
The homepage offers ten different sections that can be filled with unlimited content to attract your audience. Four layouts are provided for both the header and footer section.
It is translation ready, offers RTL support, and has SEO friendly theme. Plugins of all kinds are supported but all the important functionalities are provided by default. Custom layouts or content can be easily set up with the help of a page builder.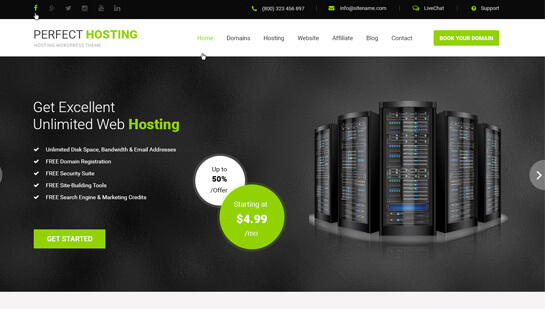 SKT Hosting is next in the list of best SaaS WordPress themes. It has been a few years since its launch but includes fantastic and impactful features. It receives regular updates which enhances the performance.
Slider option is provided by default which helps you in controlling and pause of the animation. For an easy showcase of services, you can easily add up to ten slides. The theme can be modified in and out for better functionality.
The homepage includes various boxes including the service box and other sections by default. Shortcodes are already provided by in case you require more of them it can be added quickly with the help of a plugin.
It has been tested for loading speed and multilingual compatibility. For both pages and blogs, you can select the one that suits your design from the layout options. It is fully responsive, retina-ready, and widget friendly.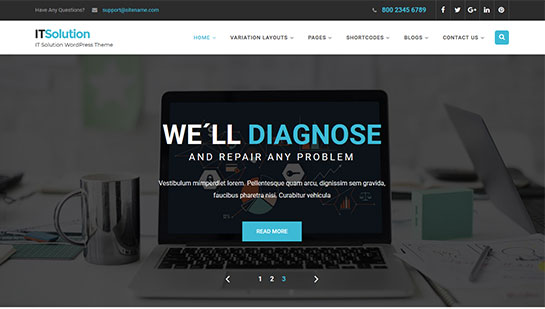 This is one of the best SaaS WordPress themes with many feature-packed templates and pre-built content. Whether it is SaaS marketing or automation this can be an ideal fit for your website.
As the title goes it has been designed from the core keeping in mind the requirements of the IT industry. It can offer you all the required solutions for business-focused SaaS products.
You can effectively promote the features and benefits of your product from the homepage itself. In addition to WooCommerce, Contact forms, pricing tables, and social media integration are easily possible with the help of plugins.
To make the most of the website, users can customize any section, color, text, and style as per the requirements. A stable, responsive, and traffic generating site can be developed with features and functionalities offered by IT Solutions Pro.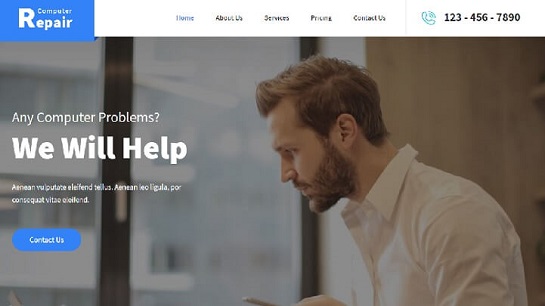 High Tech is another one of the widely used and impactful SaaS WordPress themes. It is responsive and created using Elementor Page Builder. This helps you in easily making necessary modifications and additions to the layout.
By default standard pages like the gallery, services, and about us are included. The best part is that a new page can be easily converted into a blog by publishing information like a press release, articles, updates, etc.
It comes with various features like color picker, pause time for slider options, Google fonts, and others. Header and footer are widget friendly and no coding is required to operate and manage the same.
It is tested for RTL and several other sliders and gallery plugins. E-commerce based site can be set up easily as it comes with extensive documentation for the setup process.
Cyber Security is amongst the most recommended SaaS WordPress themes for long-term business stability in the digital space. It is integrated with useful and advanced features to ensure that you have a convenient experience.
It is incorporated with the elementor page builder to make the customization process quick and simple. With the package, you will have multiple and unique page layouts to represent your services in an elegant and straightforward manner.
A special focus has been laid on the security of the websites and management of user data during the development phase.
This helps you in ensuring your clients that all their personal and transaction details are secure on your website server. For the slider, you have two options to select from which is a half screen and full-screen slider.
You can also set the multiple menu display for the homepage and other pages. Necessary efforts have been made to make the service page informative.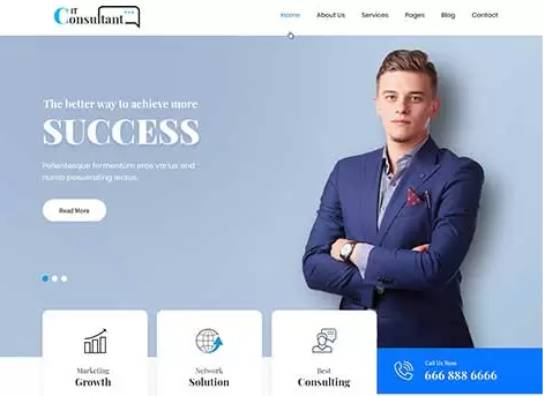 Next in the list of best SaaS WordPress themes is IT Consultant Pro. It is fully-responsive for access across all kinds of devices, screens, and browsers. It comes with 600+ Google fonts and is built with the elementor page builder.
Adding fancy content becomes easy for you as it is pre-loaded with 100+ shortcodes. For providing a quick overview to the audience there are homepage sliders with at least ten animation effects.
Other peculiar features include Google Maps, contact form with captcha, social media integration, etc. Easy to add a call to action buttons and the contact segment can be added in the header and footer both.
For promotional and comparative articles, press releases, update notification, and other articles a blog section is provided. It is multilingual, translation ready, and coding is done with HTML5 & CSS3.
You can find in-built breadcrumbs with the inner pages. In addition to that, it is possible to have separate header banners for all pages.
SKT SEO ensures that you face no trouble in building the right website for your SaaS service and products. It has been developed by experts with a major focus on digital marketing which will help you in grabbing organic traffic to the website.
Every aspect, section, and layout of the theme is responsive and customizable. The color changer gives you the freedom the pick the right color combinations according to your brand identity.
It has been tested to perform under load and has a fast loading speed. The codes are SEO and SMO friendly. Table plugins of various kinds are compatible so that you can conveniently add pricing details of your product.
The navigation menu is offered with the compatibility of five-level drop-down menus. It is easy to create, manage, and govern an online store on the website with the help of WooCommerce plugins.
To serve clients according to their demographics multilingual functionality is also available.
SKT Elements Pro is the first in this list of Saas WordPress themes. It has served clients with all the small and big requirements around the globe.
It should be an ideal choice for creating sites for SaaS products and software applications. It comes with an impressive library of templates that ensure that your projects can find the best layout.
It helps you in loading the homepage with all the useful elements like image gallery, slideshows, pricing tables, signup forms, etc.
Many of the templates come with pre-loaded content that can be used easily according to the need. Page builder tools make it a highly flexible theme as you can easily modify the required sections and hide the rest of them.
You are also ensured of complete control over the navigational area and settings. Header layouts, footer area, sidebars, widgets, and everything else is easy to set up and manage.
SKT Perfect has a high quality, professional, and clean design that is sure to help you promote your software products. You can select from a range of templates to ensure that you have the right design for your website.
The pre-built layouts have been designed keeping in mind the core business requirements of promoting services online.
All the sections including homepage, landing page, layouts, blogs, and pages have been designed keeping the flexibility and customization in mind.
It offers compatibility with a range of plugins which helps you in easily adding the required functionality to your site. Page builder will help you in customizing the existing pages and create new sections as per your requirements.
Personalizing the footer, sliders, widgets, and headers are also easy and quick. Multiple layouts are available for blogs so that you can easily choose one and provide necessary information to your audience.
If you are commencing a startup then this is one of the best SaaS WordPress themes to use. It has a simple look but is elegant and modern. It is suitable for all kinds of startup irrespective of its size and services offered.
It is integrated with ease to use features and has passed the Google mobile-friendly test. The performance of plugins is out of the box.
All kinds of replacement and substitution are possible according to the design plan. In addition to being multilingual and translation ready, the colors of all sections can be easily changed.
Embedding maps, podcasts, and videos have never been so easy. You can experiment with multiple templates and page styles as they all are retina ready.
The homepage can easily handle twenty sections of content. This helps you in listing out all the details of your services to get an edge over your competitors.
This is a power-packed theme developed with Gutenberg Page Editor. It is dynamic, easy to use, professional, and responsive. To ensure that your customers stick to your website or to maintain the flow of organic traffic page loading speed is essential.
With SKT Guten Pro you get high-speed page loading and a professionally coded theme which also ensures the best SEO practices. It has been tested with all essential WordPress plugins and supports all of them.
The coding is as per the guidelines of WordPress and is capable to create highly appealing posts. It comes with a one-click import option for easy user experience.
It also includes a demo content so that you can feel the actual visual aesthetics beforehand. You can use the drag-and-drop feature and conveniently access as well as modify blocks and components.
It also offers a direct manipulation feature that enables editing data directly on the page.
The innovation and growth of your SaaS business can be boosted with this theme. It can be used for multiple purposes and comes equipped with various features to deliver a powerful performance.
It is responsive to all kinds of devices, browsers, and screens. You can efficiently use the color picker tool to your advantage or change the background of any section.
The homepage comes with twenty sections that can include all the detailed information regarding the product and services.
Visual editor can be used to add all kinds of content to these sections. Shortcodes are pre-enabled and there is a dedicated nicely done testimonial area.
It also offers a portfolio section with a filter option to showcase a gallery. It is compatible with all kinds of plugins and is loaded with many social media icons.
Are you a corporate organization and doubt the efficiency of other themes? The last in the list of best SaaS WordPress themes is SKT Corp Pro.
This theme is exclusive developed and designed keeping in mind the corporate operations and traffic load on their websites.
The slider comes with features like interval, transition effects, and timing. You have the entire control of color management and can keep, change, and modify it from any sections. Contact form is available by default along with faster support and full access to support forum.
In addition to compatibility for various plugins, multiple sections are available on the home screen and are manageable using shortcodes. You get exclusive support via email for this retina ready and fast theme.