The best reservation system WordPress themes are a collection that helps your website manage and accept bookings online.
Your users must find suitable options to create a hotel booking or appointment for any other service that you provide. Hence, to make this task simple for you we have sorted highly flexible themes for this purpose.
All the options in the following list have the potential and features to configure your website with an online booking system. Not only that but other options like availability, filters, pricing, etc.
Can also be managed spontaneously. You can also attract visitors with various affiliate marketing techniques and advertisements to your site for boosting traffic.
Best Hotel WordPress Themes with Beautiful Designs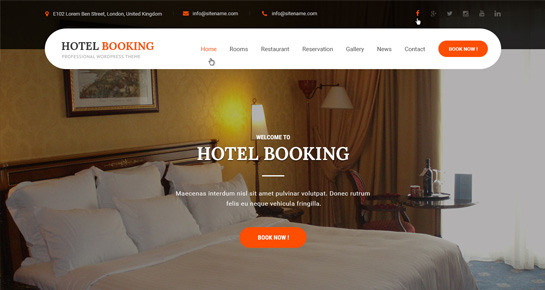 Hotel Booking is an exclusive reservation theme for your boosting the power of your website. It allows instant booking with a simplified layout. It is capable of attracting users to your website as it is coded professionally by experts. Apart from the regular ones, there are certain in-built features that are niche-specific.
The default contact form is provided to ensure that you do not have to rely on third-party plugins for the same. Creating an online store is also possible with WooCommerce support. All the pre-built graphics that are HD-ready can be directly used on the website even after modifications.
All the layouts are SEO optimized and fully capable of future customization. Header transparency, color scheme, sidebar, and the widget can be personalized as required. Page builders and customizers help you out in every step.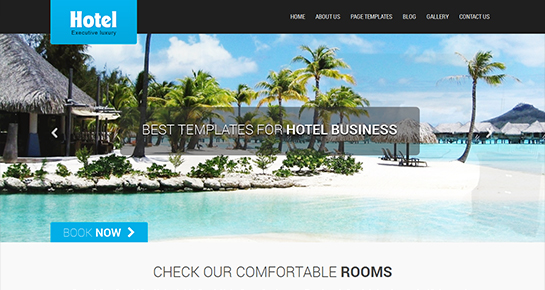 Stay here is one of the finest reservation system WordPress themes and is popular amongst the users. For hotels or any similar accommodation based business, it will serve you like no one else. It has solid features and is exclusively crafted to ensure that business and tourist stays can be featured.
The navigation is simply awesome making it flexible and versatile at the same time. For providing the best experience to the visitors, the entire process of booking can be made as simple as possible.
Translation in various languages is possible with the multilingual functionality so that the regional audience can be attracted. You can easily integrate Google Maps and similar other plugins that add charm to your site.
If you are stuck anywhere then the developer support and comprehensive documentation will help you out.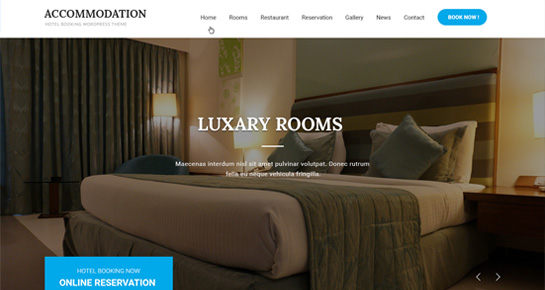 This is a classic and flexible option in the compilation of reservation system WordPress themes. It is charming, welcoming, and responsive which exceeds all the expectations. The overall booking of an accommodation center, motel, hotel, and others can be conveniently set up and managed.
Considering the present usage trend it assures perfect featuring in all kinds of browsers, screens, and devices. Testimonials section can be added and default sliders can be used to project best rates and discounts. Special packages can be advertised easily and all necessary elements can be placed on the widgets.
The overall administration is easy and accessible but yet powerful enough to host any amount of traffic. You can add plugins according to your visitors' requirements and ensure maximum service.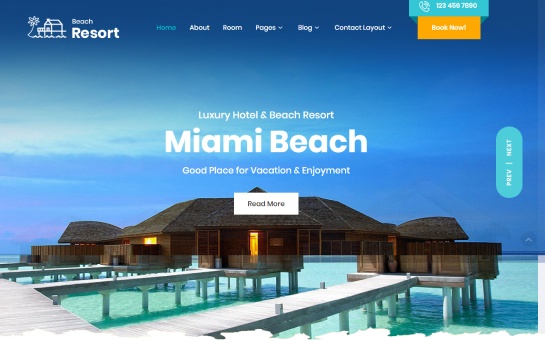 Who does not want to visit a beach on a long weekend or during a vacation? Beach and mountains are amongst the most loved attractions by tourists round the year. This is a perfect theme for ensuring that your target audience can make all kinds of bookings relating to their plan.
It is coded by considering WordPress codex standards and is in compliance will all the norms. Additionally, it is optimized for a supreme performance with search engines so that your rankings never fail because of poor coding.
The default layout and templates are retina-ready and can be directly used after the required modifications. Consider the niche you intend to deal with the modification will take only a few minutes. All kinds of plugins are supported and documentation is provided for assistance during the setup process.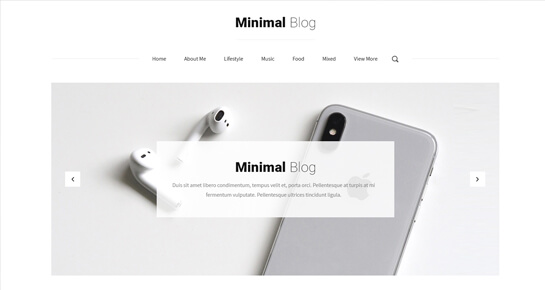 Blogging is an integral aspect when it comes to online booking. This is because there are hundreds of such websites and blog that guides people to the ground reality. Hence, the demand for reservation system WordPress themes in the blogging area has increased.
Keeping such requirements in mind Minimal Blog has been developed. The overall layout is simple, clean, and minimal but yet equipped with enough features. The modern look ensures that necessary attention is provided in highlighting the content of the blog rather than the aesthetics.
You are free to add pictures and set up a mini gallery along with your blog. All type of contents can be included on the pages as it is optimized for SEO. This is an ideal choice to keep your visitors informed about all the in and out relating to online booking.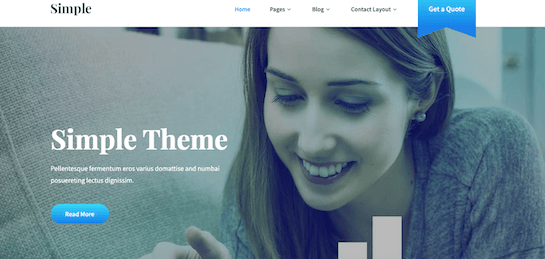 When it comes to reservations online then users expect simple, clean, and understandable navigation. This is only possible when the setup has been well tested and is powerful enough to withstand multiple users' load.
Simple is one such multipurpose theme that has made it in the final sorting of reservation system WordPress themes. It has been coded well with synchronization of various compliances and standards which makes it a suitable choice.
The entire default layout is modifiable and customizable to make the necessary arrangements for making the entire booking process simple.
It can handle all kinds of booking like buses, metro, railways, flights, and hotels. Integrating a payment gateway is also possible and can be done without any difficulty. Additionally, you can also set up an informative blog regarding the tourism industry for the enlightenment of travelers.
This is a multipurpose and feature-oriented theme for providing users with a terrific experience. The best part is that you can add as much content as required on your website and segment it. Every necessity for reservations of various kinds are either present by default or can be added smoothly.
The web design is easy to use, quick, and versatile. This ensures that despite any situations your visitors can be at their comfort zone and conveniently make the bookings. The default templates are fully customizable and page builder helps you in developing retina-ready templates.
There is no necessity to perform any tasks of coding to execute specific or general changes. Everything is manageable and controllable through tools and functionalities. If along with online booking you intend to launch an online store then it also possible.
Exceptiona is amongst the few exceptional options for reservation system WordPress themes. It has a fantastic user-interface and is classic along with being well-designed.
For a professional reservations website, this is an ideal choice. Multiple features like WooCommerce Support, Customizer support, multilingual, HD-ready, retina-ready, Google fonts, etc make it a premium preference.
All of these can be directly used without paying anything extra and adds value to your brand's reputation. Altering, changing, and tweaking of any element of the website is easily possible as per the requirements.
Comprehensive documentations help in resolving the most complex issues faced during installation. In addition to that, you are also liable to receive developer support for a period of one year. Integrating social media handles on various pages and adding other necessary functionality becomes easy with full plugins support.
Gravida is a new generation theme with the potential to host the most complex of websites. Management of an online booking website with multiple verticals is a complex procedure and demands a solid coding foundation.
Many times to fulfill the user expectations multiple third-party applications have to be installed. This in return slows down the loading speed and impacts the performance. With Gravida nothing such happens and you get supreme performance with its inbuilt features as well other third-party applications.
On top of that, it is optimized for faster loading speed and is crafted to include as much content as required. The default layout can be easily modified and even a completely customized version can be launched.
Mobile applications have made the digitalized world quick and simple. Hence to promote your online booking application The App Pro is one of the best reservation system WordPress themes that you can use.
Having an app to tackle all the essential tasks is great but having a website in case the application crashes is good. Here you can easily replicate the graphics, colors, backgrounds, and animations used in on your app for a similar interface.
For managing and executing tasks or making changes, you do not require any technical knowledge of coding.
Trusted plugins will help you in adding the required additional functionalities on your site. This is your gateway to creating a mesmerizing and powerful website relating to your online bookings mobile app.
SKT Dual is amongst the gigantic marketing based reservation system WordPress themes. There are ample choices to set up a gallery of the desired locations and services that you promote.
This helps your users in clearly understanding what are they looking for and what will be the experience like. All the elements and layouts including the landing page can be simplified for better convince of the target audience.
The overall default presentation is clean and aesthetically soothing. Features like WooCommerce support, optimization for SEO, retina-ready, and multilingual possibilities make it even better.
For compatibility, it has been tested with over a dozen slider plugins and PO files are included for translation readiness. For visual and textual impacts it offers dual-screen that ends up being the USP of choosing this option.
This is an attractive, modern, and performance-oriented multipurpose theme. It is used across a wide variety of niches but has gained a significant preference in the booking and reservation industry.
It is packed with essential features that can make improvise your website at every stage from a technical and aesthetic standpoint. All the mandatory arrangements for setting up a booking desk can be established without any technical hindrance.
The integration of payment gateway is a swift process and does not consume a lot of time. All kinds of content i.e. text, audio, and video can be added on the pages with all the required modifications.
In addition to being able to add animation, you can mold the fonts, background color, element color, social icons, style, etc.
How about getting hands-on an exclusive coded product that intends to fulfill all your requirements with its default options? This gives you the freedom to not rely on third-party plugins for functionality and at the same time be assured of the faster loading speed.
Complete Pro is one such package and makes it to the list of reservation system WordPress themes. This is an all you can get choice, as it never disappoints with its aesthetics, tools, and features.
One of the core perks is that you can easily select one from a wide range of HD-ready templates. They can be easily modified within a few minutes to ensure that at the lowest possible time your design is ready.
Despite all the functionalities if you feel anything is missing you can conveniently add plugins and boost the performance.
This is a target audience specific WordPress theme with an unbeatable experience in attraction, user-experience, and performance. It is one of those charming products that provide your clients with a reason to stay on the website and explore.
All kinds of layout and design that is specific to reserving tickets or rooms can be set up. Necessary add-ons to the same like contact forms, feedback, testimonials, and promotional offers can also be included with plugins.
It is backed by a core foundation impeccable coding that has taken complete care of security and search engine optimization.
The compilation of reservation system WordPress themes ends with SKT Pathway Pro. This is a multipurpose theme with an exceptional performance track record across various niches. You can create a specific or generic booking website with this theme to enhance the brand value of your firm.
All elements including menu, slider, sidebar, header, footer, background color, etc. can be modified. It has been tested with an extended range of plugins for superior performance.
Navigation is far way from being complex and all kinds of devices and screens exhibit marvelous displays.