Businesses relating to provision of diverse services, repair companies and centers of any kind and direction also benefit greatly from today's digital possibilities coming together with lots of reliable and stable repair WordPress themes.
This appear integrated with all the necessary controllable theme integral parts and features to provide the strong and powerful look and feel of any servicing and repairing websites.
Along with the emergence and growth of WordPress phenomenon as user-friendly content management system as a solid platform for any self –hosted website creation and management, a wide range of businesses were given new and unlimited possibilities to expand their operational horizons outside of their foreseen scopes.
In this article we have selected a bunch of highly versatile and flexible repair WordPress themes.
To ensure your mobile, device, computer, laptop or car repair, auto, construction, renovation, cleaning, pet and animal care servicing or other related website safe and secure operational framework and exercise the best online solution for you these templates are listed.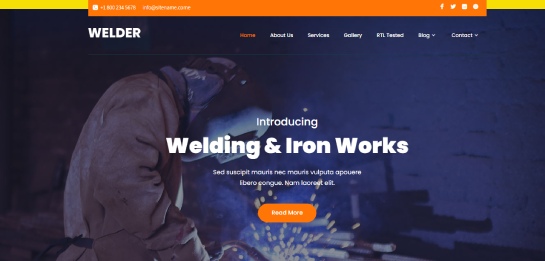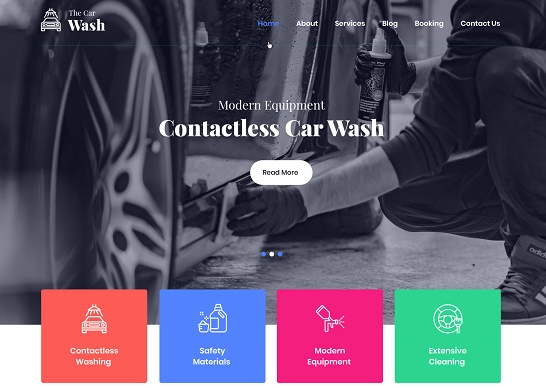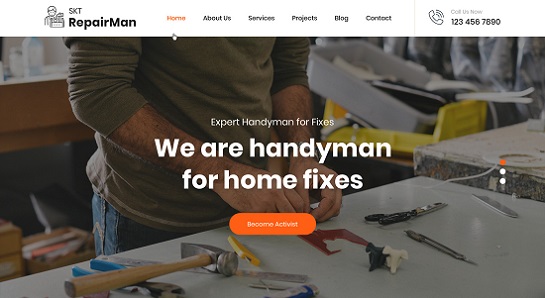 Laptop Repair Pro is the best repair WordPress themes in terms of speed performance, and flexibility.
This theme is more populate for its in build features. If you don't want to customize any of the feature of layout that its demo have, you can simply change the content, images, logo and your website will get ready to start the actual work.
This theme is very easy to setup as it provides free installation. Different business can use this theme for different purposes such as Phone Repair, computer repair services, Laptop Repair, Apple Service Center, appliance repair shop, electronic repair, and other repairing services.
Build appears as a premium quality and one of the repair WordPress themes catering to any construction or renovation services and product, which is also cost – effective from a financial standpoint.
This professional and sophisticated, strong and powerful, deeply flexible and adaptable, user and developer – friendly repair product will considerably promote your any startup or popular servicing or repair company to a new functional level, letting more people get acquainted with your company's online profile, suggested services or any other relevant information needed.
The theme has also been developed to ensure the website exceptional performance in the case of mobile and device usages thanks to its total responsiveness.
Movers and Packers is deeply clever and smart, purposeful and intuitive, modern and tech – savvy repair, moving, packaging and logistics and of course out of the category of repair WordPress themes, enabling you to implement any kind of respective services display in the most productive way.
The theme has been built for your convenience and comfort, so that every single part of your repair or servicing website will be under your total control and management to the maximum extent.
This dynamically worked out and modernly crafted template is loaded with tons of customization options, including a powerful package of Google fonts and icons, as well as demonstrates cross mobile and device compatibility without having any negative impact on the overall functionality of the website.
Anything in relation to car industry, ranging from dealer activities to car and auto repair or washing, can be perfectly run and showcased by the application of Auto Car.
This car related repair WordPress theme and template is easily accessible to anyone, no matter what developer or graphic designer skills the latter possesses or whether he has any prior experience of working with WordPress themes.
With Auto Car you will be granted with a perfect operational framework to guarantee exceptional visual appearance of your business, as well as ensure customer and client – friendly website atmosphere, so that every single website visitor will be subject to a presentable user experience.
General – purpose and multiconcept, entirely sophisticated and experienced, strongly reliable and dependable, safe and sound, Complete Pro is considered as an ideal WordPress supported framework.
It initiate the demonstration of your repair servicing catering to computer, mobile or other technical output, transportation, renovation, construction or any other target undertaking.
Build upon Customizer letting you take the requested changes and preview them before they will appear on the website, the theme comes integrated with any essential theme feature and option to edit and modify it as per your needs and ideas.
This can of course be used into any industry website and successfully caters to repair WordPress themes category.
HVAC and Cleaning asks for a balance between all – inclusiveness, technological saturation and tech – savvy structure on the one hand, and simplicity, adaptability and user – oriented layout on the other hand.
Subsequently, your cleaning industry has all the chances to advance in the online digital world with the great support of this cleaning service WordPress theme with all its advantageous and beneficial peculiarities.
The theme is loaded ready to be used, however, it can undergo certain changes to match all the requirements and claims outlined and specified by the website owner or other authorized representatives.
If you want your pet and animal care website stand out among many other suchlike online presences, here is Pet Care for you to practice your pet – related services to your potential clients, who want to take the best care of their beloved pets.
This pliable and polished, technologically cutting edge and premium quality WordPress product will provide exceptional experience for your visitors, so that they can easily find all the required information about your services, specialists, working hours, locations, pet – related feeding and care products or whatever it may be.
The theme has the opportunity to support WooCommerce plugin and make it possible to get involved in shopping and commercial businesses as well.
From nicely designed appearance, modern and stylish graphical solutions, eye – catching and dynamic look to simplified and user–friendly layout.
Repair and service – optimized framework, multipurpose and multiconcept template, Condimentum seems to integrate all the primary touches and points you will ever be in need of to build an outstanding repair web page.
The theme has been checked for its flawless responsiveness and impeccable compatibility with all the modern mobiles, devices and smartphones, as well as for its SEO – optimized functionality.
Clean Pro is another bright representative of clean and cleaning service WordPress powered theme series to proceed with any cleaning and washing activities.
This totally resilient and precisely constructed template includes pixel perfect functionality and high adaptability to any suggested theme controls and amendments for better functionality and visitor engagement.
This elegantly and modernly designed tool is loaded with conveniently arranged homepage sections to highlight your services and maintenance, experts, workers and handymen, showcase the most expressive images and other content, as well as lots of fonts and icons integration to choose from and stylize your relevant online presence.