This time we are going to shed light on the top radio station WordPress themes which are all developed with all the nuances and technical requirements of the modern digital spectrum in mind.
It means that your commercial or public radio station, radio program or broadcasting, radio hub and music producer, music studio and broadcasting studio, DJ and podcast, network, radio circuit or any other thematic website.
Or digital portal is what can be perfectly displayed and advertised with these pro quality radio station WordPress themes.
Ending up with a professional and visually appealing, top and user optimized website for your radio station or broadcasting company is always possible with any of these radio station WordPress themes.
And as all of these website builders are unspeakably versatile and zealous in their nature and the way they are managed, you can use any of the below discussed website building systems can cover any relevant website or blog, be it a radio or broadcasting, radio program or event, TV or music, studio or artist, and even beyond those topics.
Finally, these podcast and radio station WordPress themes offer so much more than just a presentable look and advanced functionality.
Their flexibility and smartness when it comes to customization and modification processes cannot be compared to anything else in terms of admin friendliness and productivity of the webmaster's workload.
Hence, you can give your preference to any of them, quickly install and activate on your website without spending too much money or time on it, and instantly proceed with the management of the default template to aesthetically and functionally match the nature and style of your business.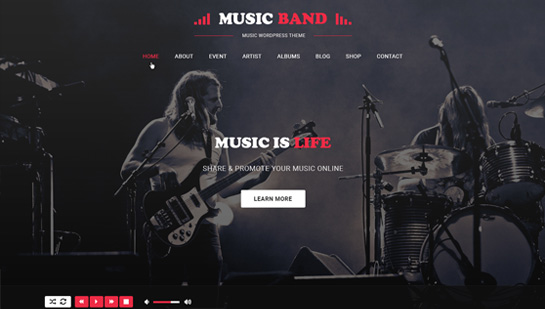 Music Producer is one of the powerful HTML 5 music and artist, TV and radio station WordPress themes to give you a great dose of creativity and productive work strategy.
With this easy to use and shortcodes armed website builder, you don't need to dig around in a heavy coding to generate a presentable and well functioning website for your online guests and radio followers.
Whether you are satisfied with the default package of the theme or want to make it larger with new tools and plugins, you can do that with Music Producer as the latter is fully checked for its cooperation with e commerce, multilingual, page builder, shortcodes, page optimization, caching, SEO and other important ones.
FilmMaker is ideal for startup companies and studios, local radio stations and networks to boost their presence online and get closer to their audience without having to do with complex coding processes.
Everything in FilmMaker is well arranged and the theme's package is armed with first aid controls, features and elements to make it stunningly easy for a non coder admin to play with the overall look and feel of the site from the theme's backend.
The preloaded shortcodes, live customizer and admin friendly dashboard on the backend are enough for you to demonstrate your creative skills and make the most of the given template.
Additionally, you can choose to have a more sophisticated and all inclusive website with everything in it, from commercial basis to multilingual content, from social sharing capacity to a practical contact form.
This all can be brought into your profile with the help of contemporary plugins as they are all well functioning with FilmMaker.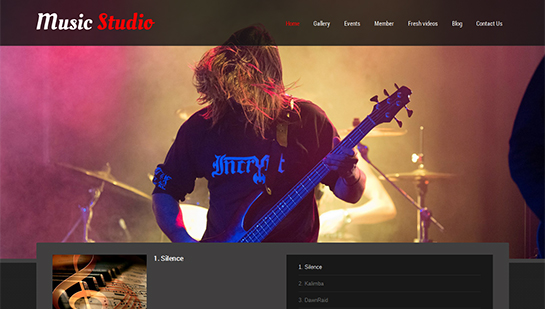 Melody is one of the award winning, modernly coded and CSS 3 animated multipurpose WordPress themes custom built to serve any kind of needs, from radio and broadcasting to event and multimedia, portfolio and company profile management websites and not only.
Thus, you can use the advantages of Melody for the creation of an online portal where one or more than one radio stations will be presented with their programs, music events, interviews, media news, participation opportunities and much more.
The theme's easily customizable nature lets you add your content to a well formatted and nicely arranged theme sections and areas, and the theme's SEO friendliness makes sure it is well propagated in different search engines for better rankings and results.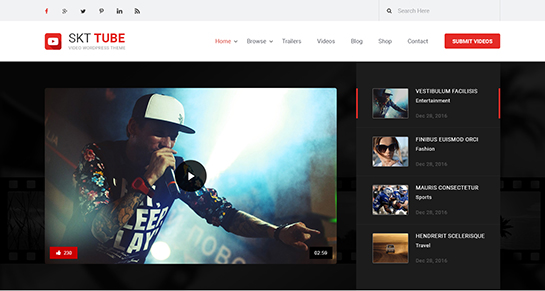 Another video and audio centric template among the best radio station WordPress themes that can grant you with all the advanced conditions to go online with your livestreams and radio programs and their video versions is called SKT Tube.
Moreover, not only radio, but also TV and other programs, stations and services can be best showcased with STK Tube that comes with a beautiful video slider for hosting the best of your video materials and not only.
Generally, you can add and customize as many multimedia files as your specific business needs to do well online and entertain its fans or clients. Blog area is also included for you to add new files and content on a regular basis and keep the traffic of the website on its peak.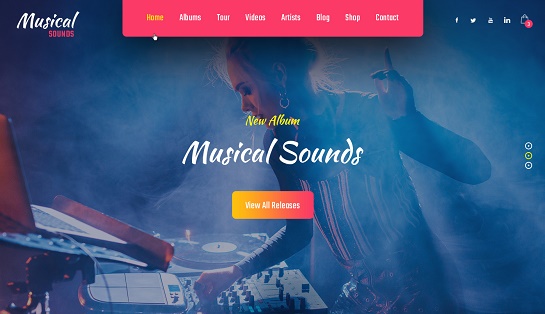 For anyone who is looking for a quick and affordable solution among the best radio station WordPress themes, Musical Sounds is one of the best options.
It's an exclusive chance to find a ready made, well coded and well taken care of, regularly updated and improved, fully documented and supported website building template for your specific digital needs.
Apart from being convenient at an initial stage of website creation, Musical Sounds is also preferable when it comes to the site's further customization and promotion with attractive appearance and strong functionality.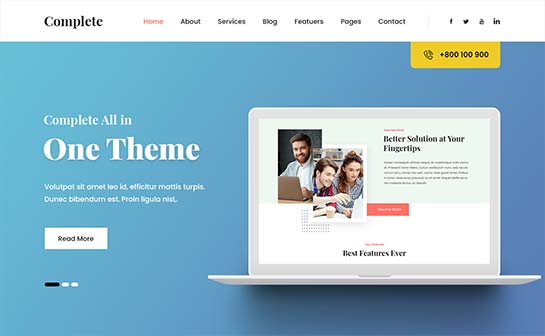 Let your audience choose and listen to the most popular radio programs and interviews with your website based on Complete Pro.
Add online TV channels, programs, coming soon movies and more to your website that is supported by responsive and cross mobile compatible Complete Pro.
It means that your radio listeners are going to find accurate and easy to follow content no matter what device or mobile they are using for reaching out your profile.
Additionally, Complete Pro is strongly coded and prepared for search engine journey, as well as translation ready and plugin compatible.