Here are our best programmer portfolio WordPress themes ready to put you directly in the hands of your potential clients and customers.
Those templates are created by the seasoned developers for developers and designers, programmers and IT specialists, web service providers, digital marketers, computer repair services and other relevant specialists and experts to showcase their portfolios online.
Establishing and developing a business or personal website for multiple reasons and objectives can be a task handled only by you.
With programmer portfolio WordPress themes incorporated in this article you will be the only developer and designer of your profile and will be able to refine the given platform to meet your preferences.
These self paced and time checked developer and programmer portfolio WordPress themes are created with the technically unprepared website admin in the themes' authors' mind.
It means that you can choose any of them and refine it the way you need even if you are making your first steps in programming and developing world and need an online space to demonstrate your small projects.
Choose any of the below mentioned programmer portfolio WordPress themes and be sure you provide your website users with the most relevant online experience across different platforms, mobiles and browsers.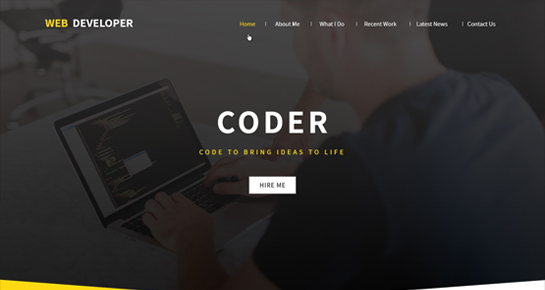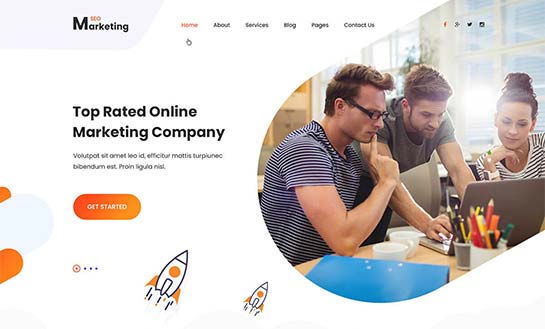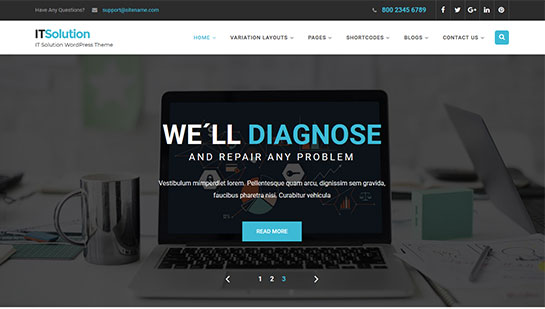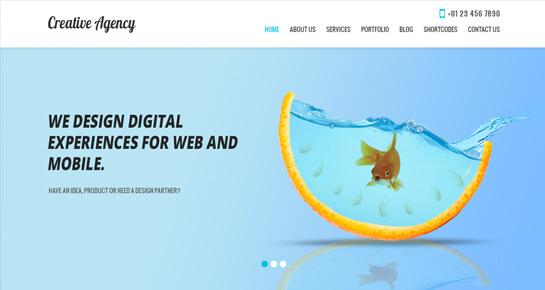 SKT SEO is visually clean and dynamic, white dominant and seriously worked out template catering to development and programming world.
As one of the most professional and niche specific programmer portfolio WordPress themes one can find in the virtual domain, SKT SEO knows no boundaries when it comes to reaching your target client base and providing them with superb mobile and desktop user experience.
Licensed under GPL and free for management and customization, this template shares one of the flexible frameworks you can ever find to realize all your plans and projects online, as well as arrange the virtual exhibition of all your portfolio items.
Mainly focused on creativity and results optimized solutions, SKT SEO is also wonderfully smooth and mistake free across mobiles and browsers, search engine optimized for higher conversion rates and client engagement, as well as plugin compatible for commercial activities, translated content and more.
Feature rich and general purpose, Game Developer is fantastically worked out digital platform and website building tool suitable for game development agencies and web development companies, recruitment and design centric activities, as well as other digital specialist who want to showcase their portfolio.
Fueled by the most important qualities and controls, Game Developer comes with HD readiness for your image based portfolio items to be displayed via the homepage slider or gallery section when paired with relevant gallery or portfolio plugins.
Ready to be the most reliable foothold for your website, Game Developer also suggests multiple shortcodes to result in the needed content setup or functionality.
Blog and page layouts, standard pages like 404, archives, etc., 5 levels of menu given in the default theme, as well as footer and header variables are all wrapped up in this premium quality template.
The developers of SKT Tube have adopted an integrative approach to generating a product that will be extremely efficient in all its applications.
Whether you want to run your own blog with homemade video tutorials or learning materials, or a professional programmer with huge portfolio that needs to be exposed, SKT Tube is what you have been looking for so far.
With SKT Tube you can work absolutely independently and without the supervision of professional web developers and designers.
It means that the given intuitive structure powered by essential controls is more than enough for you to showcase initiative in crafting your online brand and make it highly popular.
Choose the best color and font mix and match, apply different shortcodes, arm the homepage slider with the needed video materials or even replace the default slider with any other compatible one.
Creative and modern looking, Design Agency Pro is one of the sophisticated and artificially intelligent products included in the collection of the best programmer portfolio WordPress themes.
You as a programmer certainly know the true value of your work. Now your task is to convince your online audience that your services are worth trying.
Use this entirely pliable framework for listing all your services and offers, program updates and repair services, as well as start off any other content that might bring your readers closer to your business.
For those purposes and not only, you can use all the prebuilt homepage sections and areas, slider and gallery section, boxes, accordions, buttons and tables available by the application of pre enabled shortcodes, etc.
Unleash your talents and creativity with The App Pro and start your online journey without much efforts or financial means with the App Pro.
Transform your profile into something lively and informative so that all your website viewers will be inspired by your solicitude and user centric approach.
Launch your programs and apps, offer diversified services and consultation, share your locations and opening hours via the theme's content zones and parts like home, about us, blog, contact us and more.
Preloaded portfolio and gallery section is also at your disposal to become one of the attention grabbing and wealth building tools you can practice.
Add as many images and portfolio items as you like and add relevant plugins to make your galleries and portfolio display more organized.
Any startup company or private programmer will find SKT StartUp Pro as an ideal springboard to achieve greater results with second to none responsive and user optimized, shortcodes based and pixel perfect website.
So, you are working on a competitive edge and need to prove your excellence in what you offer to your clients.
Use all the advantages of SKT StartUp Pro to share your portfolio items, successfully completed projects and launched programs, updates and more in a nicely formatted fashion so that your partners and clients can easily have a glimpse of.