Complete and comprehensive assemblage of print shop WordPress themes is showcased in this article for any kind of printing businesses and storefronts, including design and 3D printing, as well as printing services online.
One of the fundamentals of gaining more customers and boosting your printing business is the digital world with its productive strategies and tools.
One of them is definitely a well organized website to make you critically different from other relevant businesses and offers, and to result in maximum sales and revenue with minimum costs.
In this article, we have done our best to put together a powerful array of print shop WordPress themes to establish your business identity online and go hand in hand with all the modern way of advertising and marketing.
All of them come as simple yet effective templates designed and offered for the absolutely non techy website admin without any prior practice in WordPress.
Armed with unique touches and capabilities, those templates share the highest – quality coding and layout ready to respond to every admin intervention or customization controls.
Now, without any delay, let's tweak into the basics of the best print shop WordPress themes and understand what they have in common, and what makes them different from the others.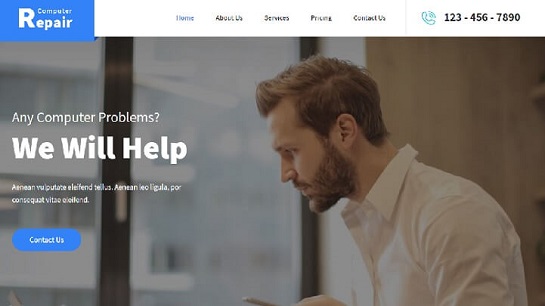 High Tech can be considered as the most beautiful and stylish print shop wordpress themes that can be used for niches related to printing, publication, composing room, press room, etc.
This template is best suitable for introducing your services related to printing companies plus it can help you to offer some products related to print shop.
It is supported with comes special functions which can be used to create different kinds of online store. With clean and unique design you will be able to attract maximum customers.
The third party plugins are supported with High Tech to enhance functionality of your website for example you can add pricing table plugin, revolution slider plugin, BigCommerce, cache plugin, page builder and more.
The theme is created with the best typography and color option which will exhibit your business services in professional manner. It comes with parallax sections and beautiful sliders. You can also make a use of ready-made layouts.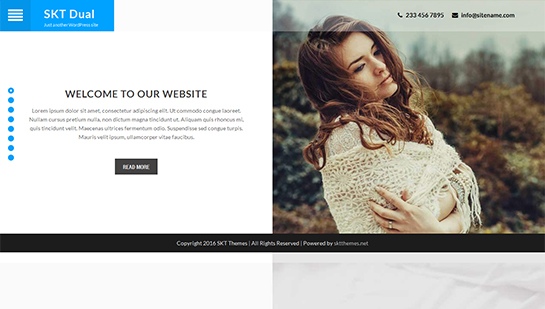 SKT Dual is pixel – perfect and elastic, simple yet unbeatable template with which you will get ready to market your printing shop or house easily. What makes this template so unique is the appropriate mixture of beautiful visualization and technologically advanced structural framework.
It makes the theme both eye catchy and stable during its performance under different conditions. It can be an overall solution for a relevant business of any size, starting from small to large ones.
Its fully packed nature with tons of choices in relation to the theme color gamut, typography, sections and homepage slider together with other reasons will persuade you to purchase this cost conscious template.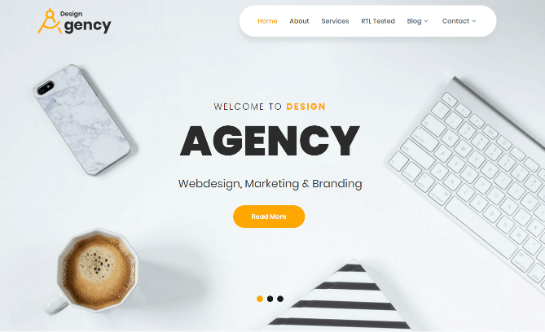 The next active candidate included in our article catering to print shop WordPress themes is called Design Agency Pro.
As an output of the work of seasoned professionals and developers, this template complies with all the modern trends and technical solutions prescribed by the latest version of WordPress.
Thanks to its feature rich composition, Design Agency Pro can support plenty of topics and niches relating to design and development, printing services and more.
It's an easy to install and activate template based on drag and drop functionality, more than 100 shortcodes to result in gallery, testimonials and much more. It is also wonderfully robust and reliable with its responsive nature and widget friendly areas.
Complete Pro is an ultimate tool for creating your printing shop website and offering your services to more prospective clients and customers.
To assist you in establishing and stylizing your website the way you prefer, Complete Pro is confident when it comes to splitting your content into easy to read parts and inserting them into convenient theme areas and relief zones.
It also comes with fully extendable typography since there are tons of preloaded Google fonts at your disposal to play with.
Ecommerce functionality has been added to Complete Pro for printing shops to sell their printing equipment, other products and items, as well as services online.
PicArt is one more livelily and awe inspiring, designer made template among the best print shop WordPress themes available for everyone.
With creative yet clean design, this website building tool is persistent in case of absolutely any kind of application. It means that you are free to edit and customize the theme to serve for different purposes.
The applicable range may include from personal and portfolio websites to corporate and design agency presentations, print and 3D printing activities, artist and freelancer websites and more.
Ready to bring a subtle sensibility to any target website, PicArt generates totally flexible and cross mobile and device compatible nature and takes care about your website look and feel all the time.
Modern and vigorous, Gravida strikes the visitor's eye with a glamour design dotted with nice looking graphical strokes.
It's a surprisingly intuitive and admin centric template comes bundled with well layered theme structure and pages, homepage full with slider to host some of the highest quality images and photos.
With customizer based functions to control any kind of changes and preview them, ample choices of header and footer layouts, Google fonts, translation readiness and much more, Gravida can be the wisest choice for your future or current website.
SEO and SMO friendliness of the theme have not been neglected either. The same also refers to the theme ecommerce readiness and plugin compatibility.
In case you are looking for the fresh faced and modern, yet simple and precise template among print shop WordPress themes, Clean Pro will satisfy all your prerequisites.
It's a top down, visually clean and elegant template that is conceptually well thought out and professionally developed.
You can never find any item or icon that is irrelevant or unnecessary for you to exercise. White based and clutter free appearance of the theme is supported by a preloaded slider at the top of the homepage to welcome your potential clients.
It's responsive and mobile friendly design has also been tested on different major devices and mobiles.
Solidly safe and sound, smoothly navigable and super fast in performance, Local Business Pro shares the best foundation for your print shop or any other local business.
This comfy and qualified website building tool encompasses calls to actions, social media icons and other necessary icons to attract the web viewer's attention and prompt the letter to take actions to get in touch with you.
Widget friendly sidebar together with accurate footer and header layouts are there for showcasing any additional content. From posts to inner page layouts, prebuilt contact form and gallery, demo version and fully documentation, Local Business Pro shares it all.
We all have been talking about the importance of websites, it is true that online presences increase the business possibilities many folds.
Research has suggested that having a business website which is loaded with features is a great way to enhance the business opportunities. The print business owners are also looking for such websites which will put them on the map.
When it comes to the creation of a website the first name that pops up is the use of WordPress. The popularity of the platform is due to many reasons.
The platform started as a blogging platform and has made progress with time. WordPress operates with the idea of being accessible to everyone and hence there are premium and free themes and templates options.
There has never been a delay in catering to the demand of the users. The platform is popular amongst both the users and the creators. The open platform is where many professional put their themes for people to use.
This creates credibility for the professional and they are able to deliver great website material. The reason why WordPress has been so popular all along is that it is the markets platform and responds to all the needs in time.
The print shop WordPress themes that the print business owner would require are also available on the platform in abundance.
The business owners who wish to develop a website often requires help, the use of the themes is the best way to create a website in minimum possible time. This is as the themes are loaded with almost all the features which will be useful for the creation of the website.
The owners who require added functionalities should add plug-ins which will ensure that the website has all the extra function and is worthy for a visit.
The print shop WordPress themes are many and the website owners are free to use them. They can read about the best ones which are highly popular on WordPress itself.
There is a long list of all the popular print shop WordPress themes which will cater to the needs and the users can pick the one that suits their needs. The process becomes easy and effective only when these themes are combined with quality content.
The themes come with great layouts, background designs and ease of operation. They are highly responsive as well. This is a must as all the users should get access to the website from the different devices they use.
The number and variety of devices have increased and the themes which are responsive will only stand the test of time.
The users who do not get the right functionality move away from the website which are a bad impression. The website should use the print shop WordPress themes which is mobile version friendly along with accessibility by laptops and desktops. This will increase the reach of the website.
The platform is created with all the features and support and the users who wish to find the right theme for their website must go through the user's views.