A remarkable collection of the best petting zoo WordPress themes for serving the needs of any kind of pet and animal related businesses and undertakings, from petting and general zoos to animal shelters and veterinary services, and absolutely everything in between them.
Petting zoos or otherwise called children's farms are great places to have a primary contact with animals and pets, feed them and interact with them in safe and secure conditions.
Moreover, the benefits of such kind of institutions and centers are not merely entertaining; they are also educational for children of different ages nurturing ultimate love and care towards animals, better environmental and nature awareness, etc.
Well, if you are a private petting zoo owner and want to increase the number of your daily visitors, share the best images of your exclusive animals and pets, as well as bring about more interest towards them, our petting zoo WordPress themes are undoubtedly for you.
Wondering how to deal with those petting zoo WordPress themes when you have no clue about web development and design? No problems! There is the least learning curve to craft a website of your dreams and keep it enjoyable all the time.
All the hard work and coding processes are eliminated from your future admin workload. All you need to do is to take care of the proper look and feel of your site to offer your clients something more than an average petting zoo or animal shelter website.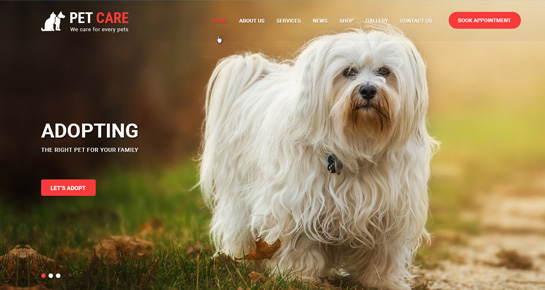 Our list of the best petting zoo WordPress themes opens Pet Care. If you want to come across a completely versatile and sophisticated website building tool that is aimed at providing you with an admin friendly dashboard, look no other way than Pet Care.
The list of the useful features of this template is narrow down to the easy to use ones meaning that you can exercise them freely and easily whenever needed.
The theme embraces homepage beautiful slider focusing on hosting the most engaging photos of your center's four legged inhabitants, advertise your veterinary services, outline offers and announce discounts, etc.
Up to 20 sections possibility together with footer, header and sidebar areas all widget ready is given within this responsive and SEO driven theme as well.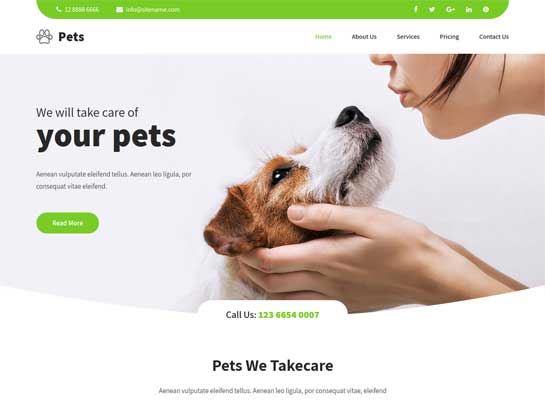 Ele Pet is one of the strongly coded and dependable website solutions dedicated to donation and charitable activities and hence can be used for animal donation programs and events online.
However, the flexible nature of the theme enables you to change every single part of the default template to match the needs of any animal based center or organization, including also petting zoos or farms.
All in all, Ele Pet is another justified choice of many website owners who are working on a limited budget. In other words, Donation is pretty inexpensive in terms of price as compared to other premium class and highest quality petting zoo WordPress themes available for now.
The theme has assembled a splendid collection of useful links, customization features, typography
management and shortcodes using settings to make your admin life unspeakably easy.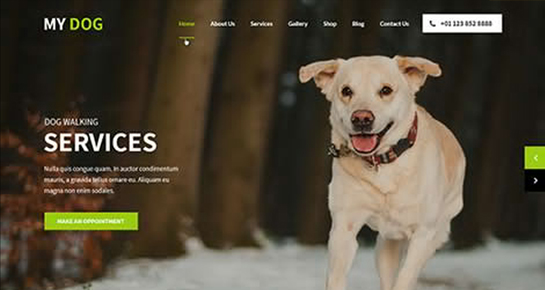 Uniting charm and energy, My Dog is one of the brightest yet clean looking website bases you can give a try with minimum expenditure.
The entire template is at your disposal for further changes and modifications in relation to footer and header areas, layout and image controls, widget ready sidebar deployment, etc.
Search engine optimization is also well done for your site so that it will appear in natural search inquiries and will direct your potential clients to your site's posts and pages.
This WooCommerce based and eCommerce ready platform is irreplaceable when it comes to selling your petting zoo tickets online without any hassle.
Multilingual support of the theme has also been checked by dozens of the theme users who tried to have their site content translated into other languages as well.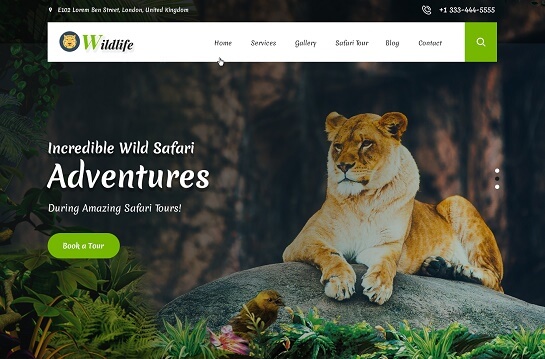 WildLife is an amazing platform to make any kind of sports and animal, agriculture and nature related website live and doing well.
With simplified controls and extended functionality, this template is a real treasure among petting zoo WordPress themes which are offered in the WordPress repository as for now.
This template is wonderfully well loading and smoothly navigable with responsiveness across all kinds of modern platforms and browsers, portable devices and hand held gadgets.
Preloaded Google fonts and icons, buttons and color management system are also available right from the start to take care of the proper look and functionality of your site.
A durable coding runs in the backend of the theme with the modern HTML5 and CSS3 mixture to provide a solid user and client experience.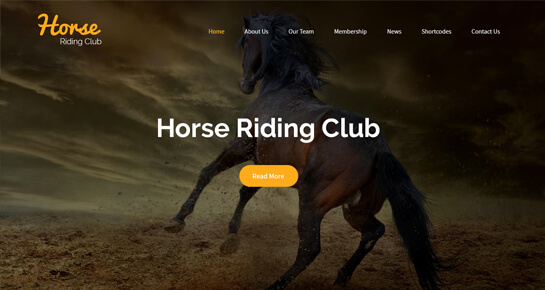 Horse Riding stands for optimal performance and reliability, pixel perfect design and dynamic graphical solutions, admin friendly performance and thoroughly customizable layout from the backend of the theme.
Developed in compliance with WordPress Codex and its requirements, Horse Riding comes powered by the latest web development and design trends to be easy to use by the website guest, as well as easy to crawl for search engines.
Showcase your petting zoo history and establishment, enlist all the domesticated and wild animals under your dominion, the list of additional services, terms of visit, contact details and more through the given sections and parts of the theme.
Homepage slider is another great tool to picture the friendliest environment of your center, happy visitors of it and more.
Balanced between clear look and hassle free performance, SKT Cats is the one to leave you speechless with its well thought out structure and management ready nature.
With SKT Cats a website admin of any background and web knowledge is good enough to take care of his or her petting zoo or animal care website from top to bottom.
Whether you want your website to be child or family oriented, vivid in colors or elegant in look, you are welcome to create the online atmosphere you like the most.
The theme is also ostensibly optimized for a more advanced performance with additional tools, shortcodes, extensions and plugins.