This time we have surfed the global networking platform for the best party planner WordPress themes for event and party planners and organizers, party venues and destinations, event or party day coordination and other relevant services and businesses online.
Partly planning is a modern and trendy business field that required dedication to details, unique taste and great responsibility in order to make people's lives more bright and organized on special occasions, parties, meetings and events.
Whether you are offering party planning and organizing services for all occasions and for all budgets, or concentrated on rendering event planning and coordinating, serving and decorating services, conference and meeting arrangements or equipment, our collection of party planner WordPress themes of WordPress origin are there for you.
Advertise your services and packages, offer seasoned professionals and planners, give contact details and serve all this information with a uniquely styled layout with any of the below stated party planner WordPress themes.
To quickly recap, all of our themes are GPL based and open source products for you to take a thorough control over your profile or website without worrying about the legal part.
Despite your willingness and readiness at times to get involved in a hard work, these party planner WordPress themes will not take much time or efforts from you in order to get the shape and functionality you are striving for.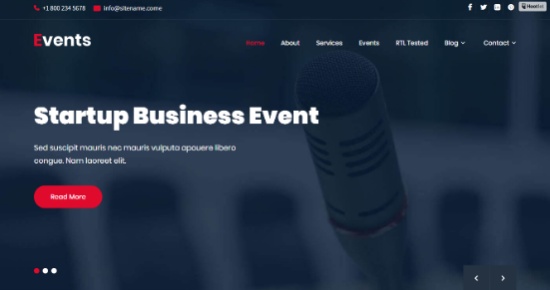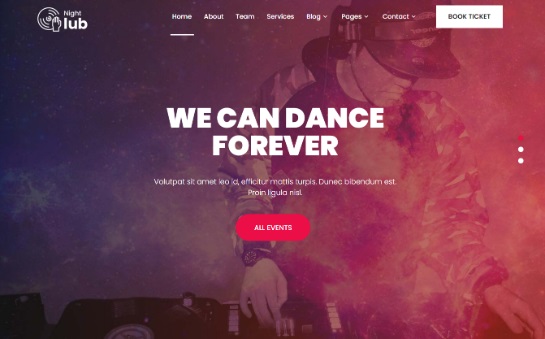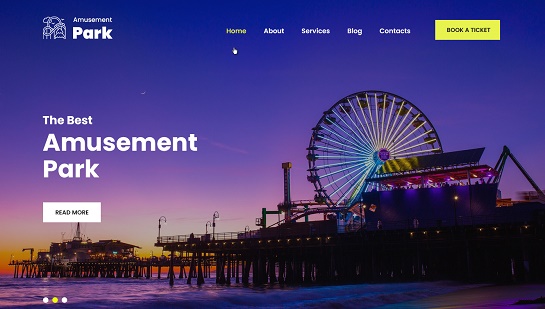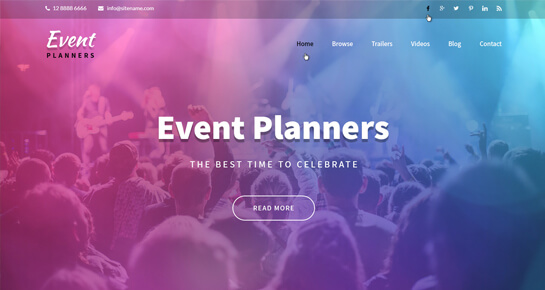 Become your field's top party and event planner with the huge assistance of Event Planners Pro to make your online presence truly unforgettable for your client base.
It is by far one of the widely practiced and time checked party planner WordPress themes matching the needs of the most demanding webmaster or planning business owner.
There are handy homepage sections along with the nice looking homepage slides to showcase whatever is important at the moment in the form of images or photos. Moreover, if you want to deliver the right traffic to your posts and pages, be sure Event Planners Pro knows how to do it.
Packed with full responsiveness and SEO friendly coding, this theme exercises all the digital channels to direct the flows of new incomers.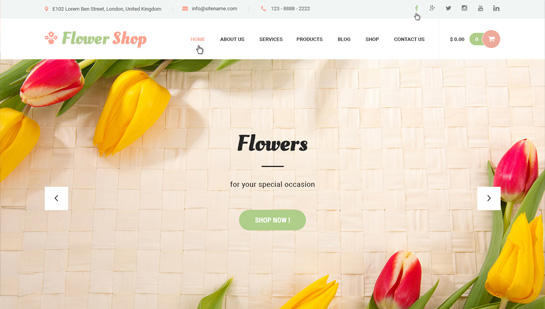 Visually elegant and colorful, functionally reliable and hassle free, Flower Shop is the next pocket friendly yet fully supported website template for multipurpose usages across planning and coordinating businesses.
Expansively energetic and highly ambitious, Flower Shop is flexible and resourceful to go hand in hand with any kind of customization or management.
It means that you can take the advantage of the pre enabled tools and elements at your disposal in order to craft the unbeatable profile sharing your affordable services and packages.
Over 4 header and footer variations are available together with fonts and icons packs, shortcodes controls, SEO friendly layout, page builder compatibility with Elementor and others, etc. The theme is also 100 % responsive and mobile friendly with HTML5 and CSS3 so that your website and its content will respond to any user behavior or environment.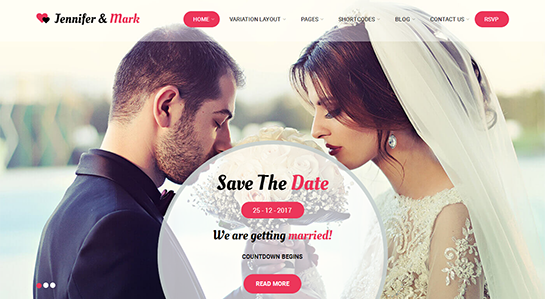 Wedding Rituals is another lovely and bright template to cover a myriad of topics and niches, from wedding and love story websites and blogs to portfolio and designer, wedding and party planners, event managers and others.
From eye catchy design style to durable coding and flexible structure at your hand to alter the default look and feel of your site, Wedding Rituals knows no limits when it comes to quick operation and smooth navigation.
All the nuances are minutely taken care of to result in stunning user experience and returned visits of your site.
It's an amazingly well constructed template with practical content areas and homepage slideshows to attract your visitors, pricing tables compatibility for displaying the prices of your services and packs, SEO and SMO friendly coding, as well as multilingual ready platform for more international content.
Balanced between beautiful look and dependable inner structure, The Art is also among the best party planner WordPress themes with a stress on large scaled images and other visual materials.
Your website based on The Art will be one of the most important ingredients of your successful party planner business guaranteeing your maximum exposure to your audience across social media platforms and search engines.
Moreover, your textual and visual pieces of portfolio, display of the happy parties you have organized, your contact details and blog posts will automatically resize to accommodate for any mobile or desktop resolution and scripting capacity.
It means that you will never miss a single visitor trying to browse your content or get in touch with you for orders or cooperation.
Nuptials disseminates unique energy and inspiration ready to motivate your web viewers and persuade them that you are one of the leading party planning organizations they can rely on whenever needed.
Offer your planning services both to individuals and corporates, wedding and birthday party, award ceremony or corporate party organization offers, luncheons, receptions, venues and more through your website and its sections like events or blog.
Use slider area and gallery part to share the best moments of your parties and events, give contact details and keep your profile fresh and eye catchy through constant controls of fonts, icons and colors.
With custom navigation menu and sleek navigation, the theme is also plugin compliant and wonderfully responsive to easily respond to your mobile user's preferences.
Parties and memorable events planning is all about pleasing the client while making their undertaking, anniversary, event or day enjoyable, comfortable and safe. Your website showcasing such activities should give your audience the same feelings of convenience, serviceability and security.
Photo Session Pro is one of such party planner WordPress themes to appropriately satisfy all your business and marketing needs in bringing your profile higher in search engine rankings, social media platforms and other relevant environments.
This template is powered by easy to follow admin panel with tons of controls including those of colors, fonts and shortcodes, slides and photo albums, standard pages and contact forms, etc.
There are always two phases present in human life good and bad, and things always take place according to these phases. But it's very important to keep the good thing close to our heart by organising an event or a party and creating everlasting memories.
Partly planning has become one of the modern and trendy business fields that require dedication to details and unique tastes in order to enrich people's lives with joy and fulfilling their lives with memories on special occasions, parties, meetings and events.
Whether you are a wedding planner or you run a company that takes up responsibilities of planning and organising events, meetings or parties, having an online website to showcase your offerings to your customers and how expertized you are in this business field is a thing that should be taken care of.
With the introduction of various content management systems around the internet, building a website and updating them from time to time has been now a lot easier.
On the top of line WordPress is one of the most popular content management tools that will allow you to customize your website to an almost infinite extent and will help you to add various functionalities to enhance the user experience of your potential consumers.
The main motive of your business venture is to display your successful party plannings that made your clients satisfied right in your home screen to look more promising in the eyes of your future customers.
This can be customised easily with these party planner WordPress themes along with different fonts, header and footer backgrounds available for your website. You can also boost up your website's interactiveness by different plugins available with these themes. Now, what are the plugins?
They are types of add-ons available with these themes to increase the functionalities of your website. All you need is to download and activate them on your website.
For example, you can add live chat plugin in your website to allow customers to chat directly with you and you can answer their queries in real time.
Another plugin that is useful in your business scenario is the mail and newsletter plugin that will help you to promote your website by providing discounts and offers to your registered customers through emails.
You can also enhance the search engine optimization(SEO) of your website by using plugins available right with these party planner WordPress themes that will act as a marketing tool to place your website in top rankings in various search engines.
Placing your website in top ranks in Google, Bing, etc will increase the exposure of your website and business to several folds.
Moreover, with the use of open source, CMS like WordPress has some security issues. But with the use of these party planner WordPress themes, there are certain plugins that will help you to cover up these security holes so that no sensitive data gets from stolen from your site.
So, if you are highly motivated to take this event management business to a higher level then you must have a smoothly running website that will help you to connect to your potential customers securely without compromising on the user experience.
This is all possible if you give a shot on developing your website via party planner WordPress themes.