With the advent of the global digital system and technological innovations a wonderful possibility has been created for all the individuals for providing diverse products, services or any other relevant information to the public at large.
At present, anyone is lucky enough to find an easy to use and follow self – hosted platforms for running any web presence without hiring any developers or designers to stylize it or ensure its functionality to the required extent and letting his business of any kind and nature reach out beyond the local community.
In this article our main focus will be on the nightclub and DJ related WordPress themes of this year.
To share all the attractive and eye – catching touches of the nightlife and its pleasures, showcase all the captivating moments of them with high resolution images.
Create and organize events and let the potential clients be aware of them, present programs, shows, dances, available services and products, special offers and discounts and, what is the most important, keep the website not only highly informative, but as catchy and inviting, client – oriented and optimized as it will be possible.
Beer and Pub is a nightclub and DJ related WordPress themes that comes with the most beautiful and attractive design. The template comes with plenty of shortcodes options that can be used to set up new functionality by adding a single line of code.
If you are looking for a template that gives unlimited options for getting your business online then Beer and Pub is for you. Once importing the content on your wordpress you can start customizing the appearance of your website. You can adjust its layout options, colors, fonts, etc.
You can also redesign its inner pages with page builders. Elementor plugin, SKT Builder, visual composer are compatible with this template.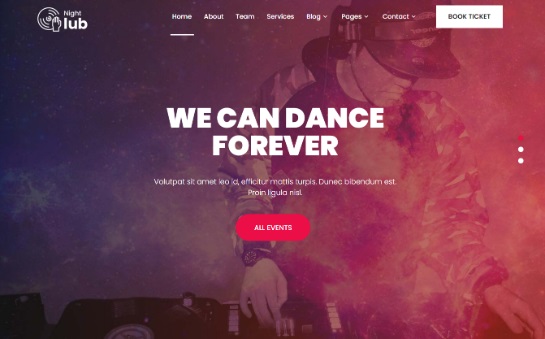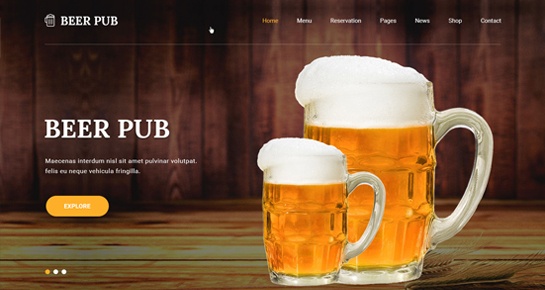 The page builders come with some useful elements that can be added to your website to make it look beautiful and trustworthy. Easy to add different modules such as pricing table, sliders, videos, audio players, etc.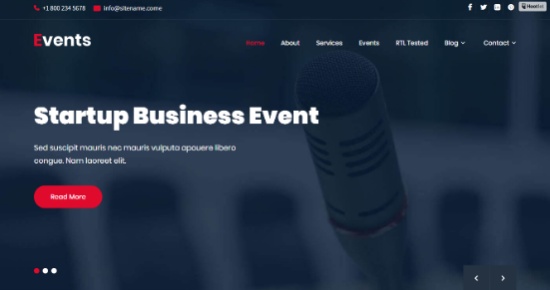 SKT Events is a modern and and creative WordPress theme that can be used to build various nightclub websites in WordPress platform. This template will be more useful for managing music events, DJ or nightclub events, band, events venue, stereo club, etc. Thus the template will be well suitable for every type of projects that you want to manage.
To kick start your new online presence, the theme comes with one click demo import option that will import complete demo content into your WordPress.
The template comes with multiple features such as countless websites or domains, mobile friendly feature, PSD on demand, site layouts, white label, friendly with page builder, sticky menu and so on.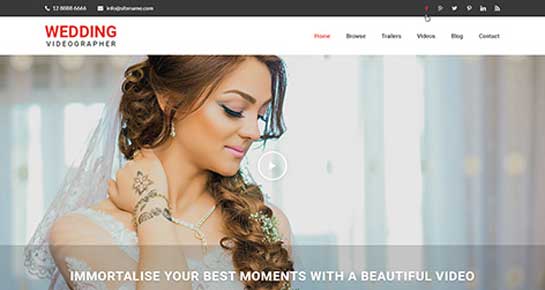 Wedding Videography is a modern and stylish looking nightclub and DJ related WordPress themes that comes with the dark and light theme color option. It is a completely responsive theme that works best on mobile devices that is good for you as you would be able to target huge crowds. You can also consider this template for event management.
You can utilize its features to schedule events and add details to it. You can leave your contact information, pictures of your latest works, videos that you recently recorded so that customers can come to you.
You can also add links to your social media, recent news, personalized content, and so on. You can use custom widgets for showcasing pictures and social media feeds.
Ele Wedding is just created to promote the creative and entertainment industry, for example, one who belongs to the musical entertainment industry can use this template to promote their services online. Visitors will be able to view photos, check your musical style, videos, and will read your testimonial section from your happy customers.
Various pages can be created to showcase different content such as photo galleries, contact information, bio, etc. If you are interested in blogging then you can also start creating a blog on your preferable niches related to wedding and music.
Without any help from designers or developers, you will be able to update photos, images, news, blog, etc on your website very easily.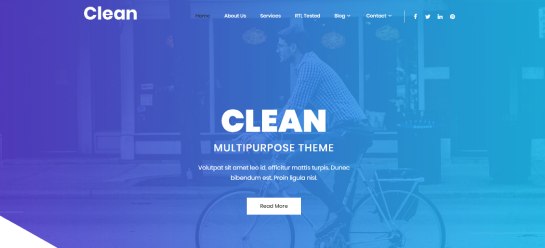 Clean Pro is a multipurpose nightclub and DJ related WordPress themes that comes with countless options for exhibiting your services in a professional manner. It wouldn't take more than a day to customize the complete appearance and feel of the website.
The template comes with the support of top plugins that would match your requirements easily. The template is made compatible with all major page builder so that you can start customizing the template at any time without any technical guidance.
You can also use the documentation provided by SKTThemes to never fail in the customization process. Major features of Clean Pro are wordpress standards maintained, SEO friendly, developer-friendly, Gutenberg ready, multilingual friendly, translation ready, social sharing options, and so on.
For any type of technical inquiry, you can contact directly with the support team via online forum, live chat, WhatsApp, or contact form.
Melody has long established itself as one of the dynamic, motivational, conceptually innovative and creative, technologically cutting edge and feature – rich while lightweight and smart club, nightclub and pub – friendly WordPress platform.
On the basis of which one is able to create a presentable and user – directed online presence and use it as the main communication channel with a target groups of people across the globe.
From responsive and mobile optimized layout, compactly arranged theme sections to published all the ongoing and upcoming events, parties, shows, concerts or whatever it is and keep the website visitors up to date, icons and shortcodes inclusion to widget – friendly areas.
WooCommerce compatibility making the theme e-commerce and shopping ready, Melody comes loaded with all the compulsory features to make the web pages appealing.
Musical Sounds is a WordPress theme for the nightclub's website. It has a beautiful design structure and fully animated with the slider options. You will never face any compatibility issue as it works better with small size devices as well as large size devices.
With this theme you can create a website for different nightclubs such as dancing, discos, jockeys, bands, parties, etc.
All features are included that are important for creating different kinds of websites. You will have full authority to apply changes as per your business niche. The team of SKTTHEMES guarantees that they will assist you whenever you need help. They will provide guidance throughout the year when any bugs or error arises.
Music Producer has the best layouts as compare to other nightlife WordPress themes. You have a choice to select a box width background or full-width background option. Even you can create a coming soon page if your website is under construction. You can make the use of some plugins that will allow you to post lots of musics and video.
With social share plugins, your website visitors can share your post with their friends. The theme is embedded with some pre-build shortcodes. You can modify the page sections and designs as per your imagination. With the event booking plugin, you explore more services and promote your nightclub with a strong presence.
With the help of night club WordPress themes, you can establish a website that will showcase the events listings of various events. Event Planner Pro is a premium wordpress theme that will behave as an event portal or event directory. You can customize the website and the listing as much as you want.
The theme can work more stylish and modern if you integrate some powerful plugins such as event ticket booking and WooCommerce plugin. You have full access to the theme option to change the behavior of a website as you want. Your website will get a good rank on the search engine because it is completely SEO optimized.
Disco Dancer has all the theme features that are actually needed for a high-quality DJ or music-based website. The theme is best suited for singers, DJ producers, musicians, actors, music bands, etc. You can add the number of events to the website very easily. eCommerce feature is compatible with this theme.
The Disco Dancer will lift your business to the next level. The layouts and sections adjust perfectly with every devices. To showcase the event timing you can make use of countdown timer. The timer can be integrated into the header or footer as per your wish.
Wine Pro is a DJ related WordPress themes that helps you to promote and market your services in an elegant way. The template is designed based on the wine shop but the template can be modified as per your need.
The theme can be used party, pub, night club organizers. Because the theme is included with the Woocommerce function one can sell wine or any other product very easily.
The person without having a technical skill can use the template in easy way. All the images used in a theme are eye-pleasing, you can even use high-quality images for expressing your thoughts. live customizer is there to check real-time functionality.
SKT Black Pro is generates a perfect foundation combined with exceptionally motivational and engaging design and graphical solutions to be fairly called a highly dynamic and modernly developed.
Nightclub and DJ related WordPress themes to create bright and lively club pages, which will be easy to find on the global networking system, quick to browse and easy to navigate through.
The feature – rich, yet totally flexible and adaptive template is ready to meet all the customization attempts, is well – optimized for resizing itself accordingly to meet any mobile and screen size without any visual distortion or functional defect, as well as is SEO – friendly to drive the website traffic and ensure its consistency.
Bright and interactive, multipurpose and multiconcept, comprehensive and tech – savvy, highly versatile and truly professional WordPress authored content creation and maintaining tool to pull any nightclub, bar or pub website up and keep it running in the most effective way and client – oriented way.
This premium – quality smart and secure theme masters a bunch of practical theme features, elements and controls, SEO – practiced nature, WooCommerce and Contact Form 7 compatibility for advanced functionality and better results and this is not the whole package of available characteristics coming along Photo World Pro.
All-inclusiveness and functional saturation, super-fast loading nature and smooth navigation experience, completeness and compact arrangement in every integral part of it, Complete Pro with its multipurpose coding has been checked with its stunning potential to deal absolutely with any kind of heavy content.
Hence, this exceptional and highly professional website builder is capable of proudly presenting any nightclub, pub or DJ – based content on a limited budget, yet with the help of limitless customization possibilities to meet your particular needs and guarantee your website functional stability all the time.
So what is required from you is to acquire this awesome product, get started with your club website and discover how easy and joyful can the whole process of its management and control.
SKT Beach is custom – built to be exercised as one of the most suitable and user – optimized way of creating an online presence of any club or entertainment center.
By the right combination of all the advantages this nightclub and DJ related WordPress themes and highly informative and user – centric website content your club or nightclub business will achieve new business partnerships and client relationships at a potentially global level.
The authors of SKT Beach have utilized all their professional skills and huge experience to make it truly responsive and perfect for mobile usage, multilingual and commercial ready, SEO – friendly and plugin compatible to make the most out of any web page manifestation online.
In case you are looking for profoundly amazing and colorful, bright and lively template to personalize all the energetic atmosphere of your club or bar, look no further than The Food, based on fast loading and smoothly navigable design, stable and secure performance and adaptability towards any management process.
The most exciting thing about this stunning WordPress template is that it will be possible to formulate the unique and creative look of any entertainment event, concert evening or night show of your club without too much time, efforts and financial means spent on it and without any additional help of WordPress or IT experts.
Authored by SKT Themes and created to be of premium quality, The Art perfectly balances between visually and graphically stylish design solutions and thoroughly persistent structural framework to engage the digital generation of today.
Thanks to the truly flexible and compact nature of this theme you will be able to transform it easily to satisfy all your business objectives and establish the most perspective online environment armed with the most high –quality content.
Create buzz around it to be interesting and inviting for all your website users and potential clients, irrespective of their locality, time zone or even the mobile used, since this theme meets also its mobile users' needs.