Multiconcept WordPress theme have been gaining importance in our industry and a requirement for the last theme ever or a killer theme which can at least take care of your client requirements for several websites for the next year is getting more and more importance.
Development companies and web designers and freelancers always want some kind of a new multiconcept WordPress theme which they can use for multi-concept websites like they can use it for a startup company or they can use it to create a website for a fishing company or they can create a website for a courier company or transportation company.
Thus any type of business if they come to us we have a simple solution which applies to all.
Also the developers are also happy because they only need to learn about a single WordPress theme which works as multi-concept.
So no need to learn several different kinds of frameworks and several different kind of themes and templates.
Also since this is a GPL type of WordPress theme this serves as a true multiconcept WordPress theme because in other cases per license you are able to install only per website so here you are able to install the template on several domains.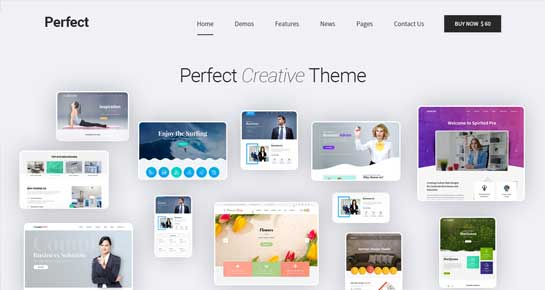 Thus giving the developer and the development company or agency a real advantage and value for money in terms of the worth price.
There are several templates in our theme section which serve as a multiconcept WordPress theme but we are sharing currently only 1 because you need not get confused about the options and this one has 20 templates currently within itself and can grow upto 100+ in future and have a great deal of templates within itself.
Perfect is the next Multiconcept WordPress theme for multi-concept usage
Why it is a true multiconcept WordPress theme lets learn about its unique features:
Page builder compatibility has been tested and several page builders like Sandwich, Visual composer, Elementor, Beaver Builder, Site Origin has been tested and found compatible.
SEO friendly rightly and has been catered with all meta tags and found compatible with several SEO plugins.
Very light weight and fastest loading theme this multiconcept WordPress theme works like a charm and loads super fast so that you have a fast website to greet your customers and they can browse the website easily leading to more sales and leads and lesser bounce rates.
Mega Menu compatibility ensures that large corporates and large websites can be built using this kind of multiconcept WordPress theme.
Responsive as it has been tested with several browsers and several devices with varied resolution as well as responsive coding is done so that it passes Google mobile friendly test as well.
RTL testing has been done to test for Right to left languages like hebrew, arabic etc so that people with this type of languages can also make use of this template easily.
Cyrillic and Latin subsets also have been included so that special characters in different languages can also easily added and typography changes can be implemented.
Translation ready as PO file is available for this so each and every text can be translated easily into any language of your choice.
Multilingual plugins all of them like WPML, qTranslate X and Polylang have been tested and found working with all of them.
Customizer based and hence does not hamper core by anything and does not involve adding more files and hence is faster from the front end perspective. Also due to customizer one can check the changes happening real time.
GPL compatible and hence GPL allows clients to use the same theme for multiple customers of theirs and thus preventing multiple purchases of the same theme for multiple websites.
800+ Google fonts are available with this theme and hence one can easily add any type of typography on the whole site and 800 fonts should be more than enough.
670+ Font based icons pack so that one does not need any other social icons pack to satisfy their need of icons everywhere in the website.
Unlimited possibilities due to color changing and the other salient features mentioned here as well as templates, shortcodes, plugins compatibility give
5 header variations for homepage and inner header page variations give this multi-concept WordPress theme wings as it performs greatly.
4 footer variations for having a great footer which one needs as per the requirements of the website or the client
Completely widget friendly so that footer, header and sidebar are fully widget friendly so that one can add any type of widgets like feeds, subscriptions and other popular plugin widgets like translation etc.
Page template and sidebar control is given and ample page templates are given.
Blog templates control is also given so that any type of blog look and feel can be created.
In built shortcodes ready to use are given which are more than 100+ in number and some are very unique like timeline of blog posts etc
WooCommerce, Contact form, Events Calendar, Gallery and other such plugins compatibility give this multiconcept WordPress theme the desired boost.
Music Player, Video player plugins also have been tested so that this theme can be used for any band or metal band or music studio theme.
Sliders of various types like video, carousel, image, video and other paid ones like layered sliders have been tested and found to be working fine and compatible.
Retina ready and HD ready and tested with large resolution screens
Ready to use standalone themes separately given so that one does not rely on the parent theme functionality for the other themes to work.
Child theme ready and hence one can create the child theme as per choice and create just the right template as per their needs.
Custom CSS box is given so that for CSS changes only no need to create a separate child theme.
Forum, Social networking like BuddyPress, membership plugins are compatible as well so that one can add these type of plugins and ensure any type of website is possible using this truly multiconcept WordPress theme.
Cache plugins which are famous and popular like WP Rocket, Super Cache, W3Total cache and WP Fastest Cache has been tested.
Modern trend followed by use of Flat design and gradient less designing has been used to give backwards compatibility like IE8 and 9 versions also compatible with this theme.
HTML5 and CSS3 based so any CSS3 animation will also work as modern design standards have been used.
Tested with latest WordPress version and backwards compatibility tested till 3.9 version of WordPress.
Templates included currently in this multiconcept WordPress theme are:
Accounting: For accounting website purposes.
Agriculture: For agriculture and crop related and nature related websites.
Business: For any type of business or corporate website.
Beauty Spa: For any type of spa or salon kind of website.
Charity: For any charitable organization or NGO or non profit website use.
Medical: Multi-concept WordPress theme allows for any medical, hospital or clinic or doctor type of website.
Photography: Facilitates for any type of photography like wild life, personal or photo studio or portfolio type of website.
Other templates included are: Pizza, Golf Club, Event, Cleaning, Food, Fitness, Interior, Mechanic, Herbal, Logistics, Nature, Broker, Christmas
So this is a truly multi-concept WordPress theme which can bring wonders to a website designing or web development team or agency and they can use it forever for their client websites.