Membership WordPress themes are specially designed website templates that cater to websites requiring membership and subscription features. These themes provide a framework for creating websites where users can sign up, subscribe, and access exclusive content, services, or features.
Membership websites can encompass many niches, such as online courses, digital products, communities, premium content, subscription boxes, and more.
Why are membership WordPress themes important?
Membership WordPress themes typically offer features and tools that simplify creating and managing membership-based websites. The membership WordPress themes are like toolkits that make it easy to manage who has paid, what they can see, and how they can pay. They are super useful for businesses, groups, or anyone who wants to offer something exclusive in exchange for a fee.
One cool membership theme is called SKT Directory. It's like an all-in-one package for making a website where people can find things, like restaurants or services, and pay to get extra perks.
Of course, there are more membership WordPress themes that can make it easy for you to get subscribers for your online store or services. Let us look at the top 14 WordPress themes that are good for subscriber-based websites.
Some of the best membership WordPress themes are:
1. SKT Directory: Your Ultimate Membership WordPress Theme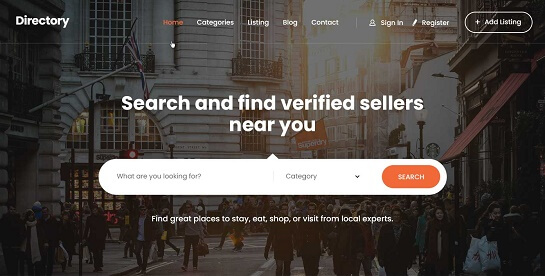 SKT Directory is a top-notch membership WordPress themes for setting up websites where people pay to access exclusive content or services. It is easy to install and use. Thanks to SKT Themes for making such an amazing and easy-to-use membership theme.
Features:
Customizable Membership Levels: The theme lets you create different membership tiers, such as weekly, monthly, and annual subscriptions, with varying perks and access levels.
Secure Payment Gateways: SKT Directory lets you integrate trusted payment gateways for smooth transactions.
Content Access Control: The theme allows you to restrict or grant access to specific content or sections of your website.
Interactive Member Profiles: Members can create and manage their profiles, enhancing community engagement and interaction.
Aesthetic Design: The theme has a visually appealing design.
Support and Updates: SKT Directory provides 24/7 customer support. The theme is also updated regularly to keep your website in good shape.
2. Classified Ads: Your Perfect Platform for Listings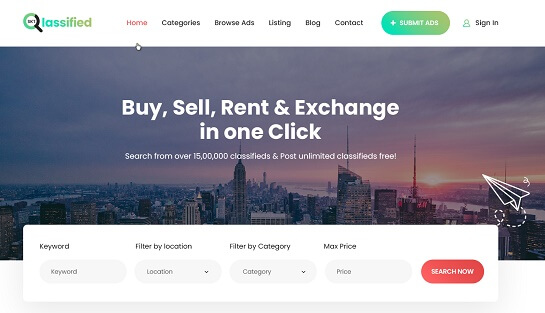 If you want to create a website where people can post and explore classified advertisements, look no further than the Classified Ads WordPress Theme. This theme is tailored to help you build a dynamic online platform where users can buy, sell, or find various products and services.
Features:
Effortless Setup: The Classified Ads theme is designed to be beginner-friendly, making it easy for anyone to set up their own classified ads website without technical headaches.
User-Generated Listings: Users can post classified ads, creating an interactive and vibrant community-driven marketplace.
Advanced Search: The theme offers advanced search functionality, allowing users to find exactly what they're looking for quickly and easily.
Listing Categories: Organize listings into categories and subcategories, helping users navigate and discover relevant content effortlessly.
Monetization Options: The theme supports monetization methods like premium listings or ad placements if you aim to profit from your classified website.
Map Integration: Help users locate listings with integrated maps that provide location information for each classified ad.
3. SKT Job portal: Your Gateway to a Dynamic Job Listing Platform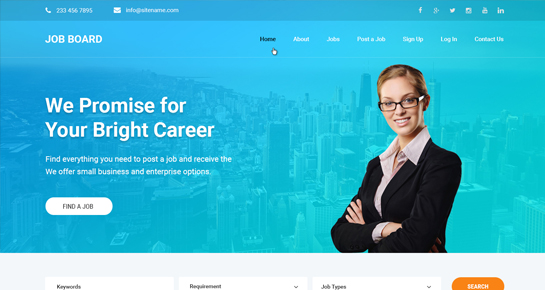 With the SKT Job Portal WordPress Theme, you can create a hub that bridges the gap between job seekers and employers. This theme is purpose-built to help you create a user-friendly and feature-rich job listing website.
Features:
Job Listings: The theme lets employers post job openings. It also allows job seekers to explore job opportunities through the listings.
Advanced Search: The theme lets users filter the search as per their preferred location, job type full-time/part-time, and more.
Resume Submission: Job seekers can submit their resumes directly through the website, streamlining the application process for both candidates and employers.
Employer Profiles: Employers can create profiles, showcase their company culture, and list job openings in one organized space.
Application Tracking: Job seekers can keep track of their submitted applications and their current status.
Email Notifications: Users receive email notifications for job applications, updates, and more, keeping them informed throughout the process.
4. Dating: Ignite Connections and Love Stories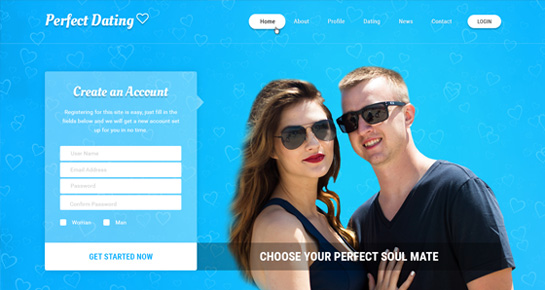 The Dating WordPress Theme lets you create a captivating and interactive dating website. The theme is designed with love, allowing individuals to explore connections, form relationships, and find their perfect match.
Features:
Member Profiles: Users can create detailed profiles showcasing their interests, photos, and more.
Advanced Search: The theme provides dynamic search options, letting the users search for potential matches based on criteria such as age, interest, and location.
Private Messaging: Users can communicate privately within the platform, fostering connections in a safe environment. The theme also lets users get real-time notifications of new messages.
Matching Algorithms: The theme has in-built intelligent matching algorithms that suggest potential matches based on user preferences.
User Verification and Privacy Control: For the safety of every user, the theme comes with a user verification feature that ensures the authenticity of the platform and its users. Users can block any use or even limit the views of the profile for the public.
Interactive Features: The theme has built-in features such as smilies, winks, virtual gifts, and more to enhance user interactions.
5. Jewellery: Sparkle and Elegance for Your Online Store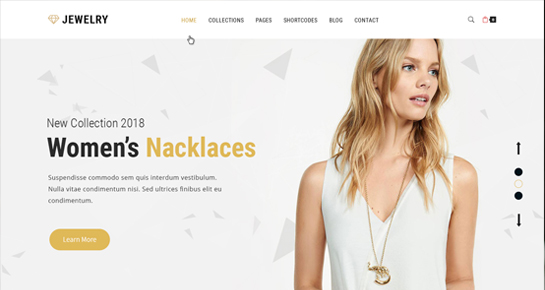 The Jewellery WordPress theme is designed to enhance the allure of your products. Whether you specialize in fine gems, handcrafted treasures, or modern designs, this theme provides the platform to attract customers and showcase designer jewellery.
Features:
Product Variations and Search Filter: You can hassle-free showcase all sizes and types of jewellery, from earrings to necklaces. Moreover, user can find their preferred jewellery through an advanced search filter.
Wishlist and Compare: Your website users can create their wish list, shortlist their favourite products, and compare them for a good buying experience.
Secure Checkout: The theme is compatible with trusted payment gateways for secure financial transactions.
Customer Reviews: The theme comes with a dedicated testimonial page to display comments from your happy customers.
Social Media Integration: The theme lets you connect with users on social media and share posts and more through the website.
Offers and Discounts: The theme lets you highlight offers and discounts to lure more customers online.
6. CoWorking: Elevate Your Shared Workspace Experience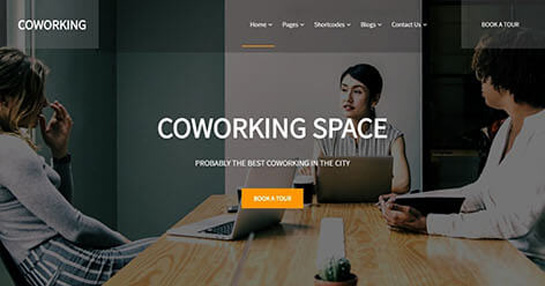 The CoWorking WordPress theme is designed to create a dynamic platform for co-working spaces, freelancers, and entrepreneurs. It helps foster community and productivity.
Features:
Membership Plans and Management: It lets you offer flexible membership or subscription options for individuals and teams catering to various needs. Moreover, the theme lets you manage subscriptions and payments and provides access to backend control.
Workspace Listings: It enables you to showcase available workspaces, meeting rooms, and amenities with detailed listings.
Booking System: Users can reserve spaces and services online.
Events Calendar: With the theme, you can keep members engaged by scheduling and highlighting events such as seminars, workshops, and more on the calendar.
Virtual Tours: For new users, you can create virtual tours of the co-working spaces, giving potential members a glimpse of what to expect.
Testimonials: The theme comes with a dedicated testimonial page where you can showcase feedback from happy co-workers.
7. Event Planners Pro: Crafting Unforgettable Occasions
The Event Planners, Pro WordPress theme, is for businesses to create memorable and remarkable events. The theme is designed to streamline the event planning services. With the theme, you can showcase your expertise and attract clients seeking your meticulous touch.
Features:
Event Gallery: You can easily add videos and images of the successful execution of events and even happy customers.
Service Offerings: The theme comes with a dedicated service page where you can showcase event planning services, special packages, and exclusive services for potential clients.
Booking System: The theme has an integrated booking and inquiry system, allowing clients to inquire about your availability and services.
Portfolio Gallery: With the theme, you can showcase your portfolio of successful events, building credibility and trust.
Contact Forms: It includes customizable contact forms to make it easy for clients to reach out.
Social Media Integration: It lets you link your social media profiles to connect with clients and showcase your work.
8. Business Consulting: Guiding Success Every Step of the Way
The Business Consulting WordPress theme is for business consultants ready to offer strategic insights and solutions. The theme is designed to help you empower businesses to thrive.
Features:
Professional Design: The theme is fully customizable and gives your website a professional appeal.
Service Page: The theme has a dedicated and professional-looking service page highlighting your expertise and offerings.
Online Appointment: The theme lets users book online appointments and schedule calls.
Client Testimonials: The feature of client testimonials and feedback on the theme lets you gain more clientele by demonstrating your ability to drive results.
Contact Information: The theme includes a detailed contact details column for prospective customers to contact you.
9. Cryptocurrency: Navigating the Digital Financial Frontier
The Cryptocurrency WordPress theme can create a platform to educate, inform, or even trade in digital currencies. The theme is designed to capture the essence of blockchain technology and virtual assets.
Features:
Market Data Integration: The theme lets you seamlessly display real-time cryptocurrency prices, charts, crypto news, and market trends for informed decision-making.
Educational Resources: It has a dedicated page for guides, tutorials, and articles to educate visitors about the intricacies of blockchain and cryptocurrencies.
ICO Showcases: It lets you highlight ongoing and upcoming Initial Coin Offerings (ICOs), providing insights for potential investors.
Wallet Integration: The theme has integrated wallet options for secure storage and transactions of digital assets.
Secure Plugins: The theme ensures security with reliable plugins for user authentication and protection against cyber threats.
Integration with Exchanges: The theme lets you add links to cryptocurrency exchanges for users interested in trading.
10. Meditation Pro: A Tranquil Oasis for Inner Peace
The Meditation Pro WordPress theme is for businesses or individuals passionate about helping others find serenity and balance through meditation. The theme is designed to create a serene online oasis where visitors can explore meditation practices, embark on inner journeys, and cultivate mindfulness.
Features:
Calming Design: The design of the theme is calming and welcoming.
Guided Meditation: The theme lets you schedule online guided meditation sessions for visitors to start a journey of self-awareness.
Mindfulness Resources: It has a dedicated section to share mindfulness resources such as motivating articles, videos to help you practice yoga and more.
Meditation Events: The theme also lets you showcase upcoming meditation events for interested people to join for a deeper experience.
Social Media Integration: The theme lets you connect your meditation community by linking social media profiles and sharing inspirational content.
11. SKT Gym Pro: Sculpting Health and Fitness Excellence
The SKT Gym Pro WordPress theme is for businesses promoting a healthy lifestyle and helping individuals achieve their fitness goals. The theme is designed to embody the energy of a fitness centre. The theme is ideal for an online fitness hub that motivates, educates, and transforms.
Features:
Dynamic Design: It helps showcase the vitality of your gym with an energetic and visually appealing website design.
Trainer Profiles: It lets you create a profile and showcase the expertise of each trainer.
Workout Plans: You can allow users to choose from customizable workout plans and fitness routines tailored to various goals and levels.
Membership Options: The theme lets you create various membership options, display different membership packages, and showcase benefits, pricing, and perks.
Success Stories: The theme lets you share your customers' success stories and help you get more clients.
Online Booking: The theme has an integrated booking system for classes, personal training sessions, and other gym services.
12. Ele Fashion: Unveil Your Style with Elegance
The Ele Fashion WordPress theme is for individuals or businesses passionate about showcasing the latest trends, beauty tips, and fashion inspiration. The theme lets you create an online fashion haven that celebrates creativity, trends, and individual style.
Features:
Chic Design: The theme showcases your fashion sense with a sophisticated and visually captivating website design.
Lookbooks: It has innovative lookbooks to display curated ensembles to inspire your audience.
Beauty Guides: A dedicated beauty guide page lets you provide pro fashion tips, skincare regimes, and beauty routines for a holistic fashion experience.
With this theme, you can highlight current fashion trends and how to incorporate them into daily style.
Fashion Events: The theme lets you advertise or highlight upcoming fashion events, runway shows, and collaborations your audience can attend.
Shop Integration: For businesses in fashion retail, you can use the theme to create a stylish online store for your fashion products.
13. Ele Fitness: Sculpt Your Fitness Journey with Style
The Ele Fitness WordPress theme is for personal trainers, wellness coaches, or fitness influencers passionate about health, workouts, and wellness. With the Ele Fitness WordPress Theme, you can create an online fitness club that motivates, educates, and transforms health definition.
Features:
Vibrant Design: The dynamic theme instils fitness thoughts and ideas in the user's mind.
Workout Routines: It has dedicated pages to showcase different workout and fitness routines per body requirements.
Nutrition Guides: A fitness website is incomplete with a dedicated nutrition guide. The theme has a special page that lets you guide users on meal plans and complimentary fitness regimes.
Testimonial: It lets you showcase before-and-after transformations and motivational stories of fitness achievers.
Event Listings: With this theme, you can easily highlight fitness events, challenges, and workshops for members to participate in.
Online Coaching: The theme lets you integrate booking options for virtual training sessions.
14. SKT Coupon: Unveil Savings with Style
The SKT Coupon WordPress theme is your gateway to creating a captivating platform for discounts, deals, and savings. The theme lets you create an online portal that delights shoppers with fantastic deals and savings.
Features:
Eye-catching Design: The theme presents coupons and deals with an attractive and visually appealing website layout.
Coupon Listings and Details: The theme lets you provide comprehensive details about each coupon, including terms, codes, and expiration dates.
Deal Categories: It organizes coupons into categories, making it easy for visitors to find relevant offers.
Printable Coupons: You can offer printable versions of coupons for in-store use, enhancing versatility through the theme.
User Submissions: It allows users to submit coupons, fostering engagement and user-generated content.
Search Filters: The theme implements filters based on categories, brands, or expiry dates, simplifying coupon discovery.
Conclusion:
The Membership WordPress themes are fully customizable and can be easily connected with social media handles. These themes are perfect for taking online business to a higher pedestal.
If you are looking to add more subscribers and customers to your online store, try the WordPress themes mentioned in the article and experience great results. If you need any assistance, SKT Themes is here to help.