This time we have scoured the Internet for the best herbal medicine WordPress themes and are going to share them with you.
The attention to herbal or botanical medicine has been present for centuries and practiced by thousands of people. A human being is a part of nature and feels the necessity of being tied to it in all the possible ways.
But the modern and technologically saturated life have taken us far away from nature and the essential natural environment we should live in. And this is the point where herbs and natural medical measures try to save us.
With growing demand and potential consumption of herbal medicine and relevant specialists, it's not surprising that every herbal medicine based industry fights for its online place in order to find new consumers and clients.
In this relation, we have picked up the most useful and easy to use herbal medicine WordPress themes for herbal medicine business representatives, "herb nerds", medical experts and doctors. Each template discussed in this article is all in one solution to expand your market share and involve more people into it.
From a technical standpoint, all of them have a distinct honor of being totally customizable so that your website can wear any outfit you want.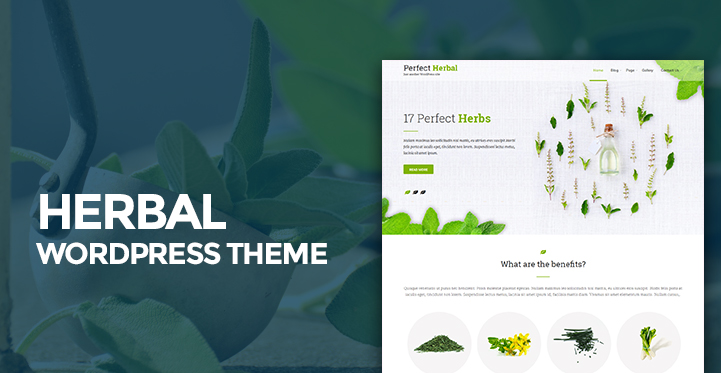 Perfect Herbal is a green based and highly configurable template for any kind herbal and medicine, diet and nutrition, agriculture and nature related topics and niches. Whether you are going to sell your herbal and natural medicine online or run a blog about wonders of this type of medicine, Perfect Herbal as one of the powerful herbal medicine WordPress themes can be the wisest solution for you.
With this template you can be sure to provide your website visitors with a sufficient user experience, since your herbal website is going to be smoothly navigable, quick in loading and overall performance, and finally, cross mobile and device compatible.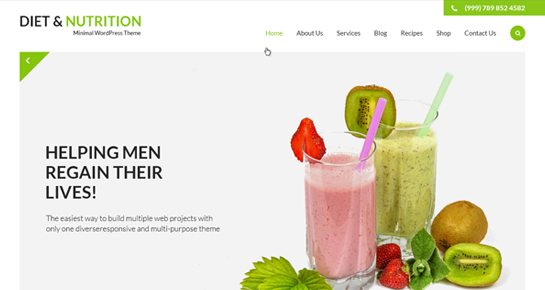 Diet and Nutrition is the next precise and accurate, clear and fresh looking WordPress templates developed to meet the demands of organic food and drink, herbal medicine and organic farming businesses. Dotted with useful elements and colored with the shades of green over the dominant white, Diet and Nutrition is built on an easy to use and control platform. You have more than 100 bit of codes to add the needed functionality to your posts and pages. Widget friendly sidebar area is also available for you to give useful links and deploy the most popular or recent articles.
Tried and tested for a flawless mobile using experience, Diet and Nutrition is also compatible with a wide range of useful plugins. Among them are slider plugins to replace the default slider, comments plugin to add a commenting functionality, WooCommerce and SEO plugins, etc.
Created and launched for precision and power, Perfect Nature is one of the top rated herbal medicine WordPress themes that will fascinate even the most demanding user. Bring your herbal medicine or organic ingredients into online market through your website based on this template and even sell them without putting too much money or effort into it. No more ugly look or distorted visualization with Perfect Nature.
Everything is well developed and taken care of to provide you with a fantastic online environment to use. From pixel perfect appearance to accurately deployed boxes and parts, from blog and gallery sections to widgetized areas for quick links and calls to actions, Perfect Nature shares it all.
This green based and highly versatile, mobile friendly and retina ready template is also convenient for other nature and organic centric websites, NGOs and nature preservation campaigns, herbal medicine retailers and wholesalers, etc.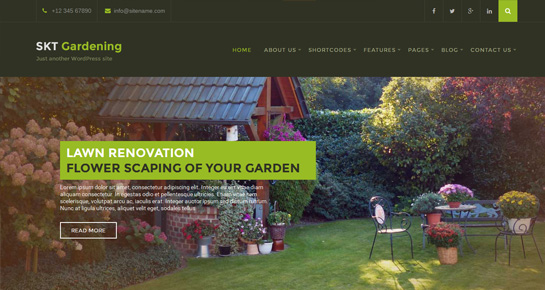 SKT Gardening is the next eco and herbal, nature and landscaping friendly template packed up by all the primary features and elements you'd ever need to avoid high stress situations. It is bundled with tons of advantages to style up and present a website proving your expertise in the specific field you are working in.
SKT Gardening will not let cost stand in your way to a greater success and client conversion since it is available at an affordable price.
This template has a notable capacity of taking your wishes and completing them in a professional fashion. Whether you want to change the colors of the theme, manage fonts, their type, size and color, select the best page and post templates, or make your content multilingual ready, you are powered to do that with the help of SKT Gardening.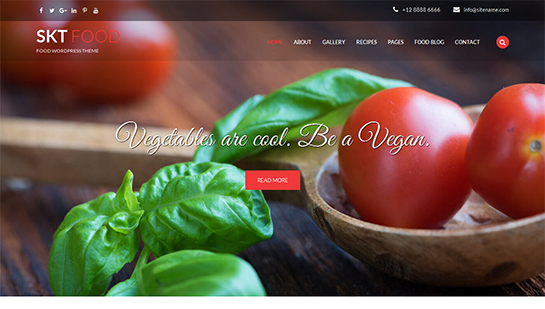 SKT Food is a general purpose and multi profile WordPress website building tool meant for any kind of food and drink, herbal and medicine, organic agriculture and nature related blogs and sites and not only. Armed with a wide array of handy features, SKT Food is a high performance and mobile optimized template to showcase your creative content across different mobiles and platforms.
A modern flat graphic design has been implemented for a fancy look and feel. Moreover, you can add your own touches to it and choose the right colors from a convenient color wheel.
All the requirement of SEO friendly coding and e commerce readiness have also been completed.
Simple is one of the easy to use and lightweight herbal medicine WordPress themes one can purchase from a WordPress library. An intimate functional framework is rolled up with an elegant design to make your website stand out among others. Boundless internal and external solutions can be made due to the great versatility and shortcodes based nature of this template.
With a handy admin panel from behind the scene, Simple comes with responsive layout and cross browser compatibility, preloaded shortcodes and Google fonts, default contact form, etc.
Finally, it should be noted, that the subtle styling of this template does not skimp on the professional and secure functionality of the theme, which means that you are free to manipulate with it whenever needed.