The best hairdresser WordPress themes have been compiled by our team for hairdressers and hair stylists, barbershops and beauty centers, hair and nail salons, spa and massage centers, as well as other beauty centric activities and businesses.
If you are in hair cutting and styling field and want to enhance the number of your clientele, putting all your theories, business plans and objectives, client based marketing tactics and more into test with the help of the modern digital world can be the wisest thing you can do.
Well, if you run a small and client oriented hair salon or barbershop or own a chain of famous beauty centers or studios with high health and beauty standards, our hairdresser WordPress themes are for you.
We have done our best to sieve the most niche specific hair and beauty salon, barbershop and hairdresser WordPress themes and templates for you to jump into the whole new world of digital opportunities and tangible results.
Each of the hairdresser WordPress themes included here that you will give a try is a unity of the whole expertise and intelligence of our dedicated developers and designers who have spare no effort to make all our templates enviably beautiful and functionally advanced.
From good to best, those products are pretty simple and affordable in usage while letting you achieve reasonable profit margins and a broader client base.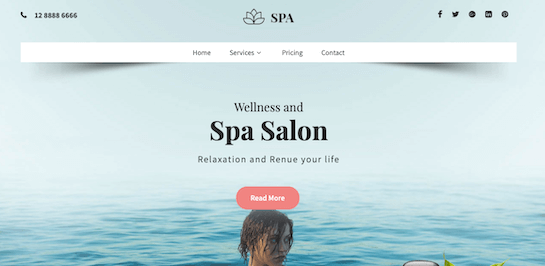 Ele Spa is by far one of the top rated and visually eye catchy spa and salon, make up and nail studio, barbershop and hairdresser WordPress themes.
It is custom built to flaunt your unique style with ease since the whole structure of the theme with all its ingredients is highly customizable.
It means that you can take the given framework, alter its look and feel, color palette, typography, and finally, replace the default content with your own one sharing your business profile, beauty salon, your team members, location, services and more.
With HD readiness and cross mobile compatibility, Ele Spa is the one to share the future proof responsive web design ready to respond to any user's behavior based on the mobile or device the latter is using.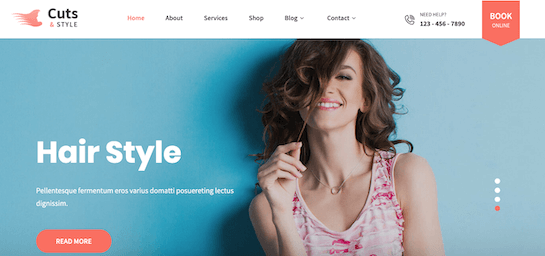 The authors of CutsNStyle Pro have taken the complexity out of your website's creation and further customization with details on the theme's durability, customizable layout and handy toolbox.
The warm breeze in the appearance, the smooth navigation controls and the optimal speed your site is running on, all the nuances of CutsNStyle Pro are essential in captivating your website viewer's attention and keeping him or her within the territory of your online profile.
Display your best works and hair dos via the homepage nicely formatted slider and control how they are showcased to your web surfers.
Us as many as 20 sections of the front page to locate your valuable information and contact details, choose the most relevant page template with sidebar controls and add your secondary content in footer, header and sidebar areas.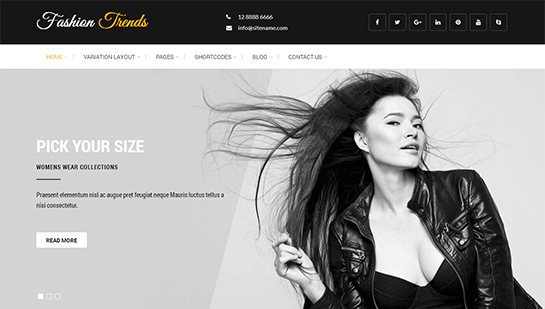 Fashion Trends is one of the lively and colorful, warm and energetic, commercially and multilingually competent hair salon and hairdresser WordPress themes for the relevant businesses of any caliber and client engagement, from startups to seasoned beauty and hair centers and studios.
Further, this template is specialized in keeping your site's exquisite look and functionality under any condition and when accessed by any portable device.
The theme's responsive nature paired with SEO friendly coding is what will make your online exposure more results generating.
Live changes and previews are also possible with this template based on the Customizer. Just use the simple and intuitive admin part of the theme for making constant changes and modifications and preview them instantly to make sure everything is done properly.
Another crafty and delicious, splendidly worked out and designer made template catering to hair and beauty world with boundless manifestations comes loaded as Beauty Cuts.
What makes this theme so special among dozens of other niche specific templates is the seamless unity of form and function enabling you to bring all your talents and services in front of your clients in a beautiful fashion.
The real catch of this wonderful template is that you can personalize it to clearly express your brand, business profile or professional skills in the simplest way.
You don't need to worry about the distorted images or illegible texts whenever your website users are browsing your site on their PCs, mobiles or smartphones.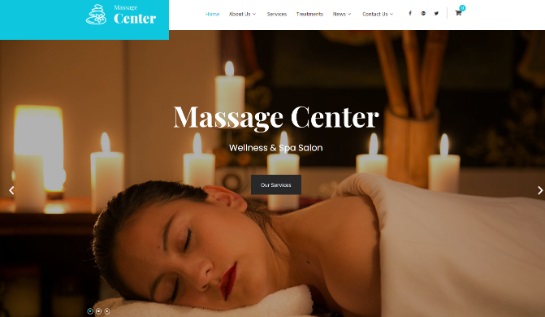 Massage Center is an expansively multipurpose website building tool with boundless potential you can have access to.
If you spend any length of time viewing the demo version of this template, you'll discover multiple features, page and post controls, convenient layout with useful sections and slider part to make your hair or massage salon one of a kind in the digital arena.
Simplicity yet durability, error free performance and admin optimized dashboard, responsiveness and plugin compatibility are what designate Massage Center as one of the top quality spa and massage, beauty and hairdresser WordPress themes in the current repository of WordPress digital products.
It is also readily social media friendly for constant flows of new clients from social media networks, as well as shortcodes and font's based to set up your content with the right typography.
Image centric and visually awe inspiring, Panaroma Pro is a modern looking and creative template with unique approach towards sharing your images and photos with your web users.
Choose the most attention grabbing imagery and make them waving across your homepage to greet your clients and customers.
Whenever you need some other slider with more capacity, you are free to add any of the compatible slide plugins and display more dynamic slideshows.
Choose among the possible page templates with or without sidebar, use more than 100 shortcodes for quick updates and freshness of your site, and make your content be in the focus of attention via search engines and their rankings.
Hairstyling is not just for women anymore, now men's are also into styling their hairs as much as women's do. With the fashion trends changing constantly, you need to make sure that you keep yourself updated with the latest developments in the industry.
So if you have your own beauty salon, parlor, barber shops, or you are in a profession of hair styling/hair cutting and want to enhance your business, you need an amazing website.
Since there is a lot of competition in this business, you need to put all your theories, plans, objectives and marketing tactics into making a killer website.
Your website should reflect your true capabilities so that your customers know what you are capable of delivering.
Today is the era of digitalization and more people all around the globe prefer going through online websites thoroughly before buying any beauty products or taking any services.
There are lots of freelance hairdressers who run their business online, but their business seems to have stagnated just because their websites are not that enticing.
By building your own amazing hairdresser website, you already position your business on a path to success, and with our Hairdresser WordPress theme, you can surely expect more business.
Hairdresser WordPress theme not only helps in increasing the scope of the business. But also saves a lot of your time and money.
Since the maintenance associated with the themes are minimal, you can relax and focus on your business rather than spending time on technical issues.
You can even customize the layout of the hairdresser WordPress themes, as they offer full flexibility. You don't even need a separate person for helping you out with customizations, as we have made the process so easy that you can do it yourself.
When it comes to technical capabilities, our themes are one of the best. All of our themes are reviewed and tested so that we can give cent percent results to our patrons.
Our Hairdresser WordPress themes are designed for everyone as they emphasize performance, accessibility, ease of use, and security.
Another advantage of our themes is that you can even integrate social media plugins with it, thus letting you easily spread the word about your business.
When it comes to the design of our themes, no one can beat our record of delivering everything perfectly. You can easily trust on us as we have dedicated expertise, skilled and intelligent web designers who will be available at 24X7 for your support.
So choose from our range of Hairdresser WordPress themes to make sure that your business has a nice online presence that appeals to everyone.
With so many customization options, strong coding, options to add awesome plugins and aesthetic looks, you would surely be able to attract a whole new customer base.
The day you get a strong online presence and people start visiting your website regularly is the day you know that your business will succeed. So, let us help you on that journey by giving you one of the best Hairdresser WordPress theme.