Building a website is a first step in spreading brand awareness through online presence. For this reason, every artist such as musician or bands needs a website. While creating a social media profile or a page might help a little bit in this regard, the impact of a website is huge.
WordPress is the best online platform available for building a website. One can make use of the free WordPress themes for musicians to build a website to share their overall experience and also to connect to their fans or audience.
They can share information, images, and videos and also update their fans about upcoming events through websites.
Additionally, they can also provide the fans with the options of subscribing to the site. This will help in creating an email list which musicians or band can use to send newsletters regularly and interact with their fans.
Some of the best WordPress themes available for musical bands and musicians for free are as follows.
This is a free WordPress musician themes used to design website pages with event contents or other information of bands or musicians. The default template also includes commenting features which will allow the fans or the audience to comment on blogs and articles.
Musicians can use social media plugins of this theme to share their contents on various social media platforms. Owing to the incorporation of POT files, the pages can be translated into multiple languages.
This theme also allows the musical bands to add various multimedia files to give an attractive appearance to the website and also to engage the audience. The theme is compatible with cache plugins that further helps in improving the loading speed of the website.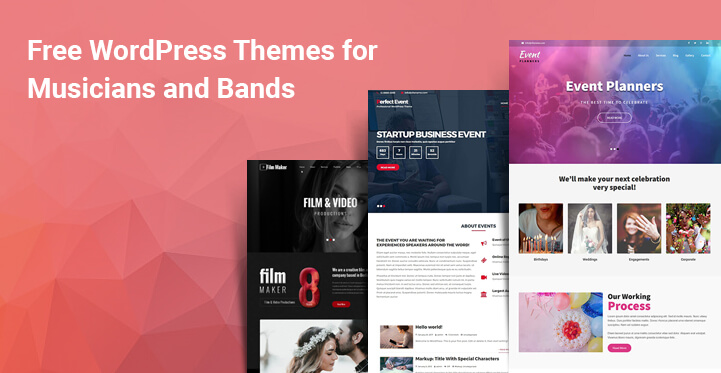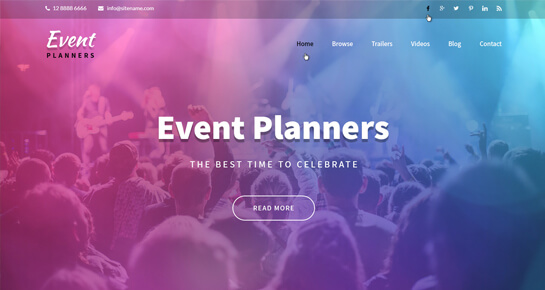 As one of the best free WordPress themes for musicians, this theme is completely responsive that allows the musician to develop a website where their viewers can register for various events.
Understanding the growth of mobile users across the globe, this theme helps in creating websites that could be accessed through various types of devices including smartphone, tablets as well as desktop. This theme has also passed the testing on multiple browsers as well as screen resolutions.
It is also compatible with Forum plugins that allows the musicians to interact with their audience on their website. Besides, it is also compatible with the WooCommerce plugin, with the help of which the musicians can create an online store to sell their works directly to the fans.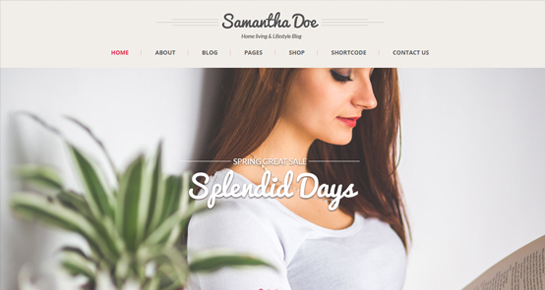 This is a useful free band Wordpress themes for musicians and musical bands, for creating their website to update their audience about their works. They can share the images and videos of their performance at various events on their website to catch the attention of their audience.
They can also allow them to book tickets for their events on their website. Developers can use the block experience of Gutenberg feature to develop the website easily. Some of the key features of this theme include its compatibility with plugins such as SEO, page builder, shortcodes, and also the ability to change images, texts, and colors.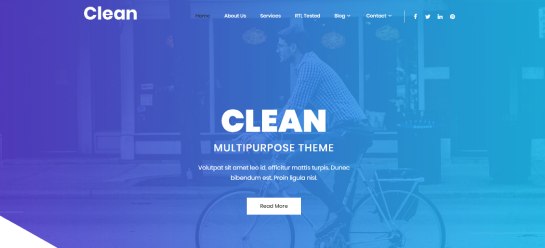 This free WordPress themes for musicians allows the musicians to develop their website in their preferred design. The theme is SEO friendly and compatible with various plugins. This theme includes minimal graphics and the site owners can customize their website by utilizing multiple widgets.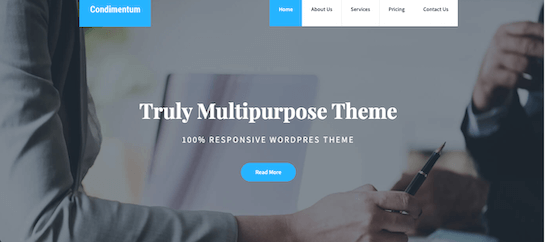 It is a very popular WordPress musician themes free that can be used to build up websites ideal for musicians. They can customize their website in any preferable design by adding multiple widgets and making various changes on the templates. Documentation is provided for the working of this theme.
This theme is ideal for creating websites with online stores as well also image galleries. Multiple call-to-action buttons can be added and therefore one can create an interactive website for their audience. Page builder plugins can be used to develop website pages easily.
This theme also includes an inbuilt blog page which allows the site owners to create engaging blog content for their viewers. Customizer allows the users to preview the changes while implementing them.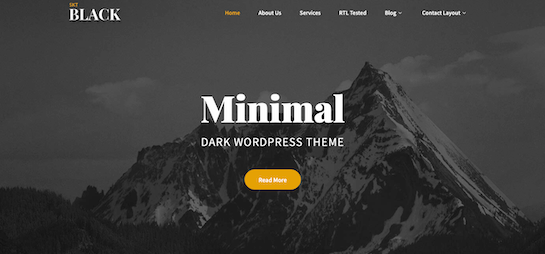 SKT Black is a very helpful free WordPress band themes with a dark appearance. It is compatible with popular WordPress plugins such as WooCommerce and Contact Form 7 and can be accessed from various devices and browsers.
This theme is coded with HTML5 and CSS3 and is compatible with the latest version of WordPress. It also includes standard pages such as archives, 404, category, search, etc. The theme is compatible with SEO and SMO plugins and they are easy to use for setting up website pages.
SKT Full Width is one of the popular WordPress band themes free that can be used to build up websites for various musical bands or musicians.
The blog section of the theme allows them to add images, videos as well as text. This helps them to keep their audience updated about the activities of the bands. This theme also allows changes in the background for all the website pages. The codes of this theme are SEO friendly.
It is compatible with WooCommerce plugins, slider plugins, and contact form plugins as well as gallery plugins. They can be accessed from various devices and browsers. The theme also includes a sliding menu bar.
Parallax Slider is included in this free band themes for WordPress. It is a responsive single-page theme that includes about 12 sections which can be customized as per the need and preference of the musicians and the musical bands.
Some of the default pages that come with this theme are About Us, blog, 404, search, etc. It is coded with HTML5 and CSS3.
It is one of the best free WordPress themes for bands that include 3 slides in the default slider. It is compatible with plugins such as multilingual plugins, contact form plugins, security plugins, shortcodes plugins, etc.
Musicians can customize their website as per their preference by making changes in the logo, color scheme, etc. With the help of Customizer, one can preview the changes they are making on the website from the backend. The theme used lesser scripts which help in the faster loading time.
The theme also allows the site owners to add various call-to-action buttons for their audience and adding social media icons so that their website content could be shared on multiple social media platforms.
This free WordPress themes for bands is developed to be compatible with AMP plugins which means that the websites built on this theme can be accessed from various devices such as mobile, tablets, desktops and others.
The websites could be accessed from multiple browsers as well. Musicians can regularly post updates related to their activities to keep their audience engaged. This will further strengthen their online presence attracting more traffic. The theme is coded with programming languages such as HTML and CSS3.
Various SEO plugins can also be incorporated with the website. It is compatible with page builder plugins, security plugins, SMO plugins, social media plugins, etc.
Musicians and musical bands can use these themes to develop a website to interact with their audience and keep them updated about their activities and events. They can also create an online store where their fans can experience a seamless buying experience.