Whether starting a new one or looking to revamp your existing website, these free themes offer a seamless blend of aesthetics and functionality. You can elevate your digital marketing game and leave a lasting impression on your target audience with our collection of free WordPress themes for digital marketing agencies.
Embrace the power of these themes to create an extraordinary digital experience that sets you apart from the competition. Let us move forward and explore how each theme is designed to take your digital marketing business one step ahead of your competitors.
Top Best Free WordPress Themes for Digital Marketing Agency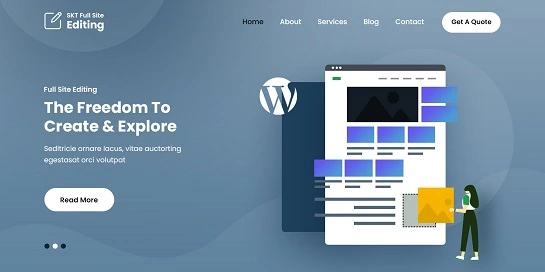 Discover the SKT FSE WordPress theme, a perfect choice for digital companies seeking a block-based theme. This versatile theme caters to portfolios, business websites, blogs, and on-page sites, ensuring a seamless online presence.
Boasting speed optimization, guarantees lightning-fast loading times, effectively reducing bounce rates. Notably, SKT FSE also takes care of inner pages like 404, contact, and about pages, streamlining your website management.
Competition has never been fiercer in a bustling market with fresh businesses and groundbreaking ideas. Your desired products or services may already have a presence in the market. To stand out, a captivating and attention-grabbing website is crucial. It's your gateway to captivate customers and carve a distinctive identity in the crowd.
SKT FSE offers the ideal solution to create a visually stunning website, drawing in a larger audience. With its user-friendly WordPress interface, you can effortlessly manage your website's functionality from anywhere, at any time, even globally.
Elevate your content by infusing it with uniqueness and originality, setting your brand apart and enticing visitors with an unparalleled online experience. Take advantage of the SKT FSE WordPress theme's features and unleash your digital company's full potential.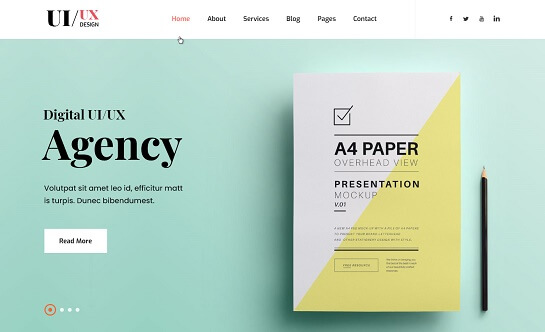 It is a 100% retina-ready theme. The SKT UI UX WordPress theme lets you create a professional-looking website with stunning portfolio, header, and footer images. It comes with a slider widget and has more than 100 color options.
A digital marketing agency has to have an alluring website. A prospective customer landing on your website will be turned down if your website could be more active, faster, and responsive. Luckily, you don't have to spend a penny to get a professional-looking website with SKY UI UX.
The theme lets you create an online store with WooCommerce integration. You can expect to start selling your services worldwide with WooCommerce integration, making it easy to carry out financial transactions.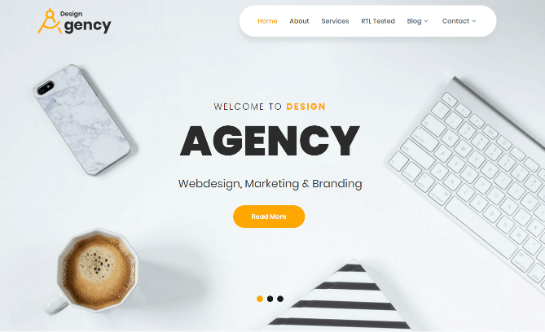 The SKT Design Agency is a highly responsive theme with cross-browsing compatibility. These days internet users access a website from various platforms such as mobile, tablets, and laptops. Having a responsive website allows visitors to get full access to the website. They can view the content and images of the website from their mobile devices.
Digital agencies need flexibility when it comes to designing their website. Each digital agency in the market wants to look unique and promising. The SKT Design Agency allows companies to customize the website as per their choice. You can select a font from a wide range of options and add up to three slides.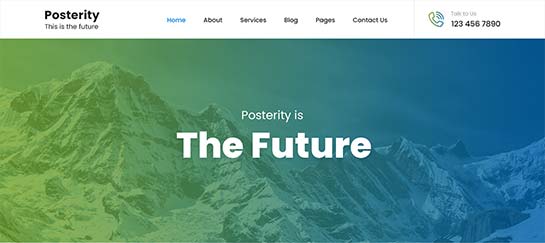 Sometimes launching an online store is a time-consuming task. SKT Posterity allows businesses to have their website developed with a single click. The one-click installation feature lets companies focus on getting the business rather than setting up an online store.
One-click installation does not mean you must compromise on the website's style, looks, plugins, and design. The theme is SEO-friendly, so your website will rank better on search engines. You get a professional-looking website with a green and blue color combination. Moreover, you are also provided with an option to choose to get to choose from a wide range of Google fonts.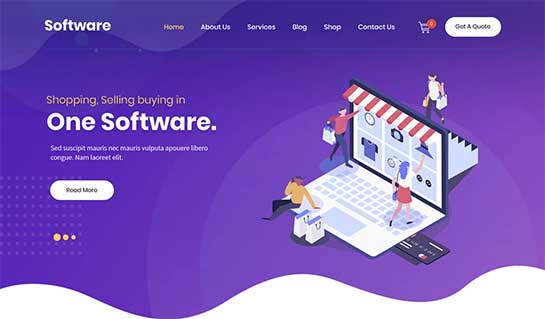 The theme allows you to make a professional-looking website. Its templates allow software companies to showcase their software. Similarly, digital marketing agencies can use templates to showcase their work.
The theme features the NextGen Gallery plugin, unique fonts, and visual branding capabilities and is retina-ready. Digital marketing agencies can benefit from the theme as it lets you customize the website per your requirements. You can also add Google Maps, allowing local consumers to reach your office efficiently.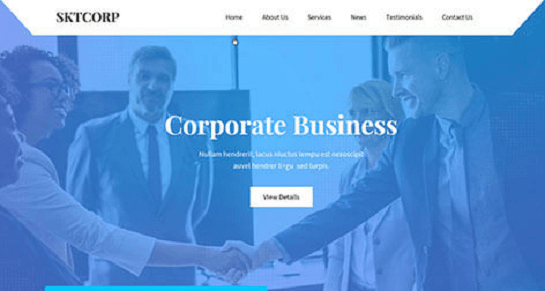 New digital marketing agencies trying to do something extraordinary online would be happy to have an SKT Corp theme. The theme allows users to set online store with a few clicks.
SKT Corp is compatible with the WooCommerce plugin, which means more business in a short time. You can set up an online store to promote products and services through your website and allow visitors to book and pay for the service hassle-free.
SKT Corp is updated regularly, meaning when you use the theme for your website, you always use an updated version. You don't need to update anything manually.
SKT Black is a multipurpose responsive free dark as well as black WordPress theme with a dark background with white font color which can be used for multiple purposes.
It comes with Animate CSS3 and HTML5 features which make it stand different and beautiful. The theme allows you to translate website pages to any language automatically.
Digital marketing agencies aiming to attract customers across the globe can lead in the market by having the option to translate the services into any other language. For instance, a company based in the US can have its website developed in American English with a feature to auto-translate the content to French, allowing people in France to search for the services they are looking for easily.
Sometimes we need more than just customization and SEO plugins. SKT White offers its users a unique slider option. The slider appears on the top of the website and automatically adjusts for viewing on any device.
The theme has five slides to showcase your testimonial, work, services, or anything. Marketing and promotion is an integral part of digital marketing companies. And sometimes, digital marketing companies also need to be marketed and promoted. Sliders on the website can help promote the latest offers, services, and discounts.
Digital marketing businesses need a website that looks good and has smooth functionality. The SKT Simple theme is fully customizable and comes with 27 ready-to-use widgets that let you add as many features to the website pages.
Regarding online stores or selling services online, WooCommerce, SEO plugins, and contact forums play a crucial role. The SKT Simple theme allows digital agencies to SEO customize their website so customers can contact the company through contact forums and book services through the WooCommerce feature.
Free WordPress themes for digital marketing agencies have successfully started online businesses and even expanded operations from one country to another.
Ele Agency is one of the leading cutting-edge free WordPress themes for digital marketing agencies with seamless compatibility with the Elementor page builder. With ELE Agency, you can tailor your website precisely to your preferences without worrying about website slowdowns.
A digital marketing company can personalize its online presence effortlessly and showcase its business USPs with this lightning-fast and intuitive theme. The Elementor page builder is made for professionals by a professional who wants to have a leading WordPress website online.
The theme is lightweight and minimalistic and allows room for creativity. Digital markets providing online consultation services may reap its maximum benefits. Having a website with an Ele Agency Lite theme means you can showcase and sell your services to prospective clients without loading problems.
The theme's SEO plugins and Google-friendly browsing feature allow digital marketing agencies to rank higher on the search engine. As we know, more visibility means more probability of getting returns.
The SKT Complete theme is designed to make the website look outstanding and visually appealing. A business with visually appealing images and text is likely to get noticed. But sometimes images could slow down the loading process of the website. SKT Complete is designed to ensure smooth website loading.
The mobile responsive theme is tested on all browsing sites, including Firefox, Opera, and Edge. Digital marketing companies can expect to have more visitors through the website as the SKT complete theme makes everything look pleasant to the eyes.
Moreover, free WordPress themes for digital marketing agencies can help save money so they can invest in strategies to build and improve customer experience.
Free Software Company WordPress theme is designed to help digital marketing agencies, software companies, and e-learning service providers build AMP-affordable websites. The theme allows you to connect with customers online through social networking channels.
For a digital marketing company, online presence is everything. Having a solid presence means consumers can reach you, and you can make your products and services available to them quickly. A fully functional and responsive website provides global exposure to the business.
In conclusion, our collection of free WordPress themes for digital marketing agencies opens up limitless possibilities. Unleash the true potential of your agency's online presence with visually captivating and feature-rich themes.
Whether starting from scratch or seeking to revamp your existing website, these free themes seamlessly blend aesthetics with functionality. Elevate your digital marketing game and leave an indelible impression on your target audience. Embrace the power of these themes to create an extraordinary digital experience that sets your agency apart from the competition.
The work of a digital marketing agency is to make use of online or internet-based platforms to promote any product or service.
It is also a component of marketing and uses digital and online methods to achieve similar results to what traditional marketing tries to do.
There are several combinations of digital marketing like search engine optimization, paid ads, social media marketing, content marketing, eCommerce marketing, influencer marketing, content automation, social media optimization, email marketing, and others.
All of the above and their combinations are applied by an internet company to benefit their clients or customers in terms of online exposure.
A lot of services require explanation as they are new and for older clients understanding them requires time. Hence the theme consists of all kinds of multimedia capabilities. Page builder based it can be used to add more sections of your own choice and also increase the pages as per your will and requirements.