Here you will find the best free WordPress themes for Startups.
Having a startup is super exciting and challenging at the same time. Involving a lot of work in different domains, it passes you through a lot of learning phases. You exert yourself to get the best output. Out of all these challenges – having an online presence has become crucial over the years.
And this has increased the importance of having a website and branding yourself through that.
To ensure that you get the most out of your website, it's important that you pay close attention to its looks and the user experience that it provides. This article is meant to cater for that need. So, without further delay. Let's get started.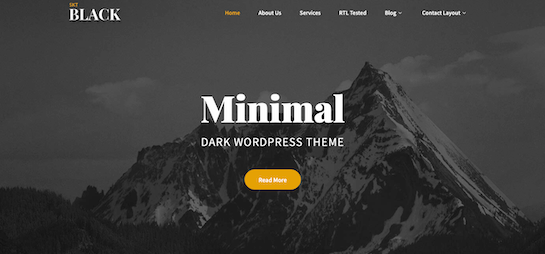 SKT Black is a free WordPress Theme for Startups that powers up their online presence. It combines the features of a parallax slider, nice gallery, multiple blocks on homepage and a lot more. In a nutshell, it is one of the best available free WordPress templates for Startups.
With this free WordPress theme, you will get compatibility with all the major browsers and devices. On top of that, it is 100% responsive and provides you the feature of opening up an online store.
So, what are the other features of SKT Black that made it suitable for your startup?
Quick translation into other languages using qTranslate X
SMO and SEO ready theme
Super friendly to set up!
Offers compatibility with the latest version of WordPress
Sections on homepage which load up with the theme so no additional content addition is required
Easy to change homepage content via theme options
Getting this WordPress theme will guarantees maximum output through modern tools, easy set up and user friendly interface.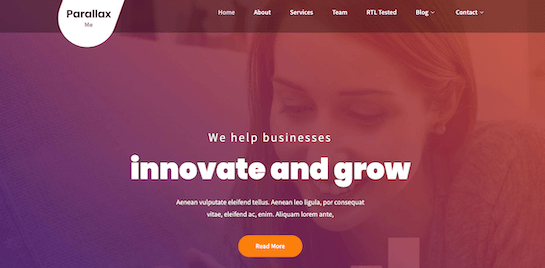 If you had to make a list of free WordPress theme for Startups, then this theme is crucial to be included in that. Not only does it provide you with responsiveness and compatibility but it also offers easy customization.
Designed with the ability of incorporating up to 10 multiple sections on one page, it offers you the space of showcasing your portfolio in the best possible manner. It would definitely add value to the website of your startup by means of exceptional features that it offers.
With this theme, you will get:
A dedicated area for the content based promotion of your startup. It will serve as the section of blogs
For the visual promotion of your projects and make everything look even more interesting, there is a gallery section.
Get a nice smooth scroll for your one page with all the sections presented one after another
Click on the top navigation and slide through to your desired section
So, without further delay – get this theme and enjoy super fast performance, easy setup and user friendly interface.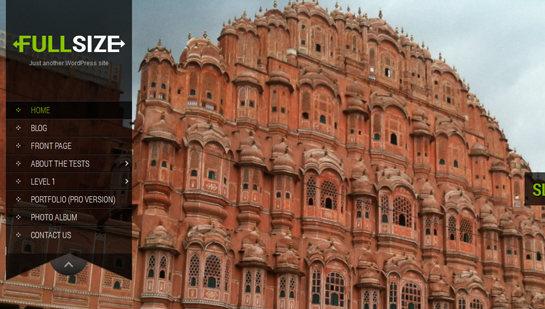 With the rotating banner of this theme, your startup will have a profound edge of portraying itself pictorially.
It combines ease of use with an awesomely beautiful design that keeps the visitors engaged. So, if you are a portfolio owner, photo blogger or a photographer then this theme is definitely made for you. In a nutshell, this is especially for someone who wants to exhibit through pictures rather than words.
One of the remarkable features of this theme is the powerful homepage that allows you to customize the description, title and showcase yourself visually to the world.
Features included with this theme:
Responsive site with black color change
Opacity change for bringing more life to your visual pictures
Page templates, shortcodes, gallery and contact form
Compatibility with lot of plugins along with WooCommerce for opening a shop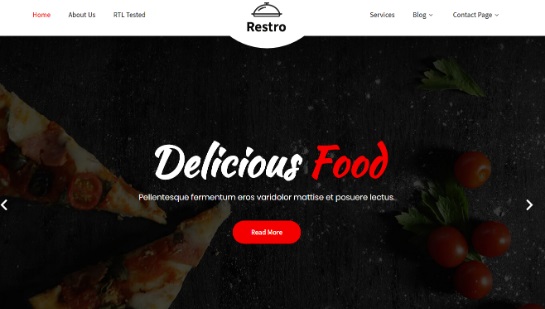 This is one of those high quality themes that will cater for all your web-related needs and requirements. It provides multiple features that are very simple to understand and set up.
Unlike the specific name of this theme, it's functionality is generic. It implies that you can use it for other industries.
With these theme, you will enjoy great compatibility with:
WooCommerce
Contact Form 7
Nextgen Gallery
And multiple other plugins.
It is multipurpose, easy to use and super attractive. You can easily add menu plugins to showcase your orders and menus as well as call to actions are provided for properly getting bookings and orders and calls for home delivery.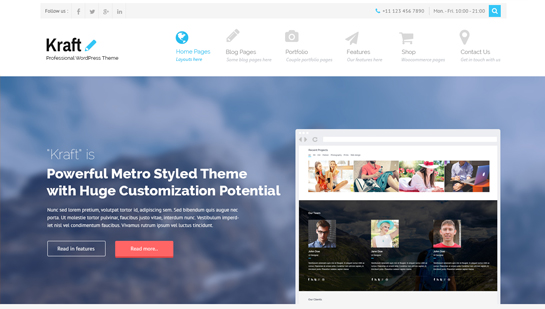 If you are looking for something that offers everything in one pack then search no more.
Combining the powerful features of adaptability, responsiveness and friendly interface – it has got everything that you can crave for. Among multiple free WordPress templates for Startups, this is one of the best. It offers super fast loading and powerful features like change of colors when you hover over a particular item.
Since, this is a Google mobile friendly theme – it would also suffice for all your SEO requirements and mobile compatibility. Moreover, all the social icons are included so that you don't face any difficultly in a creating a hype about your startup on social media.
Features you get with this theme:
Font awesome social icons integration of over 500+ icons
Compatibility with WooCommerce for online shopping
Nextgen Gallery for gallery and portfolio purposes
Animated homepage section
Easy to set up blog and other pages
Multiple drop down levels
If you are in need of a Free WordPress Theme for Startup that is somehow related to spas, beauty salons, health club, massage centers or clinics then you have just got the right theme.
Unlike most of the generic themes, this one offers you the following:
Superb animation effects
3 different slides
Ability to control page contents
Translation ready and multilingual friendly
The compatibility with WooCommerce, Nextgen gallery and Contact Form 7 also give this theme an edge over the others in terms of functionality.
Among the huge collection of WordPress themes free for Startups, this one needs a special mention owing to its remarkable features. Owing to an easy to use sections via theme options – it provides the user with a lot of room for customization.
With this free WordPress template for Startup, you will get high performance, quick speed, three types of templates and user friendly interface. The theme is multipurpose to cater for the user's needs.
Some of the noteworthy features:
Slider inbuilt with 5 slides
Multilingual and translation ready
Blog layout inbuilt
Simple way of setting up the homepage
This Free WordPress Template is ideal for application based startups. It is thoughtfully designed to promote each and everything about your product or application.
You can exhibit the features and show the demo of the product at the same time. Different relevant sections like the About Us section, link to purchase the product from the app store, slider etc. are also present.
In a nutshell, it will cater for all the needs of your product or application based startup so that you can quickly have a promotional website up in no time.
Last but not the least, this theme has been coded in order to make it friendly on grounds of social media and SEO.
Documentation and support makes you worry free while you can gladly launch your product or application within no time.
This theme is a gem for corporate and business industries. Giving you the complete package, it offers everything you a website that can be turned into any corporate or business website.
Being coded in HTML5 and CSS3 – it offers fast and high quality experience with more focus on content. Vision and Mision statements on the homepage with client testimonials and logos.
Simple approach of having an area for content and simple 3 columned footer this theme is definitely eye soothing.
With this theme, you will have
Good responsiveness
Easy to use blogging feature
Manageable settings and customization of content on the homepage
So, if you are looking for a simple business or corporate website to be opened up quickly this Free WordPress Theme should definitely be given a consideration.
This theme has been approved by Google for being mobile friendly. Moreover, the feature of being responsive makes it look really good on all the devices. So, whether your target audience is using a tablet, a Smartphone or a computer – the site will adjust no matter what. The user will always find the experience worth remembering.
There is complete integration with social media, default nivo slider and compatibility with latest versions of WordPress. It contains everything that a good theme can have.
As the name suggests it is an IT related theme however since its based on a white background with black words on top it can be used as a simple minimal WordPress theme for free and can be used to create any choice of website you are looking for so consulting, corporate or any website you can think of.
You will fall in love with the incredibly clean looks of this theme. Having a very light and engaging design, the user is bound to surf it for looking for more info.
Flat Lite offers great features apart from the awesomely good looks. This makes it very suitable as a free WordPress template for Startups.
Combining the features of integration with social media, responsiveness, nivo slider and much more – it offers everything that you will ever need. It's super fast performance, easy setup and friendly interface make it worth a shot.
Built upon Customizer API Gravida Lite is one of those themes where you can do changes and check them live without toggling from backend to front end each time.
Setting up of homepage and blog is like piece of cake and setting up your website with this theme is like a walk in the garden and within 30 minutes you should be complete with your new website overhaul. So just give this theme a try for its nice looks and simple and easy to use features.
The simple looks and a great layout make this theme stand out from the rest of the competitors. Regardless of being simple, this theme is Google mobile friendly and SEO optimized. Being multipurpose in nature, it offers everything that any startup requires.
It's super responsive and allows you to modify different contents. Being easily customizable, it's the choice of most people out there. By getting this theme, you will have integration with social media, ability to add more and more plug-ins, contact forms and much more. This is definitely a complete package.
Following features make it really downloadable:
Easy to use and set up with customizer API
Customizer API lets you see changes live
Simple footer with links to any 5 pages
Default slider with 5 slides available
In this world of the competitive market, one needs the right amount of planning, resources and ideas that are creative enough to develop and start any kind of profitable business or startup. Having a startup and working with a team to reach a common goal is quite challenging and exciting at the same time.
It involves a lot of work in different domains giving an opportunity to learn several things throughout the startup lifecycle.
Whether your startup is building some app, service, SAAS or related to other small business, having an online presence is a must to show people what your business is all about and what you have to offer them.
To bring about a virtual identity of your startup in this online world you will need an effective and powerful website well designed enough to give a touch of sophistication look to your venture.
But it's not viable for small startups to invest a huge amount of money and time into constructing a business website. As a result, startup owners are running behind various CMS tools to develop their website out of which WordPress comes out to be one of the best.
The reason is quite simple, WordPress is an open-source content management system that has all the resources to build your simple yet elegant looking website with a lot of customizations and extended functionalities available to the user and the overall investment is much less when compared to custom build websites.
Startup websites require certain features on their website to instantly capture the reader's attention and allure them to accept your business offering.
WordPress themes for startups will help you to structure the website in a superior way so as to keep the priority things in an ordered fashion so as to keep the readers interested in exploring your website.
People hate to read long write-ups, then with the help of these themes you could include more and more images on your website to make a visually appealing impression of your business offerings to your potential customers.
You can also customize different important parts of the website such as the homepage, header and footer of the website by changing colours, fonts and backgrounds as per your requirement.
The most import feature of using Startup WordPress themes is that it supports a lot of functionalities that will help you to build an interactive website for your customers.
In today's world, everybody loves to trust Google and its search results. This is where the SEO plugin will come in handy to boost your rankings in search engines so that more and more people find your business website ranked top in Google's search results.
Open source cms tools are vulnerable to security threats, so there are plugins which will wrap your startup website in a very secure mode so that no user data gets stolen from your site.
There are other plugins too like email & newsletter plugins that will help you in email-marketing, the WooCommerce plugin that will help you to set up different payment gateways in your website and the list goes on.
Moreover, these themes and templates for startups are very much responsive and mobile friendly. So you don't have to worry about the market base that uses devices other than computers or laptops to surf the internet.
These themes have the capability to adjust themselves according to any screen size they are viewed on. In a nutshell, if you are motivated enough to take your startup venture to the next level and want to connect with as many potential customers you can.
Then these WordPress themes and templates are the big things you can step into to give your startup experience a fly.