Financial technology describes new technology that can automate financial operations. With the rise of technology and the growing demand for faster financial services, the fintech industry has grown and evolved. However, your fintech business can only grow at a stable rate if you have a way to get new customers.
Having a website is important because it is the standard way of getting your name out there. Of course, you have to perform different operations like marketing campaigns and SEO, but nothing starts without a website.
Once you have a website that is designed by keeping the target customer in mind, you can run ads on search engines to gain new customers.
Every good fintech company will have a similar layout for their website. They will have a menu that can help the user navigate the site, a professional look, a homepage that explains what the company does, and a contact form with which you can gain leads.
What's next after publishing your website, you need to publish content to gain attention. If someone is looking for financial services, they will have multiple queries, you can try to create content around such topics. .
WordPress is one of the best content management systems out there. If you plan on running a blog for your fintech company, then WordPress should be your choice.
However, the problem is not all WordPress themes suit this niche or are any good for your business. Here are some of the best financial services WordPress themes. After you read this post, you will no longer have to wonder which theme to choose.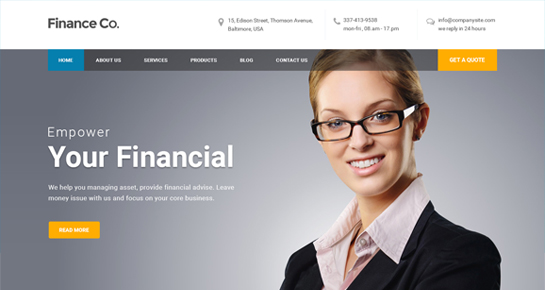 This theme has an elegant and intriguing look. The intriguing looks make the users keep scrolling through your website and get to know your fintech company.
This theme has blocks where you can describe what your company is about and the years of experience you have. It helps you describe all the services that you provide in-depth so that the visitors can finally make a decision over which service they need.
The colors of this theme are easy on the eyes, but they can always be customized according to the user's preference. The theme comes with a contact form, space for testimonials, space to highlight your team member, and space for highlighting your key performance indicators.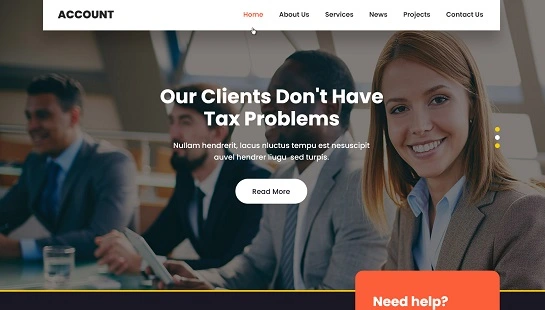 This theme is ideal if you run your own bookkeeping business, but it can also be used by companies that provide other financial services.
Your visitors will have a much better experience if you are using the right WordPress theme. This theme focuses more on keeping the visitors engaged, even after they have left your website.
That's why it has a newsletter subscription button and social media icons that can lead users straight to your social media accounts. You can gain traffic by publishing case studies that visitors will find helpful.
This theme has a lot of space for content and your team of experts can conduct these case studies. Display why you are the right choice with the help of numbers and graphic elements. You can provide the location of your company with the help of a map.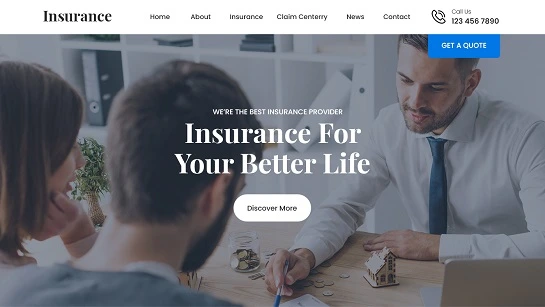 GB Insurance is a theme that is specially designed for the insurance industry.
Insurance companies can use it and so can insurance agents. There are a lot of insurance providers who offer services and you need to stand out.
Your website needs a theme that is easy on the eyes, conveys important information, and is also not visually boring. If you are looking for such a theme, you have found it! GB Insurance is a great theme with which you can outsell others. The best part about it is that it is responsive and mobile-friendly.
You will be able to gain customers, no matter which language they speak, or the device they use. This theme is SEO-friendly, which means it will be easy for your SEO team to operate and make changes to the site.
This is one of the financial services WordPress themes that lead to the rapid growth of your business.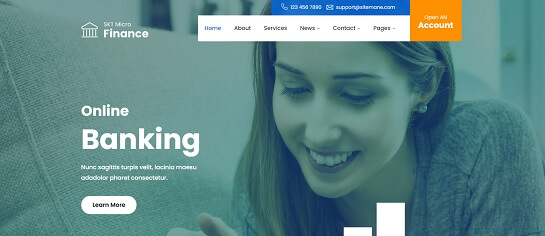 When people think about their finances, they have the image of a happy future in their minds. SKT Microfinance uses such images to create a great base for your financial services company.
You can highlight the services you provide, your expertise, the benefits of choosing you, interesting statistics related to your business, client testimonials, and your unique selling proposition with this theme.
Once you have been able to communicate why your financial services beat the competition with the help of text, visuals, images, and numbers, then your visitors can fill in the contact form.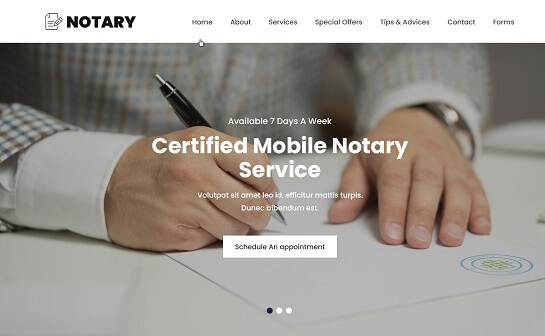 This theme is designed for businesses that provide public notary services. However, it has features that can be useful for fintech companies too. Have a look at the theme, if you like its design, you can make a few tweaks and make it your own.
It comes with copyright-free professional pictures that can represent your financial services company. The graphic elements are amazing and they do not reduce the speed of the site.
Overall, the theme is easy on the eyes, it has cool pictures, elements, and animations that are perfect to depict your business.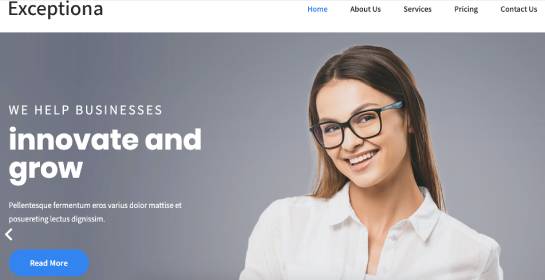 Skilled accountants and CPAs need a website that can help them get clients.
The Exceptiona theme has everything that the accounting world could ever need. The color combination for this theme is blue and white, you have the option to change it.
In the header itself, you can define the services you provide with different titles. Write more about each of your services, because it can take time to convince prospects. Your visitors can click on the read more button which will take them to a separate page.
There are multiple CTAs provided in this theme, you can add your direct phone number or use forms to get back to people. Lastly, in the footer, you can link all your social media accounts to the website.
This theme is vibrant, filled with animated elements, and you can add exciting numbers to sway potential clients.
Even though this theme is built by keeping a marketing agency in mind, your fintech company can use it too. It creates excitement and has the capability to drive higher conversions.
This is a highly professional website theme designed for law firms. However, one thing that people working in finance and lawyers have in common is that they are both highly professional.
That's why the same aesthetic can go for financial services websites too. This theme goes with the colors black, brown, and white, and has multiple pictures of professionals. Honestly, this is one of the most classy financial services WordPress themes out there.
SKT Start-up Pro is a standard theme that can be used for any startup. It is a lightweight theme that comes with amazing visuals, images, and elements. You can publish the testimonials of your loyal customers to build confidence in a potential customer.
It is extremely easy to display the pricing plans that your firm has. You can add social icons in the footer to keep the customers engaged.
This theme provides the contact information at the beginning so that people who are convinced do not need to scroll and find contact information. Overall, this theme has a lot of space for convincing words, graphs, elements, and images.
This is probably one of the most elegant financial services WordPress themes out there! It is technically made for any local business that effectively provides services or products.
However, your financial service company can benefit from features like a testimonials display, a mobile-friendly theme, copyright-free images, simple yet amazing elements that describe your business, space where you can list down your completed projects, and a call to action like a contact form.
All these features are provided by this easy-to-install theme.
This is an extremely sophisticated theme that can be used by any business. What makes it so sophisticated is the color combination of blue and yellow.
This theme is video friendly, which means you can upload a video to explain everything about your business easily. Videos are more customer friendly these days and people react better to them than texts.
So, it makes sense that this feature makes it a top-tier theme for fintech companies. When you provide financial services, it is not easy to win people's trust, you have to do some serious convincing. You can also win the customer's trust by displaying your valued customers.
SKT Banking is a theme that is mainly related to banking and other financial services. The benefit of choosing this theme is that you will get images and graphic elements related to the financial sector. This makes your job of setting up your website extremely easy!
This theme has a lot of space where you can explain the services you provide and how someone can access your services. Trust is an important aspect when business is done in the financial sector.
Your potential customers cannot just trust anyone, that's why sharing testimonials of happy customers will be a key factor in increasing the conversion rate.
You can also share the process of how your business helps its customers and share the latest news in the financial sector by using blog posts.
This is a minimalistic website theme that can be used by any business. This theme comes straight to the point of why your potential customers should do business with you. It does this by providing data related to your recent projects.
You can share the success rate of projects, the quality of your work, and how affordable your services are compared to the competition.
All the images in this theme suit your financial sector and are copyright free. So, even if you don't change the images, there will be no problem.
This theme is designed by keeping the big corporations in mind. You can use this theme if your financial services company has grown a lot in the last few years and can no longer be considered a startup.
It will help you elevate from the status of a beginner to a fintech corporation that truly knows what they are doing.
This image will be created because of amazing elements and key performing indicators. If your business is strong enough to list out its performance, it's a sign that you are no longer in the cocoon stage of running a fintech company.
You need to take things to the next step by adopting this theme. This theme also describes to the prospect, how your business process takes place. So, they will know how you operate and what to expect. On top of that, it is also video friendly!
SKT Specialist is an amazing theme for consulting firms, financial advisors, startups, tax advisors, financial institutions, brokerages, law enterprises, investment corporations, etc.
Any company that takes care of financial verticals can use the SKT Specialist theme. You can rate yourself in your core competencies, this will mean that you are honest with the customer from the beginning. Plus, if you are an expert in a particular service, then it will let you highlight that service more.
This is one of the themes that has a motivational call to action. It motivates users to start their next project with your company and get amazing results.
You should feature the success stories of clients who are impressed with you. When potential clients read such testimonials, they will feel more confident about your business than before.
It is important to give credit to others when it is due. SKT Specialist theme lets visitors know who actually works on their projects so that they can contact them if needed. Plus, this gives your team the credit they deserve.
This theme was designed for companies that provide immigration and visa-related services. However, by making a few tweaks it can work perfectly for your fintech company.
You can highlight the services you provide, list down a number of things that make you better than the competition, add numbers or data to make people confident, and leave the CTA in the footer. This can be one of the most convincing themes if used properly.
GB Consulting is great for companies that provide consultation services to other businesses. However, since your fintech company also helps other businesses succeed, you can use this theme.
You can use elementor to complete the design of the website. Quantification is important when you are providing services to others.
Tell others about the number of projects your company has completed successfully to date. It will build confidence in people who are thinking about getting your services.
You can also list the number of customers you have. If you have secured a good number, then it obviously means your company is good at providing the services.
List down your unique selling proposition by using graphic elements and words. It is one of the themes that gives so much space to describe multiple unique things about your business.
You can use this space to explain why you are better than the competitor. What do you offer that others do not? If this section is used properly, it will drive sales.
Once you are done explaining your business, impressing prospects with positive numbers, and explaining your unique selling proposition.
You can add the call to action element which will be a contact form. However, you can also provide contact details, so that prospects can quickly get in touch with you.