Perfect is a true multipurpose responsive template which fits into the fastest WordPress themes category as it has several templates within itself and is a fast theme by itself when it comes to loading.
Has several shortcodes and in built special shortcodes which no other theme has. Within this you get 20+ child templates of various categories. Fully color changing theme and also font changes and great look and feel.
Mega menu compatible, several page templates. Tested with all sorts of page builders and 12+ sliders and gallery plugins.
Although designed to satisfy portfolio owners this theme is a very fast WordPress theme and has a nice transparent slider and a great breadcrumb modern menu system.
This can provide much needed wings to a software company website with different products and visuals with several boxes on the homepage with images can look really good and impress your clients.
Comprehensive list of Fastest WordPress themes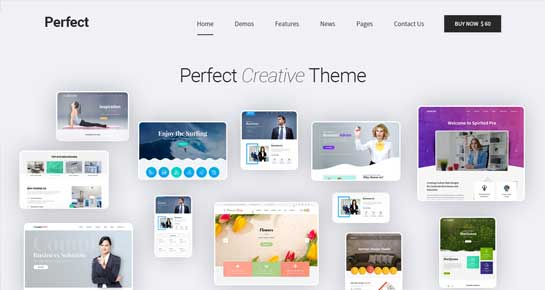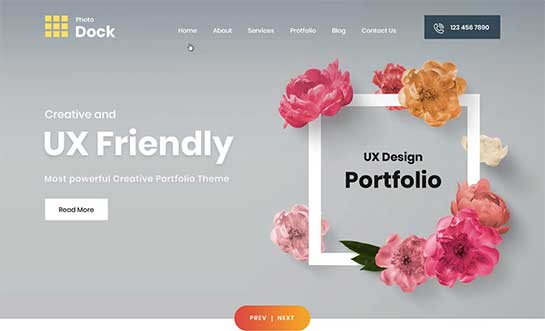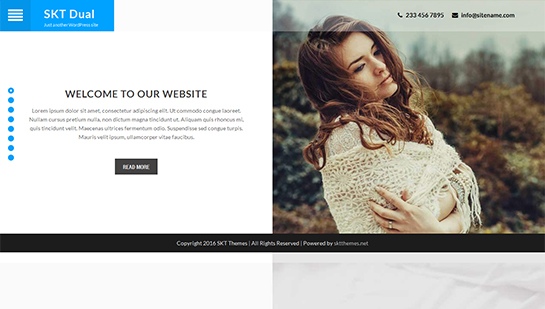 Split screen one of its kind marketing theme which is a great fit for any fastest WordPress themes based website and works like a charm and loads super fast.
Even though at first glance appears to be single screen but can be converted into multipage website and can really impress your potential customers with this kind of a great website done using split screen.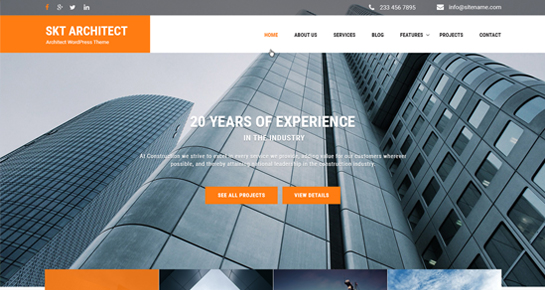 Although built for architects this is a visual treat and anyone who wants to visually impress their audience should definitely consider this template as it has greater and better features in terms of look and feel.
Of course built on similar framework it has more or less similar features but styling taste would definitely give it a boost.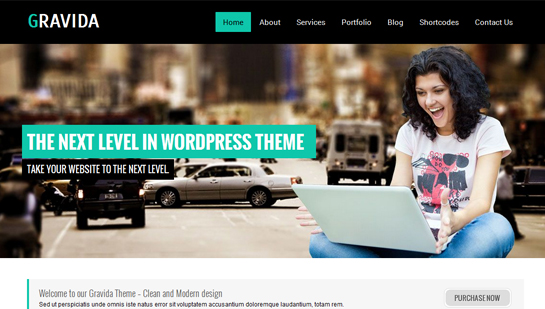 Simple and elegant but has got good looks as well and fast loading WordPress theme. Black mixed with any color does gives it great looks. Of course colors can be changed.
Based on Complete Pro this theme has several features like blog timelines and others as has Perfect theme. It also has the same Customizer Framework which allows one to check changes live as they happen from backend.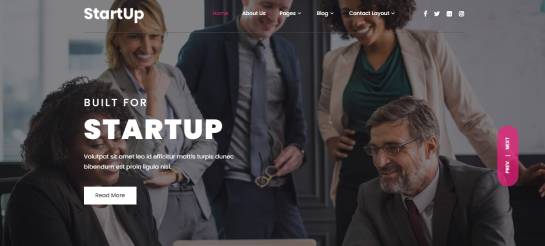 StartUps are the new horizon for the upcoming software industry hence a theme just dedicated to them features in this list of fastest WordPress themes which surely does the tasks of call to actions and lead generation with its perky call to actions everywhere and also has enough features to satisfy the requirements of any startup company.
Before perfect we built this theme although this is a standalone theme but it can be used for multipurpose use and has everything generic so that any industry or business can quickly change it to whatever they want to do with it.
Has several blog timelines, blog styles, page styles and several plugins compatibility makes it a supreme contender of this list. It also has extra functionality in terms of various inner pages and footer and header variations.
Although the name Simple means we tried to keep the backend as simple as we could have but the features are no simple and has all the advanced features and functionality and responsive approach and great plugin compatibility just like its counterparts given in this list.
Great look and feel gives a serious corporate large enterprise feeling and is a super quick loading WordPress theme. Has several nested column shortcodes and compatible with shortcodes plugin and recommended page builders can take the options to unlimited levels.
Although created for agencies and consulting businesses but has found its way into this fastest WordPress themes category as well and is a true multi concept template.
It can be used for several industries and laterals and with its great features and awesome and cool looks which is part minimal and part fancy it can surely turn your visitor heads and get you the much needed boost as far as traffic and leads are concerned.
Naturo is a true minimal styled WordPress theme suitable for companies and can work nice for customers who need their website to show minimal in terms of design but maximum in terms of content and info.
Due to its minimal design this comes as a faster loading WordPress theme. Does the work of a serious company or a group based company with several locations. Does have all the several modern features and compatibility with plugins that you get with other themes and templates on this list.
Modern companies prefer a large landing page or what we call one pager website to have a nice browse through effect of their portfolio which acts like their online resume which sales team can quickly showcase to their clients on their phones or tablets. And inner pages can be hidden and get clicked from the homepage itself.
This surely serves the purpose of many companies who try to have a single pager on the homepage and works better on all devices and looks good with modern design elements and scrolling animations.
Suitable for although a single person or a small company this surely fits into the fastest WordPress themes category as it is very fast loading and gives a great simple look and feel for a company which focusses more on its products and portfolio and has a small profile and hence can quickly browse through a 10 page website for themselves.
Does the job with testimonials, features projects or case studies, in built captcha contact form and homepage with nice small sections and slider gets the more out of your small company website and gives users a quick call to action buttons for call us and contact info at the bottom.
Its a bit of about how our brain goes for these things. Whenever we want something to start with we want it to be simple.
Hence we go for cars which is easy to ride with. If we think of a boy we think of color blue and for a girl we think of pink.
So basically our brain cells tell you that whenever we go to a website it should be simple and easy.
We don't want to do so many actions to read an info.
We would rather just go through a few clicks and be able to read the entire content.
Also we do not prefer very lengthy forms and hence many customers prefer the call us back method or chat method as they don't want to spend so much time writing.
Other benefits and reasons we could think of for Fastest WordPress themes:
Load faster: What good is a website which doesn't load faster? In a survey it was said that many visitors and customers leave your website in case it is slow. Hence it is important that the site should be faster loading so that people can easily click through the pages and read them easily.

No one likes to wait and waiting for a site to open up just means that you are waiting in a queue. For a new customer who doesn't know about your services and haven't heard about your business before seems a little harsh too and he/she would rather go to some other website than waiting for your site to open up.

Fastest WordPress themes ensure that the site is faster loading and is SEO friendly. Thus making it easy for customers to quickly visit your website and browse through various information and contact you in case its essential.

Simpler and hence easier to understand: Simpler things are easier to understand and grasp and hence the layout which is simple in simple themes and website is easier to read and grasp by users and visitors.

Also for your customers if you write short sentences and layout the paragraphs properly it will also be easier for them to read.

Information with a lot of visuals also help better the customers. Visuals speak more than words and hence it becomes easy.

Pictures and videos can be emphasized: Pictures and videos can be emphasized more on a simpler layout as it is less cluttered and gives more space for the pictures and videos to settle down and show up nicely.
Lots of white space: Lots of white space means that information is spread up nicely and not too cluttered
Cost effective: Of course themes and templates are cost effective do it yourself websites and hence for startups and new businesses which are looking for getting an essential website quickly and efficiently becomes the easiest method and the most cost effective and budget friendly method.
Not much time: Not too much time is there with people to get a very big website and due to time constraints people want something very quickly and easy to do with.

Also most of the times they have certain launches like product or service launch or show launch and all they want is to get it ready on time and hence website doesn't play a very big role in that case and hence they start with the most simpler and fastest WordPress themes at that moment due to time crunch situations.

Too much distraction: If there are a lot of banners or text is too cluttered people might get distracted to some other info which isn't that useful and your useful info like contact us, social media or the information about the company and business or product offering will get lost and won't result in transition.

Hence it is essential that the layout is simple and easy to read so that the distraction factor is minimal.

Minimal colors: Colors play an important role in website. Having eye soothing simple colors on top of white background with readable font in black or brown colors are both eye soothing and easy to read and understand.
Above the fold for important content: Above the fold they say should have the most important content like banner image, contact info and form and social icons and your welcome text which describes most of your service.

So if you have everything properly set up in above the fold then its easier for users to check things properly and know about your website and services in no time rather than wandering here and there and clicking more of your website pages to know about your business.

Absolute simplicity: Absolutely simple would mean not much hassle or clicks to read content and know about it.
Not many menu items and not many drop downs too: Having too many menu items confuses users where to click. Many users prefer to have just 6-7 main menu items so that there aren't much confusion for the users and they can browse through your website with ease.

Having too much drop down menu would mean that users will get confused which page to give more priority to and then in the end get out of the website and exit it.

Reduce Choices: If you give too many choices to any user they can get confused. Many websites initially ask them to select country and then language and sometimes also ask them to verify age and other such choices before entering the website.

This also leads to trouble and reduces the users or visitors visits and increases bounce rates. Hence its important to detect IP and automatically get them to their desired local website and language rather than asking them for selection each time.

Visuals are good: Good visuals would mean getting a lot of info easy to understand and grasp within no time and it helps users who aren't interested in reading all the info to quickly glance through and still have an idea about the product or the service.
A/B testing is essential: A/B testing of your most important page is essential as this would mean you get to know which pages perform better and which solution performs better for your website.
Simple and big structures for phone, and tablets: Simple and big clickable text and image areas on phone and tablets would mean people can easily click on them on a phone or tablet as normal website appear too small on phones and hence it is essential to have a responsive simple website which ensures usability on these devices.
Large readable fonts: Large readable fonts would mean ease of reading and old visitors and customers can read the text easily without any trouble.
SEO friendly:Fastest WordPress themes are known to be SEO friendly and our simple wp template isn't any different. It is fully SEO and SMO friendly.
Some items we should look for and keep a check on:
Short paragraphs: Short paragraphs are very easy to read. People often don't like to read too much of info and hence short paragraphs would mean they get whatever info is needed in a short time and with little effort.
Ads aren't always necessary: Pop up ads and blinking ads on the sidebar and header and footer often make the users irritated and sometimes instead of clicking on your website link they end up clicking there.

If you have an info website and do not need too many ads to raise revenue then you should have just a few ads on the sidebar and footer. Keeping too many ads would mean either having the user click on those ads or ditch your website totally.

New windows or pop ups: While clicking on your website if it goes to new windows or while browsing your website if too many pop ups for subscription and ads come up then the user would feel irritated and end up leaving your website. Hence only subtle and essential pop up or new window should be used in a Fastest WordPress website.
404 pages: Too many 404 pages lead to not just users leaving the website but also search engines penalizing you. Hence it is important to check broken pages and links and reduce them to the minimum.
Building a fast and responsive website is really a work of an art. Not every coder or website builder out there can do it, and that too very gracefully.
You might be thinking that a professional is required to build a website like that, and that would really end up being quite a lot.
But, that is certainly not the case here. With Fastest WordPress Themes, you can easily build your website to be truly responsive and more functionally better, than spending a fortune on professionals who build a website.
For starters, the website will come with numerous levels of customization and thus can be tailored made to your own liking. With various themes and templates, there will be no shortage in making the website look more visually impressive.
The website can also come with any look you want, whether it's a modern looking design or just a simple looking clean design. You have options for both of them. From startups to architectural companies, you can have options for any kind of company out there.
The website will be loaded not only faster in just seconds, but it will also be mobile friendly as well. It can be accessed from any kind of portable device in the world, thereby increasing your user base.
The layout will be simple and fluid – no clutter, just pure information. Many users get lost and confused if they see a hell lot of information. But, not with these WordPress Themes.
These themes are built from the ground up for users like these. It puts emphasis on the layout being easy to read and the sentences and paragraphs are easy to understand for the normal human being.
Now that information can be well presented, pictures and videos can be inserted and embedded beautifully into the website. There will be a lot of white space to work with so that the information can be shown will more substance and can be easily noticed.
Not to mention, this way of building websites that not only load up fast but also look great, also costs tremendously less from traditionally other types of alternatives.
So, if you're building a startup and you're cash-strapped, then this will be the rightful option for you. Also, this type of option will not take up much of your precious time to build the website.
The process is pretty simple and easy to get into. Also, the website will be built in such a way, that all the important information will be rightfully before your eyes, so that any of your website's useful information, like contact details, etc.
Don't get lost in between any obnoxious designs or banners. You will curate the content all by yourself.
The look will be very much simple, to say the least, and the minimal range of colors will do good justice for the website.
This will impact less on the performance, and still deliver that superb range of service and information, along with responsiveness. That's why Fastest WordPress Themes is very essential for your new fast website building requirements.
Conclusion: This is for the simple reason why world's most used search engine uses a very simple interface and is the fastest website.