The reason behind any successful business is setting up the best website. It is important to choose the right event WordPress theme so, you will be able to promote your events or other political functions easy by targetting audience completely.
You have endless expo WordPress themes to choose from but the precise theme is only that is capable to create your website faultlessly and give you best excitement whenever you launched a news event website and you get huge conversions.
Your ultimate goal should be fulfilled. This is why we have conducted top WordPress themes that can support your event whether it is a committee, workshop or any small meet or a festival. You can choose the theme that gives your project better to go.
It includes numbers of social media integrated plugins and SEO friendly coding which is also tested with a number of premium plugins for the shopping portion and other donation plugins.
This is just amazing to make your side simple and effective. More than that, it is a super-fast and lightweight theme which is best to give you perfect layout and impressive features.
The List of Top 10 Expo WordPress Themes 2022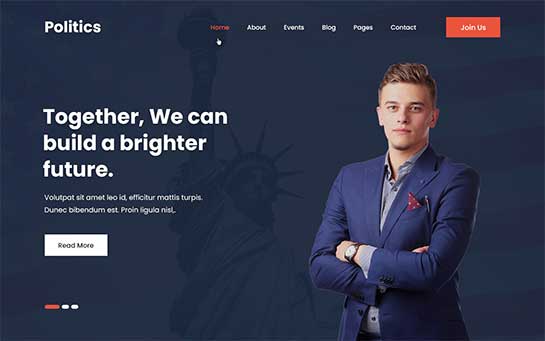 A political candidate is one of the promising expo WordPress themes that can run a campaign on your website. Moreover, this WordPress theme is perfect for fundraisers and donation.
Its design is based on material and Flat. Political candidate integrates 600+ fonts with Cyrillic and Latin and other fonts. It includes complete documentation along with several shortcodes. The theme is highly companionable with page Builders.
Key Features:
It will provide you with a nice website with unlimited colour options.
Include default slider, donation counter and multiple options panel
Include the layouts for Blog and camping both
Simple and easy to use the website.
Ele Wedding is yet another best event WordPress theme can be used by wedding planner website, wedding blogs, and sharing several wedding adventures or stories. Its each web page is created with the elementor page builder so that you can easily tailor it according to your requirement.
The theme is highly flexible and gives you a comfortable usage option. You do not need any third party to access your website. With this, you can naturally add the details about the lovebirds or add story related to their life with the proper time, date, and location.
It has four integral designs, you can choose your desired one and give your website a best and professional look. Moreover, the logo is highly customised, so you can improve the editing process according to your choice. This wedding theme is just perfect and called as a user-friendly as well as SEO friendly theme.
Key Features:
RTL tested and Google tested theme
It is highly documented and safe theme to use.
It has a sleek design and mobile-friendly theme.
The user can create a new page if needed.
Give a comprehensive approach in fast loading speed.
Includes Supreme features to better your experience.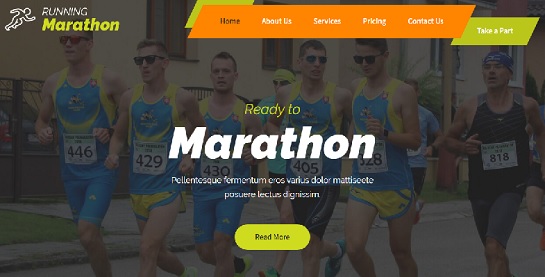 If your website is related to sportsmen, athletes, and Marathon promoted programs then SKT Marathon is the best expo WordPress Themes, you should pick.
It is specially used theme which naturally satisfied your needs and provides you with a modern block related to the fitness and marathon runner etc. This support various features and its pages are built up with elementor.
The theme is perfectly designed for the event-related programs with the time table plugin it uses Mailchimp and other plugins which help to give comfortable use of this website. It is 100% retina and HD ready theme which is compatible with every browser and the device.
Key Features:
A number of columns can be added to the footer.
Timetable plugin supportive theme
The templates are supported by Gutenberg editor.
it includes a number of blocks actions which can be easily modified.
Give you professional support for the complete one year.
It includes some of the essential files like CSS, JS, and PHP.
If you are looking for the theme that can support your welfare programs and social awareness then Activism Pro is the nicest expo WordPress theme you should look into. This theme is well designed for NGO, donation and social groups.
This is a non-profitable theme which is 100% ready to be localised it is integrated with a large number of widgets that will give your website a unique appearance. It is highly companionable with the latest WordPress version.
Also, it supports PHP 5.6 and MySQL 5.6. This theme is crafted with the powerful page builders that give you drag and drop features and modify the website completely. The theme can help you to add media elements to better the quality of your content to easily grab user's attention.
Moreover, it is retina and HD theme which is compatible with the four different header combination. Google Maps can modify to increase the functionality of the website. The theme is available at a very affordable price and special features by default.
Key Features:
This helps you to bring values in your work.
It is the most stylish and multi-concept website theme.
Easy to use
You can add multiple portfolios to grab users attention.
The number of options is available for the media and content integration.
This will help you to get recognization on social media channels and Google as well.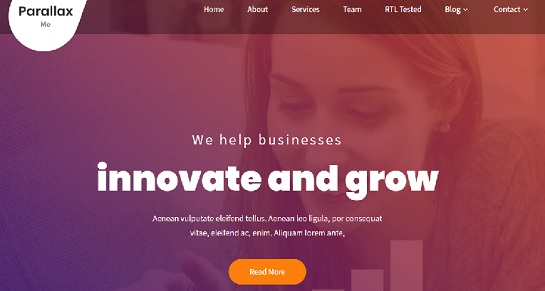 SKT Parallax Me Pro multipurpose theme beautifully designed for the user to support their programs, blogs, etc. It is one of the easiest themes to use which include free enabled shortcodes that can take care of any kind of content.
Moreover, it provides the demo content which can help you to evaluate the theme and you will enjoy the best results. It also includes testimonials area so you can highlight your User experience with your audience.
Along with that, it is packed with a number of social icons and Default plugins. The theme is translation ready available theme that supports multiple languages in different regions.
This same like the great theme which introduced the unique techniques that allow the web pages to scroll down easily and also provide full use of parallax features that make your user more engaging.
Key Features:
It includes a number of themes files.
You will get a number of serviceable functionalities which make a website brilliant.
The theme is cross-checked and tested with Google.
This comes up with the most innovative ideas that have to show your talent in the world correctly.
It includes 30 + block options
This can help you to create a website which could take the business to the next level.
If your business is about a wedding planner, birthday, event, party formal type of functions then this theme is for you. It is just a particular theme for the emergence of the parties whether it is for corporate ceremonies or personal functions.
With this theme, you can showcase your banquet hall images and the white area of action + amazing areas easily with high-quality images. More than that, it is available on the free installation where you will also get one-year customer support the header template can be changed easily whenever you want.
It also comes up with the standard pages such as 404 error page. It includes the SEO standards and review standards both.
Along with that, it includes social media icons which are integrated with the share button. It is a faster loading website which is cross-checked with the compatible Browsers and devices.
It will provide you with a fantastic review. This also enables the comment section, so you will build relationships with the audience. Moreover, the home page section is also coded and best landing page for the users. This is easy to navigate and RTL tested theme.
Key Features:
Coded as per the norms of the codex standards.
Uses a simple type of user interface which can easily handle all the process as backend.
Provides 4 types of header layouts.
Support multiple plugins of page builder such as life composer element and beaver.
It is a well suited and secure website from hackers.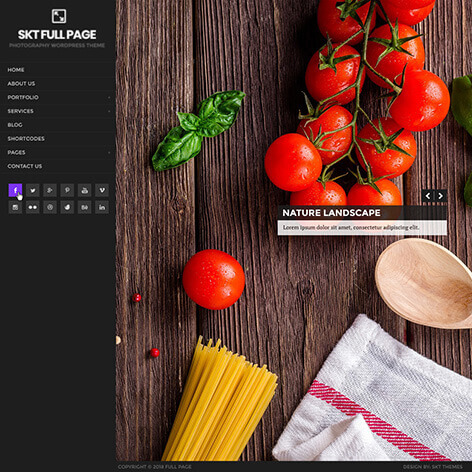 Full Page Pro is a multipurpose Expo WordPress theme which can be used by the number of industries to create websites. As default slider options which can easily control the animation. Further, it includes the slider plugins such as fusion slider, Revolution slider and master slider.
The theme is Guttenberg consistent and can easily enhance the inner page content. It also supports page slider plugins like elementor, visual composer and more. It includes a number of shortcodes, so you do need a technical person to do that do.
Also, the theme includes the contact form connected with the Google map so the user can reach you easily. on the other hand, it supports multilingual plugins and social commenting plugin, so you can enhance and interact with the audience more.
It is also available on free installation and fancy animation that helps you to reach well in Google. More than that, it includes 30plus blocks which are inserted and can be modified easily.
Key Features:
Include cache plugins such as WP Rocket and W3 total cache.
Tested with cross Browsers and google.
RTL compatible theme
SEO optimised and integrated which call to action.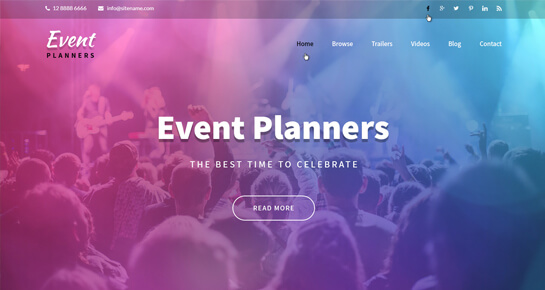 Event Planner Pro is a prominent expo WordPress themes you should choose for your event planning business. This theme can be used by other business purposes as well as respectable, business Summit, forum conferences etc.
This is a multipurpose theme which is capable to reach your audience flawlessly. It provides manual documentation and quick setup home page.
This WordPress theme is available in free installation along with 5 layouts with the satisfaction you just need to opt which is best for your business also it supports multiple page builder plan such as elementor, visual composer and many more.
It is an event-related WordPress theme which is well popular and congenial with the different channel such as Chrome, Mozilla Firefox and more. This is designed to be friendly with widgets so you can naturally reach the audience that you want. This can be translated in the multiple pages, which are designed to be friendlier.
Key Features:
Comes with impeccable design that attracts the users.
Incorporated with all obligatory features and functionality.
Help you to get more traffic
Coding is user friendly see you can enjoy the online presence for long.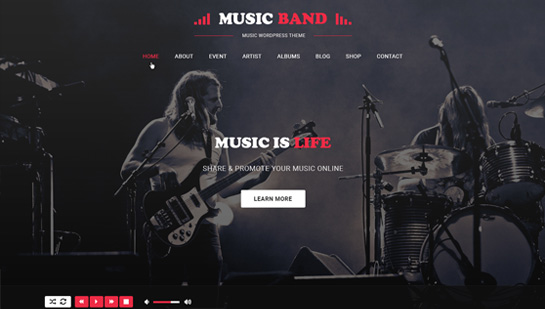 If you are a music composer and want to create your website for your business then this music producer is top Expo WordPress themes you should try out. Music Producer is the best theme that includes 800 Plus Google fonts and packed with Latin subsets special characters.
More than that, it is a multilingual compatible theme that maintains the level of your website. It is faster loading and best themes which come up with best-predefined features.
The sidebar is default and completely controllable with slide layout options. It has various compatible plugins to support especially the woocommerce for the shopping purpose.
On the other hand, the contact form is also connected with the Google map. The theme is friendly with icons, hence you can easily modify it. This is tested and works with the calendar.
Key Features:
The theme has everything which is required for rank in Google.
This seems to allow people to book their shows and events online.
There are many things to showcase.
It has b o t file which means it is easy to translate in multiple languages.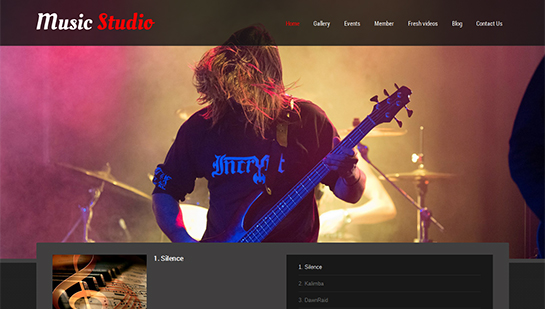 It is also one of the best musical and event expo WordPress themes which have all the functions to support any kind of device and mobile.
This has lots of resolution checks done and proved as a Google-friendly theme. It includes the number of the options such as photo gallery to showcase achievements and the music videos that can attract the users mostly. You can even add tours of yours in the business that keep you connected with the audience.
Along with that, it includes photo and slider friendly sections with contact form with captcha. Also, it helps you to include previous and latest albums with songs on the website.
Key Features:
It is a fully documented theme compatible with various premium plugins.
It is coded with HTML5 and css3 which make it highly suited with latest WordPress standards.
Integrated with 500 + icon pack and 100 + Google fonts.
Include a number of templates for blog.