Designer WordPress Themes for web designers and Developers have been discussed and shared in this article
WordPress community completely destroyed the obstacle of entry for website development, enabling millions of people worldwide to become a member of the huge digital community and present their relevant personal or corporate businesses.
Moreover, if you are a designer or developer, who is in need of a professional and feature – rich platform, on which he can bring his original and creative solutions into reality, the pursuit for the most preferable designer or developer website creation tool out of thousands presented nowadays can be pretty bewildering and disturbing.
Therefore, we have set our mind to sort out best 11 designer WordPress themes specifically crafted and elaborated for web designers and developers.
All the below – stated web designer WordPress themes and developer related solutions share the same impressive and highly desirable theme characteristics and are set up on a very convenient management platform. Let us have a look at each of them separately and find out their professional capacities.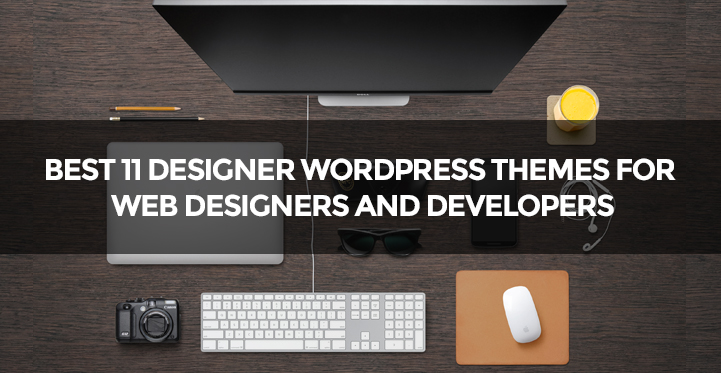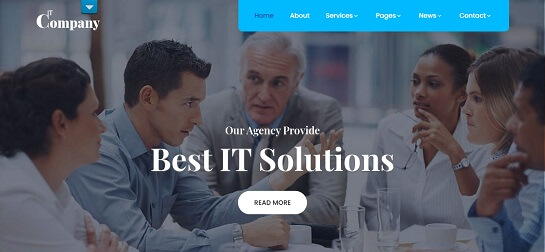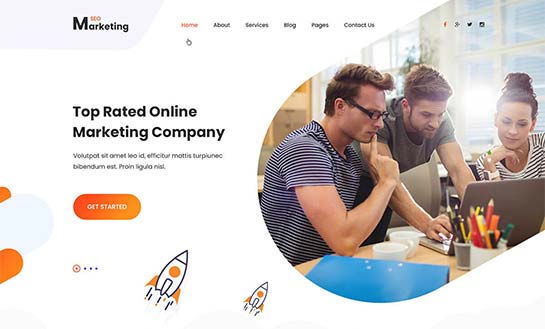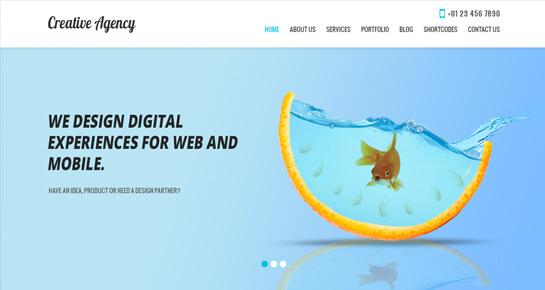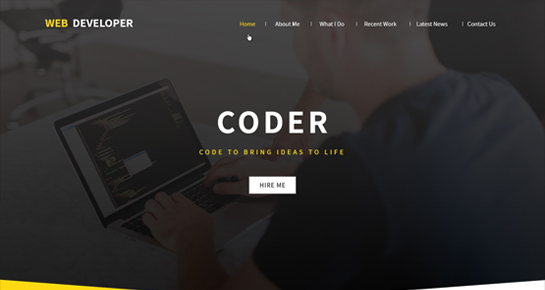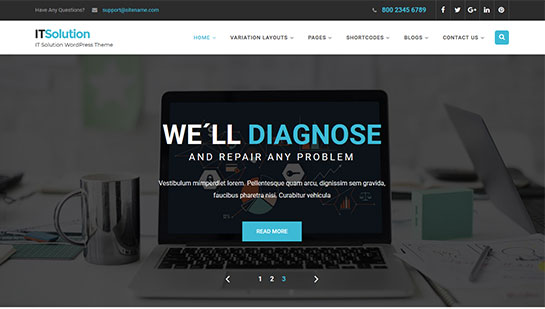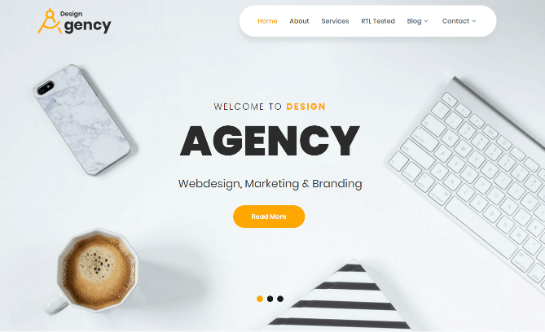 If you are a web developer or designer, it's more than compulsory for you to have a strongly developed and exercised website presentation of your own product, so that it will prove your professional skills and relevant knowledge to your potential clients.
Design Agency Pro appears with the minutely created package of all the mandatory theme features and options, including fast loading and responsive layout, shortcodes presence into the theme, compatibility with major plugins, etc, so that it's up to you to easily develop the site matching your demands and requirements.
Hence it falls in the category of designer WordPress themes.
Some of its feature includes:
Responsive and HD ready theme
Multilingual ready
Quick loading time
Compatibility with major browsers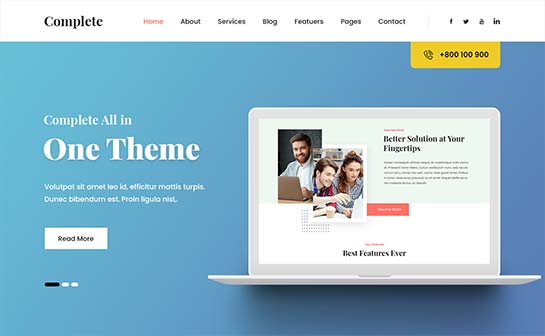 Complete Pro is a noteworthy mixture of complete and comprehensive functionality and visually and graphically expressive design. Thus you'll have all the chances to satisfy your website visitors and clients.
This dependable one of the designer WordPress themes comes loaded with awesome theme elements, such as color picker controls, nicely crafted homepage slider to showcase your portfolio in the most alluring manner, slider transition effects available, several inner page layouts and lots of other potential features.
Some of its feature includes:
Full font friendly theme
Built upon WordPress customizer
Multiple inner page layouts
Translation ready
Nuptials will open new chances to you for organizing the demonstration of any engagement or wedding ceremony impressions by means of photos and their accompanying details in the most engaging way.
This amazingly customizable foundation for designer WordPress themes to create any wedding presentation is loaded with cross device and mobile compatibility design, home, about us, albums, events and other convenient sections and areas, easy to use admin dashboard to make any wanted modifications, etc.
Some of its feature includes:
Clean and beautiful design
Albums with photogallery and lighbox
Custom navigation menu
Comes with events, contact form and other features
Every single web designer, developer, freelancer, artist or illustrator will be astonished by revealing SKT Parallax Me Pro with an amazing set of deeply flexible and easy to access theme options and operations.
Eye – catching design, intuitively worked out functionality, theme insertion with inbuilt shortcodes, modern CSS3&HTML 5 coding form a part of this designer optimized web page and blog creation and maintenance tool.
Some of its feature includes:
Change background color of any section
Add anything within the sections
Comes with testimonial area
Nice parallax effect
By the verification and adjustment of SKT Fitness Pro each web developer will have abundant possibilities at his disposal to set about a stunning fitness, gym or another relevant website, which will definitely satisfy the client's needs and claims.
Once you have installed this ideal theme, you can fill the animated sections and boxes with the respective content, arm the slider with the most advanced images and have a general control over the whole theme appearance and functionality.
Some of its feature includes:
Comes with animated columns
Lots of shortcodes
Translation ready
5 page templates
Another superb variant for web developers to undertake any app, theme, product – centric launching and promotion campaigns is The APP Pro.
This premium quality designer WordPress themes is power – packed with technically and functionally feature-rich platform, including diverse color changing options, shortcodes and page templates inclusion, background, as well as font size and color change controls and yet many other dynamic tools to turn to.
Some of its feature includes:
Widgetized footer
Social media integration is done with social icons available
Google font options
Default page templates
Zym has a potential to become an authorization of any designer's working style and solutions.
This design open and easily available product comes integrated with motivational and seductive appearance, responsive and mobile friendly basis, all the requested homepage sections for trainers info, timetable and pricing inclusion, default homepage slider to showcase whatever is needed, slider transition effects to control
As well as a perfect compatibility with the latest version proposed by WordPress community and hence is a great one of the designer WordPress themes.
Some of its feature includes:
Responsive and Google mobile friendly
Team section to display trainers bio
Contact Us shortcode having contact form
Home page slider for featuring whatever you are best at
With the help of SKT Launch Pro you don't have to waste a great deal of time for presenting your new product, app, e-book or any other developer, designer or artist output.
This web designer and developer sensible theme results in a solid and all –inclusive collection of theme color changing alternatives, lots of shortcodes integration within the theme, more than 1300+ Google fonts and more than 580 social icons availability, widgetized sidebar areas and not only.
Some of its feature includes:
Author area for showcasing about the author
Integrated with 600+ google fonts
Links to various ebook providers are shown for ease of linking
Multilingual and responsive
SKT Landing Page is clean and simple design conscious, multipurpose and multiconcept, entirely smart and intuitive, flexible and resourceful landing page WordPress theme well suited for any web developer exercises.
With its preloaded flat icons and buttons, default inbuilt forms available, 1300+ icons, homepage slider with transition effects and well optimization for modern and popular plugins and extensions this ideal designer WordPress theme is always there to support you.
Some of its feature includes:
Easy and simple to use
Clean and minimal design style
Full color changing control panel
Post template control
As a checked and preferred designer and developer – friendly foundation, Simple appears with an exceptional correlation between simplicity and clearness, user – friendliness, awesome flexibility and adaptability on the one hand, and deep functionality and feature – rich structural framework, including responsive and WooCommerce compatible design, full screen preloaded slider with transition, animation and pause time settings and much more on the other hand.
Some of its feature includes:
Easiest theme options loaded up
100+ shortcodes with usage instructions
Minimal in terms of color
Compatible with other gallery plugins
In case you are a web developer representing any IT company or tech start – up, look no further than StartUp Pro for launching and showcasing any relevant technological or design product.
This elegant – looking and highly dynamic WordPress product based on totally responsive and plugin compatible layout and coming with a bunch of easiest theme settings and characters, among them replaceable slider on the top with up to 10 slides, slider management controls and all the required theme standards will undoubtedly provide a competitively elaborated web presentation in all cases.
Some of its feature includes:
Responsive and Google mobile friendly test passed
WooCommerce works out of the box
Multilingual ready theme
Multiple page styles and templates possible
Creating a striking and alluring website is every web designer and developer's dream. And just like in any other business venture, web designers and developers also need to showcase their skills set and various designs in a bid to gain more clients. A website that has incorporated the Designer WordPress theme would be the ideal platform for that.
You cannot be a web designer and have a crappy site. No one will trust you with developing his or her website. So, for you to prove your professional skills, relevant knowledge and show your potential clients that you understand the industry needs, you will need a well-built, presentable website that will draw potential clients to your products.
The world of design is always changing and as a web designer and developer, you need to keep up with the trends and stay on top of your game in order to remain relevant in a very competitive and flooded market. Clients want someone who can adapt quickly and respond to the emerging trends.
Most potential clients will not just hire a newbie to design a website for them. They will go for experienced web designers and developers with a track record and a portfolio to boot. The only way to display your portfolio is through a website.
If you are a designer or developer, who is in need of a professional and feature–rich platform on which you can bring your original and creative solutions into reality, the pursuit for the most preferable designer or developer website creation tool out of the thousands available can be pretty bewildering and disturbing.
If you are torn in between choosing a theme for your website or that of your client, fret no more. We've got you covered with our carefully selected list of impressive and highly desirable Designer WordPress themes.
As a designer, it is most challenging trying to bring out your creative side especially when designing a website for a client. You have to incorporate your client's taste while sticking to your creativity. But, with the number of designers mushrooming and competing for the same clients, ensuring you stay on top of your game is of utmost importance.
You will need to offer your clients, websites that can guarantee them, visitors. Although a website is not an assurance of a client's business growth, it should nevertheless be modern, customized, functional, responsive and attractive too.
With the 11 Designer WordPress themes we have sorted out and specifically crafted for you, getting a theme that suits your needs and that of your client should be easy. The themes share the same impressive and highly desirable theme characteristics and are set up on a very convenient management platform.
The themes offer flexibility and consist of various features including compatibility with mobile devices, color controls, sliders to showcase your portfolio, among other captivating features that are certain to guarantee your website visitors, ultimate satisfaction. Browse through each one of them and find out their professional capacities.
Let your exquisite designs speak for you!