Child and kid – related industries are widely popular and requested in the modern human community. Be it a pre – school organization, kindergarten, creche, college, school, online training for children.
Developmental and daycare centres or any other highly experienced and profitable business aimed and children care and their further education are in the centre of any parent looking for the brightest future for his kid.
Hence lots of companies and individuals exercise all their efforts and invest their financial means to balance the growing demands of baby and kid – related topics by the professional realization of the proposed daycare, education and children WordPress themes available at present.
So that millions of caring parents will be able to find whatever might be the best for their child with enthusiasm, yet very quickly and easily.
In this article, some of the best and the most sophisticated child and learning WordPress themes are presented with their relevant descriptions and characteristics.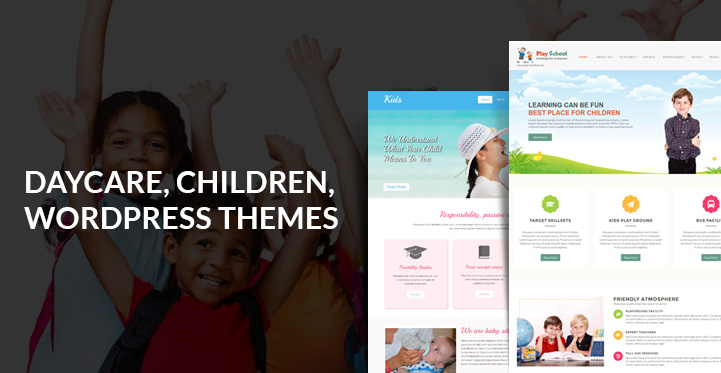 So that every single WordPress user is free to choose whichever seems to suit his online plans and initiatives in the most effective manner.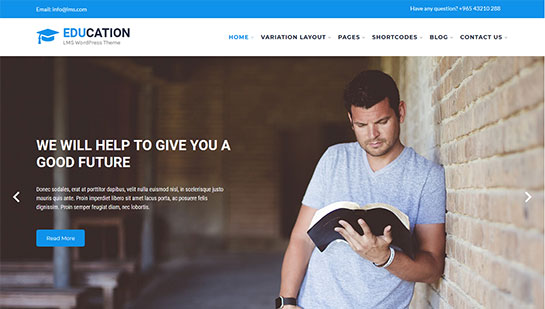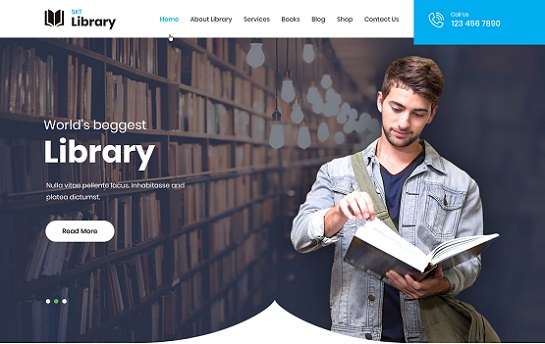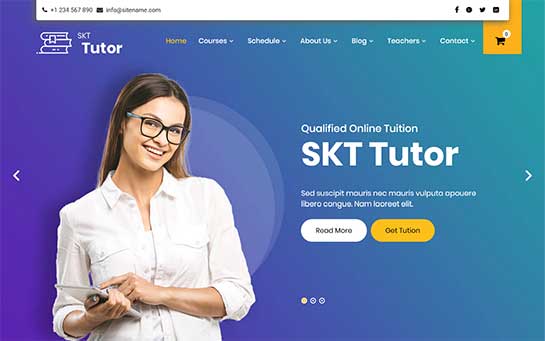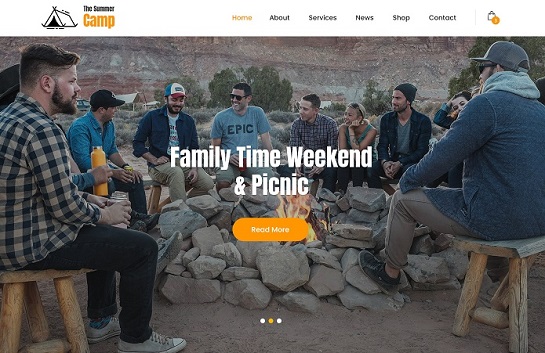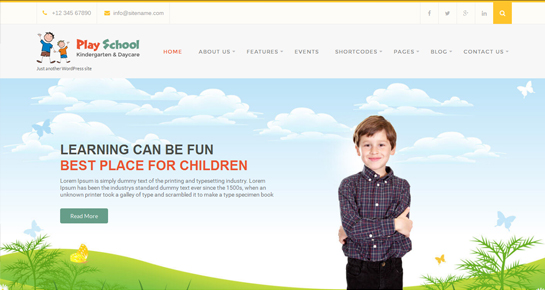 Play School as one of the most fitting variant for any kid – centric activity manifestation, comes with colorful and bright design shades and touches.
Which are the core points to keep the child focused on the website and get involved in the proposed learning methods and tasks.
With this smart and intuitive, flexible and adaptable education and child WordPress related template learning something new will be a kind of fun and joy for the children.
Instead of being boring or distracting. Play School is also loaded with user and developer – friendly practical layout and compatibility with a wide range of plugins for commercial, LMS or other purposes.
SKT Trust is intuitively and deeply versatile, serious and professional looking WordPress template catering to non-profit undertakings.
Charitable programs in relation to children protection and other vulnerable topics regarding to them, yet the scope of this theme possibilities is not limited to the above – mentioned niches.
And SKT Trust can be used for many other initiatives, introducing a new perspectives and agendas for children, their education and other target topics.
With this all – inclusive and accurately worked – out WordPress supported theme be sure to have all the touches of intuition and sensitivity to be able to build and control your digital profile without any prior experience with WordPress, IT and so on.
With its multiconcept and general – purpose design possibilities Complete Pro seems to be an ideal tool for the creation and maintenance of any kind of content.
Ranging from kids and children, kindergarten, creche, nursery, babysitter to e-learning, pre –school clubs, online courses, universities and other educational institutions.
This being so, Complete Pro comes integrated with every handy theme characteristic feature to customize both your relevant WordPress powered website look.
So that it can best deliver your working profile to the website visitors and your potential clients, as well as your website functionality, so that the visitors and learners will be able to find the requested information, images or other content just in few seconds.
Not only does SKT Architect Pro comprise visually strong and stylish look, but also it generates a stunningly operational and functional framework.
On which almost any business idea or need can be fully realized and exercised, be it a construction or architecture company or agency, educational centre or institution, daycare or childcare and babysitter private services or the like.
SKT Architect Pro is armed with out of the box theme features, which are built readymade to be a helping hand to you within the whole process of the website customization and maintenance.
Fresh and colorful, bright and engaging, eye – catching and motivational, PicArt as another reliable children and learning WordPress theme for any kid – related website .
Blog integrates all the essential points and elements every modern and dynamic theme must have at its disposal to characterize the uniqueness and exclusiveness of any website running on it.
This highly integrated and technologically cutting – edge product will ensure your website responsiveness and mobile friendliness, SEO and SMO integration, as well as conformity with the modern standards and trends specified by the WordPress specialists and experts.
In case you want to find a multipurpose and super functional theme, which along with its saturated structure and perfect performance will be easy and convenient in usage and configuration, here is Movers and Packers Pro for you.
This premium quality template can cover anything you have planned beforehand, among them also any kid and child center, school, university or some other children and education – targeted businesses.
By the application of this responsive and widget – friendly template be sure to personalize any undertaking to look trendy and function flawlessly to the maximum extent.
Use your imagination, knowledge and experience to the maximum while practicing Kraft as another modern and creative day and childcare, children and e-learning WordPress related theme.
As this product grants you with unlimited possibilities to implement all your potential and reach out a perfect and highly competitive final online presence.
This unique and neatly designed and structured website management tool is ready to handle children – centric content of any size and nature, so that your website will no way be heavy, resulting in low performance or insufficient user experience.
Smart and serious, simple and uncomplicated, amazingly smooth and sleek, Religious demonstrates an outstanding working platform to highlight church and religious – directed topics and materials, with certain child – related directions.
Thus letting any charitable program for saving or helping children be actual and accessible for the people, or presenting any children's religious choir, children's charity exhibition, seminary or theology school and institution, etc.
The visitors and students will be able to stay connected with the relevant website from everywhere with the help of their mobiles and tablets, as the theme is well –optimized for such usages.
Every parent in this world has a top priority about their children's care and education. They will always like to invest in something that will take care of their children in terms of educating and developing good social habits.
So, in order to run your education business flawlessly, you must provide top of the line education offerings to the child's parent.
This can only be achieved if your organization be it a kindergarten, school, college or other daycare or developmental centers for children acts as a second home for the child. This will make parents think that this organization will be best for their child's brightest future.
With the changing of time, traditional ways of displaying your organizational objectives and offerings have moved to a digital solution to a certain extent.
So, in order to display your organization and its missions to a larger number of parents you must take a step further in moving into the digital era by structuring and building a perfect website for your school, college, daycare clinics, etc.
Gone are the days where website building was costly or had to spend a lot of time and money on the maintenance and security of websites. With the introduction of WordPress, this game has totally changed itself.
Daycare, Education and Children WordPress themes will help you to build an amazing looking WordPress website with less time and minimal efforts.
Our premium themes offer a fully functional and flexible website with lots of customizations available for you to choose from as per your desire. Your website should contain texts and write-ups to display about your organization's story, achievements, functions and objectives in a concise manner.
It should also contain a gallery displaying all of your organization's campus, classrooms, recent events, cultural functions to build a good image of the organization's portfolio.
These all can be easily designed in a very attractive manner by the use of Daycare, Education and children WordPress themes.
You can customize the most important parts of the website such as the home page, the header, and footer to make the website look more promising to your potential customers.
You can design the menu too so that the visitors have a smooth experience navigating and exploring through pages and of your organization's website.
Daycare, Education and Children WordPress also offers a bunch of other functionalities through a tool known as plugins. For example, it can help you to create a newsletter, event calendar, PDF viewer and much more.
This plugins enhance the user experience and create an everlasting impression among the parents. The SEO of Daycare, education and children WordPress is truly powerful and will be a great marketing tool for your organization.
In terms of security of your website so that no data gets stolen nothing is much better than these WordPress themes.
Moreover, these themes are highly responsive, that means it runs smoothly on any screen size without any glitch. In a nutshell.
If you want to maximize your business profits and other hand want to look promising as well in terms of services offered by your organization to the parents for their kids and children no other choice will be better than building an impressive, powerful and flexible website through our Daycare, Education and Children WordPress themes.