We have scoured the best dating WordPress themes and are going to share them with you. All of them are well prepared yet simple both in structure and usage so that you can try and operate as many variations of your dating, matchmaking, engagement and wedding, social sharing or online dating websites and blogs.
The modern technology powered reality has made it effortlessly easy to connect people from different corners of the world and let soul mates find each other even while they are thousands of kilometers away from one another.
If you are going to support people in finding each other and growing their relationship into something valuable, the best dating WordPress themes compiled in this article will be the great starting point for your match and online dating project.
Those matchmaking and dating WordPress themes are a great source of sharing lovely and trustworthy online platform and look presentable in the eye of thousands of your potential clients and visitors.
They are well organized in terms of content sections and zones, as well as amazingly versatile in terms of supplementary features and controls.
In a nutshell, each of those WordPress based templates is a complete solution at your hand to result in a superior dating website and attract more and more users over time.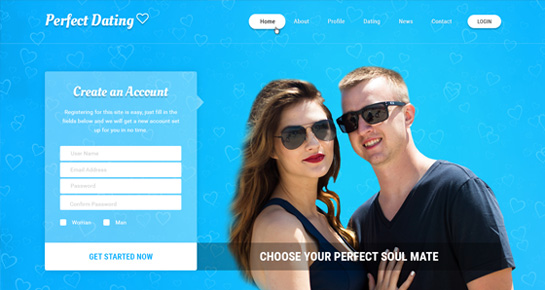 Promising and lively, creative and exalting, Dating is one of the niche specific and reputable dating WordPress themes to go smoothly with any relevant online profile.
Trusted by hundreds of Dating and matchmaking businesses, Dating has won the title of one of the simple to control and customize frameworks of SKT production.
With a wealth of basic features paired with tons of auxiliary attributes, the toolbox of this responsive and mobile checked template is really rich.
The eye catchy design of the theme meets the dependable technology to generate a working platform that is both beautiful and powerful in usage.
It will take you literally minutes to model the presentable face of your site and arm it with all the necessary controls for the user. The theme is also widget friendly with sidebar so that you can choose to showcase online users of your site and more.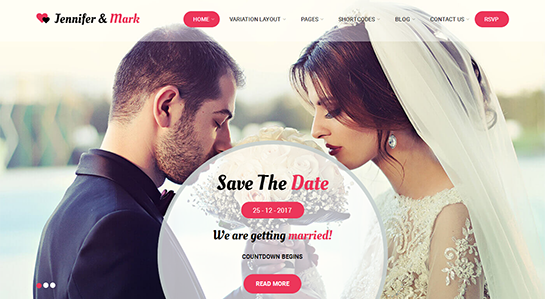 Wedding Rituals is what will make your online presence enjoyable for your clients and beneficial for your dating business.
If you think that the establishment of a revenue generating online profile will make you inject tons of money into it, think twice.
Wedding Rituals is one of the cost effective dating WordPress themes to save your financial means and time you can further spend on boosting your site's presence online, purchasing valuable plugins and tools, etc.
All that the creation of your productive website will take from you is your creativity. With the preloaded font and icons, color and slider controls, you are the one to give each and every single element of your site the look and place it suits the best.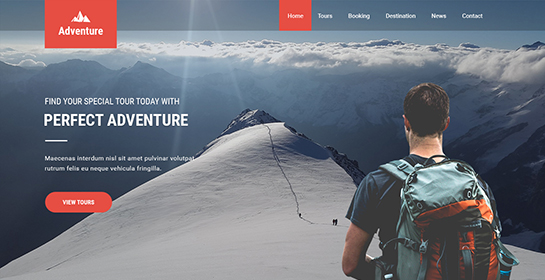 If you are planning to make the journey of your clients and customers a real adventure with breathtaking online solutions and pixel perfect design traits, look no further than Adventure.
Inspired by the most lovely controls and modern coding technologies, the developers of Adventure have integrated all the top priority controls and management options.
Otherwise stated, you will have the required capacity to supercharge your dating website with true colors and shades, typography controls and content arrangement, etc.
Beautiful homepage slider is added to Adventure to support the best images and quotes of your business and its policy.
Not only the slider is fully controllable, but also images, banners ads, social sharing potential of the site, multilingual content with plugins and more.
The next high impact and resourceful product included in our assemblage of the best dating WordPress themes is named SKT Perfect.
Mighty and inspiring, well secured and perfectly coded, SKT Perfect is offered at a price that will persuade you to purchase the theme and enjoy the boundless possibilities of it.
The dating industry is doing well and promising extra income if you decide to delve into this kind of business. In this relation, SKT Perfect is an irreplaceable tool at your fingertips to connect people who want to meet and fall in love.
This serious looking and highly functional template is also custom built to provide the site admin with the maximum constructive freedom to tweak to the backside of the theme and make all the relevant changes.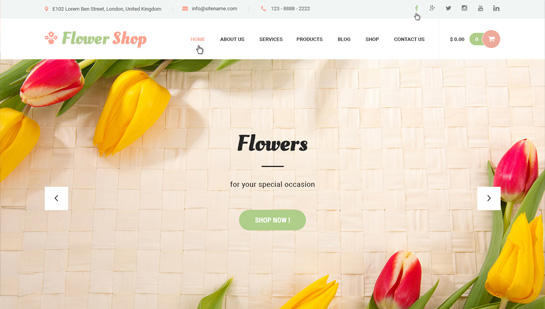 Whether you are going to establish a free or pay to join dating community through your website, Flower Shop will grant you with all the possible ways to earn money from your dynamic business.
With this colorful and engaging template you can for sure go for any website model and structure you think expedient to win the attention of your potential client base.
The client oriented nature of this template will provide them with the most convenient atmosphere and smooth navigation, responsive design across all the modern devices and legible typography.
As for the additional features Flower Shop can celebrate in favor of your dating business, they are possible when your site is in conjunction with different plugins. Among them are SEO and SMO, page builder and contact form, shortcodes, multilingual and other popular tools and plugins.
SKT Lens Pro can be a true leverage for your online dating business revolving around people who want to find their soul mates, share their life and love with them.
Equipped with the top notch technological basis and functional diversity, SKT Lens Pro comes with professional and highly elegant design elements, HTML5 and CSS3 coding and styling mixture, page and post, as well as tons of layout options.
Other advantages making SKT Lens Pro a top selection for the modern dating and wedding agencies and communities are plugin compatibility, shortcodes powered nature, as well as customizer based performance.
The responsiveness of the theme totally makes your site friendly with mobiles and smartphones, as well as other portable devices.
Everybody nowadays is very familiar with social networking platforms like Facebook that helps us to connect with different people has taken over the whole social network space, but people still rarely use Facebook when it comes to dating. The only reason is they don't want to mix personal relationship interests with online chat buddies.
This is why online dating services industry has expanded over the last decade from a collection of interests based matchmaking communities into some of the most elegant and successful online dating websites you will find.
Reports say that the annual revenue from dating websites and dating-oriented social networks is at more than 2 billion dollars a year.
So if you're planning forward to build your own dating site to cater the groups of people that seek a relationship, going with dating WordPress themes will be the best thing to consider to end up building a super elegant looking, powerful and flexible website.
With these WordPress themes, you can build a relatively cheaper and easy to set up a website that is also customizable to suit your niche needs.
Though you will need some time to download and activate various plugins to add more functionality to your website, still you will be highly satisfied by knowing the fact that this website built with WordPress themes are much faster and less expensive than hiring web developers to build an entire website from scratch.
One of the unique things you can do to customize your website is that tweaking the homepage with a slider that will display the success stories of couples that has found their soulmates through your website.
With the help of these themes, you can customize the colors, backgrounds, and header and footer area according to your choice to give an extra touch of sophistication to your dating website.
One of the interesting features of these themes that make it so popular among web developers is the use of plugins that adds extended functionality to your website. Suppose, you want to allow people to chat with each other right through the website in real time.
For this purpose, you can opt for live chat plugin available with these WordPress themes. And you also want to spread the word about this dating site on social networks so that you can pull customers from Facebook, Twitter, etc.
This can be achieved by activating a social media sharing plugin in your dating site. Apart from these, there are search engine optimization(SEO) plugins too that will help you to rank your dating website top in search engines like Google, Bing, etc. so that customers notice your website more than your competitor's.
Moreover, these dating WordPress websites are highly responsive and mobile friendly that means your website can adjust itself it to any screen size.
So, now you don't have to spend bucks on making a grip on the user base that uses smartphones and tablets to surf the internet.
Whether you're considering building an interest matchmaking site or planning to launch a local meeting place, choosing dating WordPress themes will ensure you to create one of the largest and most active communities anywhere online.