Are you also confused about WordPress themes that are dedicatedly developed for creating a CV-based website?
Do not worry as this is one of the most frequent questions that aspirants and working professionals are stuck on. CV WordPress themes are exclusively developed with features that ensure that you create a website with all your information and achievements.
When you are intending to switch jobs or looking for your first break then your profile needs to beat the rest of the competition.
The next obvious question in your mind could be whether using such themes really impacts your digital CV?
A standard resume is not enough in today's digitally governed era which brings in the need for an online presence. It enables you a better way to share your expertise, education, and experience with the HR managers. Look out for the best one in this compilation and create your website today.
In this compilation of CV WordPress themes, Me Pro is a widely used and popular theme to fulfill your purpose. It comes with a stunning and remarkable visual design that enables creative professionals to make the most of it. It has a classic color combination and impeccable layout that is bound to impress any headhunter.
The compatibility has been tested for all kinds of devices, screens, and browsers to ensure complete responsiveness. Not only this but with its responsive nature, it has also cleared the Google mobile-friendly test. Colors of all elements, layout, and background can be modified and it also offers the color picker feature.
It can host a wide range of popular SEO plugins, Contact Form 7, WooCommerce, Nextgen Gallery, and others. The animation in the sections adds a unique charm to the structure and highlights the content. For showcasing skills and work experience you can use the fancy circular skill bars.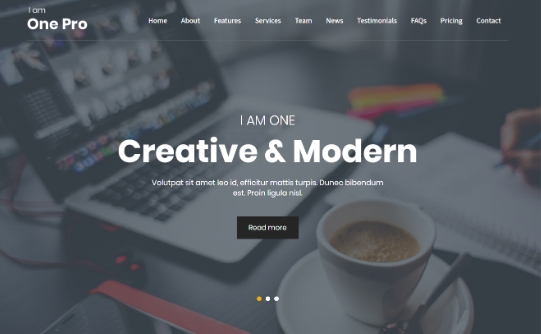 This is a creative, modern, and exceptionally well-designed theme for creating your CV. You get access to an exclusive one-page design that is accommodated with smooth scrolling, flexible navigation, and subtle animation.
For creating a comprehensive and creative portfolio with detailed information you also have the provision to add sections. With necessary inbuilt features, it can be created to get on point quickly.
It can conveniently highlight personal and professional information along with all skills and recognitions. Primarily the basic color that reflects the entire structure has been kept to white and can be conveniently modified.
To add more charm to your site it offers an inbuilt elegant Parallax slider. Additionally, hundreds of Google Fonts are integrated so that you can mold the aesthetics as required.
You can also upload optimized pictures to create an impact through the sortable gallery. It has been incorporated with social media handles and lots of shortcodes to make things easier for you.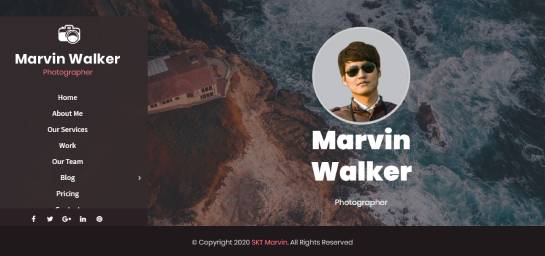 Marvin is amongst the finest CV WordPress themes that enable you to create a professional and versatile resume online. It is a responsive and trendy option with distinct dark and light styles along with a range of layout options.
By default, you get multiple sections that are neatly segregated. Here you can easily place information like career objectives, bio, skills, education, training, etc.
You can also use the features that enable you to place call-to-action buttons wherever required. With proper information and details, you can manage to highlight all your past projects and notable achievements.
Page builder will be there at your rescue to ensure that the modification and customization process becomes easy. Premade sections and blocks are efficient enough to deliver up to your expectations. It is translation-ready, multilingual, easy to use, and compatible with the latest versions of WordPress.
For downloading contact information vCard download feature is also made available. In case you have specific requirements the plugins can be installed easily.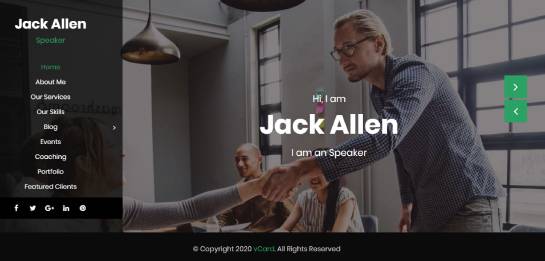 vCard is the next theme in this collection of best CV WordPress themes. It gets to the point quickly and is simplistic in nature. This becomes one of the core features as the recruiters hardly spend a few minutes to check your profile.
Only if they find something important then they will take the extra efforts of further exploring. Here you get access to different styles and animated capabilities of various sections.
Depending upon the type of mood that you want to set it can be customized to dark or light modes. Colors and other style elements can also be managed to match the tone that you are trying to set.
Whether you want to put together a personal website, a quick resume, or a whole portfolio this is a great option. Strong support from plugins adds value to the existing features of the website. Lastly, it also gives you the freedom to quickly add functions that are important for your website.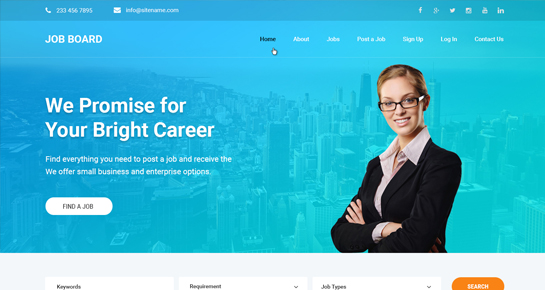 This is one of its kind options, that can be utilized for creating multiple job posts and attract a lot of CVs. You can create websites related to recruitment, HR Consulting, or company offering jobs in multiple locations.
All kinds of job posts including industry-based, remote, full-time, part-time, and freelancing can be created. The template is 100% responsive and has been successfully tested with multiple screens, devices, and browsers. If you want to improvise the present look of the template then it can be customized in all aspects including the colors.
In total, 800+ Google Fonts are integrated which ensures that in terms of typography you never remain on the back seat. It is also capable of handling special characters and support RTL.
The full and boxed site-wide layout is also offered for you to choose from. With modern trends of design, this works as a complete website solution for your job posting requirements. The candidates will prompt as you can easily include all details and properly maintain the professional decorum of the online space.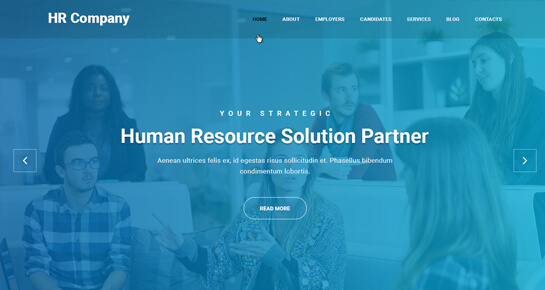 The next option from the CV WordPress themes is HR Management which is a unique multipurpose theme. This theme helps you to highlight your CV in the most professional way and in a manner preferred by corporate. Given its powerful backend support and stronghold over features, your website will never lack any functionality.
To make your task easier it is even compatible and tested for use with the WP Job Manager plugin. The material design approach ensures complete responsive across devices and screens of all kinds. The entire setup process of the website including the installation part is well-documented for your reference.
The modern structure does not take the spotlight away from you instead it enables your achievements to shine without distractions. Without any inconvenience, you can easily add your skills, experience, and projects along with photographs. It has everything that you need to create a great CV website.
SKT White Pro is an absolute must check-out resume theme that has made it to the collection of CV WordPress themes. It comes with a design, structure, and layout that is minimal but still well-crafted and beautiful.
Irrespective of the type of work that you do or the industry you represent it is suitable for all. The reason for this is that all its components including the background are in white.
This is an indirect sign of success for reflecting any kind of experience and background. Moreover, it ensures that the entire attention remains on the content that you have inserted without losing the professional touch.
It has been integrated with 650+ Google Fonts and is a fully color-changing theme. You can add details in the sections and also create a slew of subsections. This helps in clearly conveying all your details in the most systematic manner. It is bound to create a versatile first impression for your profile.
SKT Landing Page is amongst the best multipurpose theme in the best CV WordPress themes collection. You can conveniently create a personal portfolio or a fantastic resume that is fully responsive across all screens and devices. The visual design is modern, sleek, and yet simple.
The template has been crafted to perfection with retina-ready and HD-ready compatibility that can suit all kinds of browsers. The adjustment and maintenance become easier as everything can be controlled and managed from a single dashboard.
Colors, designs, and all other elements can be customized so that you can create a CV that is preferred by your potential employer.
You can use the one-click demo option to be fully satisfied with the practical and actual working performance before deciding on it. It is translation-ready, multilingual, and is optimized for supreme SEO performance. You can grab the powerful features associated with this theme and create a magnificent website that is performance-oriented.
All kinds of individuals can create a stunning CV-based or portfolio website with this theme. But the main reason for its inclusion in the CV WordPress themes is that it is preferred by artists to create their CV. SKT Black Pro is a magnificent theme with surreal and bold black color at the focus of everything.
The default provided space will be sufficient enough to add all the required details. Given that it is based on black all artists and photographers can create a master website with this option.
It has all options of customizations and is not limited to a thing. The page builder will contribute efficiently in making all the required changes and also for creating fresh templates.
The minimal designing with an aesthetic color combination will ensure that you can highlight all the required sections in the proper light. It has outstanding compatibility with all kinds of browsers and screens and the loading speed is fabulous.
Black and White is another phenomenal theme that can help you in creating a stellar online space for your CV. Here you can create a different website that offers a distinct combination of the dark and light versions.
All sections and tabs are also provided in the same variant by default but can be assigned colors as required. All basic information can be easily added in the respective sections and to showcase your skill you can resort to colorful widgets.
By default, it is a multipurpose theme but is one of the best options for creating and featuring a resume.
All the customization settings are easy to manage and access including customization of the accent colors. Plugins of different kinds are supported so that your website becomes sound functionality wise. It is translation-ready, widget-ready, retina-ready, and multilingual.
SKT Launch Pro is another marvelous multipurpose theme in this compilation of best CV WordPress themes. When you use this multipurpose theme for creating your resume in the online space you are on a cutting edge of the competition.
This is because you can use the inbuilt default features like sliders, widgets, social media integration, and high-quality CSS3 animation. This not only enables you to include all your desired content in an attractive format but also maximizes the presentation technique.
Given its generic behavior, it is fully modifiable and customizable without knowing how to code. This ensures that you can mold all elements as required by your profile and create the best one for yourself.
Shortcodes play an essential role in carving out the best features that are required by you. Additionally, other plugins including contact form, gallery, and others are also supported so that everything can be added.
Character is the last theme to conclude with the collection of best CV WordPress themes. Just as the name says this theme helps in ensuring that all the characteristics of an individual can be featured. It comes with a clean, minimal, and professional look to do full justice to your purpose of creating a resume.
You have full control over adding other sections or pages and also removing the default ones. The base design approach and color setting reflect a calm aura. But this can be easily adjusted in all its aspects according to the kind of website that you are making.
Sliders, widgets, and the ability to support plugins of wide range give you an upper hand in the customization process. This option will ensure that you can do complete justice to the digital version of your profile that can attract the recruiters.