Courier Delivery WordPress themes for courier services and goods delivery
In case you are eagerly searching for niche – specific and highly progressive courier delivery WordPress theme for postal services, cargo, transportation and logistics, delivery and packaging, online tracking or the like, you are in the right place to find the best collection of such templates.
Courier and delivery services have long become an inseparable part of a business of any caliber, be it a small, medium or highly seasoned or dealing with electronic trade and running a set of online stores or just merely in the need of quickly sending the required documents to another edge of the globe.
On top of everything, every company or business representative spares no endeavors to satisfy its clients or keep strong commercial connections with its partners across the world and hence courier and other related services come to the fore to give value to time and conformability.
In this article we'll try to draw your attention to the best patterns of courier and delivery templates of WordPress compatibility and SKT release.
All of the suggested custom – built themes are truly versatile with pixel perfect design and clear coding, practiced by experienced designers and developers at SKT Themes.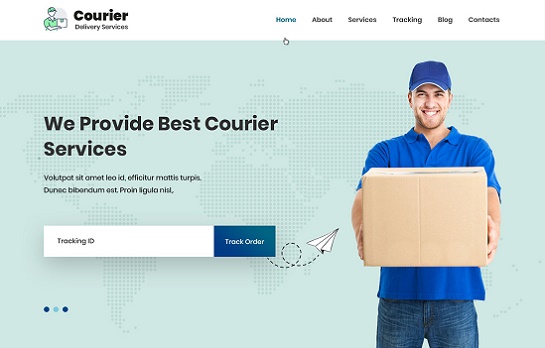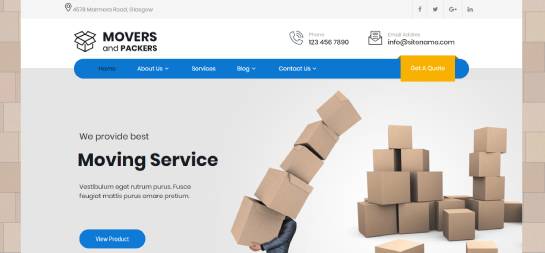 Welcome Movers and Packers Pro as premium – quality and highly advisable courier delivery WordPress theme fully specialized in what any express or another postal service, transportation and logistics, packaging and delivery company will ever need in order to run a client – oriented digital product and let all the target groups make a pleasing journey throughout the web pages and orientate easily.
This smoothly exercisable and inherently zealous template comes with powerful icons and Google fonts pack to visually enhance the potential of the theme with right selection and disposition of items, as well as presentable typography for seamless readability, WooCommerce support for commercial purposes, widgetized areas, total responsiveness and much more.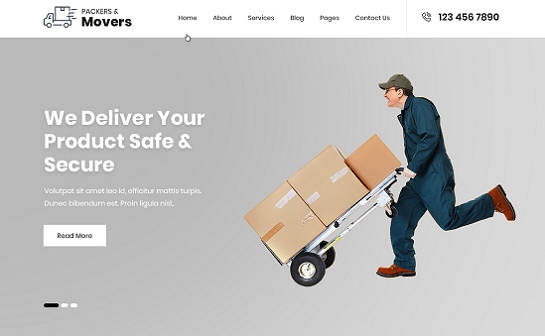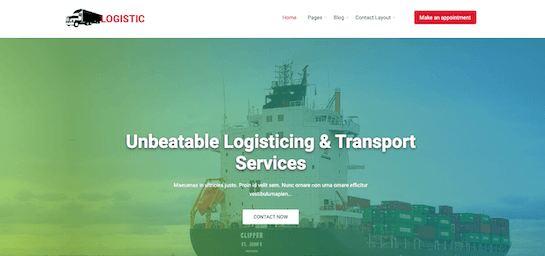 Let all your customers be away from time-consuming processes and rely upon you through the functional channels proposed by Logistics.
Right from pick – up and delivery services to automobile dealer industry, this template is ready made to satisfy all the prioritized needs peculiar to the given business.
The theme shares the easiest to use theme backend that can be effortlessly practiced by every single non – techy web admin.
The latter will be able to add and remove, edit and customize whatever he may find expedient at the given moment for breathing freshness and curiosity into his posts and pages.
This product with highly purpose – driven character features multilingual support to match your cross – border activities, as well as nice – looking homepage slider for showcasing the brightest images catering to your online existence.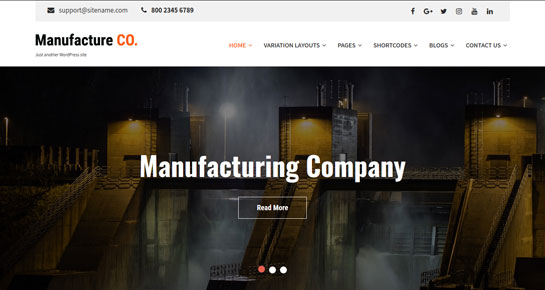 There are pretty rock solid reasons to give your casting vote to Manufacturing Pro as another exclusive template for logistics, transportation, cargo, airfreight, courier, postal service, packaging, pick – up and return, towing or dealing services.
This courier delivery WordPress theme with out – of – the – box performance and unbeatable modern coding will add a unique style to your profile and can be displayed with all the required changes and amendments upon your request.
All the norms of WordPress community have been strictly pursued in Manufacturing Pro, among them admin – centric dashboard, qTranslate X, NextGen Gallery, WooCommerce and other plugins compatibility and error – free navigation levels.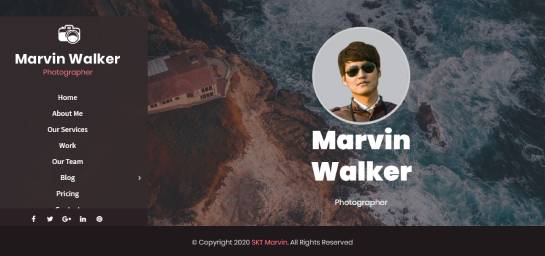 Having Marvin as a sharp foundation of your delivery – related business can do wonders in the line of search engine rankings, multi-language chances and e – commerce shopping experience.
This award – winning web builder has been coded clearly from the ground up to be significantly sharpened in every way, right from 100 % responsive web design to have one universal site to rule the multi – device website viewers, qTranslate X and WMPL compatibility to ahead of all your competitors who are constantly updating their content in one single language, calls to action inclusion in order to prove the client's immediate response and finally, SEO, cache and other plugins compatibility for better performance.
In case you are fed up with complex and bewildering frameworks, review BlendIt as one more modern and inherently credible courier delivery WordPress theme available in the current marketplace of WordPress – based themes and you'll definitely love it.
Unparalleled in resourcefulness and security, this template with stylish identity and modern traits will make the party going even if you have not completed all your customization and management processes right from the backend.
For the most part, BlendIt focuses on easily engaging every single web visitor and is specialized in guiding them to the right parts of the website, so that they can find all your content, services and products, contact details and physical locations in the precisely – formatted fashion.
Being multipurpose at its core, SKT Black Pro can effectively adapt to any market niche, and hence, this wonderfully pliable and robust template is ideal for international and local courier services, parcel delivery and shipping, express freight services, as well as any other undertaking within the logistics industry.
Your user – optimized and timely services will for sure be much appreciated by millions of potential clients, since the modern digital world offers infinite possibilities of ordering items of any kind or brand from every part of the world, and the tricky question remains to be affordable delivery.
Thus, with SKT Black Pro you'll have all the chances of conquering the deserved leading role and satisfy even the most demanded client's requirements on the whole.
Based on comprehensive, integrated and sophisticated approach towards every single part or manifestation of the theme, SKT specialists got out of their principal ways of releasing something that is worth global attention. No worries about how to deal with the theme right from its installation.
Even your restyling or customizing touches behind – the – scenes will be done without a hitch. All in all, with SKT Pathway Pro you'll own unique and world – class courier delivery WordPress theme that will be ready to entertain and capture leads with pretty little investments.
WordPress is a platform that every user prefer before others. There are many reasons for it and one of the most important reasons is that WordPress has always been on its toes to provide the users what they require.
It started as a blogging platform and has been innovating ever since to cater to the many demands of the market.
The online world is highly demanding and dynamic. The WordPress has always been able to deliver what the users are requesting. It has in most cases been ahead of the game and generated products which are highly beneficial for the users.
It is because of this reason that they are able to cover such huge market area and deliver quality support to its premium as well as regular users.
The WordPress has provided time and again that it has all the qualities to be a highly useful platform and enjoys the huge market shares. It is no surprise that the major websites which are ranked highest on the search engine use WordPress as its original platform for all its needs.
WordPress has not left any of the website creation area or service untouched and this is a huge reason for its popularity. The websites support is available for all business kinds and thus courier services are also not left untouched.
The user-friendly approach and the multiple plug-ins allow the business to create highly functional and attractive websites for use.
The use of the WordPress courier theme for the courier service is thus a great support for the website developer. It is common knowledge that any business in today's competitive world cannot survive without an online presence.
Especially the service industry as the customers are always keen on getting an update and the best way to connect is using the online platform. The WordPress platform has realized the need and thus has created suitable themed which are just ready to use.
The WordPress courier theme is available in free or premium quality. They are both high-quality and may differ in certain features.
The users can add the content and get the website ready in no time. But this is a very basic website we are talking about which is built with minimum functionalities.
The users who wish to add many features to their website can think about adding plug-ins to it. The WordPress is compatible with many plug-ins the users can choose a few from the directory.
There is also huge third-party compatibility where the theme users can use plug-in created by any other platform.
The WordPress courier theme allows a lot of flexibility and the users can bring about the changed they like. They can work around the fonts and add color suitable to the brand and also add quality content.
There is enough space for media insertion and the contact form finds a separate area. One can add powerful icons which will make the visitor's job easy. The users of the WordPress courier theme find it simple to create a suitable WordPress website for use.